4 Common Questions About VA Home Loan Assumption
Updated 2018.
Somewhere during that whirlwind of closing on the home you purchased, the title company representative reviewed all sorts of important details--your interest rate, your monthly mortgage payment, and when your first payment would come due.
And somewhere in midst of that lengthy signing session, it may have been shared that your VA Home Loan could be assumable if you ever decide to sell. By that point, your eyes probably just glazed over at that information.
Assumable mortgage.
What does that even mean? Good question!
A loan assumption means that a buyer can step in and start paying the mortgage of the previous homeowner without having to create a brand new mortgage. There are a few items of red tape, of course, but that's the basic idea. Once you understand that, you probably have a few more questions, like the following.
4 Questions to Ask About Assuming a VA Home Loan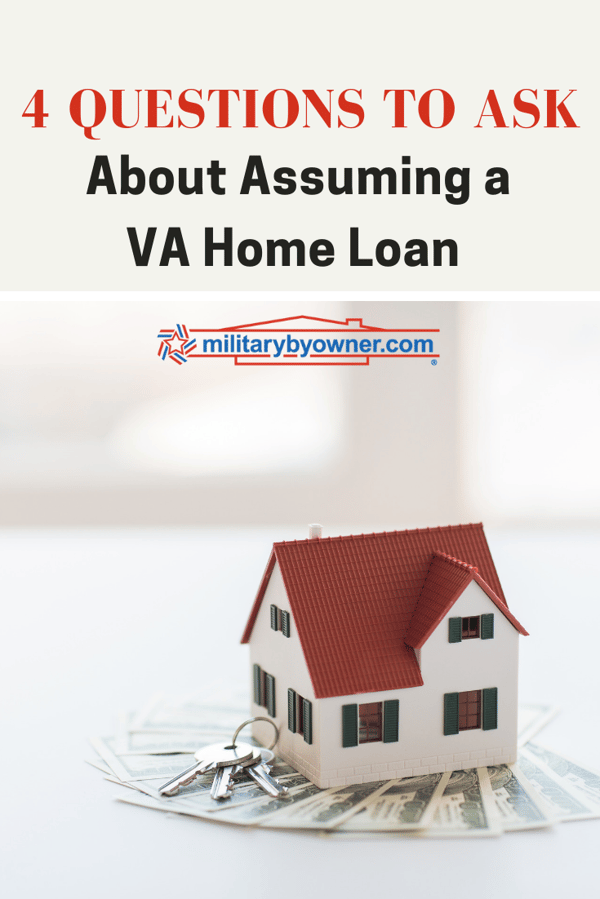 1) Who can assume the mortgage?
Pending lender approval, and if a buyer qualifies for the payment amount, anyone can assume the mortgage, civilian or military. The individual assuming the loan does not have to be a veteran. However, if the loan assumer is not a veteran, then the seller will lose his VA loan benefit because the benefit stays with the property and mortgage until it is paid off.
It's important to note that not all VA lenders allow assumptions and it could also put your VA home loan entitlement at risk.
2) Why would someone want to assume a mortgage?
Someone seeking a lower interest rate. If the home was bought at a lower interest rate years back, a buyer may want to take advantage of the lower interest rate that was locked in at the time.
Someone who wants to save on closing costs. A buyer wouldn't have to pay the bank's origination fee or an appraisal, but we recommend getting an appraisal anyway.
Someone who wants to save on the VA funding fee. For an assumed VA loan, the VA funding fee is only 0.5%, representing a significant savings.
Someone in a divorce situation may want to assume a loan. For instance, the wife may take over the loan and keep the remaining equity in the property.
3) This sounds great! What's the catch?
Release of liability. This is important to understand. According to Veterans United,
Homeowners have to ask for and obtain a release of liability from the lender or servicer. Without a release of liability, VA homeowners could take a major credit hit if the person assuming their loan later makes late payments or defaults on the mortgage.
VA Loan entitlement. It will be important to realize as the home seller that you may wish to ask the home buyer to substitute their own VA loan benefit vs. having yours tied up in this home.
4) What about me, the homeowner? Why do I care?
As the homeowner, what does this mean to you?
If you have an assumable loan--VA or FHA, and typically not any conventional loan product--then you can offer your attractive financing package as a selling point in marketing your home to prospective buyers. So, for that $200,000 home with a remaining mortgage balance of $150,000 at 3%, a prospective buyer could assume your loan with very low closing costs and could then obtain a second mortgage at the higher interest rate to cover the rest of the balance.
Maybe the benefit to you is knowing that when you head off to your retirement village, your kiddos can assume that mortgage and have a little equity to boot!
What about you? Have you either assumed or sold a VA loan as an assumed loan? How did it work out for you? Any tips to share with your fellow military families?
For more information about VA Home Loans, click below.