Should You Refinance Your Mortgage?
Thinking of refinancing your home?
As with most things housing and money related, refinancing your mortgage is largely affected by the market. You certainly wouldn't buy a home without considering the state of the market, and you wouldn't want to overlook it when considering a refinance.
It's the current state of the housing market that will help you weigh the pros and cons listed below and help you determine if a refinance is right for you.
Should You Refinance Your Mortgage? Weighing the Pros and Cons
What does it mean to refinance your mortgage?
Home refinancing gives you the opportunity to replace your current home loan with a new one. The intention behind a refinance is to reduce the amount on your home loan and lower your interest, cash in on equity, or switch from a fixed-rate mortgage to an adjustable rate mortgage or vice versa. (Confused about all these terms? Take a look at A Cheat Sheet for Understanding Home Loan Lingo.)
An opportunity that saves you money sounds pretty great, doesn't it?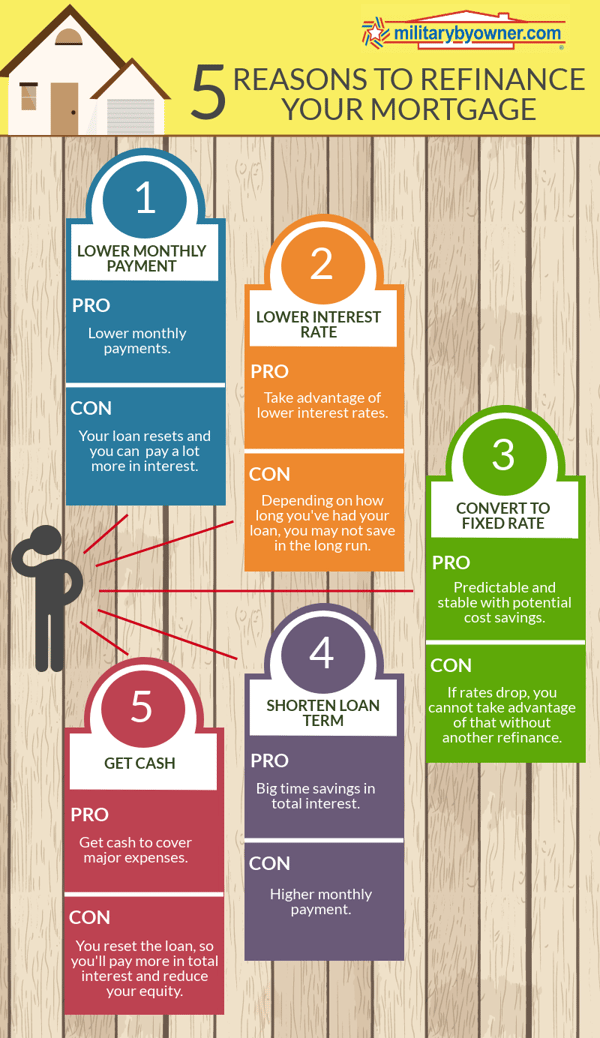 The Pros of Refinancing a Mortgage
The opportunity to save money, especially with a large investment like owning a home, is the biggest reason that homeowners choose to refinance their mortgage, and there are several ways to do that.
Switch to another loan type. Refinancing your mortgage can allow you to switch to an adjustable rate mortgage (ARM) from a fixed or vice versa. If you originally started with an ARM but interest rates have skyrocketed, then it might be worth a refinance to stabilize your investment in a fixed-rate loan.
Or, if you're in a fixed-rate mortgage and interest rates are dropping, you might want to switch to an ARM in order to capitalize on the lower monthly payments. This is especially wise if you don't plan to stay in the home long, for instance if you're a military member who will sell your home when you get orders to PCS in a few years.
Set a new loan term. Shortening your loan term from a 30- to a 15-year loan is best if you currently have a high interest rate and can refinance into a lower interest rate. These scenarios can allow for a similar monthly payment with much shorter loan terms and makes for the best of both worlds. However, in more cases than not, refinancing to a shortened loan term will increase monthly payments in order to allow for a sooner pay off.
Cash in on equity. Life is full of expenses. People have weddings, kids go off to college, and homes need remodeled. A refinance might help you tap into that equity that's been growing and help finance another project that you have.
However, it doesn't help you get out of debt sooner, so considering a refinance based on this reason alone might not make for a smart decision.
Get rid of PMI. Getting rid of private mortgage insurance can be difficult. You're typically required to get it if you put less than 20% down on your home when you purchased it. And while some lenders will automatically release your obligation when you reach 20% in equity on the home, others are not so kind.
One way to rid yourself of PMI is to refinance. If the lender finds that you've gained enough equity, they'll release the requirement.
Note: Refinancing your mortgage is not the only way to get rid of PMI. You can also remodel, prepay on your loan, or get a new appraisal.
The Cons of Refinancing a Mortgage
It's may seem that refinancing your mortgage can be great for your finances, but that's not always the case.
It's not free. Refinancing your mortgage requires closing costs (just like you paid when you originally purchased your home). You'll typically pay between 2-4% of the loan just in closing costs. If you have a balance of $200,000, then you'll potentially owe $2,000-$4,000.
It sounds like a lot, but that percentage covers costs like an appraisal, escrow and title fees, lending fees, credit fees, insurance fees, and taxes.
It's risky. If an appraiser determines that your home has lost value since you purchased it, you might get the opposite response from the lender that you were hoping for. If you refinance with little equity, you'll likely be required to pay private mortgage insurance until it reach 20% of your property's value.
But there's more than just the housing market to consider. Your own personal finances can increase the risk of refinancing. If your credit score has dropped, you may find it more difficult to get a better rate than the one you already have. Lenders will also look at job history but with a stable career in the military, this isn't a factor you'd need to consider too heavily.
It's not great for the short term. Refinancing your mortgage is a great way to benefit your long-term finances, but doesn't do much for you now. The cost can take years to recoup. So unless you plan to keep the home and not sell when you get PCS orders in a couple of years, you may never see the savings from a refinance.
However, if you plan to keep the home to use as a rental property later down the road then it might still be worth considering.
It can tighten your spending. You may want to refinance in order to shorten the length of the loan and therefore pay less money in interest. But, there might be a way around that. Once you switch from a 30-year loan to a 15-year loan, you're on the hook. It might only cost you a few hundred more dollars a month and you might already have that laying around but if something comes up, you no longer have the flexibility or wiggle room to accommodate unexpected expenses.
If there's no penalty, you could consider making extra payments to expedite paying off your mortgage. Pay the extra few hundred dollars a month on your own without the contract so that when something happens (which is always does) you can breathe easy knowing everything is covered.
Note: Some lenders will penalize you for paying extra. Before you attempt to pay your loan off quicker without refinancing, be sure to learn the conditions set by your lender.
Is refinancing right for you?
That's the big question, isn't it? You know the pros. You know the cons. But only you know your finances, plans, and goals in life. And what's best for one family might not be best for you, and that's what makes this decision so difficult.
With this list, a conversation with your spouse or significant other, and the helpful guidance of a professional, we hope you can nail down the right decision for you!