4 Ideas for Family Fun Near Joint Base Pearl Harbor-Hickam
So you have orders to Joint Base Pearl Harbor-Hickam in Hawaii? Aloha!
This tropical island, though small, is jam-packed with things to do. And don't be fooled, the picture-perfect beaches that draw in hundreds of thousands of tourists each year are just the surface of what this duty station has to offer — think adventure, sunshine, vivacious culture, and impeccable food. It's paradise!
Life at Joint Base Pearl Harbor-Hickam is like no other. It's not quite overseas, and it's definitely not mainland U.S. Hawaii has a history of its own separate from what you probably grew up learning about in school. The culture, language, and food are all different. While you'll find familiar things located on Oahu (Target, McDonald's, a military community, etc.), you might find yourself taking longer to adjust to island life.
With nearly perfect weather 365 days out of the year, two seasons (summer and rainy), some days might feel like Groundhog Day. But believe me when I say, you will adjust! There's an ease of life here -- casual is a pretty good term. There's rarely a day that can't be spent outside in the sunshine.
Learn more about the area in What to Expect When You PCS to Oahu.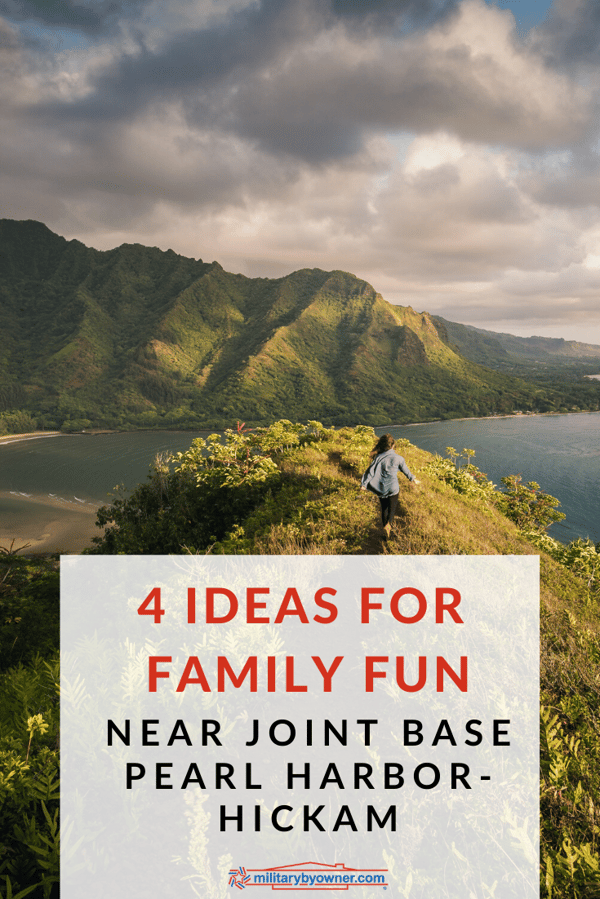 4 Things to Do Near Joint Base Pearl Harbor-Hickam
1. Take a Beautiful Hike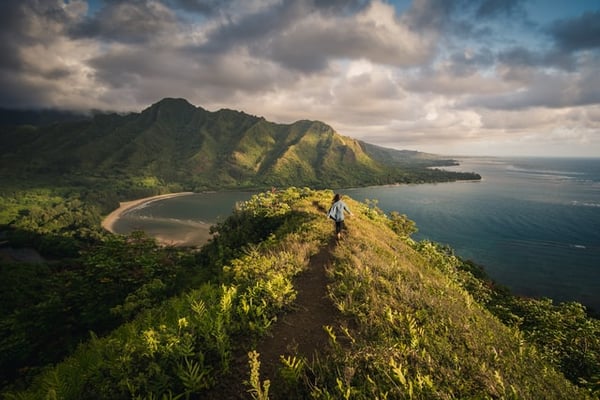 Photo by Peter Vanosdall on Unsplash
There are lookouts (Nu'uanu Pali Lookout) and drives (the H3 toward Kaneohe) that give you breathtaking views of the island, but there's nothing like setting your sights on the twin islands, waterfalls, and mountains that only a hike up a mountain or through the jungle can win you.
Lanikai Pillbox: This 1.8-mile, moderate hike offers an incredible view of the twin islands in Kailua.
Diamond Head: Once a military fort/bunker, a 2-hour hike up this crater offers incredible views and a venture back in time.
Makapu'u Lighthouse: This paved 2-mile trail to the lighthouse is steep but worth it. With views of Koko Head, Koko Crater, and miles of ocean (on a clear day you can see the islands of Molokai and Lanai), the view might become your favorite on the island.
Fun fact: this hike offers a great vantage point for whale watching between December and May.
Maunawili Falls Trail: Throw on your boots and prepare to get a little muddy for this 2.8-mile hike to the waterfall and swimming hole.
Kuliouou Ridge Trail: This 4-mile ridge trail offers spectacular views making the steep climb up worth the sweat.
2. Travel Back in Time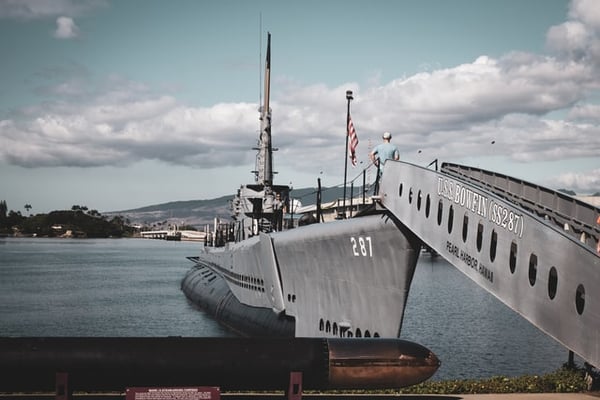 Photo by Curtis Reese on Unsplash
Hawaii is rich in history. Many people are familiar with the attack on Pearl Harbor-- that fateful day that left devastation in its wake-- and the evidence is still visible. A visit to Pearl Harbor to tour the USS Arizona, USS Missouri, USS Bowfin, and the National Cemetery of the Pacific will bring everything you read about in history books to life.
But one thing you should know about Hawaii is that its history began long before 1941. Hawaiians are very proud of their heritage as many of their celebrations center around their early leaders and queens before Hawaii became part of the U.S. 50 states.
Pearl Harbor: See the effects of the attack on Pearl Harbor yourself with a trip to the USS Arizona, USS Missouri, USS Bowfin, and Pearl Harbor Aviation Museum at Pearl Harbor. The experience is incredibly sobering, emotional, and educational.
National Cemetery of the Pacific: After a long history dating back to early days before the U.S. presence on the island, the "Punchbowl" is where thousands of U.S. service members who lost their lives during WWII have been laid to rest.
Iolani Palace: This National Historic Landmark is a living restoration of proud Hawaiian national identity.
Fun fact: it's the only official royal palace in the U.S.
Bishop Museum: Offering a look into Hawaiian history and interactive exhibits, the Bishop Museum is the perfect place for kids to learn about Hawaii's rich culture and history.
3. Be a Beach Bum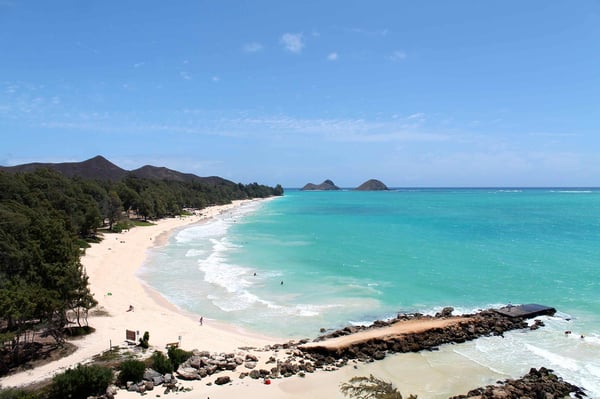 Photo by Bellows Air Force Station Facebook
You'll soon realize that there's hardly anything better than digging your toes in the sand, watching surfers paddle out to catch a wave, and searching for sea glass. Oahu's beaches are remarkable. The bright blue water and soft sand attract hundreds of thousands of tourists every year. Plus, the North Shore is home to the Hawaiian Pro Surf Competition in the winter.
Waikiki Beach: Almost always bustling with tourists, Waikiki isn't the quietest beach on the island, but the culture here is infectious. The water extends forever without getting deep, and the waves are good for beginning surfers.
North Shore: Home to surfing competitions, this beach is widely known for its incredible waves. It's also located in Haleiwa, a fun little beach town with yummy food and local shops (and oh, the best acai bowls ever)!
Dog Beach: Located on JBPHH, it's easy for military families to access! This more relaxed beach is shallow and calm, making it perfect for younger kids.
Makapu'u Tidepools: The Makapu'u lighthouse is home to a couple of tidepools. The first are incredibly breathtaking and you have to hike to them. They're not kid-friendly (but it's worth getting a sitter). The second ones are located between the lighthouse and the research pier. These small, calm tide pools are perfect for kids to run around, swim, and explore. You'll always find hermit crabs, and when it's low tide, you may even find a sea star!
Bellows Beach: You'll be hard-pressed to find a beach more picturesque than on Bellows Air Force Station. With mounds of soft, white sand, and crystal-clear blue water, Bellows is one where you can spend all day relaxing. The water is a little deeper here making it more enjoyable for swimming, boogie-boarding and floating. Plus, there are cabins and campgrounds so you can make a weekend out of it!
4. Seek Out Kid-Friendly Attractions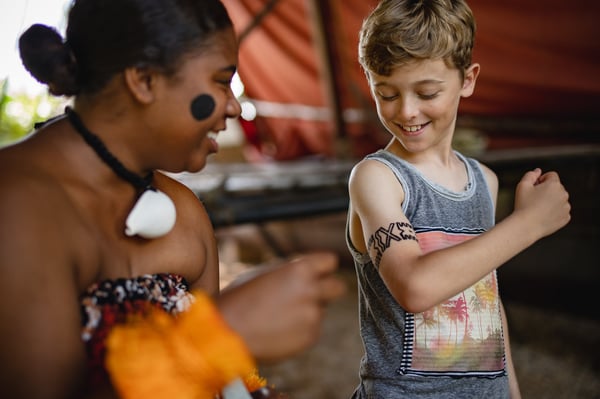 Photo by Polynesian Cultural Arts Center Facebook
Though nearly everything on the island is kid-friendly (save maybe the ridgeline hikes), there are a few things designed specifically for little ones!
Hawaii's Children's Discovery Center: Located in Honolulu, the Discovery Center is a fun and educational outing for kids of most ages. Learn anatomy with large interactive exhibits or role-play workforce jobs like being a firefighter, pilot, and more!
The Honolulu Zoo: Though less impressive than some you've known like the San Diego Zoo (most zoos are), the Honolulu Zoo is the perfect outing. It's small enough to enjoy in one morning or afternoon and very walkable for young kids.
Aulani Discovery Center: There are resorts all over the island to stay, but Aulani Disney Hawaii Resort takes the cake by a million when it comes to being kid-friendly. This resort hosts amazing pools, breakfast with your favorite Disney characters, a spa, shopping, and more!
Polynesian Cultural Center: Dive deep into the culture with a visit to the villages and learn the way of life of different Polynesian islands. This is worth a weekend stay to fully embrace what this attraction has to offer.
While there's a lot of things to do listed above, this doesn't cover all of it. Oahu is home to amazing attractions, thrilling hikes, and amazing cultural experiences -- much more than we can fit into one post!
Moving to Oahu? Download your free guide to the area below!