4 More Hacks for First-Time Homeowners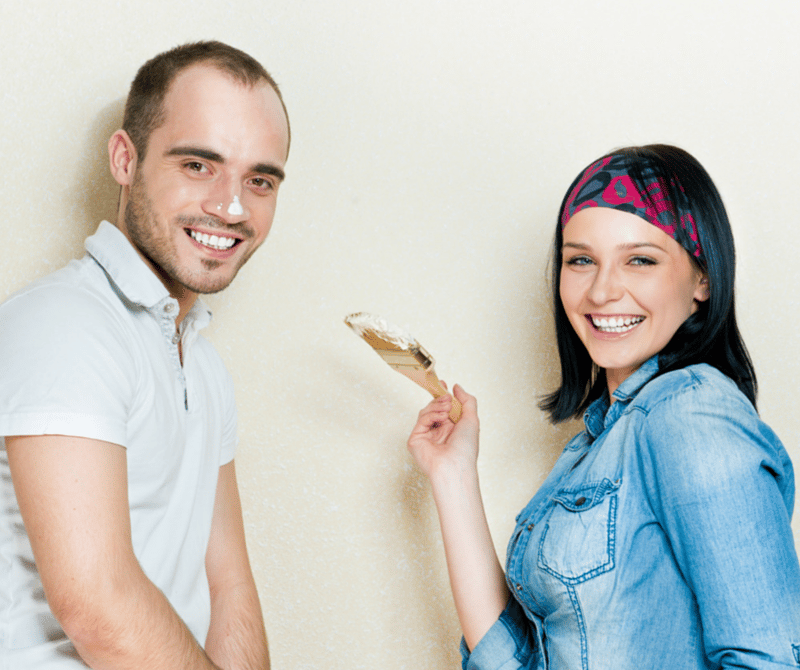 New homeowner? Our first post 4 Easy Hacks for First-Time Homeowners gave you some easy tips and tricks to ease your transition into homeownership. Here are 4 more!
We recently talked about how to pay off your mortgage faster, how to avoid hiring the dreaded friend-of-a-friend who might possibly know something about plumbing, how to prepare your new home for tax time, and how to stay safe in your new home. If you achieved all of these hacks, then congratulations! You've got most well-seasoned homeowners beat! Let's look at some additional hacks for first-time homeowners that will have you ready to offer advice to your fellow military families before your next PCS!
1. Paint as if You PCS Tomorrow
One home painting strategy for military families is to assume that you must rent your home when it's time to PCS. Most military families only live in their homes for three years, and the average suggested time to live in a home before considering to sell in order to break even is 5 years, so it's a good idea to prepare to rent in case your home is not yet in a financially viable position to sell. For this purpose, use a highly durable, semi or high gloss neutral paint (make sure it's one that's not just a seasonal color, but rather a standard color from an easily accessible brand, such as Sherwin Williams or Behr) that can easily withstand wear and tear. In most parts of the country, you do not need to paint between tenants; instead, landlords can get away with washing down the walls, using a magic eraser for heavy marks, and using a single can of paint for touchups. In certain areas such as New York, however, landlords must paint every three years, so make sure to check with your local regulations. Follow these tips and you won't have to waste your precious PCS time repainting a bright purple dining room like I did!
2. Check Your Circuit Board
Most brand new homes now come with well-labeled circuit boards. If you've bought an older home, though, then chances are that the circuit board is either not labeled or is labeled in garbled writing and words that simply don't apply. One home I lived in had rooms marked as "blue room" and "Susan's room." Needless to say, all of the rooms were painted bright white and I have no idea who Susan was or where she slept. I eventually learned that my room was once blue and that my sister now occupied Susan's room. Don't wait until a storm or emergency to address safety concerns in your home.
3. Update Your Life Insurance
Though we often address unpleasant topics in real estate, such as foreclosures and short sales, death represents one of the greatest hardships in real estate, and thus one of the most unpleasant topics, so I'll only address it briefly. If you've ever witnessed a family first lose a loved one and then lose their home as a result of lost income from one of the parents, you know the importance of life insurance. If you haven't witnessed such an event, then I hope you never have to. Military families can access life insurance with war clauses through SGLI and organizations such as AAFMAA, USAA, and Navy Federal, among others.
4. Plan out Your Home Spending
Remember that money is a resource vastly more limited than either your imagination or your furniture and electronics salesperson's imagination. Let's not even discuss Pinterest here unless we're talking DIY. When you've just bought your first home, it's far more important to have extra cash in emergency savings so that you can fix the air conditioner in the summer than it is to install that Bose sound system throughout your home. Price out how much it would cost to replace your major systems first, determine whether you want to save to have that much available in cash or pay monthly for a home warranty, and then purchase the non-essentials your heart desires.
Before you spend everything on one pricey item, though, first plan out what you need for your home. I usually sketch out a layout of each room and then draw in the furniture items that I already have. I then use pencil to draw in items that I need to fit my new space and create a list in order of priority. I also add a column of how much I am willing to spend on each item before I go shopping, and that's definitely one hack that I wish I had before I was a first time homebuyer!
If you're a seasoned homeowner, what hacks do you have to offer first-time military homeowners?