5 Day Trips to Lakes Near Fort Benning, Georgia
Fort Benning, Georgia, is a hub for outdoor enthusiasts. Agreeable year-round weather and lush landscape provide plenty of opportunities to get outside and take nature in. Hiking and biking certainly have dedicated followings, but when the heat settles in down South, water sports take over as the favorite past time.
What better way to enjoy a summer day than to take a day trip to a nearby lake complete with swimming, fishing, and boating? Fort Benning has many to choose from within a short drive. Plus, some lakes are part of a state park system and have amenities such as picnicking pavilions and camping to add to the adventure.
Don't forget; Fort Benning's unique location offers not only access to Georgia lakes, but popular watering holes located beyond the state line in Alabama.
These five lake destinations are all under a 2-hour drive, which leaves plenty of time to pack up, enjoy the long summer day, and head home just in time to tuck into your own bed!
5 Day Trips to Lakes Near Fort Benning, Georgia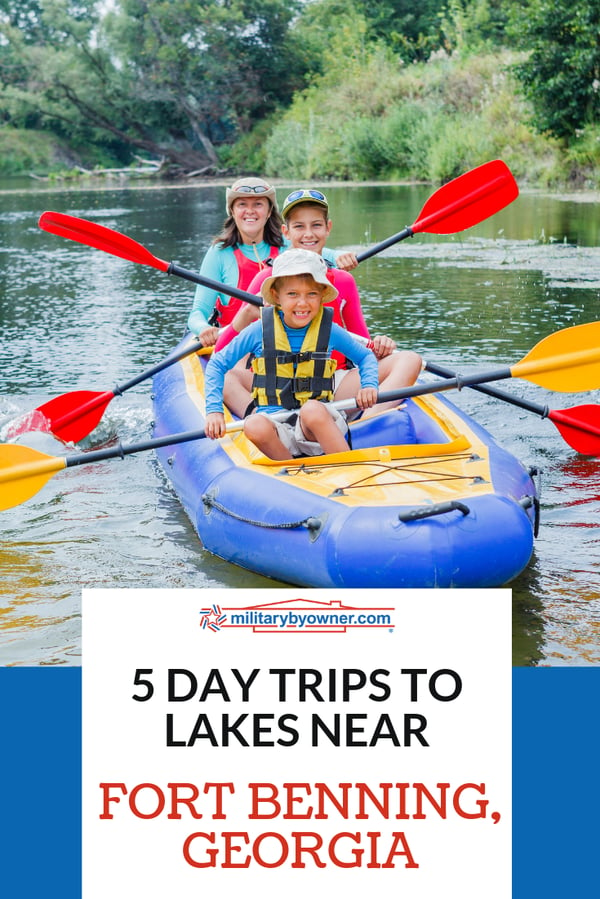 Distance: approx. 1-hour drive, 60 miles.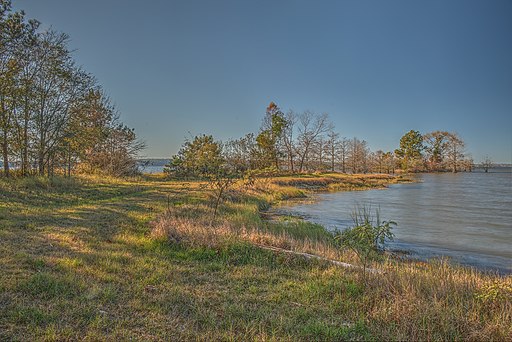 Known for trophy catfish and bass fishing, Lake Walter F. George holds the Georgia state record for an 80-pound blue catfish caught. The marina and boat ramp is ideally located for swimmers and anglers who want to explore different areas of the 48,000-acre lake. The marina store is stocked with gas, pontoon rentals, and boat snacks to keep the whole family happy.
Later, take a break from the water and explore a 3-mile nature trail. You might catch a glimpse of popular wildlife that inhabit the area.
George T. Bagby State Park and Lodge welcomes guests who prefer to spend the night and redo a lake day over and over! There are lakeside cottages to rent--ideal for families of all sizes, including large groups.
Need help familiarizing yourself with Fort Benning? Check out our latest ebook!
Distance: about 1.5 hours drive, 77 miles.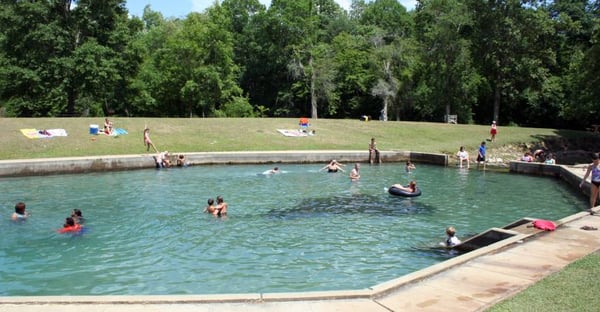 Image via Alabama State Parks
A unique vacation spot in Alabama, Blue Springs is a crystal clear underground spring that maintains a 68 degree temperature all year round. The spring feeds the sandy bottom swimming pools in the state park and eventually flows into the Choctawhatchee River.
Camping in the park is popular because of the comfort amenities: water and sewer hookups, 30-amp electrical, campsite fire pits, picnic table and grills, and a shower station. Pets must be on a leash.
Picnics near the playground are even more fun because of the recently updated ADA-approved play structure. Lunch by one of the pools is also a good choice. Picnic areas throughout the park have grills, but day trippers can bring their own.
Fishing is an option in the stocked pond, but an Alabama fishing license is necessary and fishing from boats is not allowed.
Distance: about 1.5 hours, 83 miles.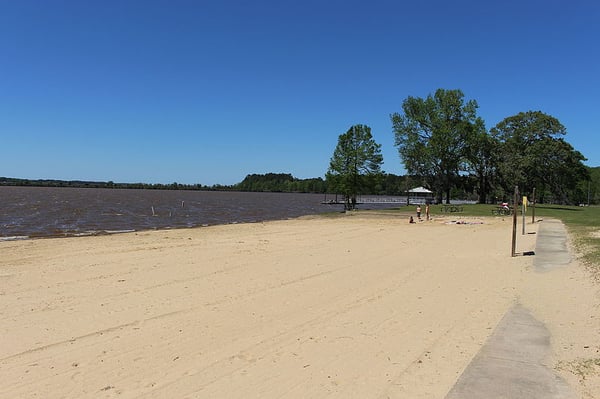 This state park was originally created to honor U.S. military veterans. Not only does the park include Lake Blackshear, but it houses a museum that has memorabilia and equipment dating from the Revolutionary War through the Gulf War years. Visitors can get up close and personal with aircraft, armored vehicles, and weapons in addition to uniforms and military medals and honors.
The Lake Blackshear Resort and Golf Club is a conference center with lodge rooms and cottage options. Overnight park stays are permitted in tents, trailers, and RV campsites. All have lake or wooded views.
Golfers have the opportunity to play 18 holes on the resort, while swimmers get to enjoy a sandy beach complete with picnic areas. Four miles of nature trails, canoeing, and biking are available, as is the beloved SAM Shortline Excursion Train. It treks through the park from Cordele to Plains while showing riders an antique telephone museum, Habitat for Humanity's Global Village, and President Jimmy Carter's childhood farm.
Check out more Must-See Attractions Near Fort Benning, Georgia.
Distance: 45-minute drive, 41 miles.

Little White House in Georgia
President Roosevelt sought refuge in this state park--Georgia's largest. Although he used the springs to help relieve polio related symptoms, he also was known to frequent Dowdell's Knob, an overlook feature set among more than 40 miles of trails. Today, a statute of the president welcomes hikers and backpackers to explore trails and waterfalls.
The Liberty Bell Swimming Pool is fed by the cool springs, and two additional lakes are open to fishing. The park is also known for the privately owned stables that offer guided horseback rides. Roosevelt's Little White House Historic Site hosts visitors to view his home and a museum.
Overnight guests have the option of staying in cottages, tents, RVs, Pioneer campgrounds, and backcountry campsites.
Distance: about 45-min drive, 37 miles.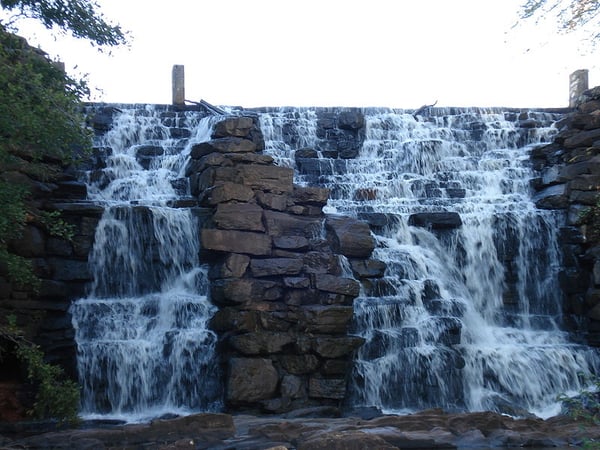 Nearby neighbor, Auburn, Alabama, is home to Chewacla State Park. The park offers classic options from hiking and camping to swimming and fishing in the 26-acre lake. Anglers are thrilled to find bream bass, crappie and catfish at the end of their lines. Visitors are encouraged to bring their own non-motorized water transport, like canoes and kayaks.
Families appreciate the managed swim area, playground, a modern campground, and picnic areas. Bike rides are also a big hit.
But what is really unique about the park is football. Auburn football, to be precise. The park offers three package deals for campsite tailgating all season long. Choose the one that suits your home and away schedule the best.
There you have it! Five, one-day lake trips near Fort Benning! However, these are just the options within less than a 2-hour drive. Head north, south, east, or west and drive a little further to find more opportunities to spend time on a Georgia, Alabama, and even a Florida lake!