What to Expect for Your PCS Move to Fort Benning
If you're new to living in The South, you'll get a heaping dose of just what Southern culture is all about near Fort Benning, Georgia. Small town charm mixed with a strong military vibe equals a unique result.
Don't worry; this hybrid culture is easy to get used to, particularly if you jump into the food and culture scene! Friendly locals are a commonality, but so is the transient nature of the area's military families.

Getting to Know Fort Benning
Fort Benning is just south of Columbus, Georgia, on U.S. Highway 27. The post covers nearly 182,000 acres of land, with 93% of the area in Georgia and 7% in Alabama. Newcomers are often unaware that Fort Benning straddles the Georgia and Alabama border. For this reason, Fort Benning; Columbus, Georgia; and Phenix City, Alabama, are known as the "Tri-Community."
Incoming families find that Fort Benning offers plenty to do, especially outside. Favorites are the Chattahoochee River Walk and outdoor markets on the weekends. Festivals are popular during most of the year and honor everything from heritage to innovation. For a small city, Columbus boasts a robust cultural scene, including an opera house and amphitheater.
Start here to learn more about Must-See Attractions Near Fort Benning.
Fort Benning is a TRADOC installation (Training & Doctrine Command), so there's a good chance that if a servicemember is stationed at Fort Benning, they'll attend Basic Training, Airborne School, or be assigned to the 75th Ranger Regiment.
Fort Benning is also home to the U.S. Army Maneuver Center of Excellence, including the U.S. Army Infantry and Armor Schools. Don't worry if you don't see your unit listed; there are many more work and training opportunities for the more than 70,000 active duty soldiers stationed at "Benning."
Limited duty tours coupled with the short time spent at school programs such as basic training and Airborne school bring service members in and out regularly.
Military Installations Around Fort Benning
Fort Benning's military base neighbors include Robins AFB, MCLB Albany, Dobbins ARB, Fort Gillem, and Moody AFB. These are all located in Georgia, but are a hefty distance away. The closest installations, MCLB Albany and Robins AFB, clock in at about a two-hour drive from Fort Benning. Dobbins AFB is slightly further, but also nearly two hours away in Atlanta.
School and Places to Live On or Off Fort Benning
Fort Benning does offer on base housing through The Villages of Benning. Housing consists of a variety of configurations throughout seven different communities.
Fort Benning is one of the few remaining CONUS bases that fall under DODEA jurisdiction. There are five elementary schools and one middle school on Fort Benning. Children residing on base attend school on Fort Benning for Pre-K through the 8th grade. After, they move on to local county schools.
Image via the Villages of Benning
Because the base encompasses counties in Georgia and Alabama, four school districts are options for high school: Muscogee County Schools, Chattahoochee County Schools, Russell County Schools, and Lee County Schools. For those looking for private or homeschool education resources, the area has multiple choices, including parochial affiliations.
Check out MilitaryByOwner's Fort Benning base information page. It's full of the must-know details needed to PCS to Fort Benning.
Off base, the Fort Benning area offers several neighborhoods and areas that current military families enjoy. They tend to be a 20-30 minute drive from Fort Benning, and the commute usually begins or ends with back-ups at Benning's gates.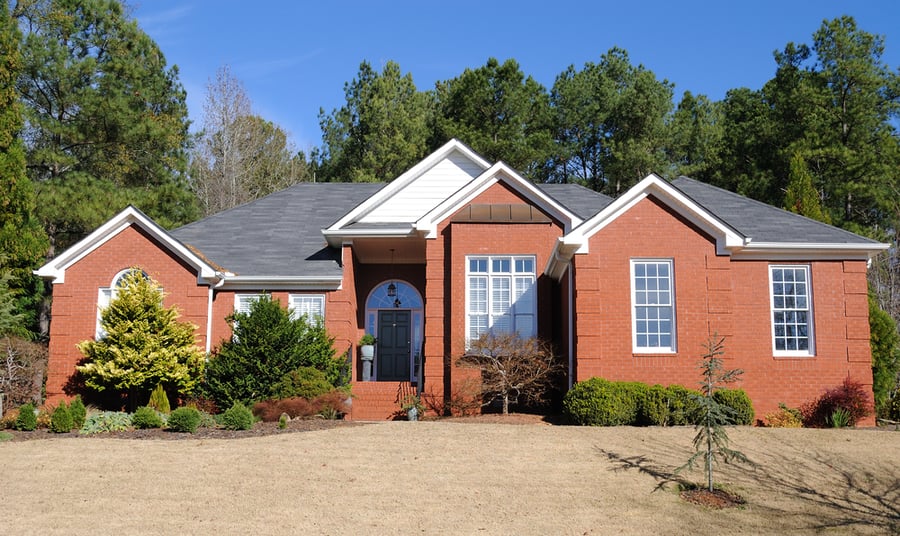 To help you decide where to live, keep in mind that the cities of Phenix City, Fort Mitchell, Salem, and Smith's Station all lie on the Alabama side of the post, while Columbus, Fortson, and Cusseta are on the Georgia side. Home searchers will see mentions of neighborhoods such as Wrenwood, Bradley Park, Midland Springs, and North Columbus.
---
Curious about lake life near Fort Benning? Check out this rental home available May 1, 2021.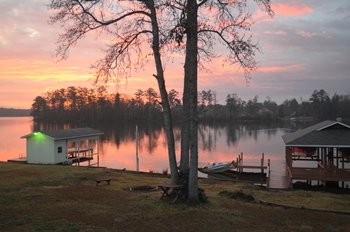 695 Lee Road 339, Salem, Alabama, 36874
2 Bed, 1 Bath
Rent: $1,500/mo.
MilitaryByOwner Listing MBO1467583
A lakeside home is a sought after lifestyle near Fort Benning, and this property available in Salem, Alabama, doesn't disappoint! Those who want to spend their free time on the water will love the two slip boathouse with electric lifts, and a separate two slip jet ski drive on lift. Enjoy the oversized deck surrounding the boathouse while relaxing by the water. There's no need to worry about water toy storage, as there's plenty in the two outdoor sheds and under the covered porch.
On the days you feel like enjoying land life, the yard is wide open and available for all kinds of outdoor fun. Entertaining will become your new favorite hobby!
Are you looking for a real estate agent near Fort Benning? Take a look at our Fort Benning real estate professionals directory.
---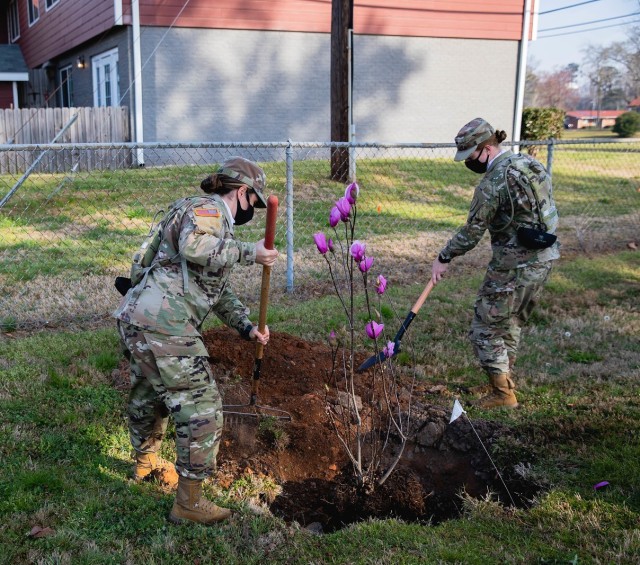 Photo via U.S. Army
Base Life
Fort Benning is vast and offers many services often overlooked on small bases—starting with Army Community Service's Newcomers Orientation. The program provides resources, activities, and organizations on base and the local communities to help your family take advantage of all the opportunities the Chattahoochee Valley has to offer.
To start a new routine at Fort Benning, take a look at Child & Youth Services and the sports and fitness offerings. Seasonal programming is available in addition to scheduled care and classes. The Outdoor Recreation Center offers many chances to enjoy Fort Benning's year-round activities: Hunting, fishing, parks, ponds, trails, swimming, and a shooting complex.
The New to Benning resource connects families to on and off base recreation and cultural events.
Military Spouse and Family Support
Due to its size, Fort Benning has many avenues for spouses to engage. Higher education is offered through college campuses on base as well as outside of the gates. Community colleges offer not only degrees but classes for personal development--or fun!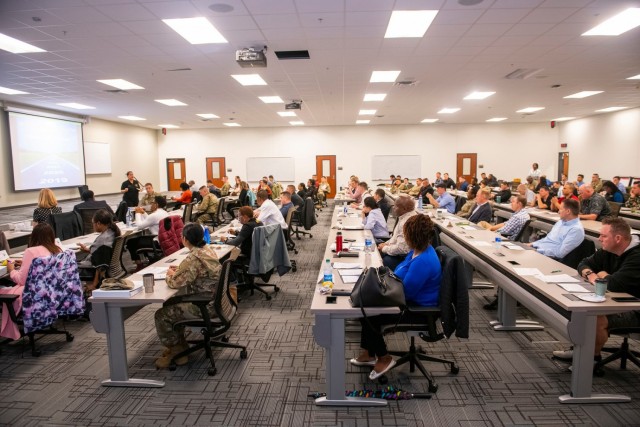 Image via U.S. Army
Job searches are limited by industry, and growth remains slow. Fort Benning and local school districts are two major employers, followed by healthcare and local government. Spouses can spend free time volunteering, as there are always organizations in need, such as the Ronald McDonald House. Civic clubs and spouse organizations round out opportunities beyond work and home life.
Check out some of these groups and resources:
Things to Do Around Fort Benning
Due to Fort Benning's Central Georgia location, the Panhandle region of Florida (Panama City and Pensacola) and Jacksonville, Florida, are popular destinations because of the military-affiliated installations in the region and as vacation destinations.

Atlanta and Savannah in Georgia and Montgomery in Alabama are all within a few hours' drive of Fort Benning and are typical day and weekend trips for Fort Benning residents.
For more entertainment and exploration options, take a look at our Fort Benning blogs:
Downtown Columbus also has much to see and do as they've embarked upon a significant transformation over the last several years, enticing developers and small business owners to set up shop. Expect to find unique stores and lively restaurants and bars. The Chattahoochee River Walk is a popular gathering spot to enjoy river views, restaurants, and nightlife options.
If your memories of Fort Benning and Columbus are from years past, you've got some catching up to do! A PCS move to the area will look much different with the ongoing revitalization projects and the improved amenities on base. Now, military families are better suited to enjoy the area while stationed at Fort Benning.
Follow MilitaryByOwner to find the latest for sale and for rent home listings during the PCS season. Inventory is updated every day!