5 Reasons to Allow Pets in Your Rental Property
Take a poll of landlords, and you'll find they often have mixed feelings about allowing pets in their rental home.
But if you're in the position of renting out a home or apartment in an area with a lot of military and their families, you have even more reason to welcome pets, since many military consider their pets as part of the family.
Here are a few facts about renting to tenants with pets:
According to an Apartments.com survey, 72% of renters own pets.
Statistics show that, overall, pet owners make good tenants.
Pet owners are more likely to renew a lease.
If you're a landlord considering whether or not you should allow tenants to have pets, here are a few reasons to make your rental a cut above your competitors!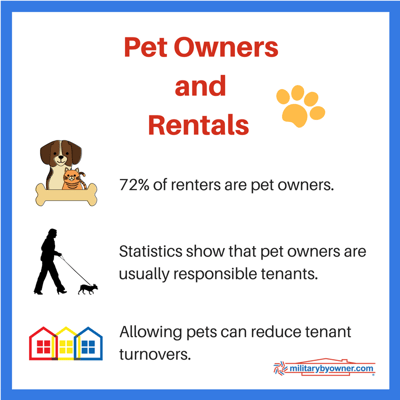 Benefits of Allowing Pets in Your Rental Property
1) You'll find a larger pool of renters.
Sixty-seven percent of U.S. households, or about 85 million families, own at least one pet, according to the 2019-2020 National Pet Owners Survey from the American Pet Products Association (APPA).
2) Less rental turnover.
Pet owners are more likely to renew their lease.
From RENTEC Direct:
Another bonus for landlords who allow pets at their properties involves a reduction in tenant turnover. In an analysis of landlord surveys by FIREPAW, Inc., tenants with pets were found to stay significantly longer, by an average of 23 months compared to 15 months. This difference was found to be even greater using tenant surveys who reported staying an average of 46 months in pet-friendly compared to 18 months for tenants residing in rentals prohibiting pets.
3) Pet-friendly properties can draw a higher rent.
Pet owners are loyal to their furry companions and often willing to pay more for a pet-friendly home. In addition, you can safeguard your property by adding "pet rent" or a pet deposit for any damages or wear and tear. A study from HotPads tells us that, for instance, pet-friendly units in San Francisco cost an average of 12% more than those that don't allow pets.
4) Statistics show that pet owners are usually responsible tenants.
Taking care of a pet requires time and attention. Pet owners will more likely view your rental as their home and also give energy to taking care of the property. They also tend to be home more, which means more security. Learn more: Pet Friendly for Better Tenants.
5) To support the military community.
Not only will you improve your reputation as a landlord, you'll also be supporting military families during a PCS move, which is a stressful event for everyone involved. Finding a home that allows all their family members, including beloved pets, removes one of those stressors immediately. And when they move on, they're likely to pass your name to other potential renters. It's a win-win!
Of course, you also want to protect your property and avoid issues like noise complaints, damages, or an unsafe pet situation.
Follow these steps and then learn more in our post Landlords, Should You Allow Pets in Your Rental Property?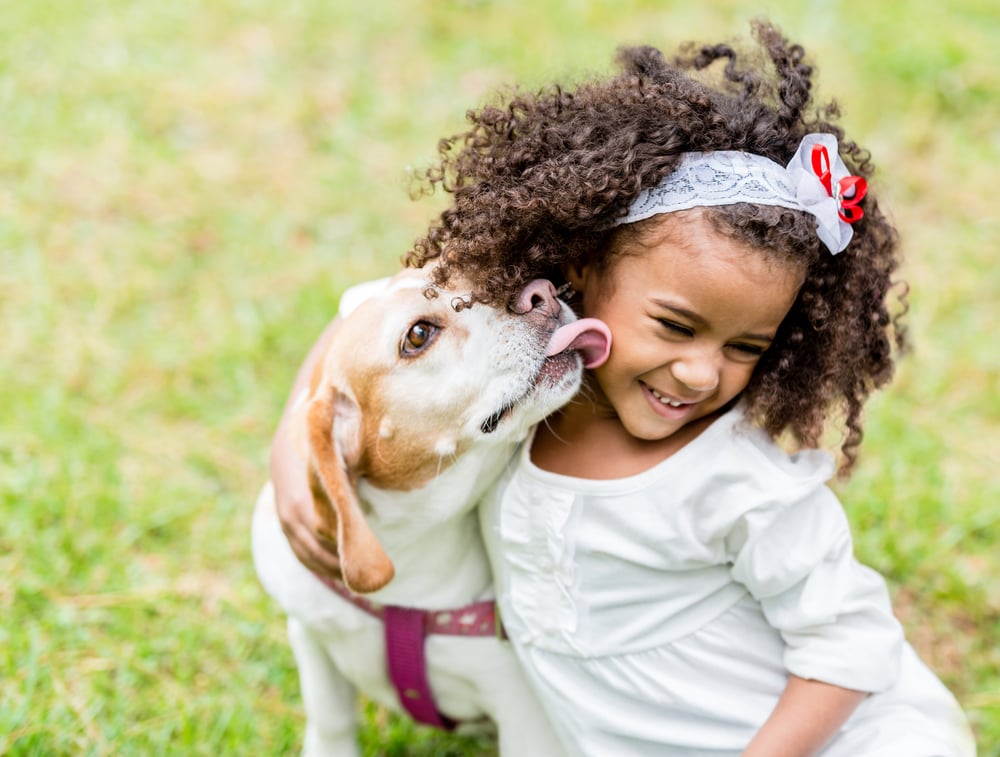 Image from Shutterstock
Some Pet Requirements to Add to Your Lease
1) What type of pet you allow.
Some landlords approve dogs based on weight rather than breed. For instance, some leases allow dogs only under twenty pounds. Add wording for approval on a case-by-case basis if that's what you plan to do. (Of course, some HOAs and areas have banned breeds, so make sure you're following those guidelines).
Include whether or not exotic pets are allowed, and what type.
2) Whether or not you require proof of spaying/neutering.
4) Details on removal of pet waste.
Stipulate that pet waste will be removed regularly and where it's to be placed (for instance, in outside trash bins only).
5) Pet safety.
Require proof of current vaccinations and that cats and dogs are microchipped and wear tags. Add wording that pets will be kept under control at all times or leashed when outside. Make clear that there's to be no tethering of animals and don't allow pets to be left outside in a fenced yard in extreme temps or at night.
6) Who's responsible for damages.
Add clear wording that tenants are responsible for any damages caused by pets.
Don't worry about missing a detail! MilitaryByOwner's partner, US Legal Forms, has pet specific addendums for rental properties.