6 Resources for a Military Move with Pets
As I write this, our new rescue dog is bounding around the living room, "killing" his chew bone with feigned ferocity. After several years since our last doggie passed, we finally felt ready to welcome a new pup to the family. Over my husband's military career, we've made many PCS moves with our dogs, and I know that while the addition of a family pet brings much happiness and companionship, it can also add several layers of complication to a military move.
Earlier this year, after a series of pet transport mishaps, United suspended its pet shipping program temporarily. This decision caused some panic for military members stationed in Guam, as United is currently the only commercial airline flying pets to and from the remote island. The airline is back to shipping animals, but with some major restrictions. (See the latest guidance on United's site.)
As well, all airlines prohibit certain breeds of both dogs and cats, which can force military families to make a decision to rehome or find a temporary home for their banned pets when a move comes up. Stars & Stripes reported that the DOD is working closely with commercial airlines to continue providing safe transport of pets for military families.
MilitaryByOwner has covered the requirements and preparation needed to move with your pets many times. Check out these posts for more detailed information:
While you'll need to ensure your pet's health certificate, immunizations, and other paperwork are all completed for the country or state you're relocating to, we're sharing a few other resources for making your military move with pets easier, whether overseas or stateside.
6 Resources for Your Military Move with Pets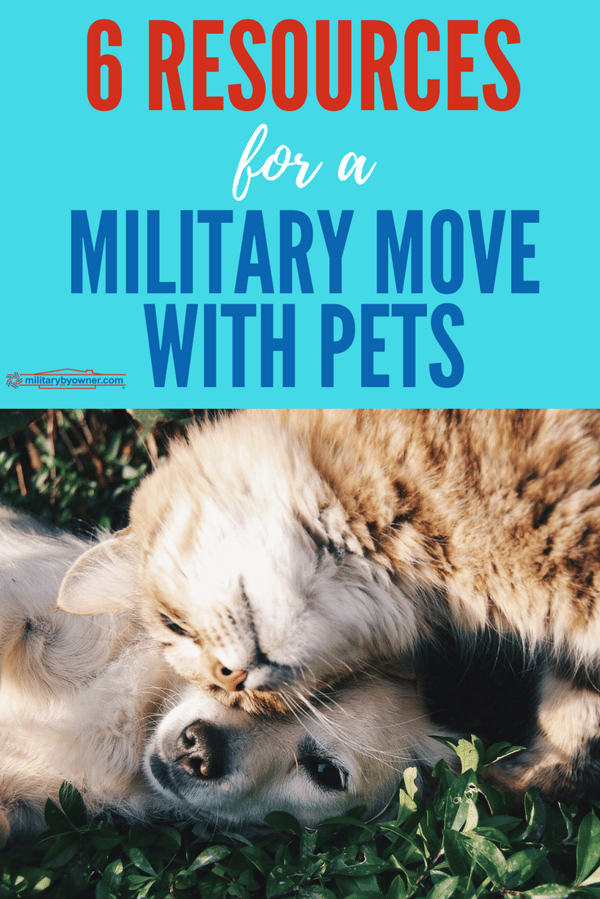 1) Air Mobility Command (AMC)"Patriot Express" Flights
You may be eligible to ship your pet via military transport. There are limited spaces for pets on AMC flights for overseas PCS travel from Baltimore/Washington International or Seattle/Tacoma International airports. A limit of two pets per family applies. (Waivers are possible if space is available.)
AMC flights have similar breed restrictions as commercial airlines. While this option is much less expensive than flying commercially, the coveted spots are limited and it's recommended to contact your local travel office as early as possible for all the requirements and details.
2) Pet Transport Companies
Type 'pet relocation' into Google search and a multitude of companies and ads will pop up. But are they all the same?
A pet transport company will handle all the details of shipping your pet overseas or even transportation domestically, to include quarantine and immunization paperwork you're required to file, travel and flight arrangements, any needed documents, and pick up/delivery to and from the airport.
But not all companies are equal. Avoid a shady company or scam artist by finding a professional pet shipper already screened through the International Pet and Travel Association (IPATA). The website covers a multitude of FAQs about transporting pets and a members-only section with country profiles, a directory, training resources, and more.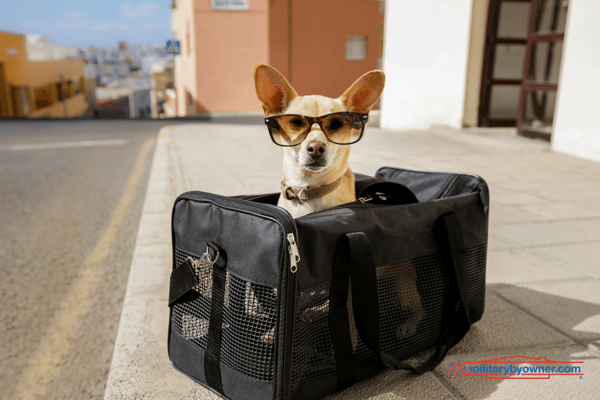 3) Military Pet Relocation Grants
The cost of shipping a cat or dog in the cargo area of a plane runs anywhere from about $200 up to $1,000, depending on the animal's size. With other possible costs including vet screening, an approved kennel, quarantine fees, and customs clearance, the price tag can add up quickly.
Several companies and nonprofits are working to alleviate the hardship of moves on military families wishing to keep their furry family members. Here are just a few:
4) Pet Quarantine Fee Reimbursements
If you're moving to an area with mandatory pet quarantines such as Hawaii, Japan, or Guam, you may be entitled to a reimbursement from the government.
The DOD's Defense Travel Management Office states that, for uniformed service members, "Mandatory pet quarantine fees, incurred ICW the mandatory quarantine of a household pet, are reimbursable not to exceed $550 per PCS move for pets in, or entering into, quarantine on and after 28 December 2001… Only quarantine costs associated with dogs and cats are allowed."
Transportation costs are not included for reimbursement.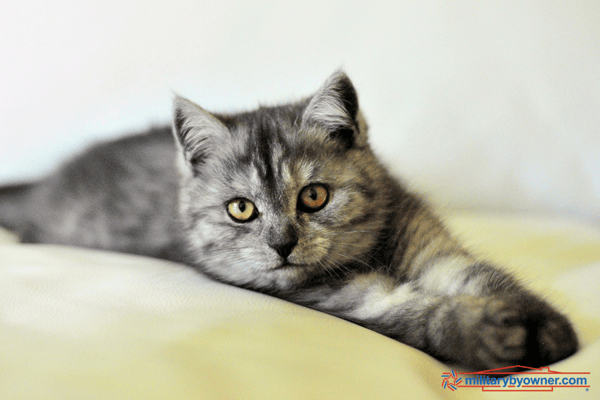 5) Pet Foster Care
When faced with a short-notice overseas move or deployment, some military families must make the decision to leave a pet behind temporarily. When our family moved to Hawaii, my sister kept our dog for several months until his quarantine period passed, then flew out with him later.
Those not lucky enough to have friends or family members able to help can work with organizations founded to provide temporary homes for pets of military families going through a transition. Their goal is to reunite families with their pets and help prevent the occurrence of abandoned animals.
6) Alternative Travel Plans
If your PCS falls during the summer or winter months when pet travel in a plane cargo hold is limited because of extreme temperatures, you have some alternatives.
Ship your pet alone on a cargo flight. This option is understandably more expensive and can usually only be booked a couple of weeks in advance. For instance, when I researched a sample Delta cargo flight for a 30-lb dog from Texas to Florida, the cost one way came up as over $450. See Delta Airlines' guidance for year-round shipment of animals and American Airlines cargo pet policy.
Travel by train! Amtrak now allows smaller animals to be transported for just $25 each travel segment when traveling with you. Travel legs can only be up to seven hours (weight and breed restrictions apply).
If you've made a military move with pets, we invite you to share your favorite resources. Connect with MilitaryByOwner on
Facebook
and
Twitter
!