6 Tips to Make Moving Into Your Rental Home a Breeze
For many military families, move-in day tends to be a swirl of emotions with a generous sprinkling of chaos. Whether you have decided to rent on or off base, don't let the excitement of move-in day overshadow a few key essentials, including diligently completing a move-in checklist.
Taking the time to painstakingly annotate the current condition of the property, including any damages present upon move in, could literally save you hundreds of dollars at move out—if questions arise in proving damages that were already in the home prior to your occupancy.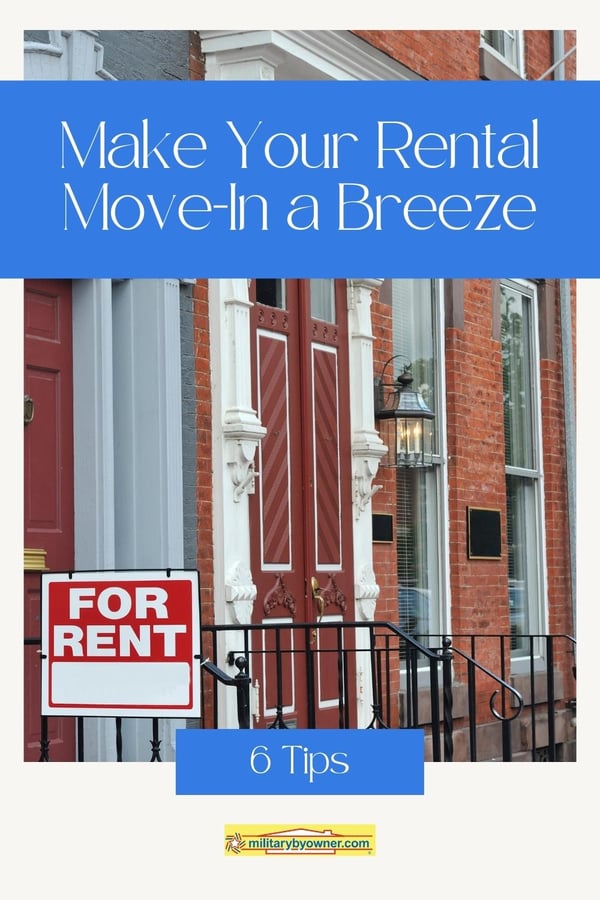 1) Pick Up the Keys and Ask a Few Questions
Some property managers or landlords will meet you at the property for a lease signing, while others may execute the lease signing at the management company's offices.
No matter where the lease signing occurs, the manager or landlord should go over a few key details of the property and the leasing transaction before executing the lease.
Lease Terms, Penalties, and Security Deposits
What's the length of the lease term? Once the original lease term ends, can you extend it? If so, in what increments, i.e., monthly, 6 months, or another year? How much notice is required to vacate the unit? Is the security deposit refundable, and if so, under what terms? When is rent due, how are you to pay it, and what penalties are incurred for any late fees?
Utilities and Rent Inclusions
What is included in the rent, specifically utilities and parking? Are you expected to provide lawn and snow care? Or is this provided by the landlord, and if so, is there a fee? Ensure all inclusions and exclusions are denoted in writing, on your lease.
Resident Handbooks and General Policies
Is there a resident's handbook that you could read before signing your lease? Property management companies that have well-defined resident policies tend to often also be highly responsive landlords when issues arise.
Pet Policies
What is the pet policy, and is there a number, size, or breed limit, and what is the deposit for each? Is the deposit refundable?
Maintenance Policies
Poor maintenance policies are one of the biggest complaints from renters. Ask what procedures are in place to report work orders. Is there an internal maintenance team, or will a contractor need to be identified and called? Is there an emergency maintenance number, and is it 24/7?
Construction and Renovations
Is there any construction, renovation, or demolition planned over the term of your lease? Maintenance and improvements are great... until they're not. While there may not be a legal requirement to inform residents of planned construction, it is certainly something you would appreciate knowing as it could affect the peace and enjoyment of your rental experience in that particular location.
You're in the home stretch once the lease is signed. You've secured a home, but don't skip the walkthrough!
2) Walk the Property with the Landlord or Property Manager
If the landlord or property manager does not make the offer, ask them if they would be available to walk the property with you. Ideally, the property manager is available and wants to do a walkthrough alongside you, both to answer and explain any particulars of the home, and to inspect the premises.
If not, ask for the deadline to complete and submit your move-in report, and then thoroughly assess the home.
3) Time's Ticking: Complete Your Move-In Report
Most often referred to as a Move-In Report, what you will actually be completing as a renter is a property condition assessment. There are two essential areas you should annotate for the home: function and condition.
Most companies offer a standard worksheet, to be completed and returned within 15 days. The clock is ticking. Any documentation submitted after the deadline may not be accepted. Consider submitting pictures or video of any damages as supplemental documentation. Denote any repairs needed, or damages present— no matter how small.
Tip: Landlord or rental company doesn't have a worksheet? Not a problem, MilitaryByOwner has you covered; download ours! See the Walk-Through Checklist.
4) Review Functionality
In reviewing the rental for functionality, you will be assessing the working condition of the home, to include all appliances, plumbing, electrical and water systems. It's not as daunting as it sounds.
You can find a complete walkthrough checklist here, but here are key areas to inspect: all appliances, to include dishwasher, fridge, stove, and garbage disposal, should be in good working order; garage doors should open smoothly; all cabinetry should be securely fastened; ceiling fans should be operational and not loose; all light fixtures should be in working order; all windows and doors should be in good condition and open and close securely; and all areas of plumbing, to include toilets, tubs, sinks, and drains, should function, fill and drain completely. Report any leaks immediately, including a toilet that runs.
Note any discrepancies immediately, and notify the landlord or manager in writing.
5) Review Condition and Cleanliness
After assessing the functionality of the home, review the condition and cleanliness of the premises.
Flooring and baseboards: Carefully examine the condition of the flooring and carpet and note any stains, pulls, or scratches, as well as the condition of the baseboards. Ask, what is the age of the carpet? (Most carpet has a usable life of 7 years/84 months. Anything older should likely be replaced.) Charges assessed for flooring damages tend to be one of the most common, so you'll want to ensure all damages (including unexplained odors), are clearly annotated upon move-in.
Walls and paint: Note any scratches or dents, the condition of the walls, if paint is fresh, and any stains.
Light fixtures and ceiling fans: Ensure light fixtures are clean, with all bulbs present. If bulbs are missing, ask for replacements. Ceiling fans should be clean.
Windows, blinds, and doors: It's very obvious if the windows are clean. They should be, but if they are not, ask for a follow-up cleaning. Report any torn screens and request replacement. If blinds are provided, ensure they are clean and report any broken or bent blinds. Inspect door thresholds and window tracks for any dirt build-up.
Plumbing, toilets, and tubs: In addition to ensuring there are no leaks and faucets are in good order, take a close look at the tile grout and caulking around tubs and toilets. Caulking and grout should be sealed.
Exterior and landscaping: Note the condition of grass, shrubbery, and trees. Is the property overgrown or in need of an initial mow? If so, document and report it. Carefully walk all lawn areas and look closely for any left-behind pet excrement. If needed, ask for an additional yard waste pick-up.
Tip: Many Resident Handbooks will have a detailed Move-Out checklist that includes cleaning expectations from the landlord or management company. You can quickly determine if the move-out standard was met by walking your new rental with the company's move-out checklist and annotate any discrepancies. Pay close attention to appliances, such as the stove/oven, refrigerator, washer and dryer, and ensure they have been thoroughly cleaned. Also, take a peek in window wells and tracks. Windows should be cleaned and tracks free of dirt. Report any discrepancies, and ask for follow-up cleaning if needed.
6) Fast-Forward to Move-Out Day
As the military always does, at some point the PCS gods will decide it's time for us to move on. At that point, your landlord or property manager will complete a move-out inspection with you. They will be looking for damages and wear and tear.
If damages were not documented in the move-in report, there is no definitive proof that the damages were not caused by your tenancy and were pre-existing with the property. Having a detailed move-in report offers protection for you, but also serves as a record for the property.
Additionally, there may have been employee turnover within a management company with no current employee knowledge of what the property looked like, say three years ago upon move-in, or what concerns may have been noted. Likewise with a private landlord— memories fade, and what the landlord may fondly remember may not match reality. The protection for you as a renter, in either scenario, is a detailed move-in report.
Whether it's move-in or move-out day, we've got all the PCS hacks and tips to make any PCS a breeze! Check out our complete series of PCS ebooks for more lists and help.