Dog Breed Restrictions for On-Base Military Housing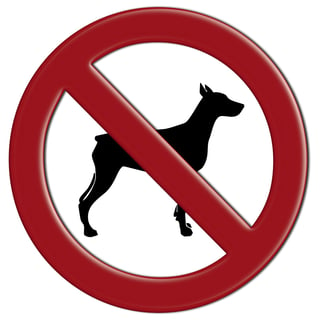 If you're moving into military housing, you may have questions about whether or not your family's beloved dog is allowed.
Where to begin to make an informed decision about where your military family--and your pets--will live?
An Army-wide memo in 2012 explained that breed bans on bases do not serve their purpose as it is the owner, not the breed, that determines a dog's behavior.
Among other things, the recommendations called for "dangerous dog regulations with emphasis on identification of dangerous and chronically irresponsible owners." Some bases, however, tightened their restrictions since this time.
Camp Lejeune, for example, issued a new policy requiring the annual re-registering of all dogs in military housing in what seems like an effort to weed out banned dogs, as they also mandated that banned breeds previously grandfathered in could no longer remain on base.
The Air Force Standardized Pet Policy states that "Residents may not board dogs of any breed (including a mixed breed) that are deemed 'aggressive or potentially aggressive,' unless the dog is a certified military working dog that is being boarded by its handler/trainer or approval is obtained by the Installation Commander in writing." Breeds on this list include Pit Bull, Rottweiler, Doberman Pinscher, Chow, and wolf hybrids, as well as any other dogs "known to demonstrate a propensity for dominant or aggressive behavior."
If you own a dog banned under these policies, this means that either the dog goes or the whole family moves off base.
It may seem unfair that the base has deemed your elderly dog a vicious animal whose mere presence in your back yard threatens the very lives of the neighbors you don't want in your back yard in the first place. The breed ban may seem especially unfair when the yorkiepoos and spaniels of those same neighbors terrorize the daylights out of anyone who walks in the periphery of their front window. However, the breed ban list from each housing office clearly states a well-defined list, and violations could result in your family's eviction.
If you find your dog's breed on the banned list for housing at your next duty station, there are several options that your family could consider regarding the pet.
1) While not recommended, you could be dishonest about the breed and hope to not get caught.
"No, no, Mr. Base Housing Officer. I assure you he is not a pit bull! You probably are just not familiar with his breed; he's a rare breed of friendly Labrador that originates on the micronation Principality of Sealand."
Let us, however, work from the assumption that we have an ethical, honorable military member who will not permit such transgressions simply to procure a house on base. The base will use either the breed name listed on your pet's vet records or, increasingly, will require a dog DNA test to prove the vet's breed. Base housing on MCB Quantico requires one of the two options and will not accept non-specific breed words such as "mixed" or "mutt" from the vet; everyone knows what those words really mean, anyway!
2) For another option, should your family truly desire to live on base, you can begin to consider alternative homes for your pet.
If trusted friends or family cannot take your pet, then most base newspapers permit free classified ads where you can list your pet. This will give you the opportunity to interview prospective families. Should you find a good fit, you can request a tour of the home and yard where your pet will live before you release him, which will help you get a better sense of whether the prospective pet owners truly desire to have a pet or whether they are part of growing circle of dog fighters. (You can report possible dogfighting groups to The Anti-Cruelty Society.)
In addition to posting advertisements, you can also research local shelters, but realize that shelters often cannot sustain the high numbers of dogs they receive and will often put down your dog in as little as three days if they have not yet found a family to take him home. These options are heartbreaking for families who see their dog as a member of the family, but there are other options.
3) One option that many families pursue is renting off base.
Renting often poses its own set of challenges, however, as most commercial rental communities and deed restricted neighborhoods typically prohibit the same breeds as the local base housing office.
Renting from an individual owner will likely incur restrictions on pet size, but rarely on breed. If your military family makes the choice to move with a dog that is not permitted to live on base, note that you can use the advanced search settings on MilitaryByOwner to filter rentals that accept pets.
As military families and dog owners, we know that moving causes its own set of challenges without even considering the challenges that arise when trying to find a place to live with a dog that typically finds itself on breed ban lists.
When all else fails in the rental market, many families tell us that they buy homes at each base to make sure they can accommodate the needs of their furry family members. In deed-restricted neighborhoods, breed restrictions may exist, but otherwise, buying a home will free you from pet ban restrictions.
To help you better identify a pet-friendly home near your new base that has fenced and spacious yards, consider contacting a real estate agent who can help you quickly identify a home that will best fit your needs!
This post was originally published in 2014; updated in 2016. Post is for informational purposes only and should not be viewed as legal advice. Check with your installation's housing office for specifics on their pet policies.