7 Day Trips and Camping Spots Near Eglin AFB
If you haven't yet had the pleasure of visiting the Florida panhandle, then you may be surprised to learn that those shimmering emerald waters aren't the only defining feature of this region. Beyond a touristy beach town is a down-to-earth culture. Wide-open land, quiet, untouched beaches, and forests set the backdrop for unlimited exploration.
If you're planning an overnight, camping, or day trip near Eglin AFB or your military family is looking for a place to unplug in nature after a week of hard work, here are a few places to venture off to.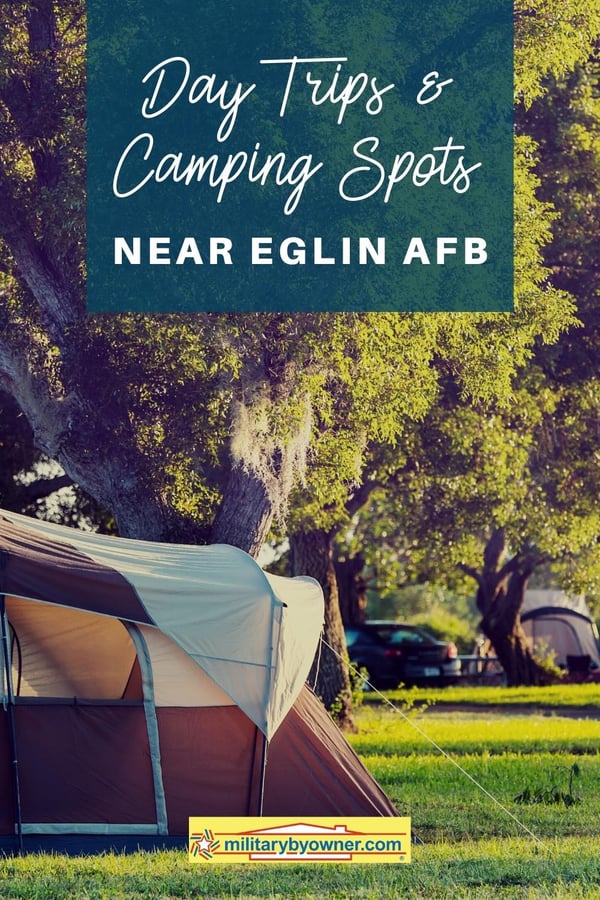 Approximately 45 minutes northwest of Eglin AFB is the Black Water River State Park. Flowing 57 miles toward the ocean, this Florida river mixes with the saltwater of the East Bay and turns a brown or blackish color. Here, you'll find both freshwater and saltwater ecosystems making for a uniquely fun and exciting day of fishing. The state park offers recreational rentals. However, you can also take advantage of the Whiting Park Recreational Area as they offer rentals to military members at a discounted rate.
What to do:
Canoeing
Boating
Kayaking
Tubing
Fishing
Camping
Hiking
Take a break from the tourist-filled beaches of Destin and Panama City with three miles of pristine white sand at the Topsail Hill Preserve State Park. Sitting just 40 minutes east of Eglin AFB, this spot serves as an easy day trip destination. But it can also serve as a place to spread out for longer if you need to. Offering over 170 campsites catering to both tent and RV campers as well as bungalows and cabins, Topsail is a beautiful backdrop for a weekend away. Hiking through the 15 miles of trails and exploring the 1,600 acres of pine forests, coastal dune lakes, and wetlands will do everyone in the family some good.
What to do:
Canoeing
Paddleboarding
Fishing
Camping
Hiking
Cabins
Kith & Kin Café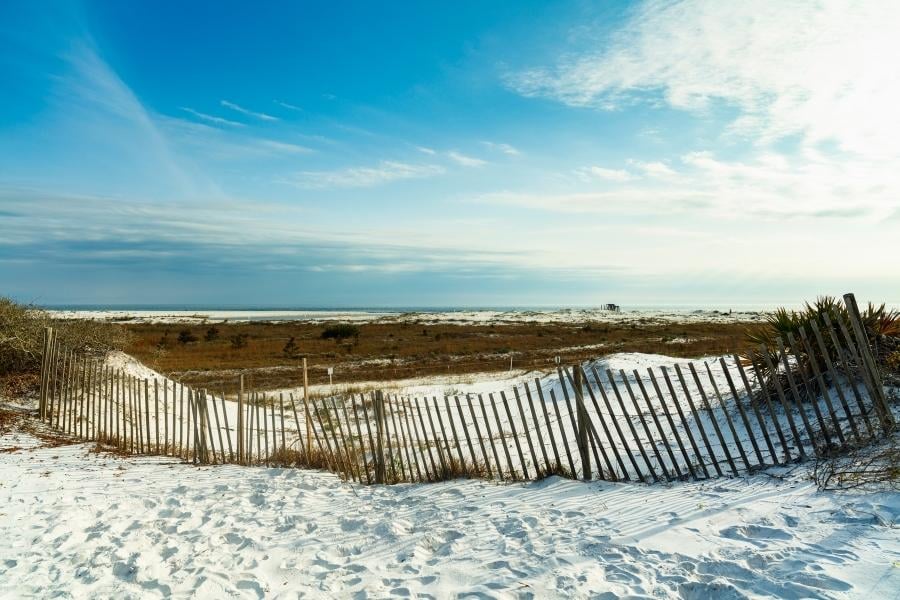 Image from Canva
Don't underestimate the value of your backyard. Eglin AFB offers an abundance of recreational facilities. Camp Robbins and Postl Point are great options if you're looking to plug into nature without the fuss of hopping in the car for a few hours to spend a weekend away from home. If you only have one night to escape your responsibilities, Elgin's FAMCAMPS offers the perfect balance of leaving your stress behind without creating more of it. Plus, if you add a paddleboarding adventure to the itinerary, you'll feel energized in no time.
What to do:
Camping
Kayaking
Paddle boarding
Related: Get to Know Eglin AFB
A little over an hour west of Eglin AFB is Fort Pickens. This Gulf Shore construct was built in the 1800s to defend the Pensacola Bay from foreign attacks. This unique piece of history sits south of the city and offers a fun area to explore, dive into the history books, fish, and camp.
What to do:
Swimming
Fishing
Historical tours
Embrace an incredibly unique side of this region at the Florida Caverns State Park less than two hours from Eglin AFB. Head into the depths of the caverns to feel that dripping, chilly climate while you explore the stalagmites, stalactites, flowstones, and more that are found only in the underground caverns.
Pricing:
Ages 13 and up: $10.75
Ages 3 to 12: $5.00
Ages 2 and below: free
Beyond the caverns, visitors are welcome to hit the park's trails. Hiking, biking, and horseback riding are a few favorite ways to enjoy the park's natural beauty.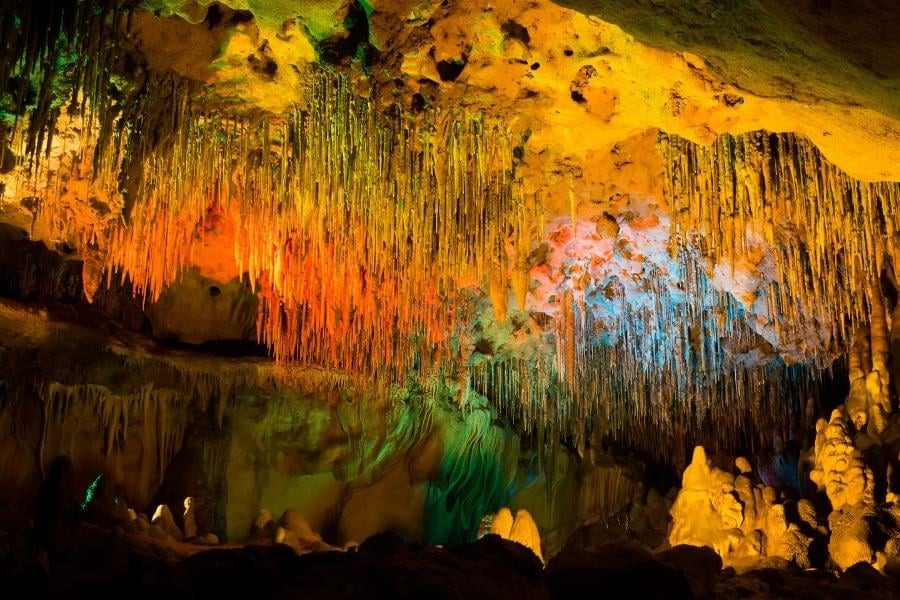 Image from Canva
Leave the beach behind and venture off into the woods at Point Washington State Forest 45 minutes from Eglin AFB. Composed of sandhill, basin swamps, wet flatwoods, and prairie, it offers a beautiful backdrop for exploring a variety of ecosystems. Head out on one of the trails, by foot or on a bike, and you might even get to see rare creatures like the American kestrel, gopher tortoise, and the flatwoods salamander. The trails connect nearby state parks like Grayton Beach State Park, Deer Lake State Park, and Topsail Hill State Preserve.
If you want to make a trip out of it, bring a tent and stay overnight. Located on mile marker four of the Eastern Lake Trail is the Eastern Lake Campground. Or, if you're looking for a more rugged experience, you can reserve one of the four primitive sites to rest your head under the stars free from other campers.
What to do: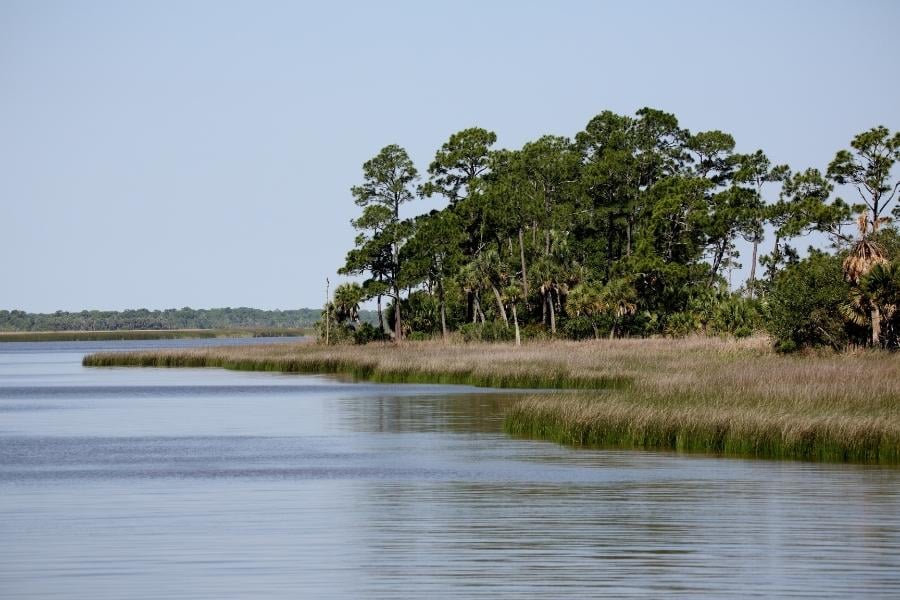 Apalachicola Bay shoreline. Image from Canva.
Located about three hours southeast of Eglin AFB is the Apalachicola National Forest. This stretch of land makes your reunion with nature that much sweeter. Surrounded by beautiful trees and numerous ecosystems, visitors can enjoy biking, hiking, horseback riding, hunting, and more. While there are campsites if you're interested in spending the weekend in the open air, you'll also find cabins available for reservation.
What to do:
Camping
Hunting
Fishing
Biking
Horseback Riding
Related: 13 Things to Do Near Eglin AFB
Military families need that escape from the daily grind from time to time. While there are numerous ways to unplug and feel rejuvenated, heading out into nature is one of the best ways to do it when you're stationed at Eglin AFB. It's hard to beat the beautifully diverse terrain unique to the Florida panhandle.
---
Are you relocating to Eglin AFB and looking to buy a home? Take a tour of this gorgeous home for sale!
503 Fallin Waters Drive, Mary Esther, FL 32569
4 Bed, 2.5 Bath (Single Family)
MilitaryByOwner Listing MBO1477443
For Sale: $649,000
Located in Mary Esther less than a block from the water, this beautiful four-bedroom home offers a quick commute to Eglin AFB and a convenience to the shining emerald waters this region is known for. This property allows you to take full advantage of nearby boat slips. Beyond the cheerful exterior, you'll find desirable finishes like stainless steel appliances and granite countertops inside. Other features include wood laminate flooring throughout, a fireplace, a new deck, and a new roof.
See below to view more Eglin homes for sale or rent!