7 Money-Saving Tips Over the Holidays...Whether You Travel or Not!
With day-on, day-off schedules, use-or-lose leave, and of course, the December holidays, year-end would be the perfect time for military family travel...if only it weren't so expensive. Fortunately, there are ways to save money. If travel isn't in the holiday budget this year, you can still make the most of your time off.
Here are some ideas for whatever you decide to do!
To Travel or Not to Travel? 7 Ways to Save Money No Matter What You Decide!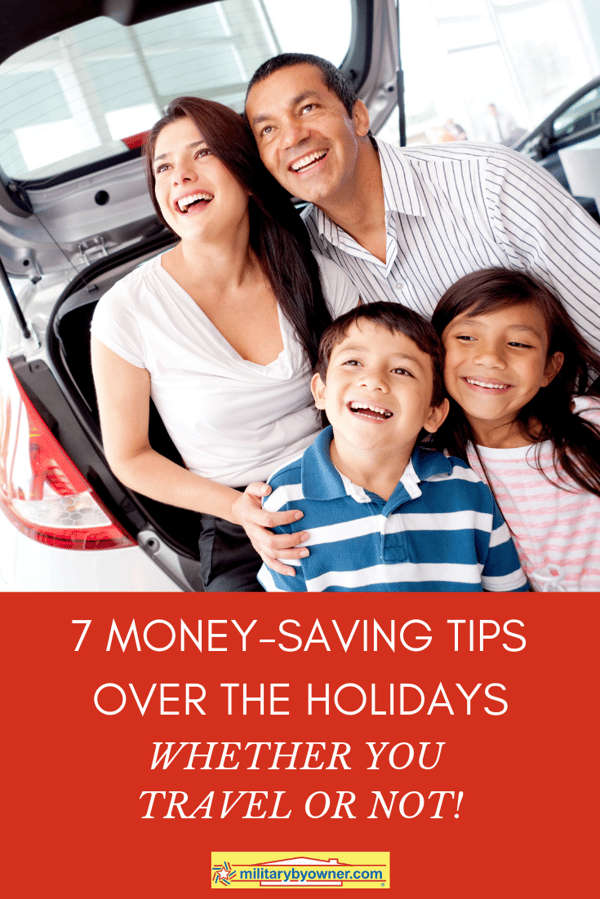 Save on Transportation
1) Look for Military Airfares
Some airlines, including Southwest and Jet Blue, have discounted fares for active duty military and dependents. You must call the airline directly to book those fares, and they may have a limited number of seats at the discounted rate, but those fares are out there!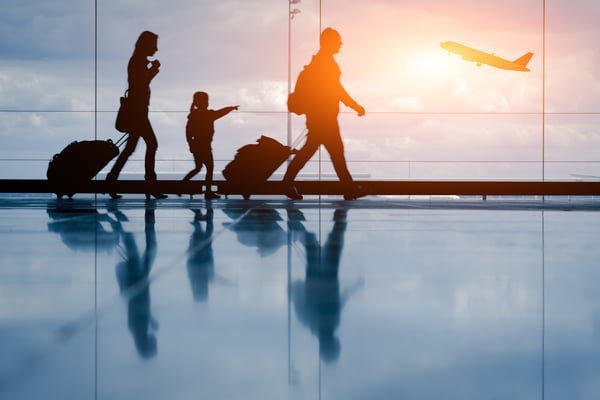 2) Take the Bus
Intercity coach buses have become an increasingly popular option for regional travel. They are also a great deal, with some one-way fares less than $20. The buses often have free WiFi and much more leg room than an airplane.
While the trip itself may be longer than a flight, the pick-up and drop-off locations tend to be much more convenient than an airport, and you don't have to arrive hours in advance to go through security. Comparabus has a summary of the major bus companies and the geographic areas they serve.
Save on Lodging
3) Take Advantage of the Sharing Economy
If you're traveling and you're not staying with family, you can still find affordable lodging. Use Airbnb to rent a room or a full apartment, often for much less than a hotel. You may be able to negotiate the rate if you're staying for several days. Make sure your AirBnb comes with access to a kitchen so you can save even more money by preparing some of your own meals.
Couchsurfing is another home-sharing option. You will likely have less private space than with AirBnb, but it's free (and you won't necessarily be sleeping on a couch)!
4) House or Pet Sit
This is the perfect option if you like pets and don't mind a little extra responsibility in exchange for free lodging. To become a house or pet sitter, you can register on the various housesitting websites, create a profile, and apply for opportunities near your destination.
Stay Local
5) Do a Staycation
Sometimes the stress and expense of travel during the holidays isn't worth it. If you decide to stay in town, take the opportunity to explore the local and regional attractions you've been meaning to visit, but never got around to seeing. Stop by the Information, Tickets, and Travel office at your local base, and see what they recommend. For more great ideas, check out Right and Up, a blog founded by an active duty soldier, which has hundreds of tips for things to do near duty stations all over the country.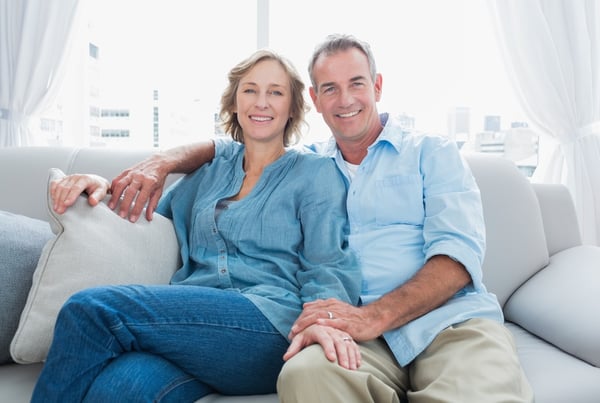 6) Eat Your Holiday Meal with the Troops
Skip the stress and expense of cooking a full meal yourself and eat in the mess hall! You can often get an entire holiday meal for less than $10 per person, and most dining facilities allow family members and guests on holidays. Best of all, you support the service members who can't travel home by celebrating the holiday with them!
7) Host a Service Member in Your Home
If traveling to spend the holidays with your family is looking too expensive, stay home and invite your military family to eat with you. Do a potluck style meal with anyone else you know who can't travel, and try to find single service members who would otherwise be spending the holiday by themselves. Operation We Are Here has a long list of ways to connect with and support a local service member during the holiday.
What About Flying Space-A?
While flying Space-A can be a great way to save money on flights, the holidays are not a good time to try your luck. Here are several reasons to avoid traveling Space-A during the holidays:
Space-A is never a good means of travel when you must be somewhere at a certain time. You cannot predict with any certainty when you will arrive.
There are fewer missions during the holidays (the flight crew needs a break, too!), meaning less potential for Space-A seats. Meanwhile, you're competing with every other military family who wants a free flight.
The uncertainty of Space-A lies not only in getting a seat – that's just the first hurdle. Missions are delayed or canceled, aircraft break down, and crews time out. When flying commercial, the airline will rebook you on another flight if those things happen. That's not the case when flying Space-A. Instead, you're starting over and must re-compete for another flight.
Don't risk spoiling your holiday by spending it in the passenger terminal! The holidays are stressful enough without adding the uncertainty of Space-A into the mix.
Whether you join the crowds on the road or enjoy a little down time at home, you can find ways to be frugal this holiday season. If you have other creative suggestions, we'd love to hear them! Please share your comments below or on our Facebook page!