9 Simple Ways to Stage Your Home on a Budget
As tempting as it may be to simply list your home for rent or sale, taking the time to make repairs that matter and thoughtfully staging your home can provide a significant return on investment, ultimately leading to a better offer or a higher market rate rent.
The Benefits of Home Staging
As a seller or landlord, the goal of staging a home is simple. Staging is designed to highlight the home's best assets, make a lasting impression, and create an emotional connection and appeal between a buyer or renter and your property. Effectively staging a home creates an environment where another person can envision themselves happily living in the space.
The good news is that staging a home can be a very-budget friendly project that leads to a great value-add as a seller or landlord. Try these tips!
1) Start with a Good Deep-Clean
Even in a seller's market, a home that is in poor condition will deter a would-be buyer or renter. As buyers or renters tour your property, they will attempt to envision themselves living in that space.
Both buyers and renters will appreciate a move-in ready home that has been thoroughly cleaned. Many buyers want a home, not a project, and will likely have a mental to-do list running as they view the home. Too many items on the list that need attention may cause a buyer to walk.
A renter's needs are similar; they want a move-in ready home. A clean home shows both potential buyers and renters that the property has been cared for. Take the time to make your home sparkle. Clean appliances, including the stove. Bathrooms and sinks should be spotless, and clean the windows to maximize light. Create the emotional attachment for a buyer or renter, the minute they walk in the door, with the appeal of a clean home.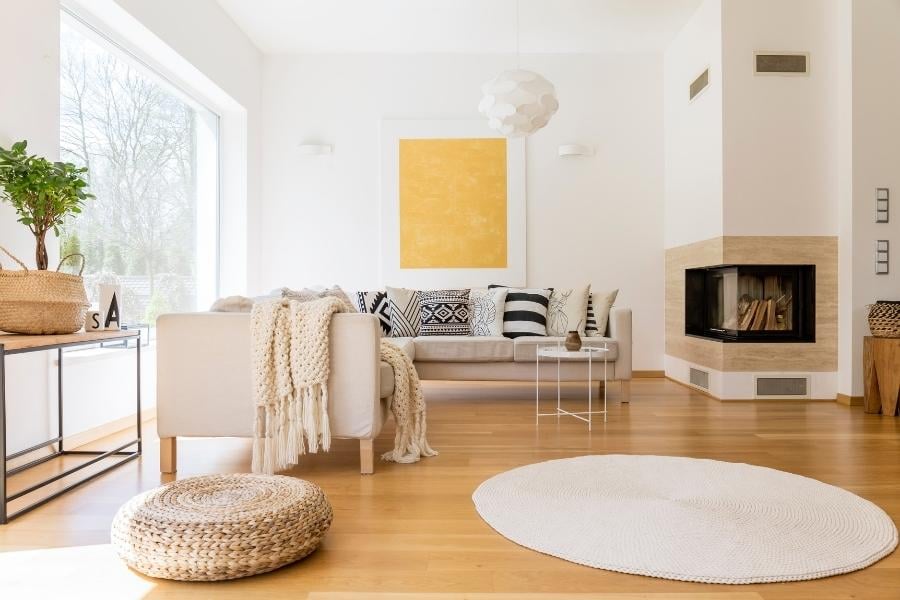 Photo from Canva
2) Declutter
Clutter is problematic, and easily fixable, for several reasons. Remember – buyers and renters are trying to envision themselves in the space. The more "filters" they have to look through to do so makes it harder to picture themselves in the home.
Toss any accumulated junk mail and old magazines, scour the closets for items to donate, and donate or toss old furniture that is no longer being used. Ensure rooms have a defined purpose and remove any clutter that detracts from that goal, i.e., a combined "office-craft-storage-kids' toy room" does not show well in a home viewing. An added benefit of decluttering: the more you toss now, the less you have to move!
3) Purposefully Create Open Space
Decluttering creates a pathway to purposefully creating open space within the home. Arrange furniture in a way that makes each room feel more spacious and purposefully create cozy areas in the home where you can, such as repositioning the living room as a homey place to welcome guests.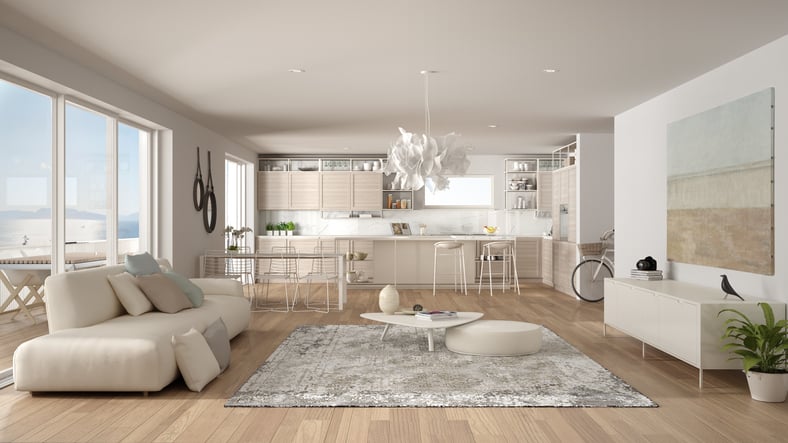 Photo from iStock/ArchiViz
4) Budget-Friendly Bathroom Tricks
Replace the shower curtain and bathmats and add fluffy new towels in each bathroom for a home showing. Tidy the countertop space and remove all personal toiletry items from view. Place a single potted plant or small candle on the countertop and put the toilet seat down.
5) Neutralize and Depersonalize
Although your heart and soul may love the custom, school bus-yellow paint you picked out for the breakfast room, it may overwhelm a buyer or renter. Paint walls in soothing, neutral tones. Neutral blues show well, as do softer grays, earth tones, and warmer whites.
Create the clean slate for buyers and renters to picture themselves in the home (not the former owner or occupants) by removing family photos, keepsake items, and other personal items.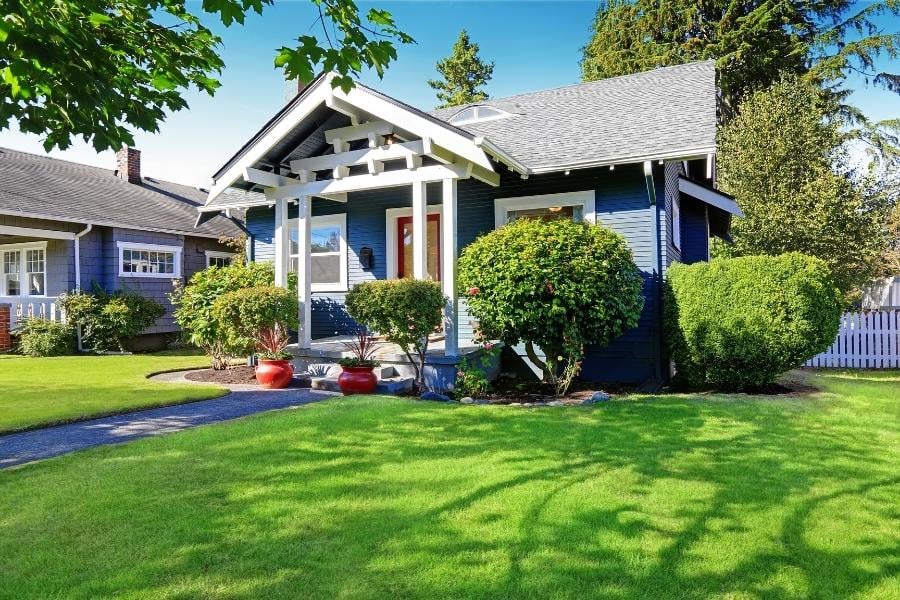 Photo from Canva
6) Budget-Friendly Curb Appeal
First impressions matter. Your home's exterior and entryway warrant significant focus as both will be the first things your buyer or renter see. If your home has a lawn, plan ahead to ensure a well-watered green lawn; grass and landscaping should be trimmed and tidy. Pull weeds from sidewalk cracks and any paving, rock, or xeriscaping. Sweep and clean porches and walkways, and place a new welcome mat at the door.
Pools or saunas should be sparkling and clean. Lead buyers to the front door with flowers or solar lights placed alongside the walkway and replace (or add) any porch or exterior lighting. Then, encourage them to stay awhile by creating a budget-friendly outdoor living space.
7) Windows and Lighting
Easily make your home feel more inviting by using light to your advantage. Play up natural light with clean, streak-free windows, and open blinds or curtains. Consider adding a few sheer curtain panels to create an ambiance of light with an element of coziness and privacy. Clean light fixtures and replace bulbs. Turn on all of the lights in the home when offering a showing to make the home appear bright and inviting.
8) A Little Green Goes a Long Way
Along with clutter-free countertops, clean windows and great lighting, a few potted plants strategically placed through the home can work magic by making your home feel fresh and inviting. In the summer and spring, canvas your local hardware and home goods stores for countertop-friendly sized plants. (Bonus tip – many of these stores also offer a military discount; just ask!)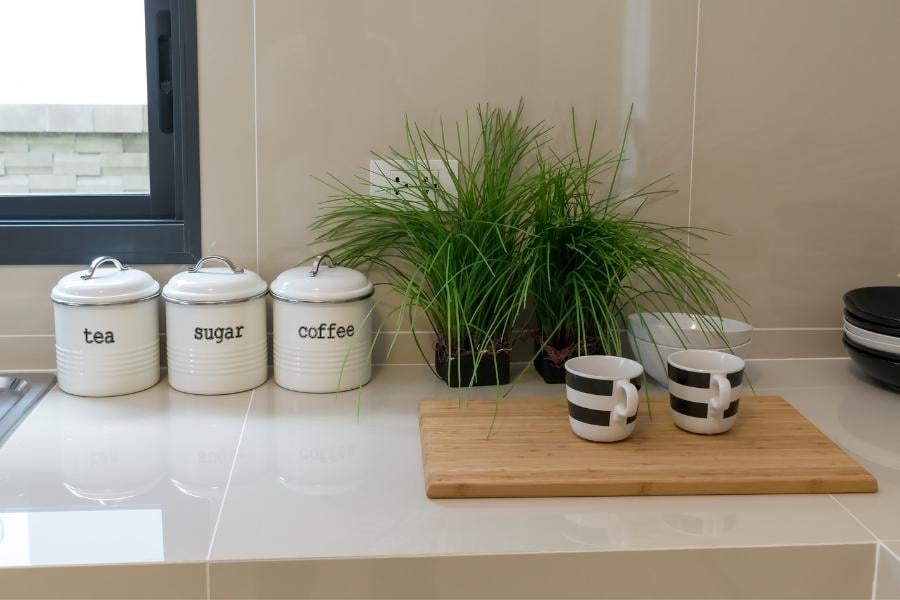 Photo from Canva
9) Breathe in the Sweet Smell of Equity
Visual cues are important, but make sure your staging efforts have maximum impact with a fresh-smelling home. Take out the kitchen and bathroom trashes prior to showing and remove and store any trash/recycle tipsters away from entryways. Place a few thin lemon slices in the garbage disposal and run it. Air out the home prior to showing and consider lighting a few softly scented candles, with subdued fragrances.
Relative to the time and money involved, thoughtfully staging your home can put your offering ahead of the pack in any market to increase your chances of finding a top-paying buyer or renter. As for the new inhabitants? Imagine the comfort of finding a house of their dreams that whispers, "Welcome Home."
Selling a home, or jumping into the market as a first-time landlord can be a daunting, emotional, and nuanced experience. But with MilitaryByOwner, you're never alone! From start to finish, whether it's initial listing considerations to think about or how to successfully transition from owner to landlord, the experts at MilitaryByOwner have you covered!
Download your free home selling guide:
Did you enjoy this article? Please share it on Pinterest with the image below!