Create Your Ideal Outdoor Summer Space
Twilight, warm breezes, and a firefly show are three of the best parts of summer, and there's nowhere better to catch the parade of nature than from your own outdoor entertaining space. Whether your home has an expansive deck, a lush backyard, or even a small patio, these are the places where you can unwind for hours, soaking in the view and finding pure relaxation.
Creating your perfect outdoor gathering area is as easy as treating it like an "outdoor room." Begin by maximizing the potential of the existing space, which is not only budget-friendly but allows you to work with what you have. For instance, if you have walls or fencing that cannot be removed or altered, why not transform them into features you enjoy? Camouflaging them with climbing plants or outdoor fabric can cleverly mask any unwanted characteristics, turning them into charming elements of your outdoor oasis.
And remember to explore the features of your existing patio or porch. These spaces can be enhanced with decorative items and strategic placement of furniture. The same goes for rooftops and balconies, while paying attention to sight lines from elevated areas. As with any decorating project, before you get started, make sure to give the space a thorough cleaning. Sweeping, power washing, and a good scrub will instantly improve the look of any area.
What to do next? Read on for tips for creating your best summer outdoor space!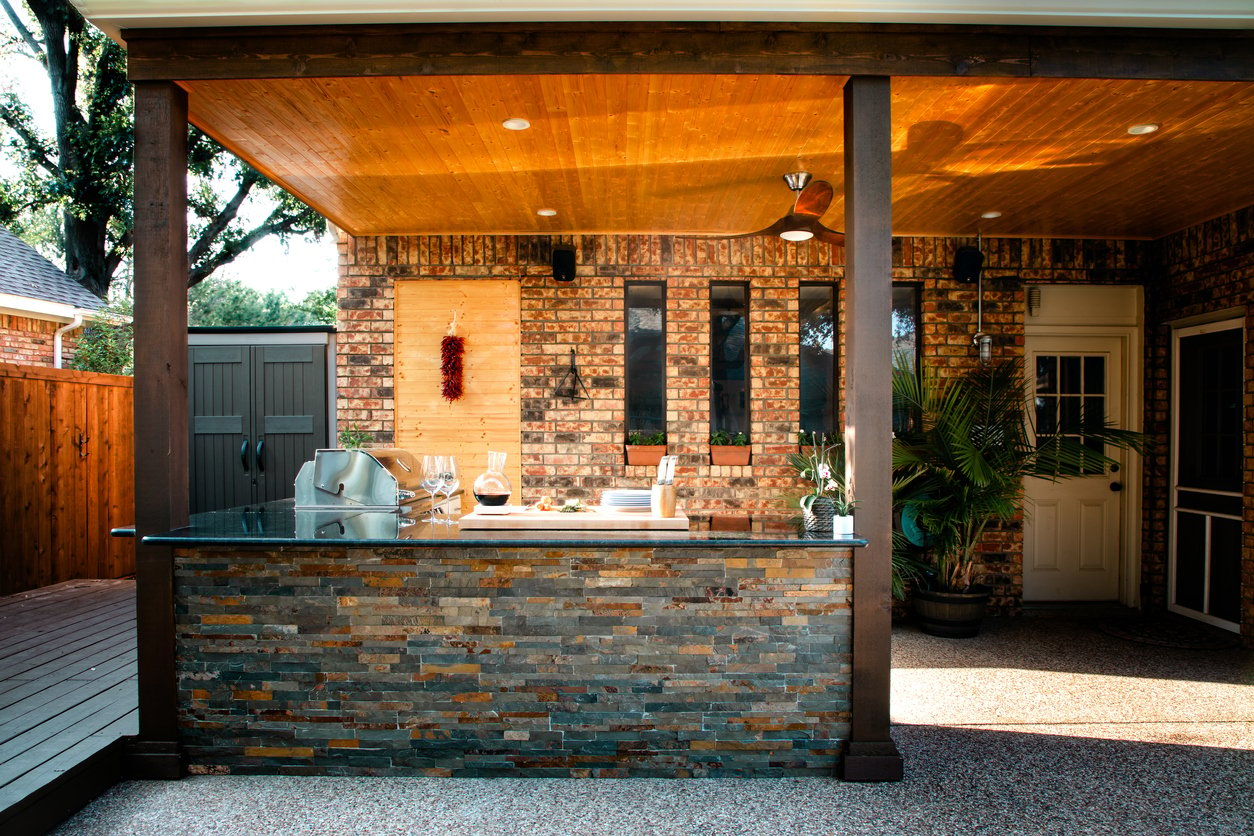 Photo from iStock.com/Martina Birnbaum
1) Define your priorities.
When envisioning your outdoor area, imagine the purpose it will serve. Will it be a tranquil sanctuary for lazy Sunday afternoons and family barbecues? Or would you like it to be a vibrant and social space, with happy hours on the calendar for every weekend throughout the summer? Maybe it's both!
Your lifestyle and personal preferences will play a significant role in determining your outdoor priorities. For instance, if you imagine your outdoor space as a place to share popsicles with your kids and their friends after an afternoon of playing on the swingset, your setup will be different compared to someone who craves a peaceful spot to enjoy their morning coffee in solitude.
The climate of your region is an another factor to consider. Those residing in areas with more favorable weather conditions throughout the year will have ample opportunities to spend time outside and may want to budget for a bigger "outdoor room" reno. If you're stationed in a cooler area with limited warm weather months, it makes sense to invest less in your outdoor space.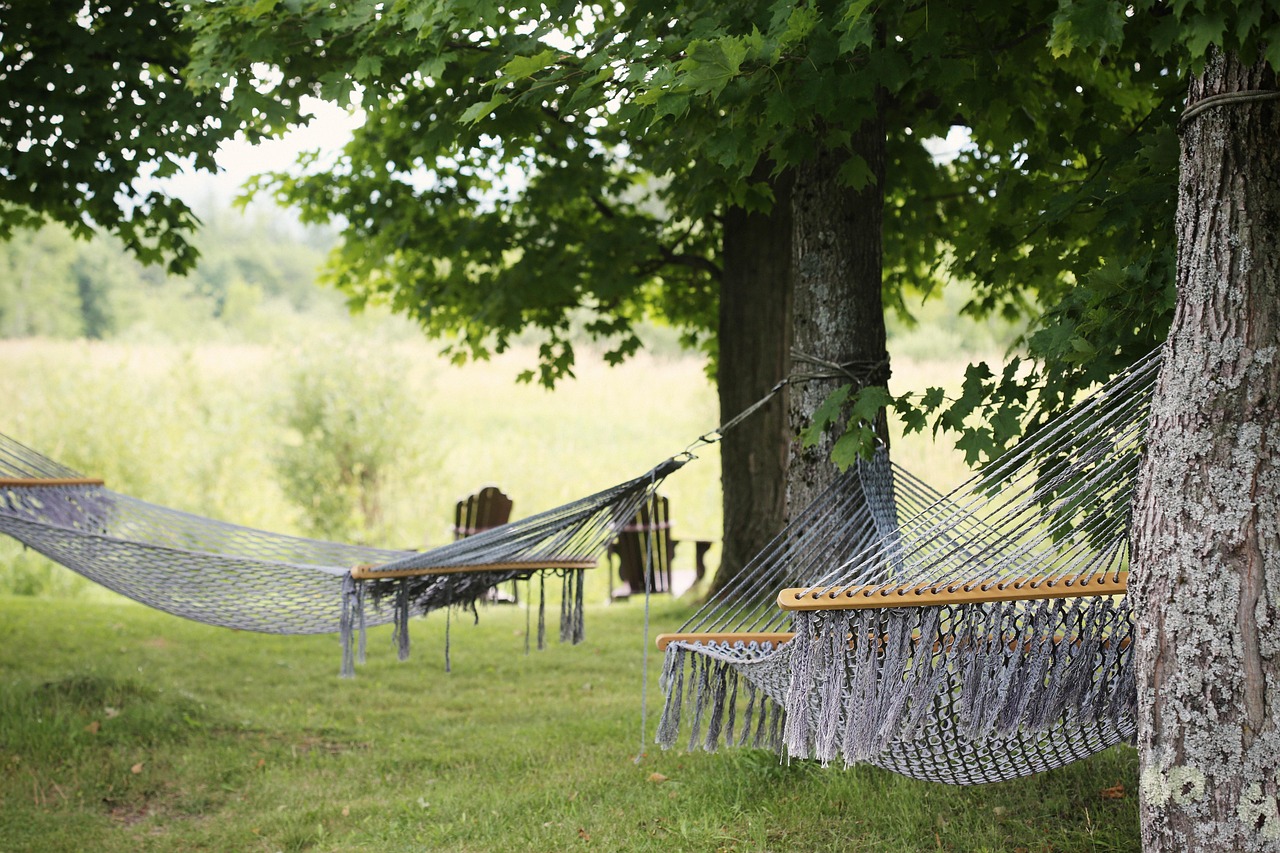 Photo from Pixabay
Determining the intended use of your outdoor area will help guide your furniture choices and layout. For a restful afternoon spot, prioritize comfy seating options like lounge chairs or a cushioned outdoor sofa. Add a hammock for ultimate relaxation and a side table for holding your favorite book or frosty drink.
If you intend to use part of your space for hosting lively happy hours or grilling out with family and friends, opt for a dining set with ample chairs to accommodate your guests. Enhance the setting with a chic bar cart or even an outdoor bar for serving drinks, and include comfortable seating options like outdoor sofas and chairs to foster natural conversation areas.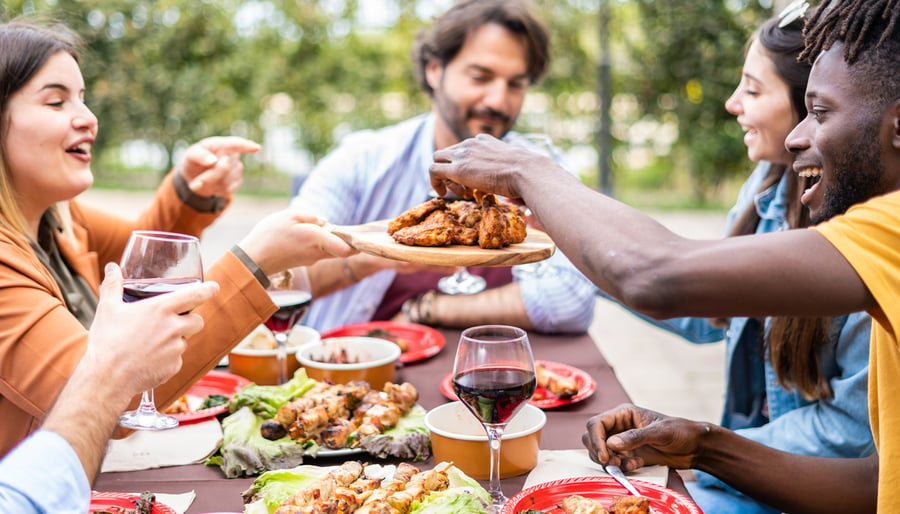 Photo from iStock.com/Vittorio Gravino
By visualizing the purpose of your outdoor space, you can create a layout that perfectly suits your needs and enhances your enjoyment of the area. Whether it's a peaceful retreat or a social hub, the furniture choices and design will ensure that your outdoor space is functional and inviting.
2) Define the perimeter of the space.
Outdoor Rugs
Defining the boundaries of your outdoor oasis can be as effortless as laying down a stylish outdoor rug. Outdoor rugs are affordable, readily available, and simple to clean. Rugs bring a pop of color, add visual interest, and introduce texture to your outdoor space, all while clearly delineating the area.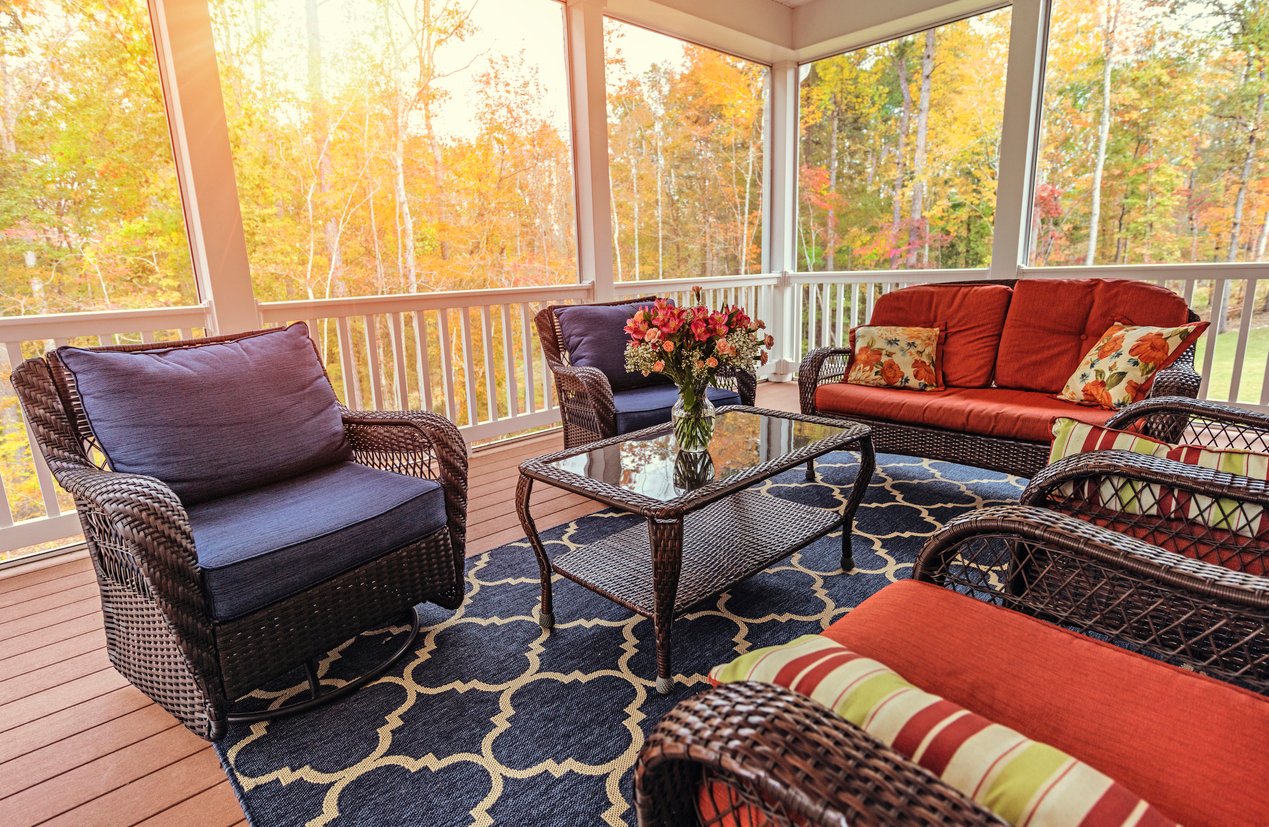 Photo from iStock.com/stu99
To ensure a perfect fit, start by measuring the rug's intended location and select a rug that easily accommodates this while leaving a comfortable border around your furniture. Many shoppers tend to buy too small rugs, so taking accurate measurements is essential for achieving a great fit.
Other Defining Elements
Decorative fencing, lattice panels, and string lights give the sense of a distinct space and are alternatives for shaping your outdoor room if permanent fencing or railing is absent. Not only do these decorative elements add charm to your area, but they also serve practical purposes.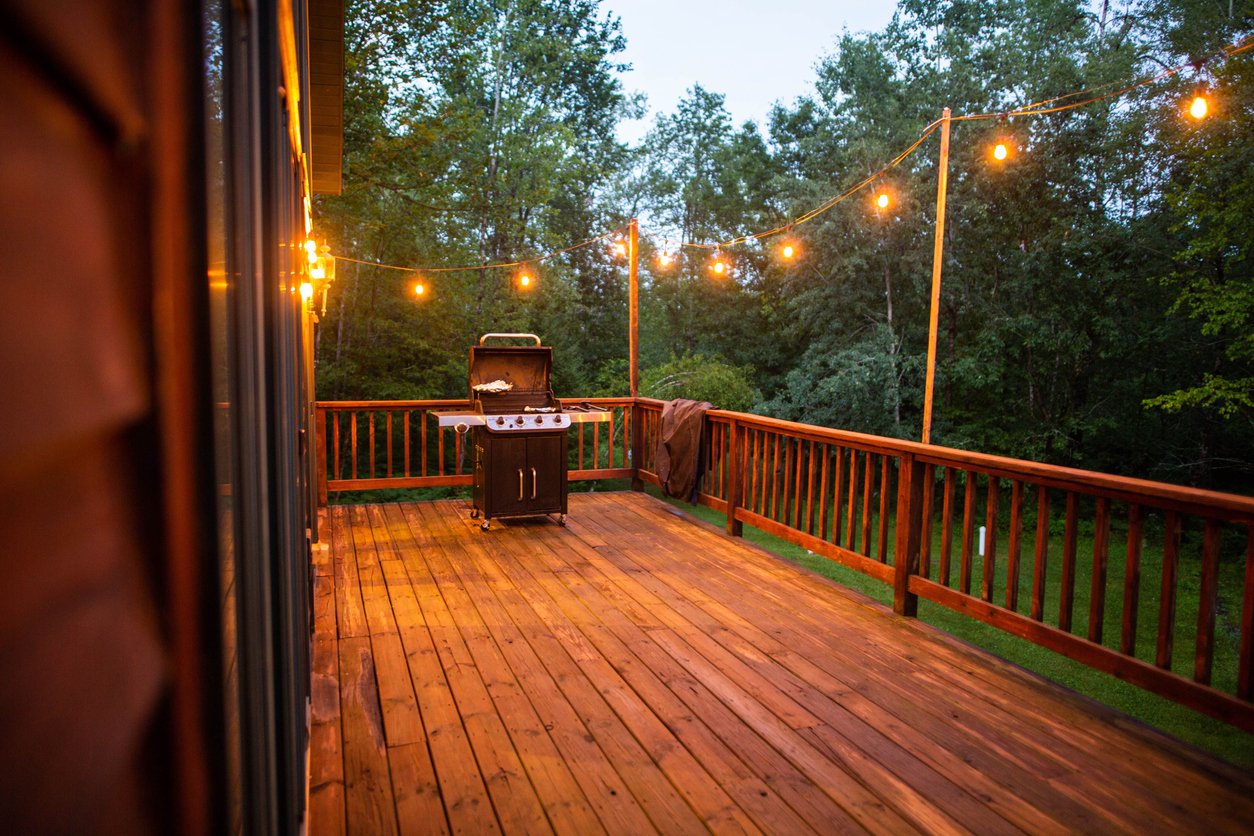 Photo from iStock.com/Wirestock
Decorative fencing can be strategically placed to create a defined enclosure, offering a sense of privacy and intimacy. Even a low picket fence can effectively separate your outdoor area from the rest of the surroundings.
Lattice panels are a versatile and inexpensive option for shaping your outdoor area, allowing airflow and glimpses of the surrounding landscape. These decorative panels can be situated to define different functional zones. They add structure and visual interest and also provide a sense of separation and privacy. Use lattice walls to create a seating area or a relaxation corner.
String lights are a popular and budget-friendly way to shape your outdoor space and add a warm touch. You can create an inviting glow in the evenings by artfully hanging lights around the perimeter. Not only do string lights provide ambient lighting for your outdoor gatherings, they also enhance the overall aesthetic appeal.
3) Choose seating options.
When designing your outdoor space, the choice of seating should align with its size and the intended purpose you've decided on while also considering the needs and preferences of your guests. Incorporate comfortable seating into your plan, whether it's for a small front porch, a spacious deck, or a poolside area.
Small Front Porch or Balcony
A three-piece bistro set (two chairs and a small table) is an excellent option for limited spaces like a small front porch or balcony. These sets are compact and often foldable, making them a perfect spot to enjoy morning coffee or private conversations. Enhance the convenience by adding a small side table to hold essentials.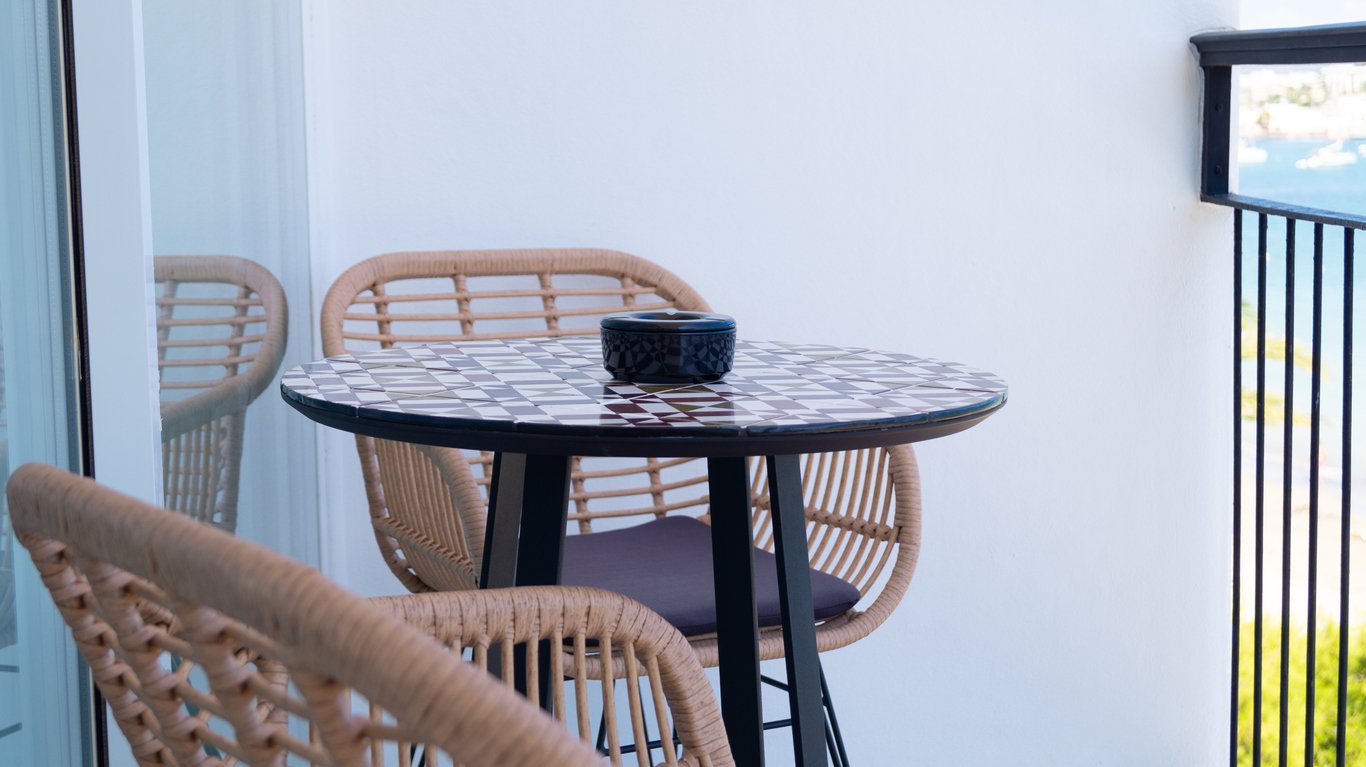 Alejandro Tapia
Spacious Deck or Large Patio
On the other hand, if you have a frequently used deck or large patio area, it's helpful to have multiple seating arrangements, especially for larger gatherings. A dining table with four to six chairs can be the primary seating area for meals and get-togethers.
Choose a table that's durable and weather-resistant so that it can withstand the elements. Add one or two additional pairs of chairs nearby to create a more versatile space. This arrangement mirrors the comfort of kitchens and entertaining rooms inside the home.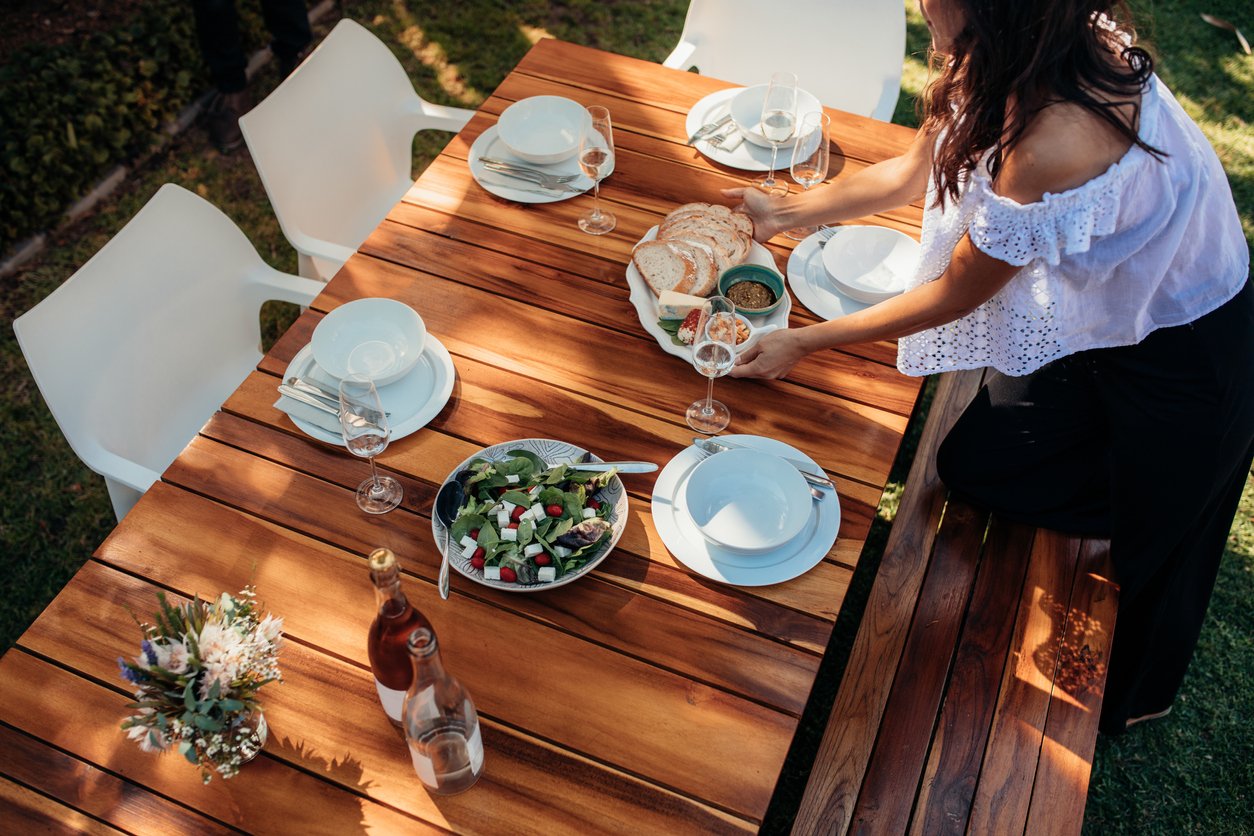 Photo from iStock.com/stanciuc
Seating for Sunbathing, Relaxing, or Poolside Lounging
For sunbathing, relaxation, or lounging by the pool (if you have one), there's nothing like a reclining lounge chair. For use in areas near a pool, look for materials that are resistant to water and sun exposure, such as resin wicker and quick-drying fabric. Include low tables for placing drinks, sunscreen, phones, and reading materials.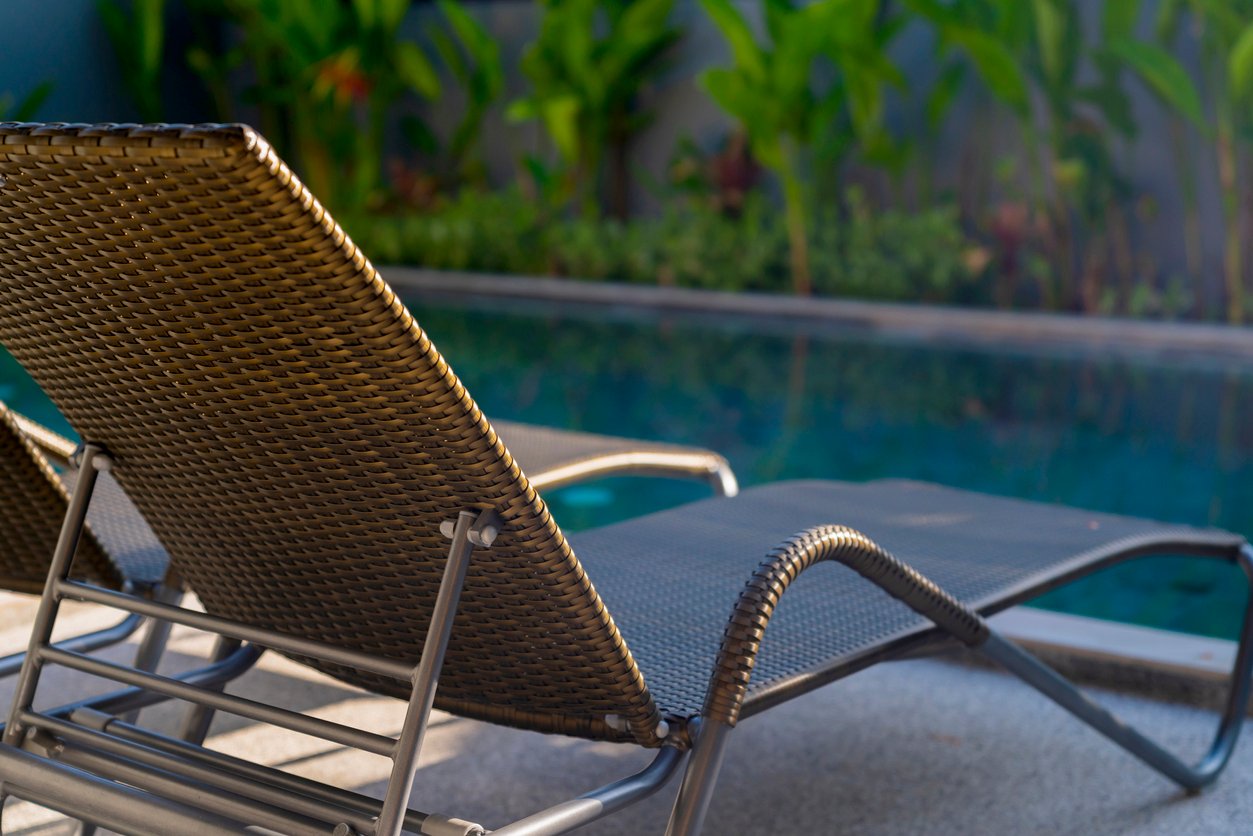 Photo from iStock.com/whyframestudio
Tip: As you'll surely discover, shopping for outdoor furniture can get expensive! Repurpose and reuse: monitor Facebook resale groups, make the rounds of your area's garage sales, and check thrift stores when you're on the hunt to add to your outdoor furniture choices. End-of-summer sales are also an ideal time to find great deals. Look for weather-resistant materials that are easy to clean, such as aluminum, teak, or high-quality synthetic wicker.
Personalizing and Adding Style
Mix and match different seating options to add personality to your outdoor space. Now's the time to incorporate those great thrift finds! Combine chairs with benches, stools, or ottomans to create visual interest. Incorporate throw pillows in various patterns and textures to enhance comfort and inject color.
Storage Solutions
Don't forget about storage! Outdoor seating that includes built-in storage compartments or hidden storage is a clever solution for keeping cushions, blankets, or other outdoor necessities easily accessible while safeguarding them from the elements. Having an organized outdoor space can improve both its functionality and convenience.
4) Plan for shade.
Don't skimp on the shade unless your porch is used strictly for sunbathing. Shade doesn't only have to come from backyard trees, however. Portable umbrellas, retractable house awnings, and an easy-to-build pergola wrapped in vines will all help provide shade.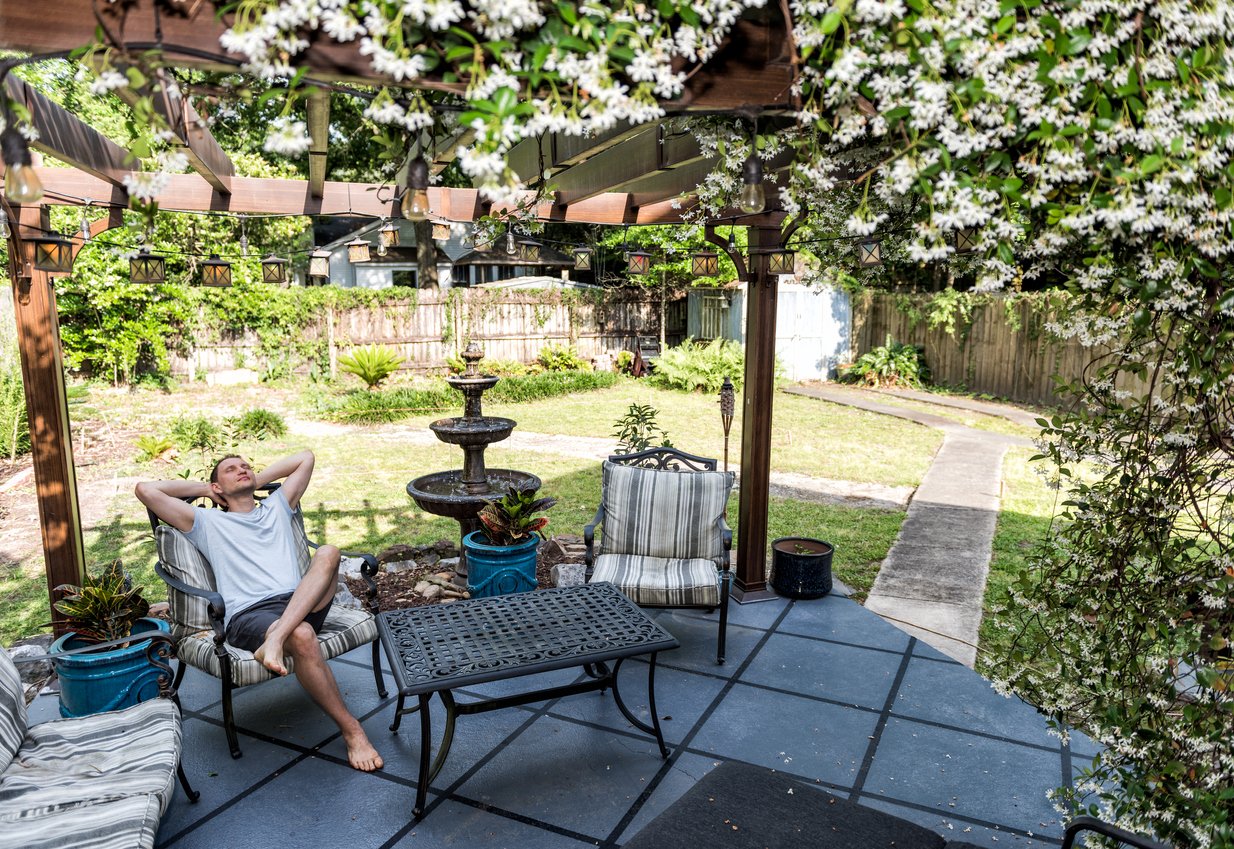 krblokhin
Backyard Shade Options
Portable umbrellas are a practical and flexible option. They can be moved around and positioned in any area where shade is needed. You'll find an endless variety of colors and designs available to match your outdoor aesthetic.
Retractable house awnings are a convenient addition, offering shade and a way to regulate the temperature on your porch. These awnings can be easily extended or retracted as needed, which can be a versatile solution for enjoying your outdoor space more comfortably.
Consider a pergola for a more permanent shade solution. You can purchase pre-assembled pergola kits online from companies like Wayfair or at your local home improvement store. Kits range from economical to more expensive, which should help you find one that fits your budget. Many pergola kits are intended to be assembled and ready to use within a weekend.
5) Add plants for ambiance and privacy.
Plants play a vital role in transforming your outdoor space into a vibrant and inviting oasis. With their natural beauty, flowers, tall plants and grasses, and trees add serenity to any area. Not only do they enhance the aesthetic appeal of your outdoor room, but they also provide privacy, can help filter and reduce noise from neighbors or nearby busy roads, and cool the space naturally. Along with other landscaping you may already have in place, explore the versatility of pots and planters, as even certain types of bushes, like boxwoods, can thrive in these containers.
Whether you have a preference for a stunning display of perennials, eye-catching planters bursting with vibrant annuals, or a charming herb or vegetable container garden, plants are a fairly easy addition to your outdoor space.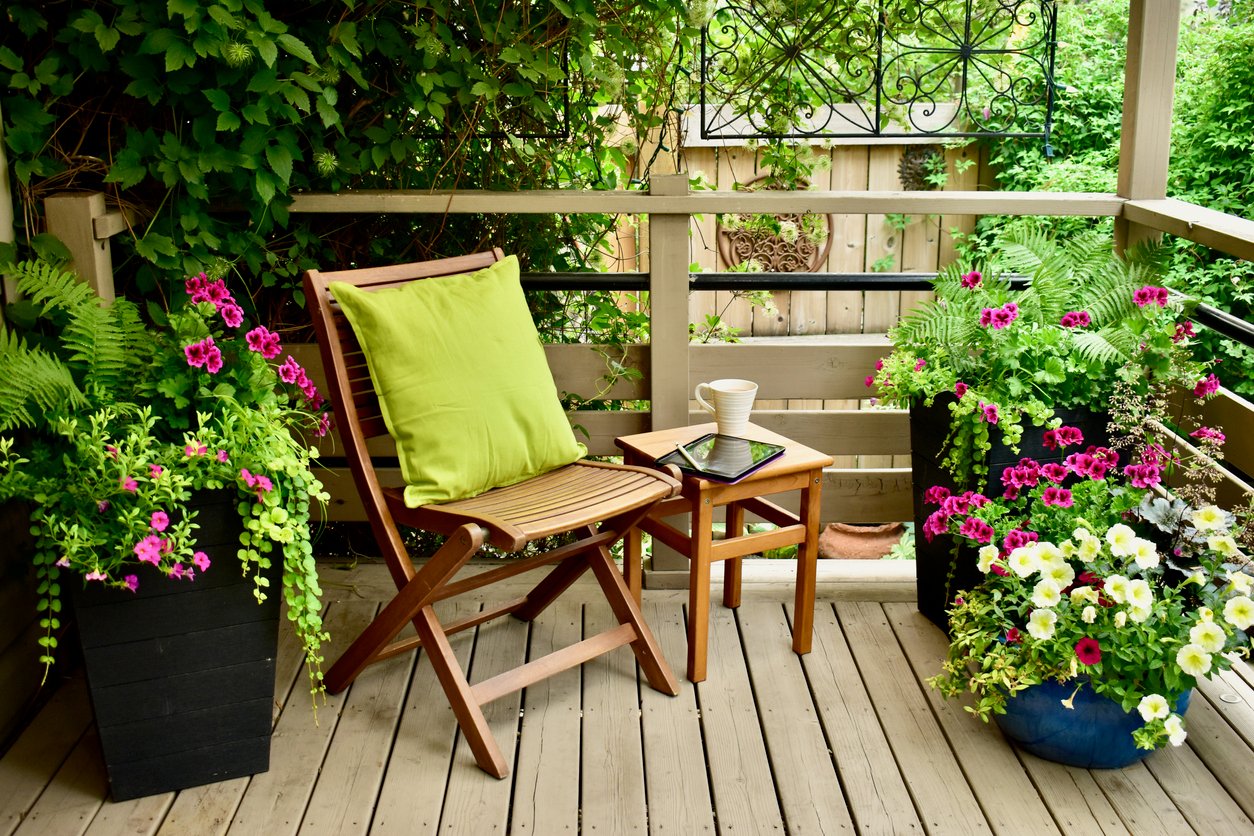 Photo from iStock.com/Kristin Mitchell
Don't have a green thumb?
Stores like Lowe's offer a convenient solution with their "Ready Refill" flower pots. These pots come filled with a beautiful mix of annuals designed for you to drop easily into your preferred flower container. No need for digging or replanting—simply enjoy the effortless beauty they bring!
Another option is a planter box filled with succulents or cacti. These plants have become favorites for good reason. Succulents and cacti are known for their ability to thrive in dry and arid conditions, making them the perfect choice for those who may not have a green thumb or live in hot and dry climates. These resilient plants require minimal watering and can withstand long periods of drought (or a forgetful owner!), making them a hassle-free option.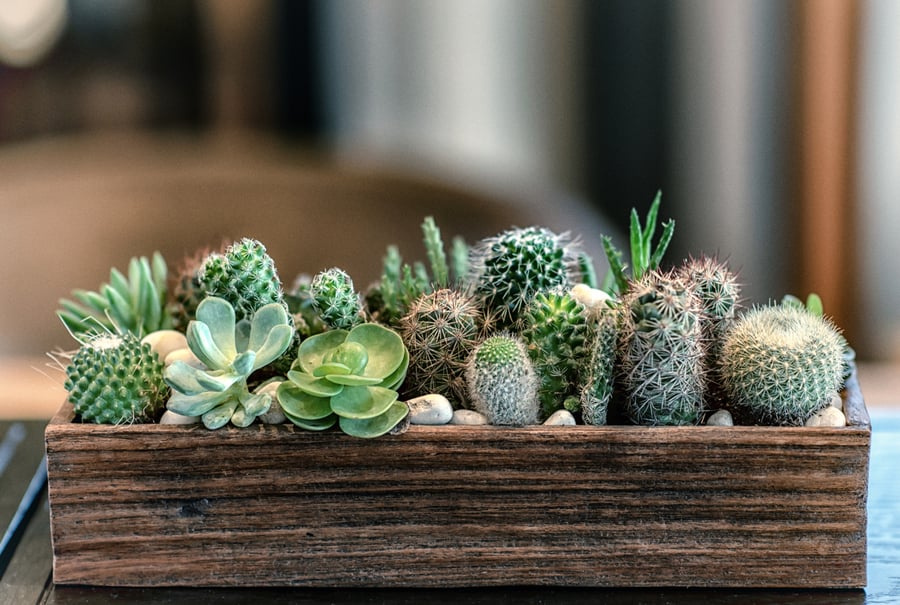 Photo from iStock.com/ae0816146146
For military families who know they won't be in a location longer than a season or two, container gardening is a great approach to experience the joy of gardening, even in a small space. You'll enjoy fresh vegetables and herbs right from your own porch.
Achieving the perfect feel for your outdoor decorating project may require a few adjustments along the way, but don't be deterred! By first considering your outdoor space's intended use, then integrating comfortable seating, well-defined boundaries, refreshing shade, and lush plants, you can craft an outdoor haven you love and want to share with family and friends.
Summer is the busy moving season for military families, which means you may be moving into a new home. Whether you're on the move or staying put, find more home decorating help with our free guide below.
Did you like this post? Use the image below to share it on Pinterest!