Beautiful Cul-de-sac Home for Sale Near NAS Lemoore, California
Do you have orders to move to Naval Air Station Lemoore this PCS season? Then you're headed to the newest and largest Navy jet base there is.
The base was established in 1961 which may not sound very new, but considering that it wasn't around during World War I and World War II when most others were in full operation, it's considered new. NAS Lemoore currently provides the infrastructure, support, and services that enable Strike Fighter Wing Pacific squadrons to conduct operations in support of national tasking.
It's located in a remote, agricultural region in California which makes for a quiet community to live in (apart from the jets flying overhead). And it's not far from iconic San Francisco, Los Angeles, and Yosemite Valley. In fact, it's only a three-hour drive to each, so consider your weekend getaways already planned!
When it comes to places to live near NAS Lemoore, you should know a little bit more about the area. Lemoore is primarily residential. The town has schools, parks, a theater, and a Starbucks (woohoo!). You'll have to drive to Hanford if you need to do any shopping beyond the commissary and exchange on base, which sounds worse than it is because it's only a ten-minute drive to Target.
If you prefer to live closer to larger community, stores, and restaurants, you might consider looking for homes in Hanford rather than Lemoore. Hanford has your well-known chain stores, but they also have their own local culture you might enjoy.
The Hanford Fox Theatre maintains its 1929 charm when it was built but has been fully refurbished to remain in operation. Main Street downtown is comprised of restored buildings, quaint shops, restaurants, and history. They host events like the Blues and Roots in the fall, and Thursday Night Farmers Market. There are other fun things to do like the Kings County Fair in the summer and the old time carousel at Civic Center Park.
Let's take a tour of a beautiful cul-de-sac home minutes from NAS Lemoore!
*While this home is no longer listed, view other homes for sale or rent in Hanford, California.
Acres Way -
Hanford
, California
For Sale: $325,000
If you're looking in Hanford to find convenience to stores, this home is perfect. It's only seven minutes to Target, Walmart, and the mall, plus it's only 20 minutes from NAS Lemoore.
This beautiful four-bedroom, three-bathroom home is located in a cul-de-sac and could be ideal for your growing family.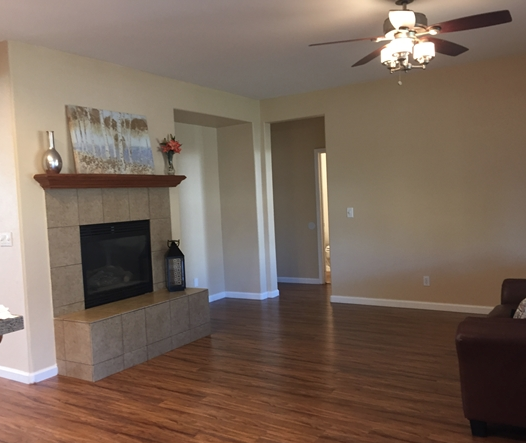 The living room features a fireplace and opens to the kitchen.
The spacious kitchen boasts beautiful cabinets with lots of storage, walk-in pantry, island, and sliding doors that lead to the back yard.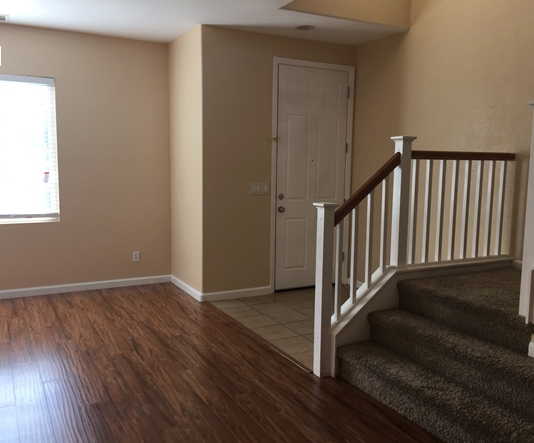 The home has laminate flooring on the lower level and carpeting upstairs. You'll also find the master suite upstairs with a separate tub and shower. Who doesn't love to have a tub to soak in after a long day! The beautiful features and great location of this property make this home worth looking into.
If you're headed to NAS Lemoore and need more housing options near base, check out MilitaryByOwner's Hanford listings and the Lemoore city page.