Celebrate the Holiday Spirit in San Diego!
The holidays in San Diego have a slightly different feel than other locations. The weather outside is definitely not frightful, and there's no fear of a white Christmas!
However, there are plenty of activities in the area to make sure everyone is in the spirit of the season.
San Diego County offers the best holiday activities, starting right after Thanksgiving with the arrival of Surfin' Santa.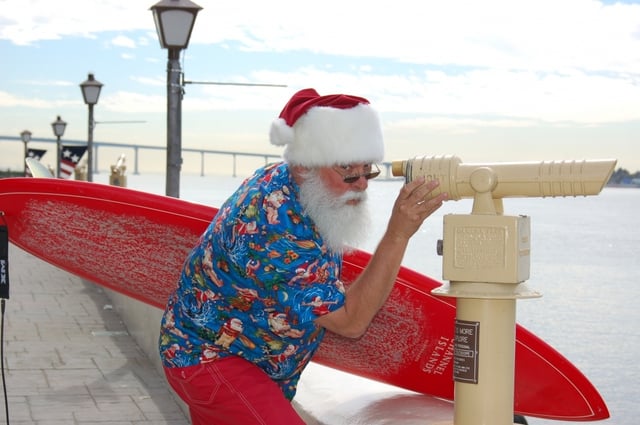 Image Seaport Village
Head to Seaport Village for the festive Surfin' Santa. Enjoy the parade along the Seaport Village boardwalk leading up to Santa's arrival. If you miss the parade, there are many other activities to enjoy: live music, stilt walkers, kid's crafts, and photo opportunities of your family and friends surfing with Santa.
There are also several tree lighting ceremonies in the area. On December 2, Escondido has the holiday tree lighting and Winter Wonderland activities at the California Center for the Arts at 340 N Escondido Blvd, Escondido, CA 92025.
Also on December 2, celebrate the season during Little Italy's Christmas Tree Lighting Ceremony and see the unique Christmas Tree--a 25-foot tower of 1,000+ gorgeous poinsettias. Enjoy the community's festive decorations, live music and entertainment, snacks, and holiday beverages.
Balboa Park's December Nights is on December 1-2.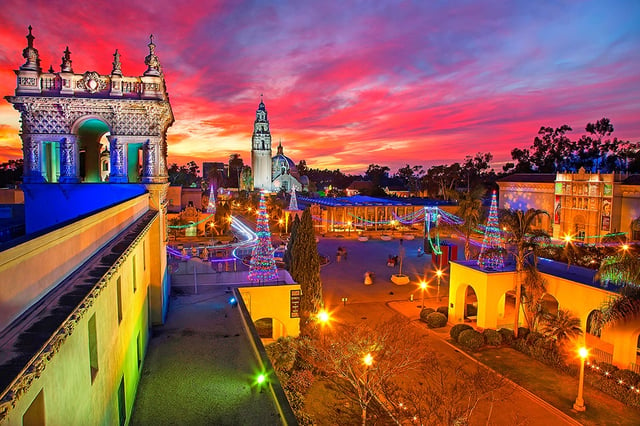 Image Balboa Park Conservancy
This is a two-day holiday celebration of food, entertainment, and fun. The sights, sounds and smells of the holiday season fill the air in the nation's largest urban cultural park. The museums open their doors free of charge. Festivities include carolers, live music, light displays, theater and dance performances, and delicious food.
Be sure not to miss the "Whoville" decorations in the plaza outside the Old Globe Theatre, which are on display to coincide with the theatre's annual holiday production of Dr. Seuss' How the Grinch Stole Christmas! Dates for the show: November 4 - December 24, 2017 and December 10 and 17, 2017.
The San Diego Bay Parade of Lights has become one of the most iconic events in the region.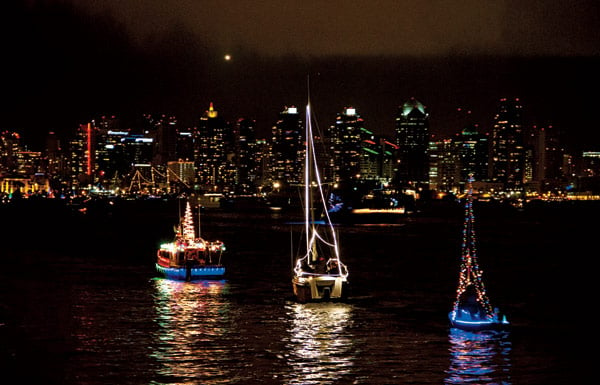 Image San Diego Magazine
Both San Diego residents and visitors line the shores of San Diego Bay each year to watch the procession of approximately 80 beautifully decorated boats. This year's theme is "A Pirate's Christmas," with the procession starting at 5 p.m. on December 9 and 16. Many neighborhoods will offer great displays of holiday lighting and holiday treats. Visit San Diego Family Magazine to find a neighborhood display near you.
While you're stationed in San Diego, take time to enjoy this unique holiday season. What did we miss? Tell us about your favorite area holiday activity!
Click below to follow our San Diego Facebook page to make sure to stay updated on the latest area news and information.