3 Easy Getaways Near San Diego
We all need a break from our daily lives and our duty station, no matter where it is. Even when you're stationed in San Diego, arguably among the best CONUS assignments in the military, sometimes you crave a change of scenery.
Fortunately, in addition to the great weather and beautiful coastline, San Diego is also within a few hours' drive of many other cool destinations.
Check out these three fun escapes from the San Diego area and start planning your trip!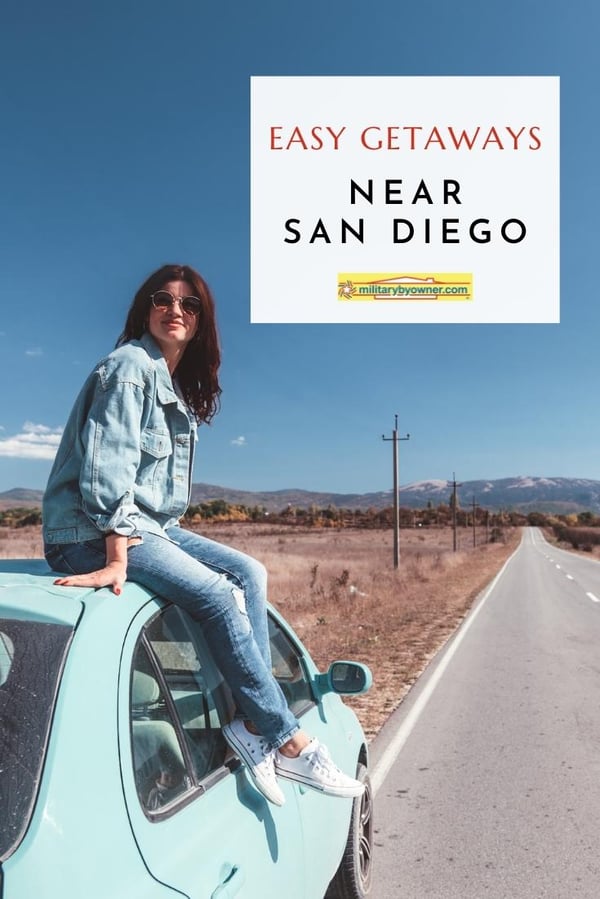 1) Temecula
Temecula is an easy getaway, only an hour northeast of San Diego, but it feels like a world away. The Old Town section of the city is rich in history. With its well-preserved buildings, many of which are from the 1880s, it has an "Old West" feel, and you can spend a leisurely day exploring the antique shops, art galleries, and museums.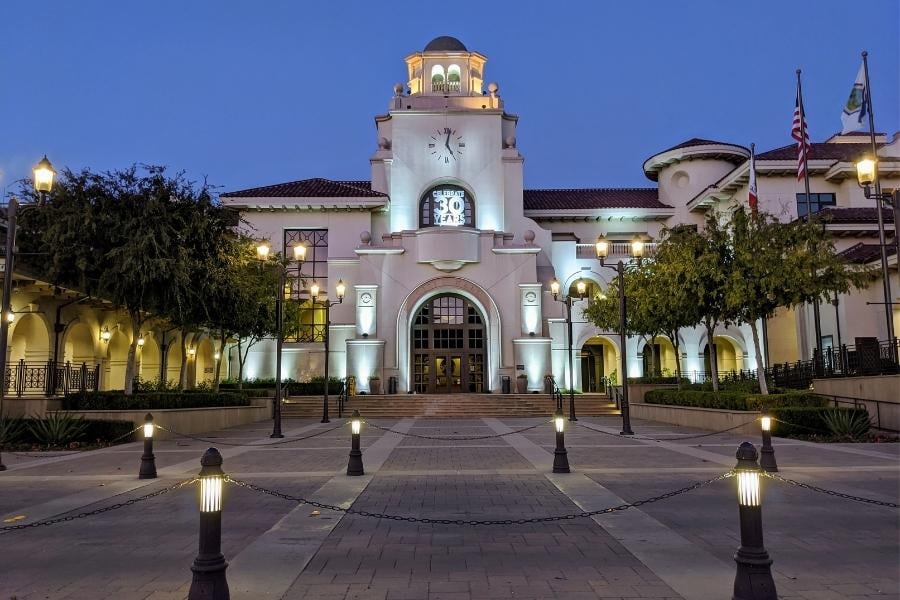 Image from Canva
Things to Do in Temecula
Temecula also has many highly rated restaurants and a flourishing craft beer scene, with more than a dozen breweries in the area. If you enjoy craft beer or want to learn more about it, take an organized brewery tour so that you can sample a selection of beers from multiple breweries without needing a designated driver! (The websites Viator and GetYourGuide are good starting points to find tours).
In addition to the growing popularity of beer, the Temecula Valley is well known for its wine. In fact, Wine Enthusiast Magazine rated it one of the 10 best wine travel destinations in 2019. Spend a day visiting some of the local wineries to sample the many varieties of wine grown in this region. Once again, an organized tour is a great way to visit multiple wineries and indulge while leaving the driving to someone else.
A unique adventure to try in the Temecula Valley is a sunrise hot air balloon ride! Available year round, these flights give you incredible views of the surrounding area that you can't see any other way.
Where to Stay in Temecula
Temecula has a range of lodging options, with everything from familiar chain hotels in Old Town to Bed & Breakfasts and vacation rentals in the wine country. If you want a taste of Vegas with your wine and craft beer, stay at the Pechanga Resort Casino. And for a complete wine experience, stay at a winery! South Coast Winery has a resort and spa.
2) Big Bear Lake
This year-round destination in the San Bernardino National Forest has something for every nature,lover. Whether you like hiking, fishing, mountain biking, water sports, skiing, or snowboarding, it's all here. Located about 3 hours from San Diego, Big Bear Lake is perfect for a long weekend.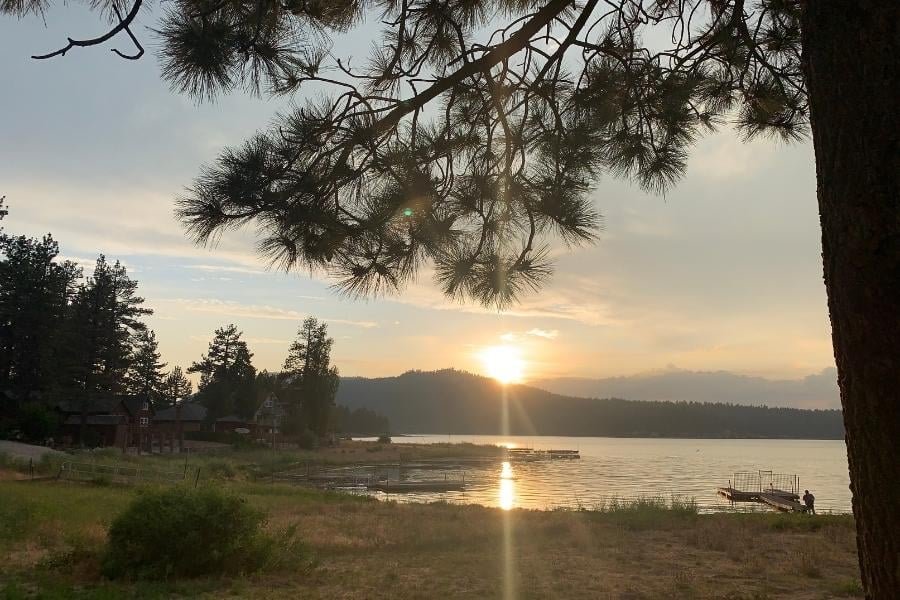 Image from Canva
Things to Do in Big Bear Lake
Formerly a gold-mining town, Big Bear Lake is now a popular resort area. Fun activities include boat tours on the lake, ziplining, horseback riding, and off-roading. The town also hosts family-friendly events for every season, including lively holiday celebrations and a country music festival.
Although it's a great escape from the city, it's not too remote; the village has plenty of shopping and dining options, plus a brewery and wine bar.
Where to Stay in Big Bear Lake
For military families, part of the appeal of Big Bear Lake is the option to stay at a military resort!
MCCS Big Bear Recreation Facility, an activity of Marine Corps Air Station Miramar, is less than three miles from the village of Big Bear Lake. Surrounded by beautiful trees, mountains, and trails, this facility has 10 cabins, each with capacity for up to six people. They also have five RV sites and five tent sites, all of which are open year-round. Visit their website for more details and to make reservations.
See more getaways using MWR Recreational Lodging.
3) Joshua Tree National Park
Joshua Tree National Park, named for the distinctive twisted trees that are native to the area, is where the Mojave and Colorado Deserts come together. The unique landscape and lava-formed rock formations are part of what draw visitors to this increasingly popular national park. The main entrance in the town of Joshua Tree is about three hours from San Diego.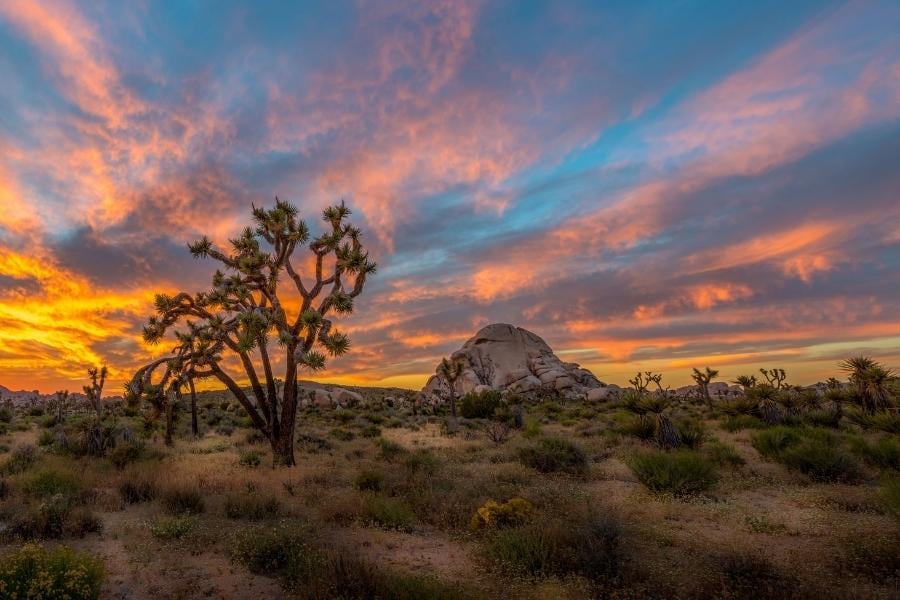 Image from Canva
Things to Do in Joshua Tree
Joshua Tree is a top destination for rock climbers. It also boasts 300 miles of hiking trails and both dirt and paved roads for cycling. Its remote location in the desert also makes it a prime location for epic stargazing.
The little town of Joshua Tree is worth a visit to check out the quirky shops, small restaurants, and the Outdoor Desert Museum.
As a member of the military community, don't forget to bring your free America the Beautiful pass!
Where to Stay in Joshua Tree
The best way to experience Joshua Tree is to stay in the Park itself, and your only option for doing so is tent or RV camping. Joshua Tree has many different campsites , most of which require advance reservations. They vary in terms of elevation/terrain and facilities.
If you don't get a spot within the Park, their websites lists numerous other campgrounds (including a KOA, which has cabins and "glamping" tents).
For those who want less rustic accommodations, check out Airbnb or VRBO for some very unique options in the area, such as secluded ranches and artsy bungalows.
These are just a sampling of the many great getaways you can take from San Diego. If you have a favorite destination for long weekends, tell us in the comments!
Get more insider tips and information for your San Diego life (find even more on our blog!):
Love to travel? Grab our free guide below!