The Best U.S. Military Bases for Outdoor Enthusiasts
The United States is home to an abundance of military bases that not only serve as crucial defense centers but also offer incredible opportunities for outdoor enthusiasts. Whether you have a passion for kayaking, hiking, fishing, camping, winter sports, or exploring nature trails, these bases provide an abundance of activities to enjoy during your downtime. Embrace the beauty of the great outdoors and create unforgettable memories with your nature-loving military family!

While many of these locations are well-known and coveted duty stations across the service branches (Hawaii and Alaska) and may come as no surprise, others on this list are hidden gems. But they all share one thing— these stateside bases offer incredible outdoor experiences!
JBER, located in Anchorage, Alaska, is well-known and beloved for its access to stunning natural beauty. Get started on your Alaska bucket list early because you will always have something to do!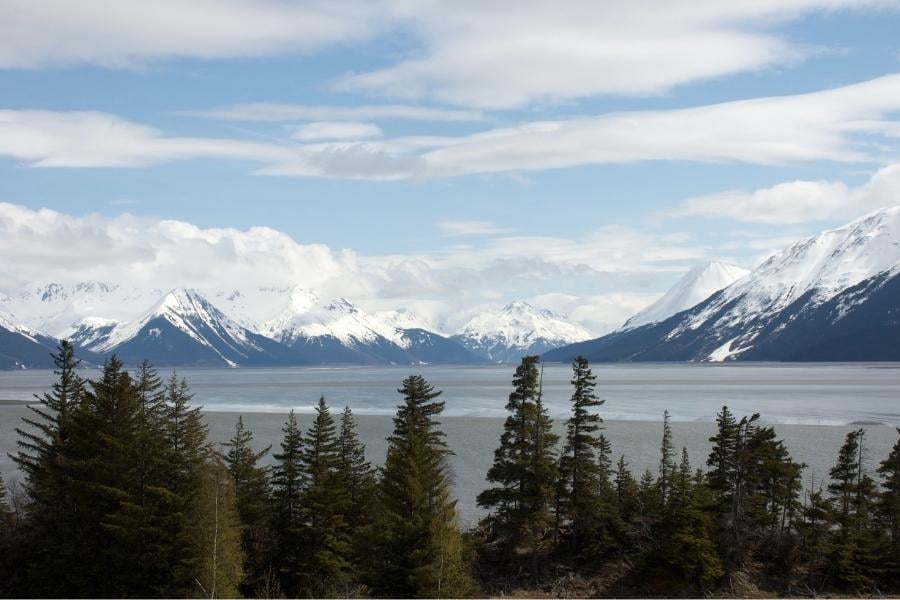 Alaskan Landscape - Photo from Canva
From hiking and mountain biking to fishing and skiing, this base is a gateway to some of the world's most breathtaking and diverse landscapes. One of the must-visit destinations near JBER is Chugach State Park, a sprawling wilderness area with over 280 miles of maintained hiking and biking trails. Whether you're a novice hiker or an experienced mountaineer, there's a trail for everyone, ranging from strolls to challenging hikes.
Drive from Anchorage to Seward along the Seward Highway for spectacular views of Turnagain Arm shorelines and the Chugach Mountains. This stunning coastal region offers an other-worldly backdrop for kayaking, wildlife viewing, and whale-watching. Be on the lookout for seals, bald eagles, and maybe even a glimpse of majestic humpback whales.
Just a few hours from JBER lies the awe-inspiring Denali National Park, home to the tallest mountain in North America, Denali (formerly Mt. McKinley). The park has abundant wildlife, including grizzly bears, moose, and caribou. Whether you take a scenic flight tour or hike through the untamed wilderness, Denali will leave you in awe of Alaska's natural beauty.
While exploring the outdoors at JBER, you might be interested in the world-class fishing available. Alaska is known for its abundance of salmon, trout, and halibut, and you'll have no shortage of pristine lakes, coastlines, and rivers to cast your line. Spend a peaceful day on the water, surrounded by postcard-worthy views of the mountains, as you try your luck at reeling in the catch of a lifetime.
And take advantage of all the opportunities for cold-weather adventures near JBER. Here are just a few!
Arctic Valley

: Hiking/skiing area located just off Fort Richardson.

Girdwood

: Home to Alyeska ski resort, many trails, and eclectic restaurants.

Hillberg ski area:

In winter, hit the slopes right on the installation—the perfect spot for beginner to intermediate skiers, snowboarding, tubing, and equipment rentals.

Statewide camping and fishing:

Alaska boasts many camping and fishing areas. With over 3 million lakes, you'll never visit them all!

Explore glaciers:

Some can be viewed from the highway or a short walk, or you might take a glacier "flightseeing" tour by air.
Remember that Alaska outdoor activities require preparation and environmental awareness, especially regarding wildlife encounters and changing weather conditions. Always follow safety guidelines and regulations. Learn more about handling weather and wildlife encounters in Alaska.
More ideas for your Alaskan outdoor adventures:
Naval Base San Diego and Camp Pendleton, along Southern California's iconic coastline, are dream destinations for outdoor enthusiasts. With their prime locations, these military bases provide easy access to historic Coronado Island and the breathtaking beaches of San Diego.
Whether you're a seasoned surfer or a casual beachgoer, you'll find countless opportunities for surfing, swimming, and exploring the sandy shores of the Pacific Ocean. Consider yourself lucky if your military service lands you in this area, as you'll enjoy access to some of the most beautiful outdoor destinations in the U.S.
Cleveland National Forest -Photo from Canva
But the adventure continues beyond the beach. A mere 50 miles east of downtown San Diego is Cleveland National Forest, with a variety of activities for nature lovers of all types. Lace up your hiking boots and take in the stunning views from these scenic trails.
Mountain bikers can take on challenging paths, while horseback riders enjoy the tranquility of the high desert landscape. And if you prefer to view the scenery from the comfort of your vehicle, take a leisurely drive on the Sunrise Scenic Byway, which winds 24 miles through the forest.
More ideas for your Southern California outdoor adventures:
NAS Pensacola and Eglin AFB on Florida's Gulf Coast are perfect duty stations for outdoor lovers. Discover the Gulf Islands National Seashore, known for its white sand beaches, clear emerald waters (there's a reason this area is called the Emerald Coast), swimming spots, and beachcombing.
Once you're tired of sunning on the beach, enjoy activities like kayaking and paddleboarding in nearby Perdido Key, a barrier island known for its stunning beaches.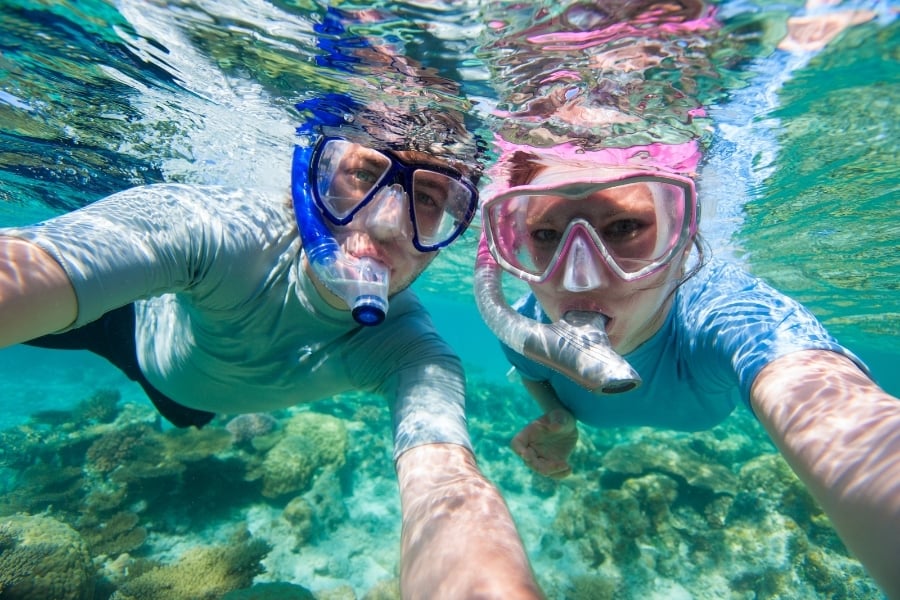 Photo from Canva
Fishing enthusiasts will find plenty of shore and deep-sea fishing opportunities. Charter a fishing boat for an unforgettable day on the water.
Explore Pensacola's diverse ecosystems by venturing into the various hiking and nature trails nearby. From easy strolls to more challenging hikes, you'll find trails that suit your preferences while you experience the landscape and local wildlife. Here are a few to start your adventures:
Tarkiln Bayou Trail:

Sidewalk to boardwalk trail. View the endangered pitcher plants preserve, along with other rare and endangered plants.

Big Lagoon State Park:

Hike through salt marshes and oak woodlands. The park's main trail takes you to a three-story observation tower with stunning views of the surrounding landscape.

UWF Pate Red and Blue Loop:

Mountain biking, hiking, and running trails. Dogs welcome.
During your time in Florida, treat yourself to a magical experience on a sunset cruise along the Gulf Coast. Witness the spectacular colors of the setting sun reflecting on the beautiful waters of the Gulf.
More ideas for your Florida outdoor adventures:
Situated in Fayetteville, North Carolina, Fort Liberty (formerly Fort Bragg) is an Army post that offers a rich history and abundant natural beauty. Surrounded by scenic landscapes, this duty station provides outdoor adventure seekers with a wide range of activities.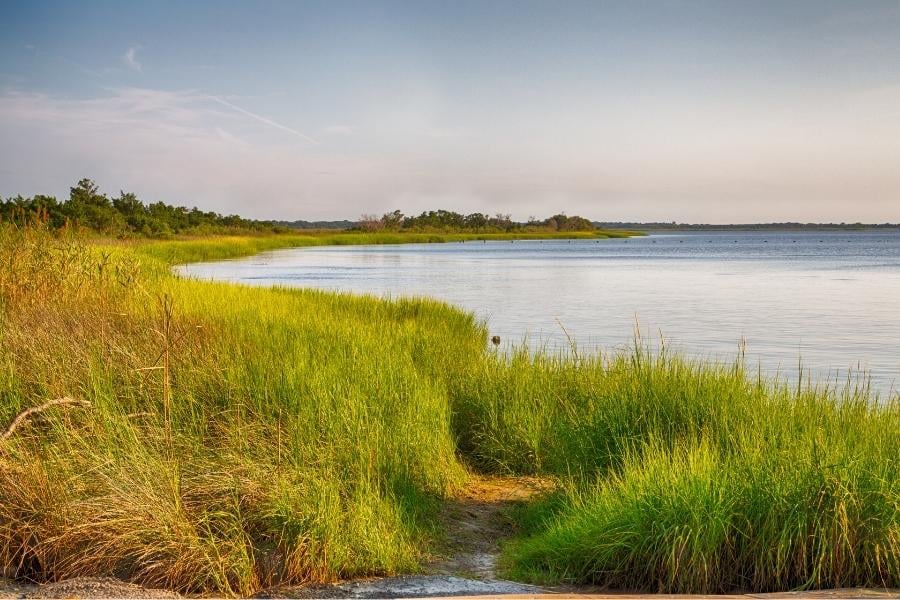 Cape Fear River - Photo from Canva
You'll find kayaking, fishing, boating, and other water activities on the nearby Cape Fear River. Water sports enthusiasts can take advantage of the open water for activities like water skiing, wakeboarding, and tubing. Anglers on the Cape Fear River have the opportunity for some impressive catches, as the river is home to a variety of fish species, including bass, catfish, sunfish, and more.
If you'd prefer to stay on land, the Cape Fear River Trail is perfect for hiking, jogging, and biking with its 10-foot-wide paved path. Stretching for over seven miles along the Cape Fear River, the path features beautiful views of the water and surrounding nature, including more than 700 species of plants, trees, and 150 species of birds.
Located just a short drive from Fort Liberty, Carvers Creek State Park offers hiking, biking, and bridle trails through longleaf pine forests and along Carvers Creek. One highlight is the picturesque Long Valley Farm, the former winter estate of a member of the Rockefeller family, now a national historic district.
Fort Liberty Clay Target Center is a great facility for shooting sports enthusiasts. The center is located on the installation, offering 12 competition-level skeet fields and six competition trap fields. Beginners to seasoned shooters will find the perfect setting to test their skills.
More ideas for your North Carolina outdoor adventures:
Located in the charming city of Charleston, South Carolina, Joint Base Charleston is an ideal setting for getting outside, whether you prefer a day on the beach or a long hike.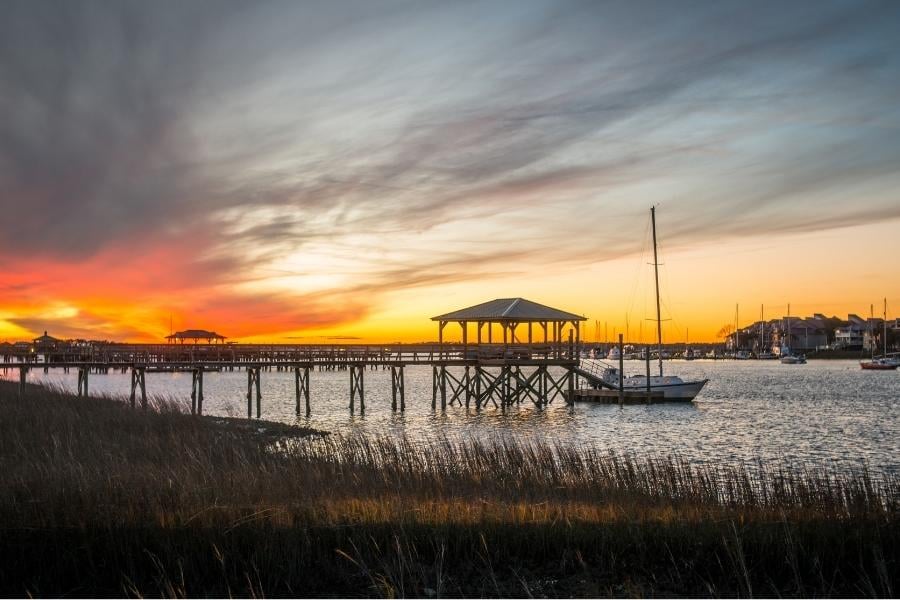 Folly Beach Sunset- Photo from Canva
Stunning beaches near Joint Base Charleston are well worth a visit. Folly Beach is known for its laid-back atmosphere and vibrant surf culture. Folly Beach Pier stretches 1,000 feet into the ocean, and the Isle of Palms has a 7-mile stretch of white sands and clear waters, making it an ideal spot for swimming and sunbathing.
Just about an hour from Joint Base Charleston lies Francis Marion National Forest. Spanning over 250,000 acres, this forest is a paradise for hikers, campers, and boating enthusiasts. Explore the miles of scenic trails that wind through towering pine trees and along quiet creeks, or set up camp and spend a night under the stars. For those who love to be on the water, take advantage of Francis Marion National Forest's picturesque lakes and ponds for kayaking, canoeing, and boating.
More ideas for your South Carolina outdoor adventures:

6) Fort Carson, Peterson SFB, and other Colorado Springs bases - Colorado:
Colorado Springs is on the duty station wishlist of many military members, and it's no secret why, with the area's stunning natural landscapes and close proximity to the Rocky Mountains. Fort Carson, Peterson SFB, and other bases offer a wealth of outdoor activities. Whether you're an avid hiker, climber, mountain biker, skier, or snowboarder, there's something for everyone!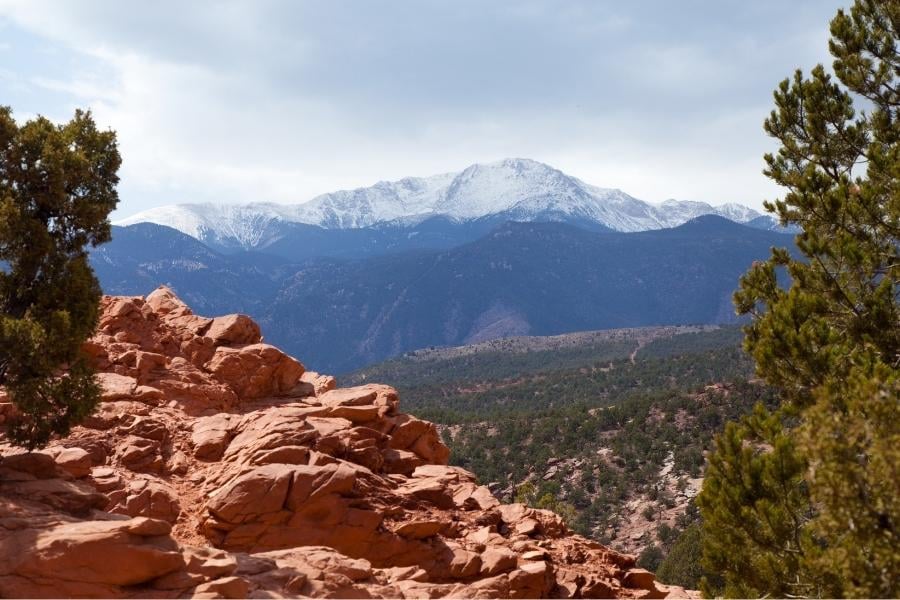 View of Pikes Peak from Garden of the Gods - Photo from Canva
One of the central area attractions is the iconic Garden of the Gods. This breathtaking natural wonder draws hikers and rock climbers alike. Explore the towering red rock formations and take in the stunning views of Pikes Peak in the distance. And if you'd prefer to walk, you'll have plenty of choices with over 21 miles of trails from which to explore this unique landscape.
Speaking of Pikes Peak, this famous mountain is a sight you don't want to miss. The climb to the summit is a challenging 13.5 miles and gains 7,400 feet in elevation, so less experienced hikers will likely opt to take the scenic drive to the top. Either way, you'll be rewarded with breathtaking views. Pikes Peak transforms into a winter wonderland during the winter months, offering skiing and snowboarding opportunities for all skill levels.
But, of course, Colorado Springs offers more than hiking and winter sports. You can enjoy nearly endless outdoor activities: mountain biking, fishing, camping, white water rafting, and more. You'll find it all, whether you're seeking an adrenaline high or prefer a more tame experience of nature.
More ideas for your Colorado outdoor adventures:
Anyone who's had the good luck to be stationed on or visited the island of Oahu knows it's a tropical paradise. With its turquoise waters, pristine beaches, gorgeous mountains and trails, and vibrant marine life, Oahu has a nearly incomparable abundance of outdoor activities on and off the water.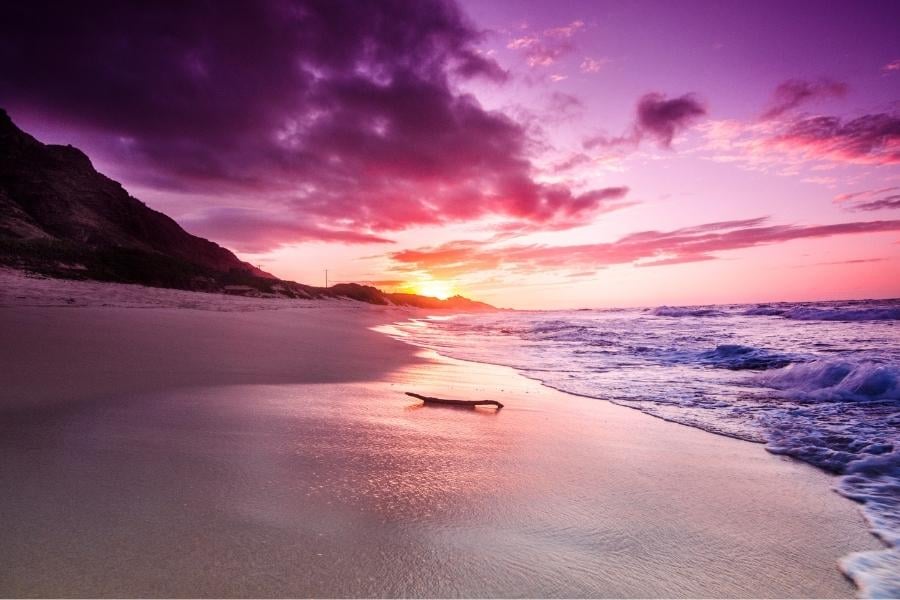 North Shore at Sunset - Photo from Canva
Surfing is a must-try activity for both beginners and experienced surfers. The island's famous North Shore is known for its world-class surf breaks, attracting surfers from all over the globe. Novice surfers may want to take a few lessons first and venture into calmer waters at other popular area beaches like White Plains Beach or Waikiki.
For those who prefer to explore underwater, try snorkeling and scuba diving. Many stationed here take the time to become scuba certified to explore the island's coral reefs. Oahu's Hanauma Bay Nature Preserve is a popular snorkeling spot where you can view the colorful marine life in a protected environment.
Kayaking is another fantastic way to experience the island's beauty. Paddle along the coast and admire the stunning shoreline, hidden coves, and secluded beaches. You might even want to venture out to the Mokulua Islands on the island's windward side, a pair of small islets known for their picturesque beauty and abundant birdlife, as they are designated seabird sanctuaries. People are only allowed on Moku Nui, and many opt to take a guided kayak tour. Other popular water sports in Oahu include stand-up paddleboarding, jet skiing, bodyboarding, and wind-surfing.
Discover the many lush trails across Oahu if hiking is more your style. Embark on an adventure through the island's rainforests and awe-inspiring mountains. The Diamond Head State Monument is a popular hiking destination, though it can be crowded, and provides panoramic views of Waikiki and the sparkling Pacific Ocean from its summit. See below for more ideas and information for other area hikes, such as Koko Head, Ka'ena Point, Olomana Trail, Makapuʻu Lighthouse Trail, Manoa Falls, and more.
Beyond the activities mentioned, Oahu also offers opportunities for horseback riding, zip-lining, and even helicopter tours, providing a unique perspective of the island's natural wonders. Whether you're seeking adventure or want to relax and soak up the sun on one of the island's stunning beaches, Oahu is an outdoor lovers' paradise.
More ideas for your Hawaii outdoor adventures:
Naval Base Kitsap is a combination of installations at Bangor, Bremerton, Jackson Park, Keyport, and Manchester and was formerly the separate bases of Naval Air Station Bremerton and Naval Submarine Base Bangor. Located in Washington State, it's located on the Kitsap Peninsula, across Puget Sound from the city of Seattle. With the area's propensity for rain, you might be surprised to find this base on a list for outdoor adventurers, but you'll find plenty!
Whether you're interested in outdoor sports, wildlife watching, or exploring and soaking in the stunning sights of the nearby Olympic Mountains and Mount Rainier, Naval Base Kitsap and its surrounding areas offer a diverse range of activities for you to enjoy.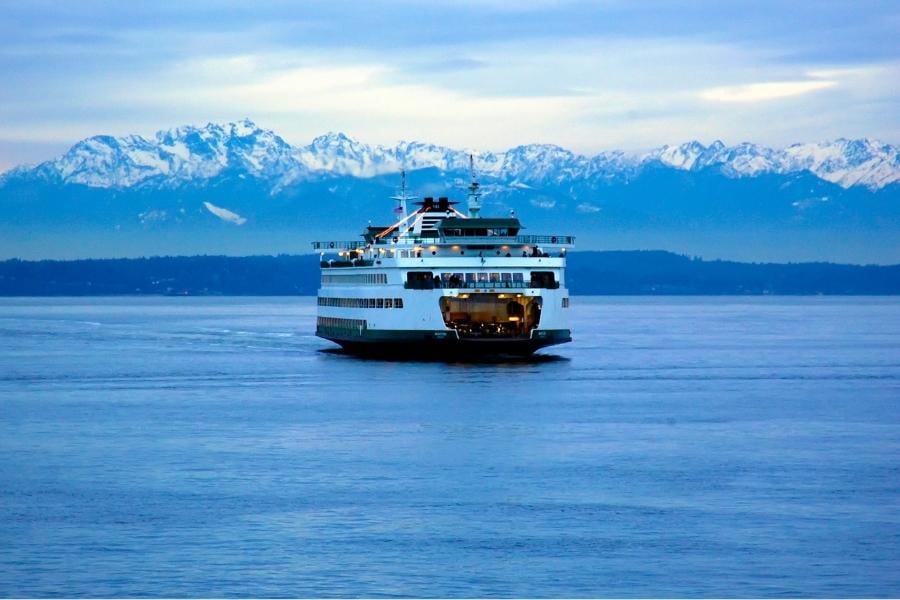 Seattle- Bremerton Ferry at Dusk with Olympic Mountains - Photo from Canva
Take the ferry from Bremerton to Seattle, enjoying the scenic beauty of Puget Sound and Mount Rainier during the journey. Once in Seattle, explore the iconic Pike Place Market, visit the Space Needle, and enjoy the vibrant city atmosphere.
For those who love being on the water, Naval Base Kitsap offers year-round access to a variety of water-related activities. Explore the Kitsap Peninsula National WaterTrails, home to the only natural saltwater trail in the entire United States. Whether you're kayaking, paddleboarding, or enjoying a leisurely boat ride, you'll be surrounded by the stunning beauty of the Pacific Northwest. With 371 miles of shoreline, beachgoers will have endless possibilities for beach combing, relaxation, and even swimming.
Keep in mind that the water temperatures in Puget Sound and surrounding areas of the Kitsap Peninsula can be quite cold, especially compared to warmer regions. Nearby beach areas include Illahee State Park, Silverdale Waterfront Park, Anderson Point County Park, Manitou Beach, Point No Point County Park, and so many others.
Explore the parks and hiking trails around Kitsap Peninsula and take in the beautiful scenery while you get your heart rate up. Here are a few to try:
Green Mountain State Forest - Gold Creek Trail:

A moderate hike with two loop options for either a 5- or 9-mile hike.

Clear Creek Trail:

This family- and pet-friendly trail system in Silverdale has over 7 miles of trail.

Guillemot Cove Nature Reserve:

Beautiful reserve near Seabeck features a loop trail through old-growth forests, wetlands, and the waterfront. Wear waterproof shoes!

Anderson Landing Preserve:

Located on the western shore of Kitsap Peninsula, this preserve offers a scenic hike along the shoreline of Hood Canal.

Port Gamble Forest Heritage Park:

An extensive trail system of over 65 miles of walking, biking, and equestrian trails, winding through over 3,000 acres. The trails offer varying lengths and difficulty levels, some with water access for kayaking.
Mount Rainier National Park, a couple hours' drive from Naval Base Kitsap, is a stunning natural wonder with majestic mountains, glaciers, and verdant forests. AllTrails lists at least 155 trails for hiking, backpacking, and camping, from easy walks to challenging backcountry routes. Don't miss this chance to view Mount Rainier, the highest mountain in Washington State!
More ideas for your Washington state outdoor adventures:
While it's impossible to cover every outdoor adventure at the numerous bases across the U.S., maybe we hit one of your favorites in this list! Follow along with the MilitaryByOwner blog to stay updated with even more helpful information like this, and then let us know what your favorite outdoor adventure is at your base.