16 Best Things to Do Near Naval Base San Diego
Welcome to Naval Base San Diego! While you might be in for a little culture shock if you're not used to the beach life, America's Finest City is hard not to love. Beyond its local charm, mouth-watering food, and gorgeous weather, there is so much to do. There's a whole lot, dare I say, an excessive number of things to do in the San Diego area.
If you've ever vacationed here, then you know that you left some things undone. And if you're stationed in San Diego, you'll learn that there's far more beneath the surface. You discover that beyond the attractions are events and lesser-known (but not underrated) bars and restaurants, and that a hike up Torrey Hills is not a one and done kind of thing.
There's so much to do in the San Diego region! Whether you're just visiting, on short-term orders, or here to stay for a while, here are a few activities in the area to get you started!
Take a look at the short video below, then read on for even more ideas.
1) Gaslamp Quarter
The heart of downtown San Diego is Gaslamp Quarter. The area is backdrop to many social events, incredible dining, and gorgeous historic Victorian buildings contrasted by the modern skyscrapers. It's a fun place to spend the afternoon and even more exciting at nightfall as it transitions into a "cosmopolitan playground."
2) New Children's Museum
Intentionally designed to create opportunities for imaginative play, critical thinking, and interaction with contemporary arts, the New Children's Museum isn't just a favorite for the littles in your family, it's a delight for parents as well!
3) Legoland
Heaven for the Lego fanatics in your family, the Legoland amusement park complete with rides, a water park, and a shop (yes, of course, you can buy more here) is so fun it might be worth an annual pass.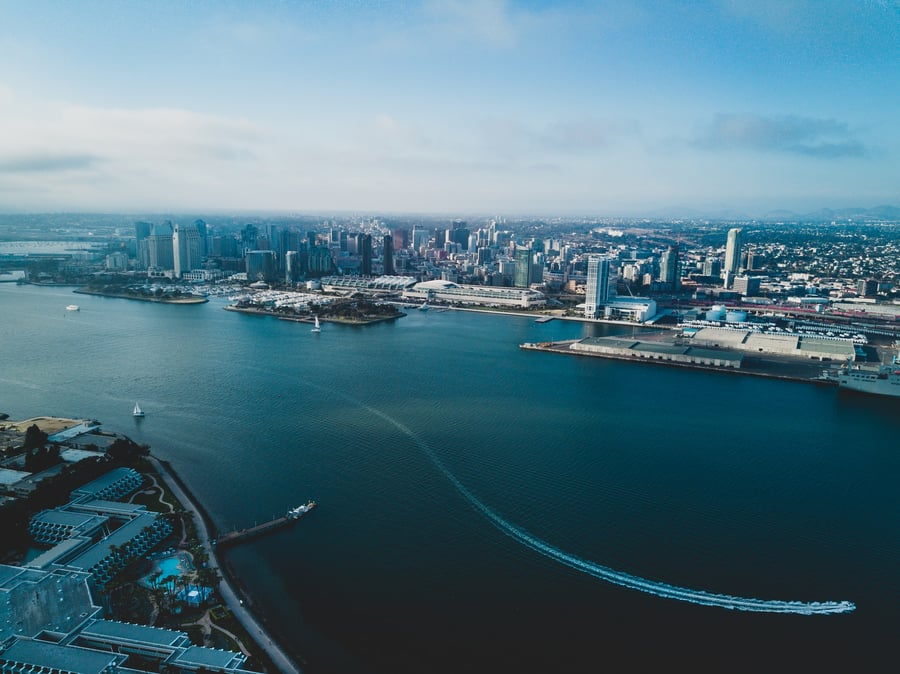 4) SeaWorld
Not only is SeaWorld a well-known attraction, not just here in San Diego but all over the country, but it's free for the military! SeaWorld allows service members and three of their dependents one free day a year.
5) San Diego Zoo & Safari Park
The mother of all zoos, San Diego knows how to make you feel like you're out in the wild. The San Diego Zoo is located in San Diego, while the San Diego Safari Park is north in Escondido.
Active-duty military members can get a free one-day pass to the zoo and/or Safari Park. Spouses and other dependents aren't eligible for free admission. However, they qualify for a discounted rate.
6) Balboa Park
For the nature-lover, historian, or explorer in your family, Balboa Park is a one-stop wonder. Dating back to 1868, this intricate park has nearly always been observed and appreciated for the natural wildlife and arts that reside here (except for serving as an extension of the Balboa Naval Hospital during WWII). Today, many come to soak in the gorgeous architecture, learn about the history, and observe nature down the trails winding through the property.
7) San Diego Air and Space Museum
The San Diego Air and Space Museum sets the backdrop to learn about the history of space technology. One thing you don't want to miss while you're here? The max flight simulator where you can see what it's like to fly an aircraft yourself. Kids are free only on specific days, and admission is always free for military.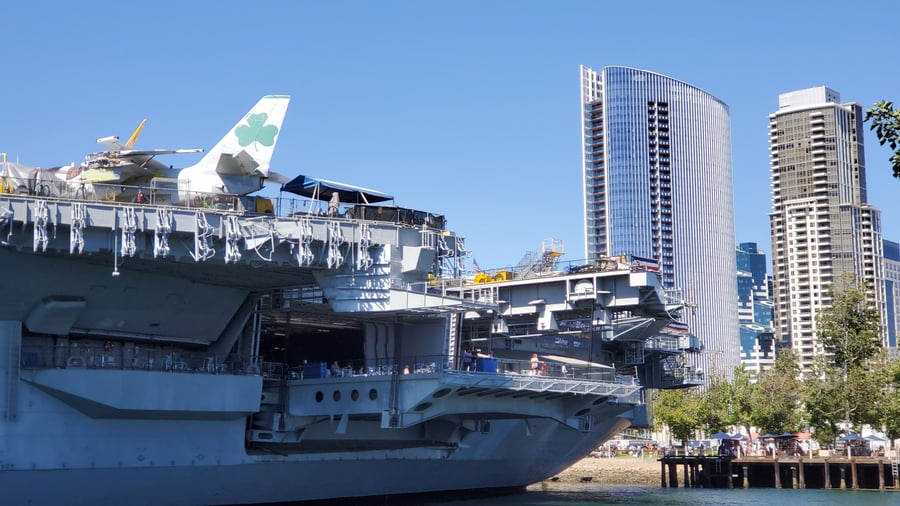 Photo by Johanna Zender on Unsplash
8) USS Midway Museum
The Navy's longest-serving aircraft carrier, the USS Midway, is home to over 30 restored naval aircraft and helicopters, along with an attraction that's a must-see, the Unconditional Surrender Statue. Grab a cup of coffee below deck, then peruse this incredible piece of history.
9) Old Town San Diego
Authentic and historic, Old Town San Diego is a delight to visit. It's home to dozens of historic homes to venture and explore. And if you're looking for fun gift ideas or to immerse yourself in the culture, you'll find endless historical reproductions, including jewelry and art.
10) Hotel Del Coronado
Even if you live here, a night or two at the legendary Hotel Del Coronado is a must. It's expensive, but when you experience it, you understand why. Situated on Coronado Beach, the views are outstanding. Couple the location with pristine amenities (a spa, salon, pools, beach access, events, and of course, fine dining), and you'll soon realize that you're on a honeymoon-worthy vacation.
11) Mt. Soledad National Veterans Memorial
Considered one of the most unique veterans memorials in America, Mt. Soledad National Veterans Memorial, a Beacon of Freedom, is the only memorial that honors veterans, living or deceased, from the Revolutionary War to the present, with an image of the veteran.
12) Birch Aquarium
Birch Aquarium is the public center for the Scripps Institution of Oceanography and features more than 60 exhibits of small sea life from the Pacific Northwest down the coast to Mexico and beyond.
13) San Diego Padres
Is there anything better than sipping a cold one and eating a ballpark dog while watching a good ol' game of baseball? San Diego is home to the Padres and makes for a fun evening out for the whole family. Go, Padres!
14) Hiking
Get outside and breathe in that crisp Southern California air! A few good places to start are:
Lake Poway to Mount Woodson (and Potato Chip Rock!)
Torrey Pines State Natural Reserve
Los Penasquitos Canyon Trail
Cowles Mountain
Iron Mountain Trail
15) Beaches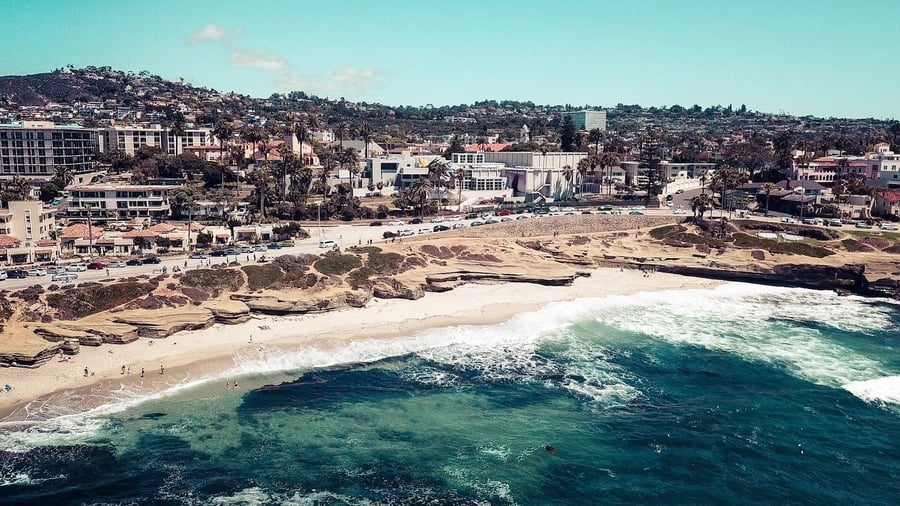 Photo by Ameer Basheer on Unsplash
Of course, you'll want to visit the beaches (especially if you're coming from a landlocked state). And with 70 miles along the Pacific Ocean, you'll have your fair share of choices. Whether you want to surf, sip a drink with your toes in the sand, or explore the wildlife near shore, the beaches here are irresistible. Check out:
La Jolla Shores and La Jolla Cove
Children's Pool in La Jolla
Carlsbad
Coronado
Del Mar
Imperial Beach
Mission Bay Park
16) Weekend Getaways
Are you looking to take a break and find a reset before diving into another work week? Your weekend spots come in a variety of forms. No matter what you're looking for, whether it's a kid-friendly adventure, a search for local wine, or some snowy slopes to ski, you don't have to travel far from San Diego to find it. Visit Big Bear, Temecula, Los Angeles, and Disneyland.
Need more ideas? Take a look at:
Are you about to make a PCS move to the San Diego area? Download our free resource below!