10 Best Military Family-Friendly Beaches Near San Diego
You probably realize there are different types of beaches in the world. You might see a stretch of sand on the map and assume that it's the perfect place for the family to spend their day. And... you might be right. Or you could be terribly wrong.
You see, among the traditional sandy beaches in the world, there are also nude beaches. And there are party beaches. And while those may be ok for some, they probably aren't the right fit for your family!
All that to say, don't assume that any stretch of beach you find is suitable for the whole family. Southern California is known for beautiful beaches, but you need to look for a beach with sand, a flat or slow slope to the water, and a gentle tide. You might even get lucky and find a beach with a playground! We've looked around and scouted out a few beaches near San Diego. I'm sure one or two of them will be the perfect fit for your military family.
These family-friendly beaches make great destinations for your family vacation or a fun outing if you're stationed at San Diego Naval Base, Coronado Naval Amphibious Base, Naval Base Point Loma, North Island NAS, MCRD San Diego, San Diego Naval Medical Center, MCAS Miramar, or MCB Camp Pendleton.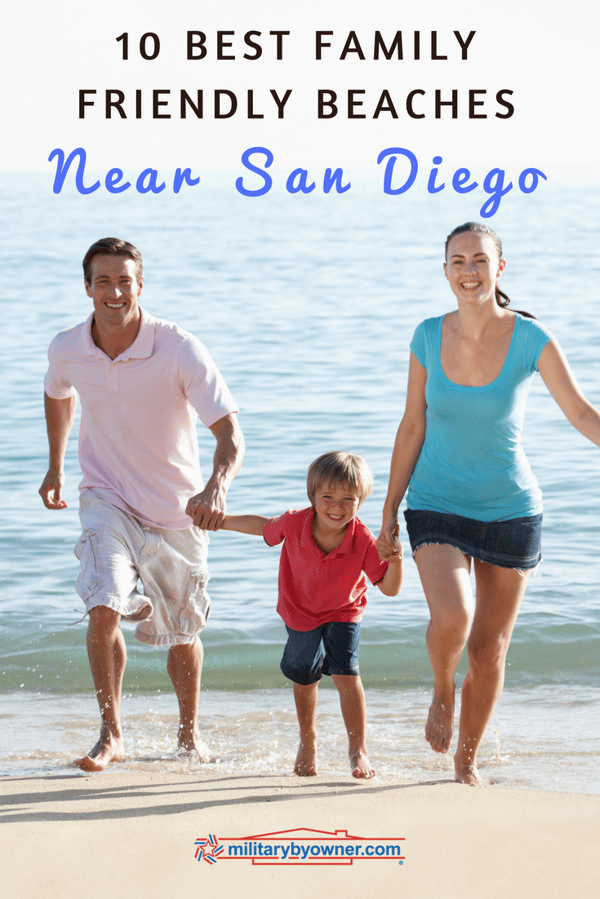 The Top 10 Best Military Family-Friendly Beaches Near San Diego, California
1. Breakers Beach
Breakers Beach is located on Naval Air Station North Island and is one of the most remote area beaches you'll find since it's only accessible by the military community.
The North Island Outdoor Adventure Center is located near Breakers Beach where you can find sports, water, beach, and camping equipment.
Amenities:
Beachfront parking
Cabana rentals
Beach fire pits
Lifeguard
Restrooms
2. Coronado Beach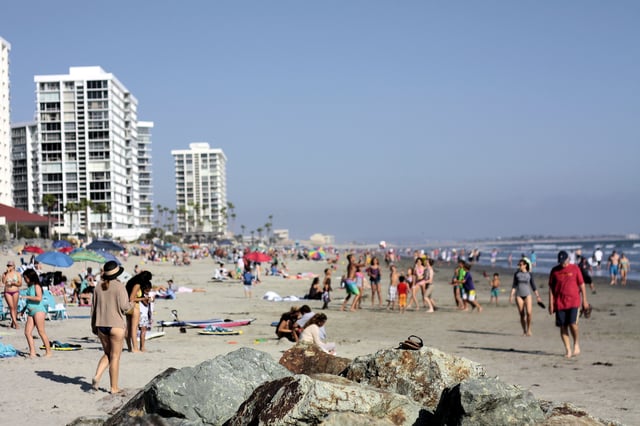 via Flickr user Phil Reoder
Coronado Beach, also known as Central Beach, is a 1.5 mile long stretch of beautiful sand. It starts at the famous Hotel del Coronado, "The Del," and ends at Dog Run Beach where pet owners bring their dogs to run free of leashes.
What sets this stretch of sand apart from the rest are the large sand castles people make at Coronado Beach. But of course, the beach is also great for swimming, surfing, and sunbathing.
Amenities:
Free parking on Ocean Boulevard near Hotel del Coronado. There's also more free parking south of the hotel at South Beach.
Restrooms.
Lifeguards.
Fire pits.
Picnic tables.
Tide pools.
Nearby restaurants
3. La Jolla Shores Beach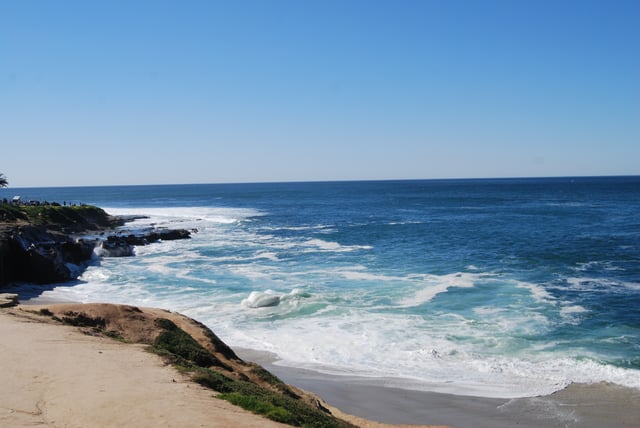 via Flickr user Matt Koontz
La Jolla Shores Beach is a mile-long stretch of sandy beach located in La Jolla, "the jewel" of San Diego. What makes it even better is that it parallels with Kellogg Park, a beautiful grassy area with a playground for kids to run and play.
Since the beach is shielded by the La Jolla Bay, the water is fairly calm and great for swimming, kayaking, canoeing, scuba-diving, surfing, boogie-boarding, and snorkeling. Plus, you can end the fun day by roasting marshmallows over a fire on the beach.
Amenities:
Restrooms and showers available.
Full-time lifeguards on duty from 9 a.m. to dusk.
Although there's parking, it's competitive so it's best to arrive early morning.
La Jolla also is also home to the La Jolla Cove, a small beach tucked in between cliffs great for snorkeling and scuba-diving.
4. MCCS Del Mar Beach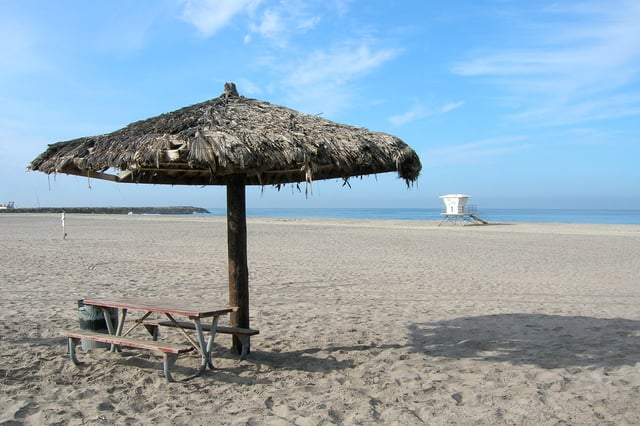 via Flickr user auntjojo
Sometimes the greatest solution can be found right on base. Camp Pendleton not only has prime beach access, but also offers amenities at a far lower rate than civilian equivalents.
Amenities:
Cabana, umbrella, surfboard, body board, paddle board, football, and volleyball rentals.
Del Mar Beach Villas: The Villas are located right on the beach and feature queen beds, TVs, couches, kitchens, barbecues, and fire pits.
Del Mar Beachfront Campground: If you have a tent or RV, forgo the villas and pick your spot right on the sand!
5. MCCS San Onofre Beach
On the north end of Camp Pendleton is San Onofre Beach. Much like MCCS Del Mar Beach, San Onofre offers visitors a much quieter environment than a typical San Diego beach.
Amenities:
6. Mission Bay Beaches
Mission Bay is located in San Diego just minutes from Sea World. Consisting of over 4,600 acres of land and water, Mission Bay Park is the largest park of its kind, with over 19 miles of sandy beaches perfect for you and the family.
Mission Bay is great for many activities you'd find at the lake in the summer. Families come here to water ski, sail, row, kayak, and swim because the water is much calmer than the open ocean. However, families should be aware and cautious of drop-offs, especially with small children.
Amenities:
Mission Bay has lifeguards on duty full-time during the summer. However, their hours are limited from fall to spring season.
Restrooms and showers are available at all designated swimming areas (except Enchanted Cove).
With large lots, parking is easy to find and free.
Dogs are allowed on leash in Mission Bay Park and off leash on Fiesta Island.
7. Moonlight State Beach
Moonlight State Beach is located north of San Diego in Encinitas.
Not only is Moonlight Beach perfect for families because of the wide sandy beaches, the beach is great for swimming, snorkeling, scuba diving, windsurfing, surfing, and fishing.
Amenities:
Restrooms and showers available.
Volleyball and tennis courts.
Snack bar.
Picnic areas.
Hiking trails.
Recreational equipment for rent.
8. Oceanside Pier and Beach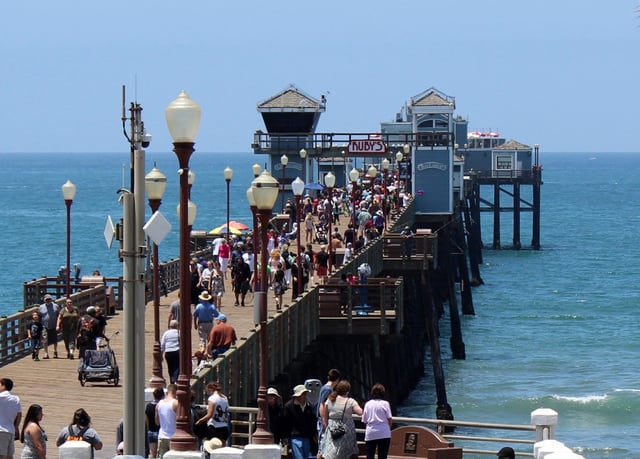 via Flickr user Chuck Berridge
Oceanside Pier is located in Oceanside just a couple minutes outside the Camp Pendleton main gate. There are a couple things here that make this beach worth visiting with the whole family.
First, the Oceanside Pier. It's one of the largest in the state of California at 1,942 feet. Come take a walk, fish, and grab a bite to eat at Ruby's Diner situated at the end of the pier. Second, the playground. Just to the south of the Oceanside Pier is a playground right on the beach!
The beach itself is great for surfing and swimming and is close to a handful of restaurants and shops.
Amenities:
Picnic tables.
Barbecues.
Fire rings.
Vending machines.
Parking is available nearby (both free and paid).
9. Silver Strand State Beach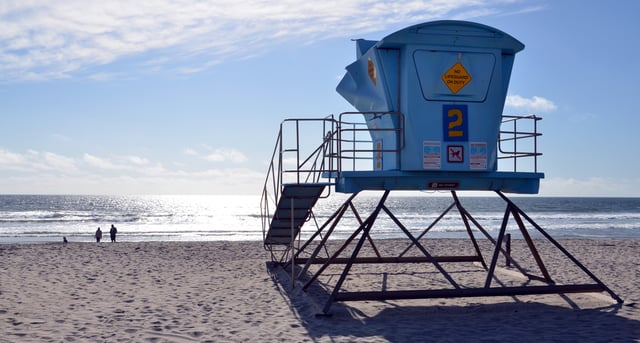 via Flickr user Floris Oosterveld
Silver Strand State Beach is located south of Coronado and has access to both the Pacific Ocean and the San Diego Bay.
This beach is the full package. Come for a day trip if you want or make it a weekend getaway and camp. Though tent camping isn't permitted, Silver Strand State Park is great for RV camping. If you don't have an RV, look into your local Morale, Welfare, and Recreation (MWR) office and rent one!
The beach is great for swimming, water skiing, surfing, boating, volleyball, and picnicking.
Amenities:
Camping.
Scheduled activities and programs like nature walks, group bonfires, kayak tours, and junior lifeguards.
Lifeguards.
Parking available for a fee.
10. South Ponto Beach
South Ponto Beach is located in a lesser developed area of Carlsbad and is secluded behind high sand dunes. Families come to swim, sunbathe, and surf. This beach is especially fun to visit during the winter months. Though the water may be cold, a number of polished stones wash up on the shore and kids have a fun time finding them.
Amenities:
Restrooms and showers.
Limited free parking along the beach. $8 parking in lot on Southernmost Carlsbad.
Whether you live in the San Diego area or are looking for a vacation spot, these family-friendly beaches make a great outing for the family!
What did we miss? What's YOUR favorite San Diego area beach?