Do You Need an Attorney for Your FSBO?
As military families, we follow many processes—from enrolling in DEERS to the steps needed to complete an overseas PCS move. We know better than most that, no matter how iron-clad a process may appear, hiccups always arise. The closing process of a FSBO is no different!
When you choose to sell your home yourself as a For Sale By Owner (FSBO), you're taking responsibility for a number of tasks, including closing on your home. One option to help with these responsibilities is to line up an objective third party, such as a real estate attorney, to help you in the home selling process. (In fact, it's important to note that, in some locations, having legal representation is a state requirement.)
What Is A Real Estate Attorney?
From Rocket Mortgage:

A real estate attorney, also known as a real estate lawyer, is someone who is licensed to practice real estate law, meaning they have the knowledge and experience to advise parties involved in a real estate transaction, such as a home sale or short sale.
Selling your home as a FSBO? Start with our free ebook that will walk you through each step.
Why Hire a Real Estate Attorney for Your FSBO?
As the home seller, you may wish to hire a real estate attorney to ensure you're complying with all laws and as a prevention from being sued. The attorney can help you compile, understand, and review all the documents and contracts you'll need for your home sale such as the purchase agreement, offers and counter offers, disclosures, title documents, and more.
It may help your peace of mind to have someone objective involved in the real estate transaction. For instance, you may not know the answers to questions that may arise in the process, such as whether one party is in breach of contract or whether it's even legal to still go to closing if the original set closing date has expired.
The real estate attorney may also handle any third-party transactions, such as "home inspection companies, appraisers, banks, to even construction teams. When you hire a real estate attorney, your lawyer can help deal with third party negotiations involved in the sale of your home." (Source)

Photo from Canva
If you decide to hire an attorney for your For Sale By Owner, request a letter of engagement to define what services will be provided. An attorney may:
• Review the documents you've compiled.
• Prepare the FSBO contract.
• Protect and advocate rights.
• Advise as a closing agent.
Alternatives to Hiring an Attorney
Most home sellers don't want to incur any non-essential costs, especially if you're choosing to sell by owner. You can use a standard form for completing the real estate transaction, which is a relatively simple and inexpensive form that provides state specifics for buyers and sellers. Find state-specific forms from MilitaryByOwner's partner U.S. Legal Forms.
However, realize that using a standard form doesn't eliminate the greater risks inherent in purchasing or selling real estate. If a claim arises later as to the legal ownership of the property (such as a home that was part of an estate sale), you could find yourself in an unfamiliar and potentially complicated situation.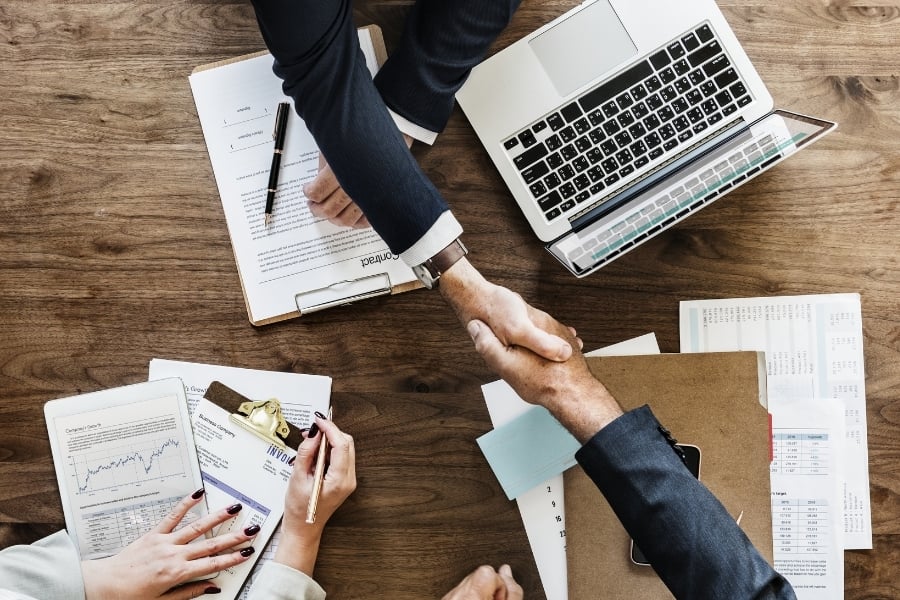 Photo from Canva
Key Points for Hiring a Real Estate Attorney
It's important to familiarize yourself with your state's laws

regarding a For Sale By Owner. Some states don't require that you have a real estate attorney as part of the closing process, while others do.
Note that, while real estate attorneys are not required for closing in every state, you will need to use the services of a title company or settlement agent to close on your home sale.
Some title insurance companies and mortgage lenders may also require that you use a real estate attorney for your FSBO.

Both the buyer and seller

can choose to have their own attorneys at closing. An attorney may also represent the mortgage or title company.

Real estate attorneys

can help you review offers and provide insight into any complications.

The attorney will not help you price your home.

Can a buyer and seller be represented by the same real estate attorney?
In short, no. They will need to avoid any conflict of interest. However, you can hire lawyers from the same firm.
Each state has its own regulations regarding closing a real estate transaction, whether you're selling by owner or using the services of a real estate agent. Regulations and laws vary not only state by state, but even year to year! Always verify the closing process in your state before you begin the For Sale By Owner process. If you're selling your home and looking for a military-friendly real estate attorney, browse MilitaryByOwner's Business Directory.
Some of this content is included in our resource, FSBO FAQ: Answers to Your For Sale By Owner Most Frequently Asked Questions. Download this free guide for more guidance and common questions that can come up during a home sale.