Fort Carson Homes for Sale with Great Outdoor Spaces
Every now and then, military families get lucky and have an in-demand duty station come their way. Fort Carson, Colorado, is one of those exceptional locations. From the landscape to the multitude of outdoor activities, there are enough recreation experiences to fill anyone's bucket list.
But, you'll need a place to call home first! Check out these picks for MilitaryByOwner's homes of the week. All are for sale and offer the quintessential Colorado outdoor living opportunities. Take a look!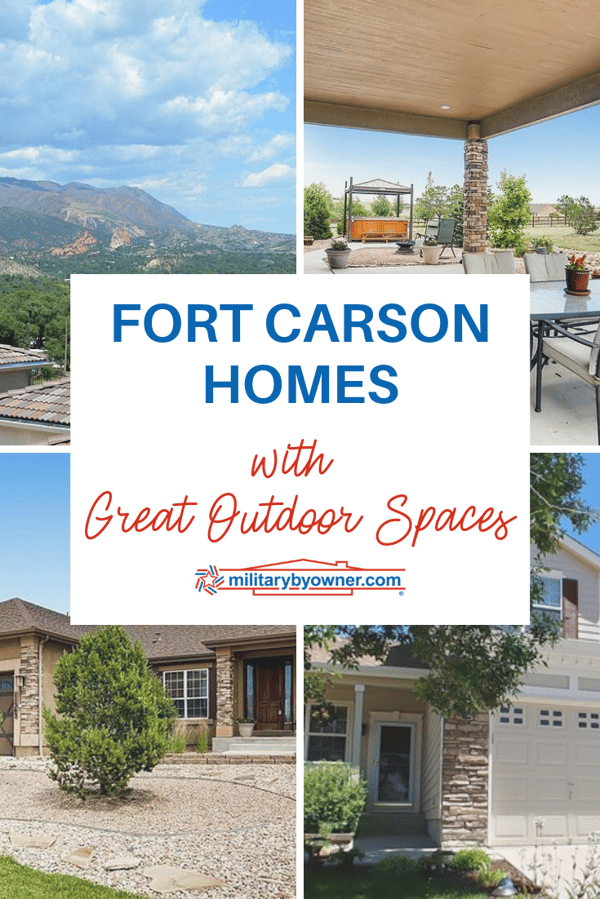 Fort Carson Homes for Sale with Great Outdoor Spaces
1) Move-In Ready with Room to Spare
MilitaryByOwner Listing MBO1436569
For Sale: $629,000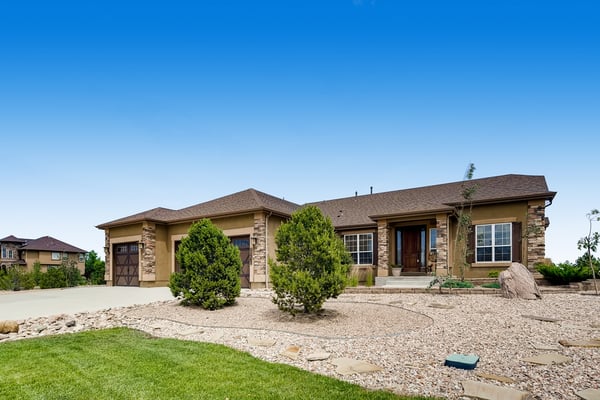 Some families come to Colorado with one thing on their mind: how to spend more time outside. Look no further than the back yard of this custom property. Move-in ready landscaping and a perfectly designed entertainment space will have you and your family relaxing and enjoying each season outdoors.
With over an acre sized lot, there's more than enough opportunity for kids and pets to play while the adults cozy up by the fire or lounge in the hot tub. Two separate gathering spots in the back are ideal when a house full of friends and family come to visit for holiday celebrations or casual barbecues.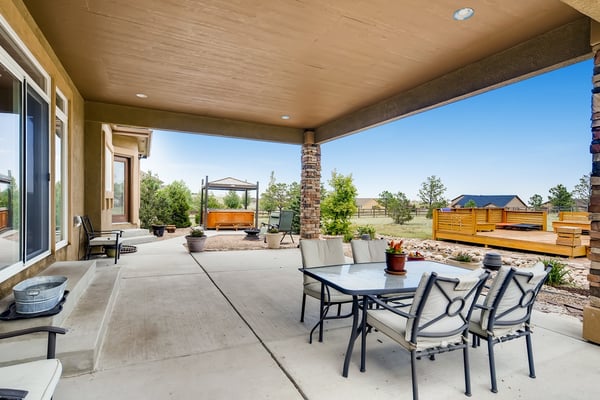 Speaking of guests, there's plenty of availability to spare for overnighters. Four bedrooms should take care of any guest needs, and you'll also find a wide open, fully finished basement and game room for temporary sleeping arrangements.
The interior of the home is handsomely outfitted with neutral colors and finishes, soaring ceilings, and natural light. The combined amenities inside and out make this property difficult to pass by.
2) Mountain Views and Easy Hiking Access
MilitaryByOwner Listing MBO1435532
For Sale: $499,900
For Rent: $2,500/mo.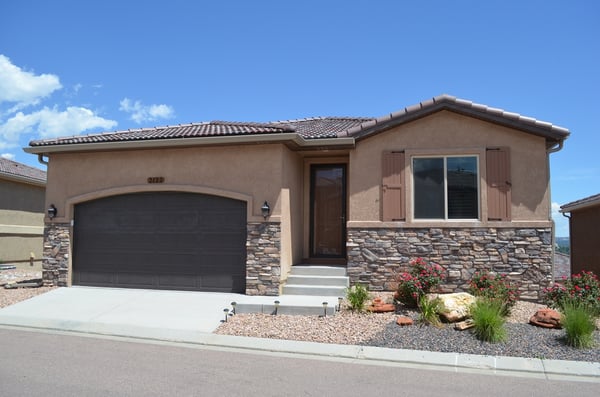 When people envision moving out west, many have images of mountain tops running through their thoughts. Look no further; not only will the skyline views from this home take your breath away, but the valley below holds spectacular snapshots of the Garden of the Gods Visitor and Nature Center. With these natural wonder scenes in sight, the back deck will be your favorite new entertainment and relaxation destination.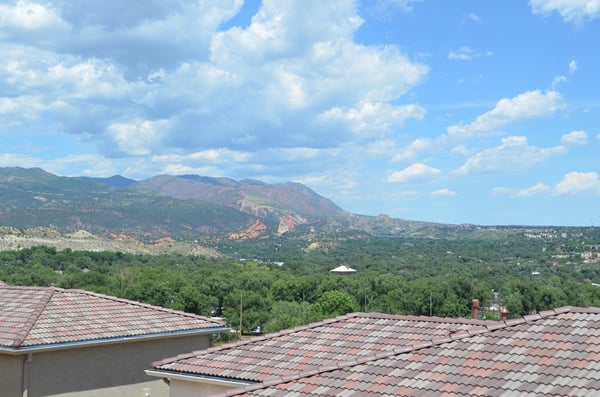 Even casual outdoor enthusiasts will be thrilled to have walking access to Bear Creek Park and Red Rock Canyon Open Space. Easy entry to a new trail each day is a hiker's dream. Don't worry, however, all of this proximity to nature doesn't come at a cost to commute time, which is only 30 minutes to the Air Force Academy and less than 10 miles to Fort Carson, Peterson AFB, and Cheyenne Mountain Air Station.
This home was built in 2017 and has every modern update a renter or buyer could ask for to be considered move-in ready, including a very convenient wine cellar!
3) Golf Course Community Home
MilitaryByOwner Listing MBO467618
For Sale: $555,000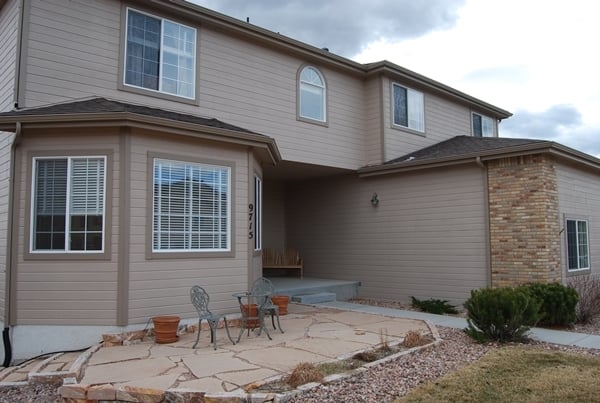 A home located on a corner, in a golf course community, provides plenty of ways to enjoy the fresh air. The spacious lot accommodates fun after-school activities at home, but nearby play areas, school yards, and walking trails extend endless adventures to families. Even the dog gets to be included in the fun, because an underground fence keeps him safely at home!
The back deck welcomes guests for a grilled dinner, but the vistas in distance keep friends and family lingering while enjoying pleasant evenings.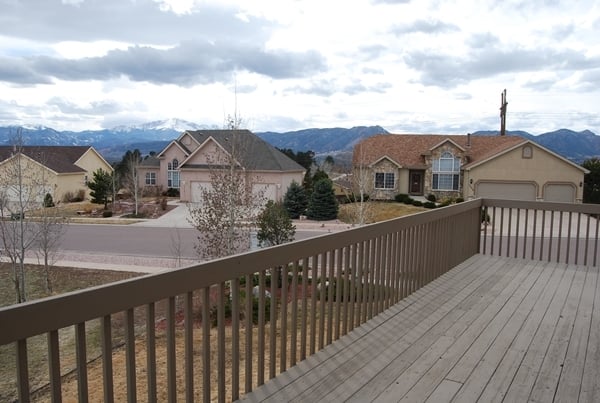 Stepping inside, the wide open feeling continues. Picturesque views, streaming natural light, and large living areas flow within. Large families will feel comfortable, with four bedrooms and a separate playroom. A convenient upstairs laundry keeps housekeeping simple. The master suite allows parents to have a comfortable getaway to call their own.
The natural gas fireplace adds extra ambiance, whether watching a football game or hosting a housewarming party.
4) Spacious Home with Views of Pikes Peak
MilitaryByOwner Listing MBO467227
Price: $349,900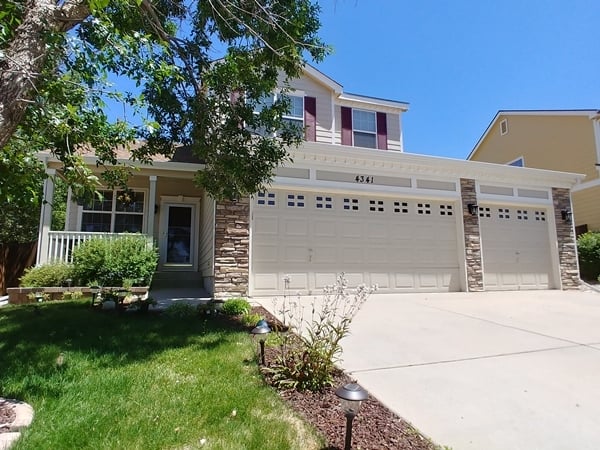 Here's another amazing example of how to take advantage of the Colorado lifestyle!
A welcoming front porch is perfect for rocking chairs and festive drinks: cool lemonade in the summer or crisp apple cider in the fall. You don't have to pick, the porch provides covered enjoyment all year round!
The simple to maintain landscaping begins in the front yard and extends into the back where the yard is designed with entertaining in mind. A covered gazebo adds charm and shade, while the patio area is ideal for meals cooked outside. Small garden beds are uncomplicated to tend to, and the grass adds extra surface to play. Finally, coveted fencing supplies privacy and safety.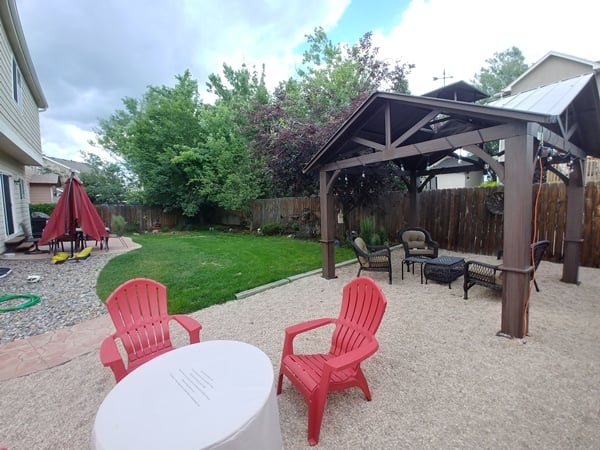 The open floor plan takes advantage of the outdoor views, including Pikes Peak, and amplifies the spacious feeling through vaulted ceilings and a traffic-flow-friendly pattern. Let creativity take over, as you finish the basement to your specifications. Anything goes! A hobby room, office suite, or another bedroom all add value to the home.
Homes like these are hard to beat! Ideal locations, easy commutes, and perfected outdoor living spaces are all waiting for you!
Need more for sale options? Find Fort Carson options in Colorado Springs, Fountain, and Peyton.