Fun Stops for the Whole Family on I-90 from Seattle to Boston
Here's a bit of interstate trivia: Did you know major interstate routes are organized by odd and even numbers directionally? So, routes with odd numbers run north and south, while even numbers run east and west.
For example, I-90 starting in Seattle, WA, runs west to east, ending in Boston, or vice versa, if you choose. This freeway is also America's longest interstate highway (3,020 miles), which is why so many traveling military families are familiar with its path.
Who has made the trip between Joint Base Lewis McChord to Hanscom AFB? If a PCS along I-90 is your final destination, take a look at some fun and entertaining options on the way. But, don't forget to consider the time of year you travel, especially during the winter. Prepare your car and family for windy, snowy, and frigid weather during the cold months. Even in the summer, you should have jackets and pants on hand for when the temperatures dip on windy days along the plains or at higher altitudes.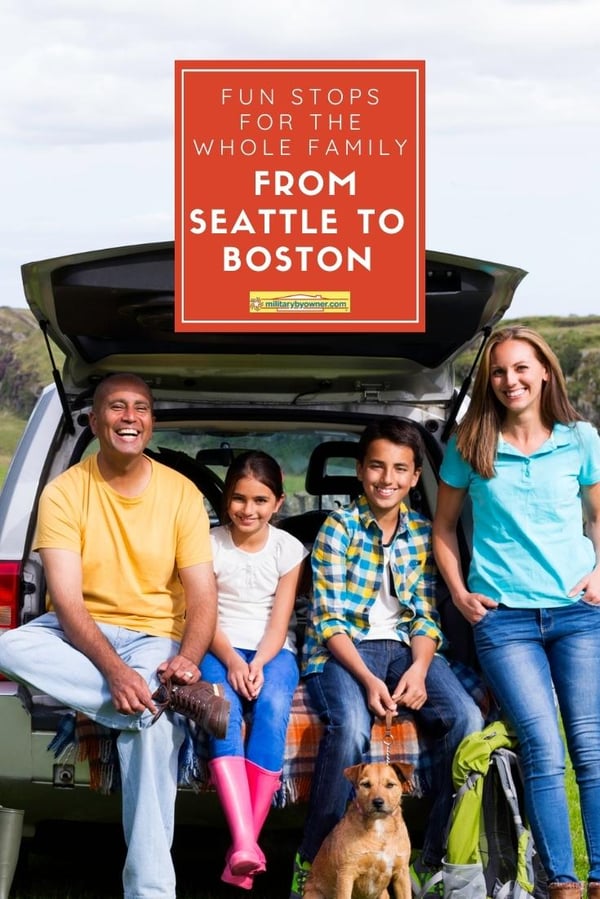 Washington
If your journey starts in Seattle, no doubt you've spent time exploring the region, so look westward for new adventures.
About two hours east of Seattle, in Vantage, WA, you'll run into a state park dedicated to Washington's official state gem: petrified wood, specifically fossilized Gingko trees. Take a break, enjoy a picnic, and walk along the Columbia River. Later, head inside the interpretive center to learn about Washington state during the Ice Age and browse 30 varieties of petrified wood, including a display of rare ginkgo petrified wood.
Have unexpected extra time or a gorgeous weather day? Go hiking!John Wayne Pioneer Trail in North Bend, WA is dog-friendly and 37.0 miles.
Need a day trip destination? Try one of the 7 Best Beaches of Whidbey Island, Washington.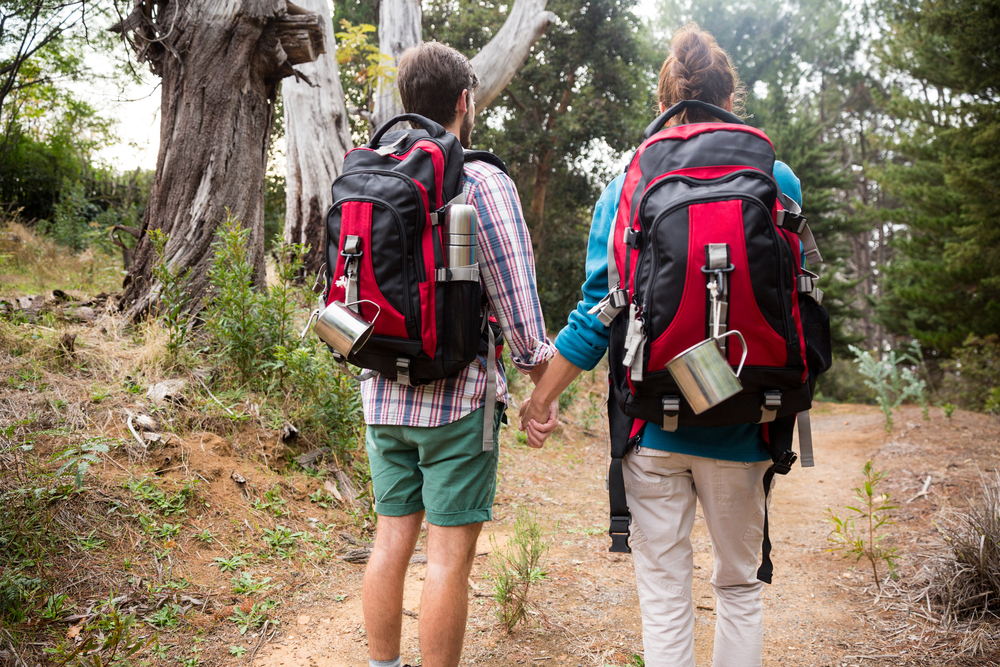 Image from Shutterstock
Idaho
Old Mission State Park is home to the oldest building in Idaho. The Mission of the Sacred Heart was built in 1850 by Jesuit Missionaries and members of the Coeur d'Alene Tribe. You'll learn about how they coexisted and their dedication to the church. The visitor center has a gift shop near cyclists' favorite, the Trail of the Coeur d'Alene. So if you're a serious cyclist, plan on spending the day on the trail.
The city is breathtaking and an outdoor person's paradise. You can spend a few nights here and not check every activity box, regardless of the season. But, if you stay during the warm months, hit up Tubbs Hill Nature Park, parasail, zipline, boat, or spend the day at the Northwest's largest theme park, Silverwood. Skiing is everything in Coeur d'Alene during winter, so keep your skis in the car if you make the trip during ski season.
Photo by Karen Martinez via Unsplash
Montana
You've probably heard about Custer's Last Stand, but now it's time to see it. The memorial is dedicated to the Lakota and Cheyenne tribes who lost the battle to hold onto their territory and to the US Army's 7th Cavalry, who lost their lives and served under Lt. Col. George A. Custer. The Peace Through Unity memorial and the 7th Cavalry obelisk are the largest gathering areas.
Any time you can stop and explore the banks of the Yellowstone River, you must! In Livingston, the scenery is unparalleled, the history is rich, and the event calendar is packed during the warm season. Of course, Calamity Jane fans know that she spent plenty of time in Livingston.
Hotel Alternatives for Your Military Travel could help you find lodging on your trip.
Photo by Kyle Petzer via Unsplash
Wyoming
This geological feature has drawn human interest since the Northern Plains Indians and other indigenous people built their communities around what they considered a sacred site. The tower soars over 5,000 feet into the sky and consists of hundreds of parallel cracks, making it one of North America's most popular climbing destinations. In the park, you'll also find a variety of hiking trails to explore after driving hours across the plains.
Consider a fun overnight at the Occidental Hotel, where previous guests include Butch Cassidy and President Teddy Roosevelt. Downtown, you can shop and stroll among historic buildings with the Bighorn Mountains as your backdrop. And, if you're feeling adventurous, try a Buffalo burger at one of the restaurants happy to serve you local fare.
Photo by Jean Beller via Unsplash
South Dakota
There's a lot to see off of I-90 in South Dakota, so plan around visiting your favorites to make the most of your road trip.
Most visitors haven't seen scenery like the views throughout the Badlands. The geological moon-like formations are unmatched. You can get out and hike in the park for an up-close look, but you can also drive through and stop at various lookout points for once-in-a-lifetime photos.
One of the most iconic National Parks in the country, Mount Rushmore pays homage to American presidents Washington, Jefferson, T. Roosevelt, and Lincoln. The Black Hills come to life with the carvings, especially if you catch a summer evening lighting ceremony. Be sure to make time to visit a souvenir shop in nearby Keystone.
Only 15 miles from Mount Rushmore, the memorial is dedicated to North American Indian heritage. Make sure to stop and see the likeness of Oglala Lakota warrior Crazy Horse at what will be the world's largest sculpture at completion. To give you an idea of its grandeur, Crazy Horse's Face measures 87 feet 6 inches, and his horse's mane will eventually reach 62 feet high.
If you have more time to explore South Dakota on 1-90, check out these road trip fan favorites:
Driving South? Don't Miss These National Parks Along I-40 from California to North Carolina.
Minnesota
Rochester has a little bit of everything if you're thinking of making a stop. You can tour Soldier Fields Veterans Memorial, take in some fresh air walking through Quarry Hill Nature Center, and learn about the Mayo family and their contributions to medicine and the surrounding area at the mansion at Mayowood. Rochester Art Center and Silver Lake City Park are also popular with visitors.
Processed meat enthusiasts flock to nearby Austin, MN, to shop Spam merch and taste Spam burgers. Visit the SPAM Museum and learn the origins of a quintessential American food product.
Wisconsin
For when you just have to get out of the car and move! You'll walk between original circus structures created by the Ringling Brothers between 1897 and 1918. The museum will entertain everyone with plenty of circus history, and you can buy tickets to enjoy live shows.
Make your WI gas stop extra fun and visit a beloved roadside attraction. The Pink Elephant in Deforest, WI, features a life-size pink elephant, aka Pinkie, wearing glasses at a gas station.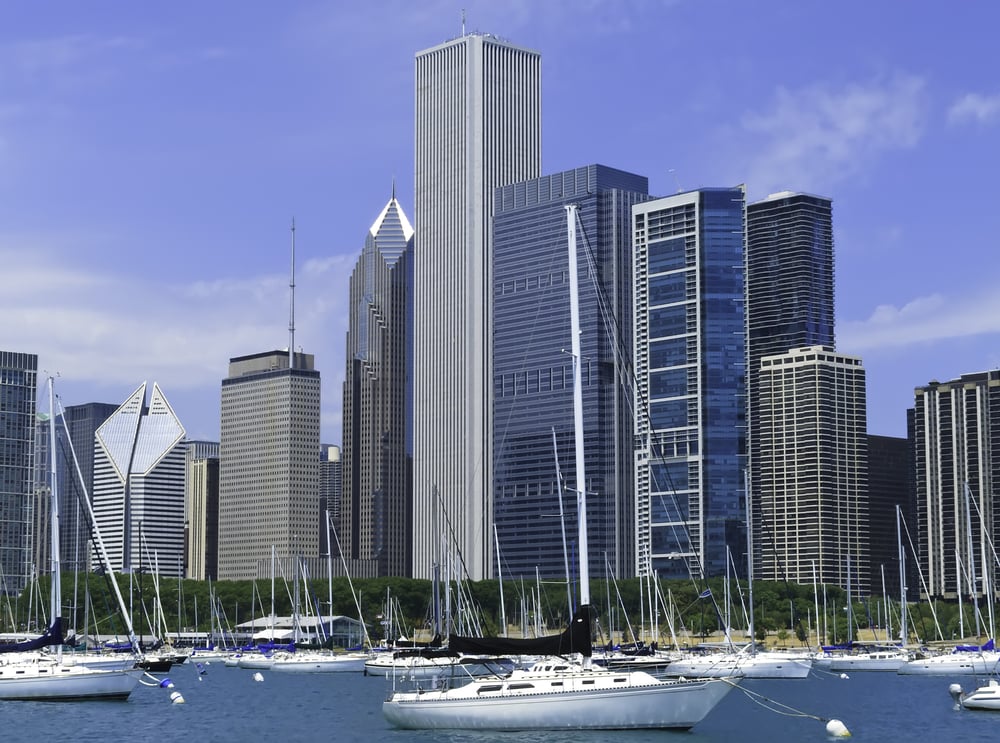 Photo from Shutterstock
Illinois
You can spend multiple days in Chicago if you prefer; it's always tourist season in the city. The trouble is narrowing down your options. Pick from: Wrigley Field; the Art Institute of Chicago; a river cruise down the Chicago River; shopping along the Magnificent Mile; shop, eat, and people-watch at the Navy Pier; and have a few laughs at world-famous Second City for top-notch stand-up comedy.
Want to avoid the city? Try Legoland Discovery Centeri in Schaumburg, IL, which houses more than 3 million Lego bricks.
Indiana
Indiana has plenty of space to get out of the car and experience nature. Start at Pokagon State Park, named for Leopold and Simon Pokagon, the last two leaders of the Potawatomi tribe. Although you can explore historic stone and log structures and run and play in pretty meadows during the warm season, Pokagon really comes to life in the winter when cross-country skiing and sledding trails open. Absolutely plan to ride the epic twin-track toboggan run that clocks at speeds of 35-40 mph.
Do you love quirky stops/history/music/Michael Jackson? Visit the Michael Jackson Family Home in Gary, Indiana, home to the Jackson 5.
Make the Most of Your Vacation with Military Travel Discounts
Ohio
Cleveland is another Midwest city with so many things to do, that you can easily spend a few days here and it would be worth your time. Most people know Cleveland because it's home to the Rock & Roll Hall of Fame, the Indians, and Cavaliers, but you can also take in culture at the Cleveland Museum of Art, eat delicious food wandering through West Side Market, and get in touch with nature at Cleveland Metroparks Zoo. Check out Edgewater Park and Lake Erie's shoreline if you can only spare a day and need some room to stretch and play. Swim, picnic, and walk the pier.
Everyone loves Ralphie and Christmas! "A Christmas Story" House is in Cleveland, OH. Visit the museum or schedule an overnight stay.
Photo by Edward Koorey via Unsplash
New York
Come on, you know you've always wanted to go, and its location on I-90 practically begs you to stop and take a ride on the Maid of the Mist. You can also walk to Cave of the Winds and get up close to the falls as you descend into the Niagara Gorge and watch from the aptly named Hurricane Deck.
Want to take your trip international? Try Niagara Falls, Canada— some say the view is better from Ontario.
Massachusetts
Although Boston is the last stop on I-90, you certainly shouldn't skip this iconic U.S. destination (unless, of course, you're calling one of several local military duty stations home). As a tourist, it can be tough to choose which historical sites to visit and what events to participate in. Consider a bus tour to fit in as much as possible, hire a tour guide for an epic walking tour, or plan an itinerary based on your interests.
Most people experience a combo of these top attractions: Fenway Park, Freedom Trail, Martha's Vineyard, Salem, Museum of Fine Arts, Boston Tea Party Ships and Museum, Samuel Adams Brewery, ghost and cemetery tours, Boston Public Library, Harvard and MIT, and so much more.
If you're stationed in Boston, you might want to save local sightseeing for later and head into the country. Old Sturbridge Village in Sturbridge, MA, is the Northeast's largest outdoor living museum from the 1830s.
Wow, there's more than enough to see and do and keep you entertained along I-90 from Seattle to Boston! Were you surprised? Give yourself plenty of time to visit majestic sites, try new foods, and experience a uniquely American road trip.
Get even more resources and ideas for your military family's upcoming travel! Download our free guide below.