Get to Know Offutt Air Force Base
Welcome to Offutt Air Force Base! Located right outside Omaha, Nebraska, in the good ol' Midwest, it's here that you'll find a calmer pace of life than you may be used to. Contrasting greatly from big city Air Force bases like Lackland Air Force Base and Joint Base Andrews, Offutt embraces that charming simple life and welcomes you with friendly faces both on and off base.
But don't mistake Offutt as sitting in the middle of nowhere. Omaha, you may be surprised to learn, ranks within the top 50 largest cities in America. But, thankfully, the cost of living doesn't reflect it!
"Nearly as middle of the country as you can get, the average cumulative rental price in Nebraska is $833. At Offutt AFB, right outside Omaha, the rental market falls below the national average and a two-bedroom apartment goes for, on average, $987 a month." — Here's What $1,500 a Month Rent Will Get You Near These Military Installations
Long story short, you'll find some of those big-city perks you know and love at a gentler suburban price. But more on housing in a minute; let's get to know the area!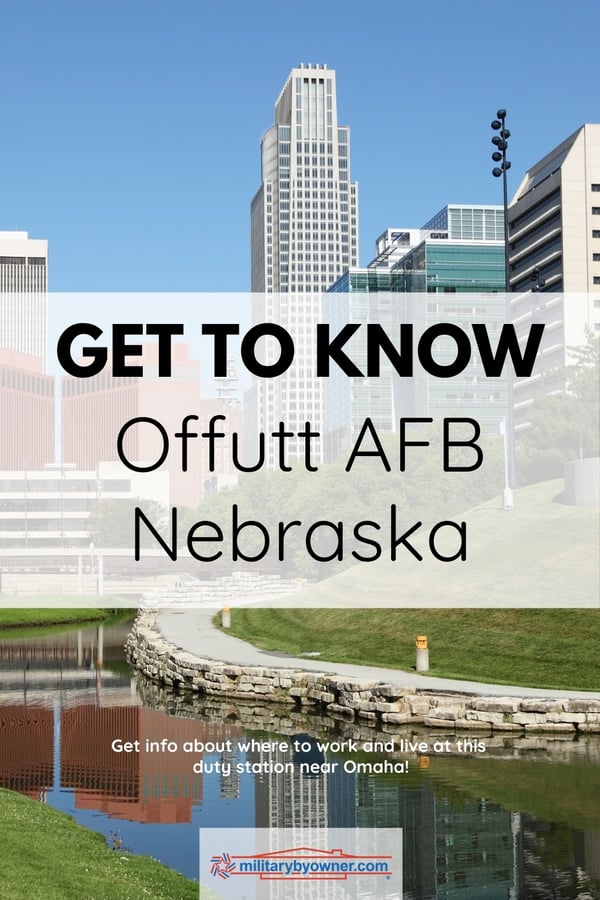 Getting to Know Offutt AFB
Offutt Air Force Base is the headquarters of the U.S. Strategic Command, the Air Force Weather Agency, and the 55th Wing, which is part of Air Combat Command (one of the nine Major Commands in the U.S. Air Force). Its mission? To provide intelligence, surveillance and reconnaissance, electronic attack, and nuclear command and control to national leadership and warfighters.
Offutt AFB's diverse and global responsibilities put it on the cutting edge of the Air Force's missions. Plus, each branch of the U.S. military is represented among the approximately 10,000 military and federal employees assigned here.
Base Life
Though potentially more remote than other military installations you might be used to, Offutt isn't short on amenities and community. It's in the heart of the Midwest, and you'll fall into a lifestyle reflecting that.
In addition to the staples you find at many bases like a bowling alley, golf course, and library, you may also be happy to learn that there's a lake on base. Fishing, kayaking, and canoeing are all permitted and make the summer fun for the whole family. Another popular family-fun adventure? Camping. The 55th FSS offers RV campers for rent which makes for an easy, adventure-filled escape!
Check out the Offutt 55th Support Squadron for more info!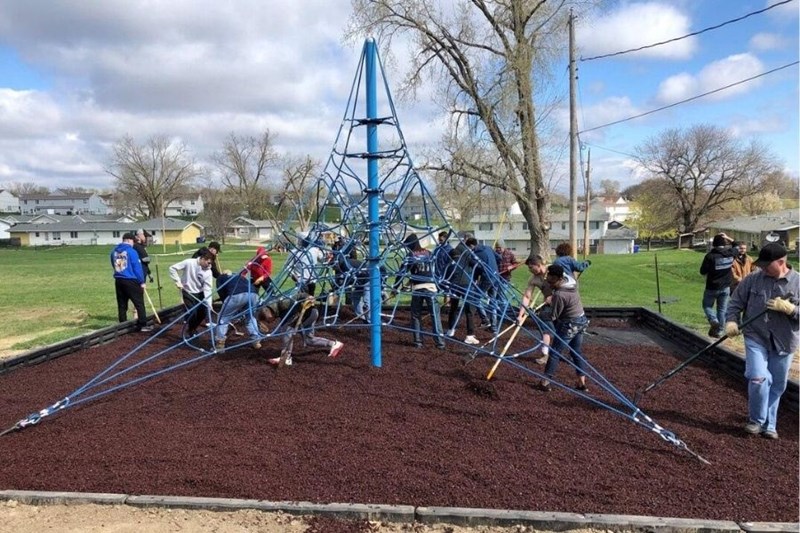 Members of the 55th Communications Group rake mulch April 2019, at Peter Sarpy Elementary School, Bellevue. The squadron volunteers helped install a new playground for the school. (photo courtesy U.S. Air Force)
As far as living on base is concerned, you'll find that the military housing is privatized and run by Rising View, which offers housing communities both on and off base. However, with the lower cost of living, the majority of Offutt AFB families find themselves living off base in Papillion, Bellevue, or neighborhoods of Omaha. La Vista, Plattsmouth, and Pacific Junction are additional possibilities.
---
Tour this beautiful home for sale near Offutt, AFB!
4 Bed/4 Bath (Single Family)

For Sale: $415,000

MilitaryByOwner Listing MBO1466835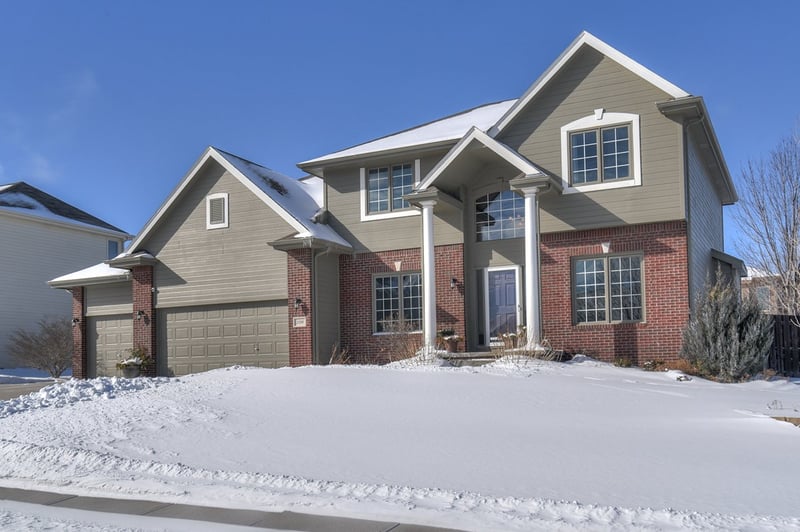 Located in Savannah Shores Papillion, this gorgeous home sits on a large corner lot just eight miles from the base. The interior matches the grand exterior. Walk through the grand two-story entryway, and you'll find many of those amenities you seek. From a formal dining room to an office, cozy living room (and fireplace!), and of course, a spacious kitchen complete with a double oven, gas cooktop, glistening hardwood floors, and more, this home might just feel like home at your first walk through.
You won't be disappointed to find oversized bedrooms, including a master suite with a huge master bathroom and roomy closet as well. Plus the property features newer carpet, a water heater, and windows, as well as a water softener, r/o system, surround-sound, and radon system. And last but not least, it's located a block (walking distance) from Patriot Elementary School.
See Offutt AFB 2021 BAH Rates here with zip code 68113.
---
Things to Do Near Offutt AFB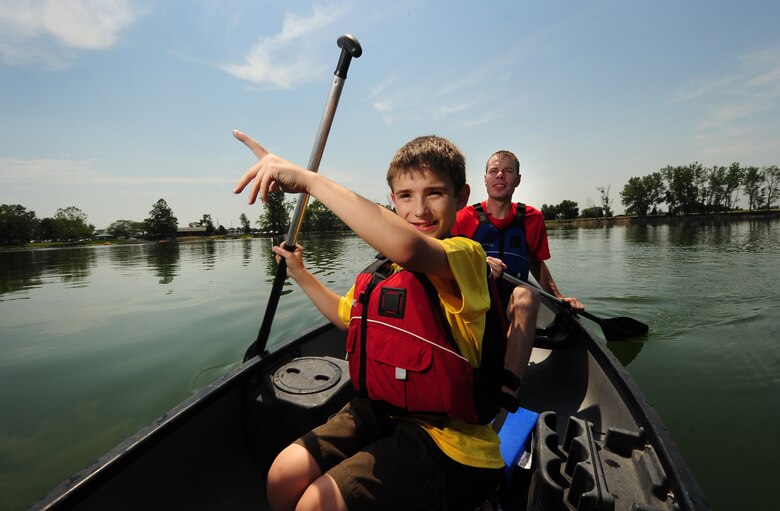 Nine year-old Chris Stewart and Offutt volunteer U.S. Air Force Tech. Sgt. Chris Wroegler navigate their canoe around the Offutt Base Lake during the Exceptional Family Members Program's Camp Offutt at Offutt AFB, Neb. (U.S. Air Force photo by Josh Plueger/Released)
Omaha makes for a playful backyard for families stationed at Offutt AFB, not to mention families located in the Midwest! It won't take you long to learn that there's a lot to do here. Here are a few ideas to start:
Omaha's Henry Doorly Zoo and Aquarium: One of the largest attractions Omaha has to offer, the Henry Doorly Zoo is a hit for all members of the family. Known for its incredible exhibits like the Desert Dome, Stingray Beach, Alaskan Adventure, the Mahoney Kingdom of the Night, and much more. And, great news, they offer a military membership rate! It's $125 a year for two adults and up to six dependents.
Lauritzen Gardens/Kenefick Park: This 100-acre property is abundant in all things floral and green. You'll find 20 different areas to walk and even come across Kenefick Park, which houses two of the greatest trains ever to power the Union Pacific Railroad. Needless to say, there's much to learn and appreciate here.
The Durham Museum: Located in one of Omaha's unique treasures, Union Station, The Durham Museum offers incredible architecture alongside traveling exhibits to learn and grow our understanding of history, science, and the arts.
Omaha Children's Museum: What's a bigger hit with the kids than an exciting children's museum? In addition to the favorite permanent exhibits like the Imagination Playground, Zooland, Walker Tire and Auto Service Center, Sandy's Splish-Splash Garden, and more, there are a handful of rotating special exhibits to keep things interesting!
Fun-Plex Waterpark & Rides: You'll no doubt feel the temperatures drop during the winter months, but the summers are known to get a little steamy in Omaha which means that a day at Fun-Plex Waterpark is a seasonal favorite for the family. Head to the Motion Ocean Wave Pool or float down the Lazzzy River. Send the kids to race down Typhoon Falls, while you head to the swim-up Breakers Bay Bar for a special beverage!
Moving to Offutt AFB? Click below to view homes for sale and houses to rent near Offutt!