Insights into the Fort Stewart Real Estate Market: Trends, Opportunities, and Expert Analysis
With its charming small-town atmosphere, Fort Stewart welcomes military families to Georgia like a beloved friend handing you a glass of sweet tea on a warm summer's day. Fort Stewart frequently tops polls as a family-favorite Army post.
Located 40 miles southwest of Savannah, Fort Stewart and Hunter Army Airfield are home to approximately 21,000 active military, nearly 30,000 family members, and more than 4,300 civilian employees and National Guard soldiers. Fort Stewart is a favorite for military retirees as well, as just over 19,000 have made the Fort Stewart area their permanent home.
Fort Stewart Housing
On-Post Housing: Fort Stewart Family Homes
For families seeking on-post housing options, Fort Stewart Family Homes offers 3,268 homes across 10 distinct neighborhoods. With a range of two- to five-bedroom floorplans, on-post housing is an option, but unfortunately as of spring 2023, inbound families to Fort Stewart are reporting wait times of six to 18 months.
Although the issue has garnered attention from Congress, it will not resolve the waitlist quickly. For those hoping to live on post, the cost outlay and inconvenience of residing in temporary lodging until a home becomes available will be a personal financial decision that inbound families will likely need to be prepared to face, particularly those looking for four or five bedroom floorplans.
Learn more about Fort Stewart housing.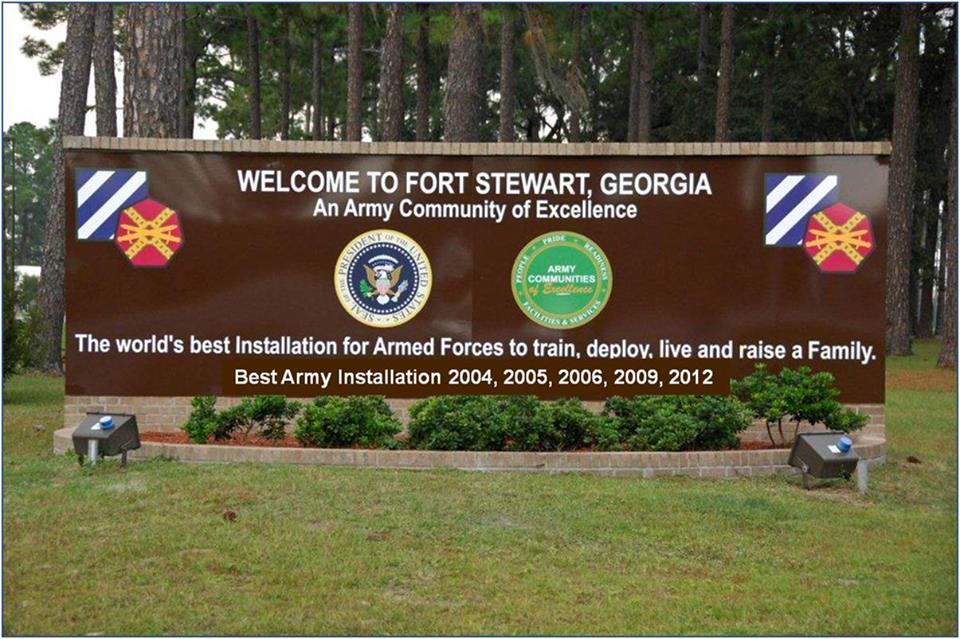 Photo from Fort Stewart Facebook
A Market Snapshot
Popular locations stretch along Fort Stewart's west to northeast corridor, to include the towns of Ludowici, Hinesville, and Richmond Hill, with Hinesville being directly adjacent to post. With a population of just over 35,000 in Hinesville, newcomers might be tempted to think the housing market may be soft in the area. While the average Hinesville list price of $209,000 is lower than Georgia's median home price of $240,000, there is competition to get a home under contract for those wishing to buy.
Listings move quickly in Hinesville and the surrounding area, and this is evidenced in three key metrics:
• A Year-Over-Year (YOY) Change of 12.3% from 2022
• Listings go under contract in about 10 days
• 39.2% of sales are over the list price
Those intending to rent will find a median rent for two-bedroom properties at $1,050, which has remained relatively flat since 2022. However, for larger homes of four+ bedrooms, the median rent is $2,300, a Year-Over-Year (YOY) increase of $1,350 from 2022.

The sharp YOY increase in median rent for larger homes is likely correlated with the lengthy waitlist for on-post housing. Four- and five-bedroom floorplans have the longest waitlist, with five bedroom requests averaging 18 months for placement.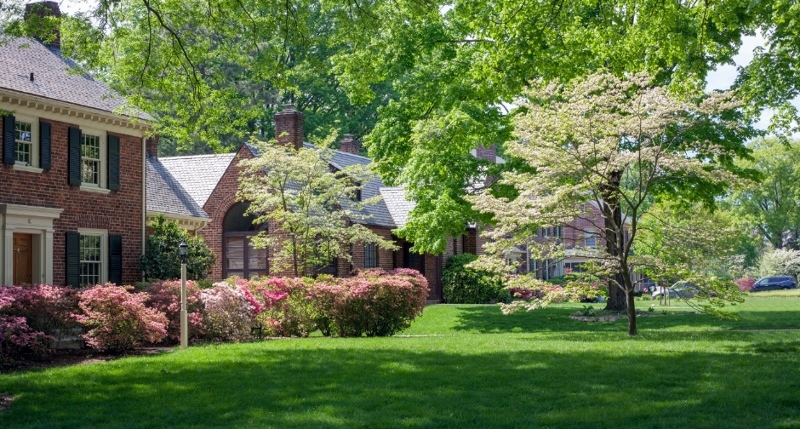 Photo from Canva
Popular Locations for Military Living Near Fort Stewart
Ludowici
For families seeking a quiet and suburban-rural lifestyle, Ludowici (pronounced LOO-duh-wissee) might be your match. Located roughly 25 minutes southwest of Fort Stewart, Ludowici offers camping, fishing, hunting, and boating opportunities with the Townsend and Morgan Lake wildlife areas and Altamaha River.
With a population of 2,200, Ludowici offers your basic amenities of a grocery store (IGA), post office, churches, and a smattering of restaurants along its main street and is an increasingly popular choice for those seeking a relatively short commute and the coziness of a small town atmosphere.
Homes tend to go under contract in about nine days, currently with a median price of $227,400 for three-bedroom homes, and $254,000 for four-bedroom homes. The population is fairly evenly split between those who own their homes in Ludowici (49%), to those who rent (51%) The average two-bedroom apartment is $920/month, with three-bedroom options averaging $1,300, and four-bedroom options at $1,570. Single-family rentals lease quickly.
Families looking at a Ludowici or Hinesville home will be in the Liberty County School District, and there are three elementary schools on Fort Stewart.
Hinesville
Those looking for a short commute to Fort Stewart will want to narrow their search to Hinesville. Located just south of the installation, Hinesville offers a convenient location and several shopping and dining amenities. With median home prices falling in the $209,000 to $270,000 range (three to four bedrooms), Hinesville is a popular choice for inbound families looking for the convenience of being near Fort Stewart. As seen in Ludowici, the Hinesville market will be a competitive one, with 39.2% of sales occurring over list price and a YOY increase of 12.3% in list price from the 2022 market.
Richmond Hill
Richmond Hill has become an increasingly popular destination for Fort Stewart families, particularly single servicemembers and those looking for more night life options. Although it's roughly a 40-minute commute to Fort Stewart, Richmond Hill is just a 25-minute commute to the idyllic draw of Savannah.
With its closer proximity to the Savannah Metro Area, both homes and rents in Richmond Hill are markedly more expensive than Ludowici and Hinesville. But for many, the coastal charm of Savannah makes the commute and cost outlay worth the investment, with no shortage of award-winning restaurants and things to do.
Median rent in Richmond Hill is approximately 39% higher than Hinesville, at $2,300 to Hinesville's $1,650. The median list price for homes in Richmond Hill is $383,500, a YOY increase of 6.9%, with homes going under contract in approximately seven days. Families evaluating a Richmond Hill location will be in the Bryan County School District.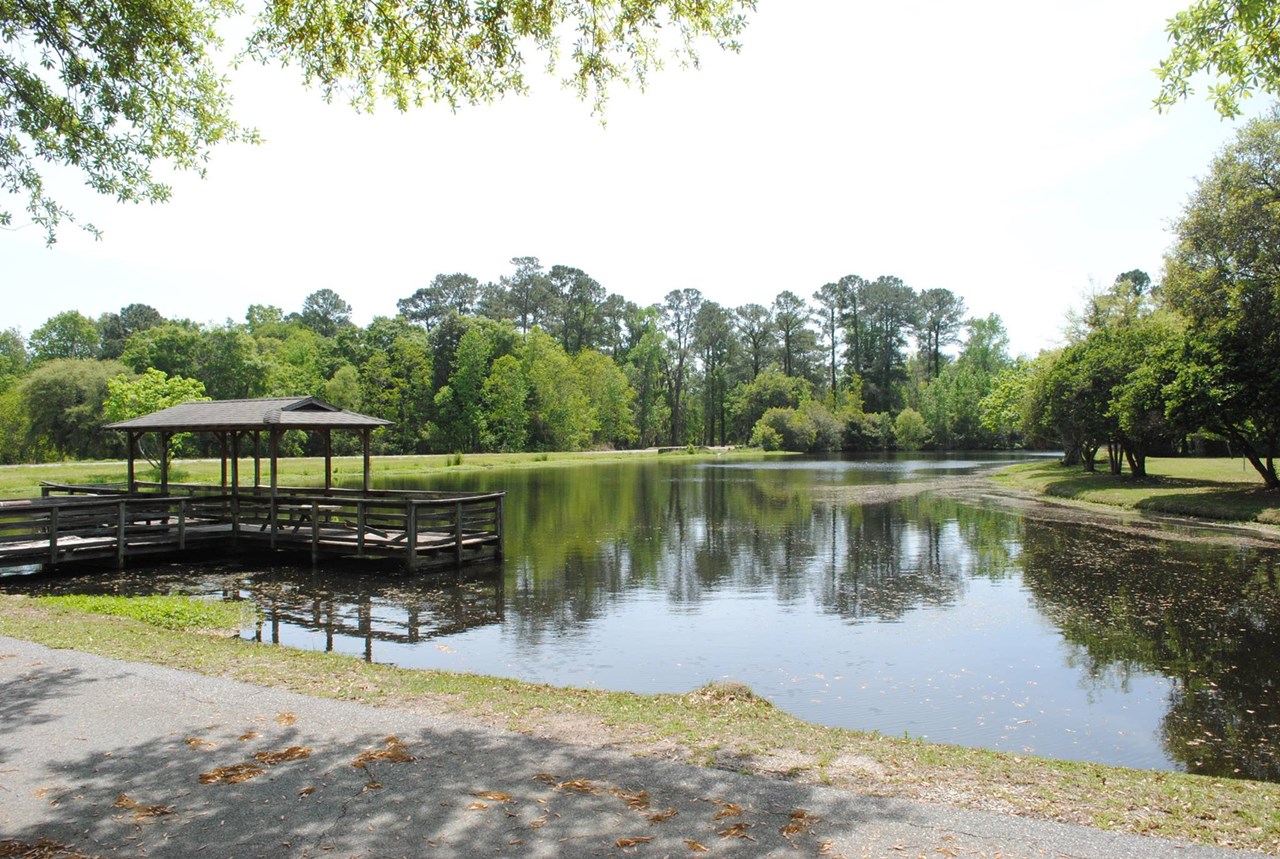 Photo from Hinesville Facebook
Fort Stewart BAH and Budget
Fort Stewart BAH rates for 2023 have experienced a notable increase of 20% from 2022. Additionally, soldiers with dependents receive 14.2% more in BAH. As examples, the "E-5 with Dependents Rate" is $1,788, with an "O-3 with Dependents Rate" of $2,037. Learn more about your Fort Stewart BAH rates here.
Sample Mortgage Payment
Mortgage rates will vary considerably based upon creditworthiness, down payment, interest rate, property taxes, and loan instrument used (VA, FHA, etc.), but here's what a mortgage payment might look like for a $209,000 home.

• Home price: $209,000
• Down payment, 5%: $10,500
• Property tax rate, 1.04%: $2,174
• Insurance (annual): $878
• Interest rate, 6% (30-year fixed)
Estimated monthly payment: $1,569

A larger down payment, an adjustable rate mortgage (ARM), a home lower than the median list price, or seeking a more rural home with lower property tax rates would be potential options to reduce a monthly mortgage payment, as well as potentially refinancing if mortgage rates drop in the near future.
The Georgia Dream Homeownership Program
While military families have the benefit of a VA loan, one of the main benefits being its zero down payment policy, there are two key drawbacks to having zero down on a home: a weaker equity position at the beginning of your loan and a higher monthly mortgage payment (as compared to financing with a larger down payment).
First-time homebuyers, and homebuyers who have not owned in the last three years may be eligible for down payment assistance through the Georgia Dream Homeownership Program. Offering up to $12,500 in down payment assistance, the Georgia Dream program may be an option to boost equity. You'll also see a lower monthly mortgage payment, and you'll still retain the option to pair VA Loan financing with down payment assistance.

No matter where you're stationed, when it comes to finding a home for rent or sale, military families turn to MilitaryByOwner to make their relocation dreams come true. With new listings posted weekly, we offer a wealth of information and listings to help you along your real estate journey!