Introducing MilitaryByOwner's New Features!
We're excited to announce that we've recently launched new features on the MilitaryByOwner website. Take a look!
You've most likely heard the cliche, Location, Location, Location, when it comes to real estate. Yet, year after year, that adage rings true. Particularly when shopping for a home, location is everything. We get it. So we've made it much easier to pursue your utmost priority — location.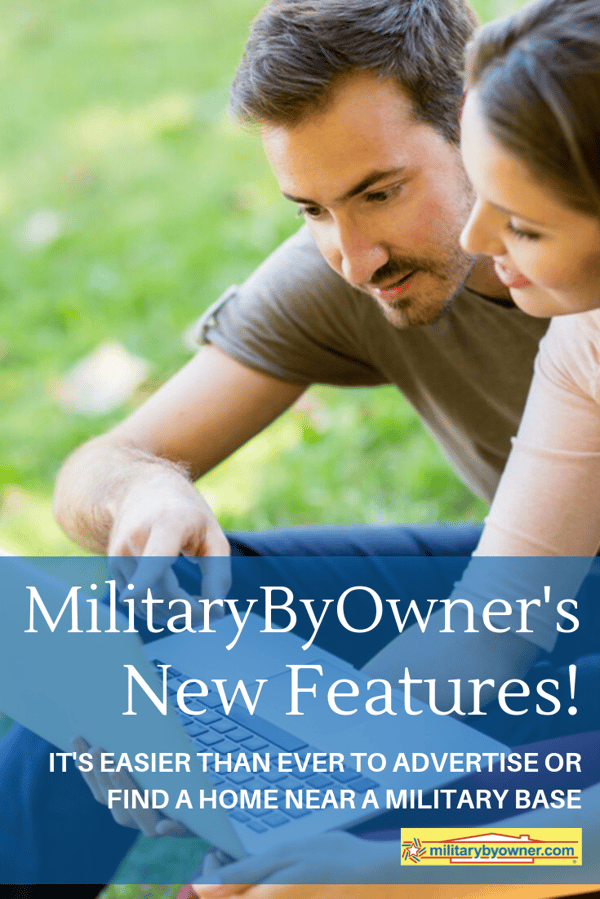 MilitaryByOwner Makes It Even Easier to Advertise and Find a Home
1) Now More Map Focused
What this means for house hunters.
This visual, map-focused approach serves to ease the househunting process for you. With PCS orders in hand, we know you'll be on a quest to find your next place to call home with these priorities in mind:
School district and homes in proximity to your preferred schools.
Homes in a specific city or zip code.
Length of commute to work.
Concentrate your research on what's important to you!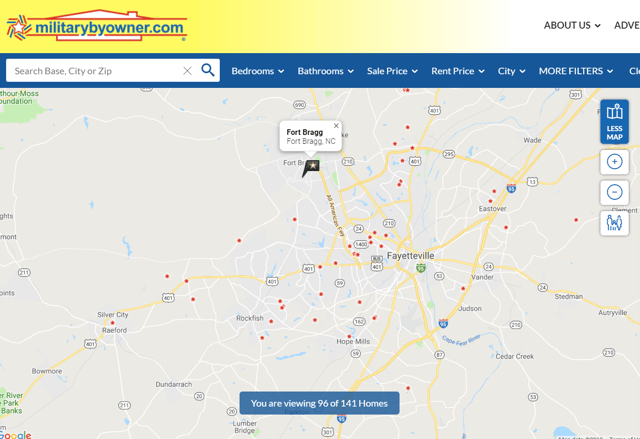 Instead of scrolling for homes you like and opening a second tab for Google Maps, you can now select a broader radius to find homes within your desired distance to the base. This means that when a beautiful home pops up in your search results, you know it's located within your preferred distance to your installation without any additional searches.
Another bonus: save and label your search to receive email alerts for new homes within your search.
What this means for advertisers.
When you input your property's address, the site will generate the military installations located within a 20-mile radius for your ad. If you're a civilian advertiser with limited knowledge of the military presence in your area, you can breathe a sigh of relief. If your property falls within the house-hunter's specified radius to base, your property will populate in their search.
2) View School Boundaries In Your Home Search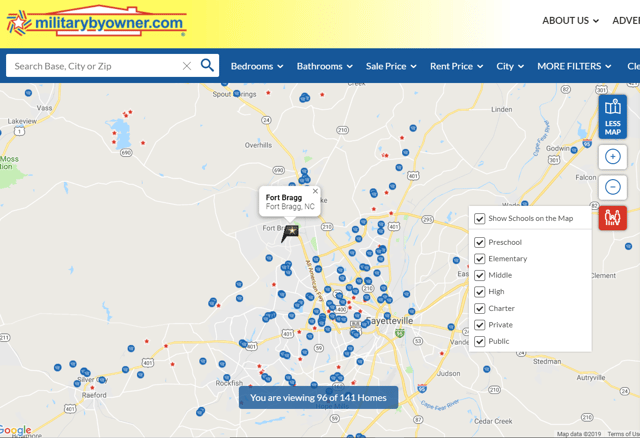 Comprehensive school boundary maps are an important resource for military parents of school-aged children.
When reviewing homes for sale or rent on MilitaryByOwner, you can see which school boundary it's located in— that includes the public school system, private schools, and charter schools.
To find more details and school information:
1. On the map: Zoom in on the focused area, then select the type of school you wish to view.
2. Detail page of individual home: Open the accordion at the bottom to see the schools' information pertaining to the home's location.
Advertised homes have links to school statistics powered by Great Schools. Great Schools supplies test scores, classroom sizes, population, and even after-school activities. Parents also can read reviews and opinions left by other parents from the area.
Note: A city search will limit your results to schools located within city limits. To broaden your search to surrounding school districts, remove the city filter and search by installation instead.
Use the map to highlight the specific school you've got your eye on to see homes available within its boundary. (See below image.)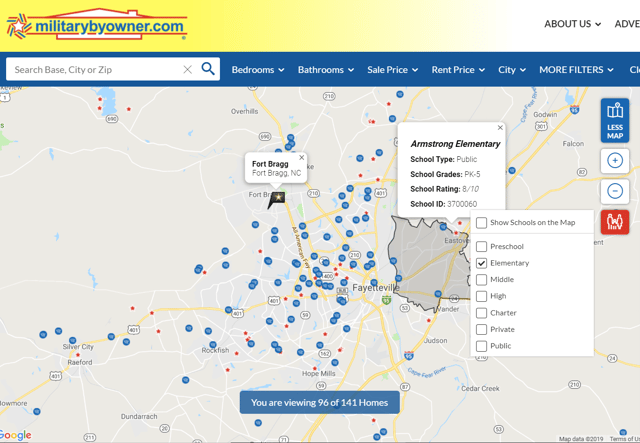 Remember that, although MilitaryByOwner's school maps are regularly updated, it's a good idea to double check with your chosen school district to verify boundaries before signing on the dotted line for your next home.
Need more tips for your search by school district? Use our easy tutorial below!
MilitaryByOwner's new features were designed to ease the process of buying, renting, or selling a home, especially for military families on the move. Let us know if you have any questions. Our customer service team is always happy to take your call or chat online!