Moving to Camp Pendleton? Tour These Homes for Sale and Houses to Rent in Oceanside, Fallbrook, and Temecula
Encompassing over 125,000 acres, Camp Pendleton is a huge military installation. Just driving across the base can take anywhere from 30 minutes to an hour, which means that choosing where you'll live is incredibly important.
The main side of the base, or south side, is Oceanside. However, Fallbrook offers a convenient commute, especially to the air station. But if you're reporting for duty on the north side, San Clemente offers the shortest commute. Temecula and Murrieta to the east of Pendleton serve as the middle ground. Though you're nearly guaranteed to sit in traffic during your commute, these more remote locations offer a community outside the military, wineries line your back yard, and your money gets you a whole lot more house.
Once you figure out your priorities, then you can get down to it and start your house hunt. Looking for a few options to get you started? Here are a few homes for sale and houses to rent in Oceanside, Fallbrook, and Temecula!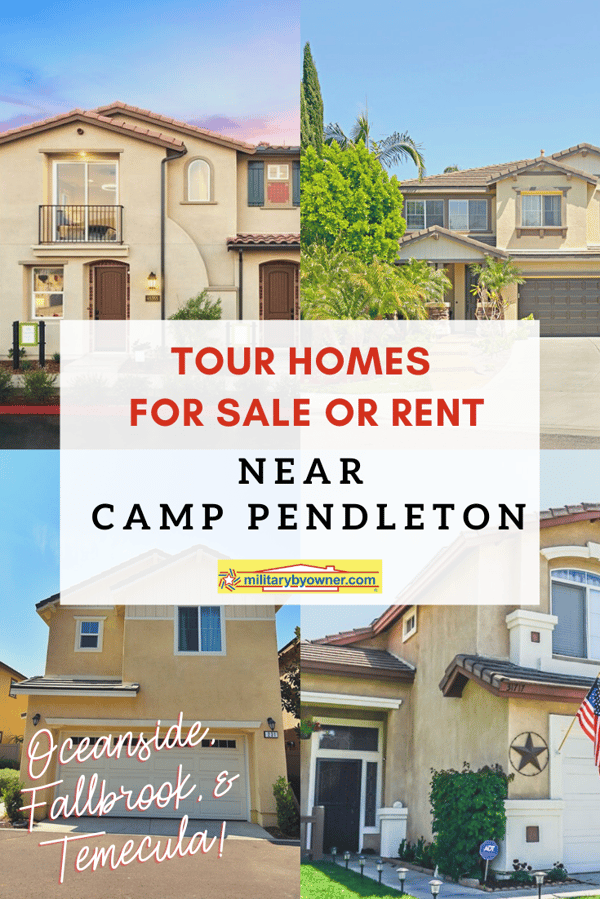 Tour These Homes for Sale and Houses to Rent Near Camp Pendleton
1) Oceanside Single Family Home Dream
1108 Greenway Road — Oceanside, CA
MilitaryByOwner Listing MBO1462598
For Rent: $3,500/mo.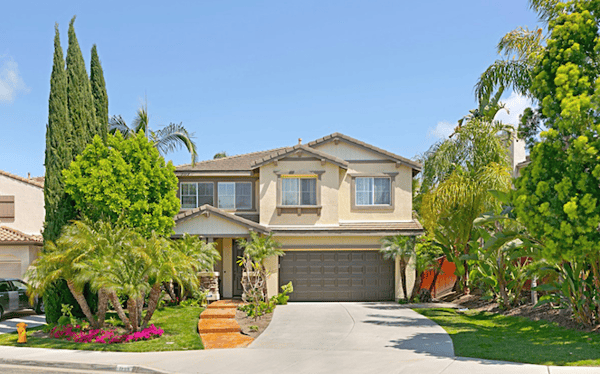 Located just two miles outside the San Luis Rey gate in the Arrowood Golf Course Community, this four-bedroom, three-bathroom home offers both convenience to base and luxury amenities.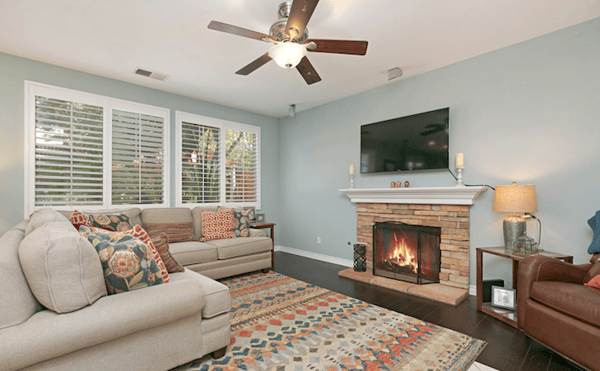 Inside, you'll find a bright, open living space (complete with a fireplace) that overlooks the exquisitely landscaped back yard.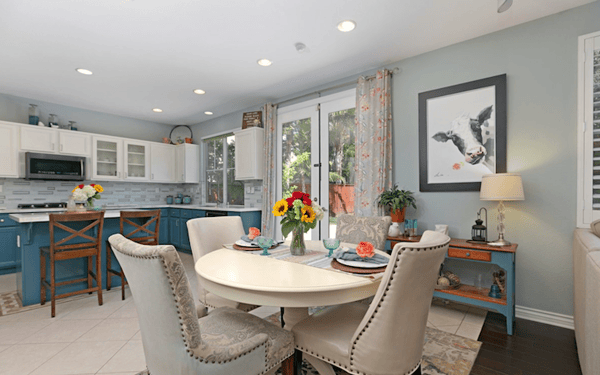 The kitchen features white and blue cabinetry, neutral backsplash, and your favorites like new appliances, granite countertops, and a large island. The cherry on top is the burst of color to make this space feel even more inviting! It's open to the living spaces and offers a nice view of the back yard to help you keep an eye on any pets or kids that might be entertaining themselves outside.
The upstairs features brand new carpet. And the master suite is complete with a large walk-in closet, along with a separate shower and tub bathroom setup.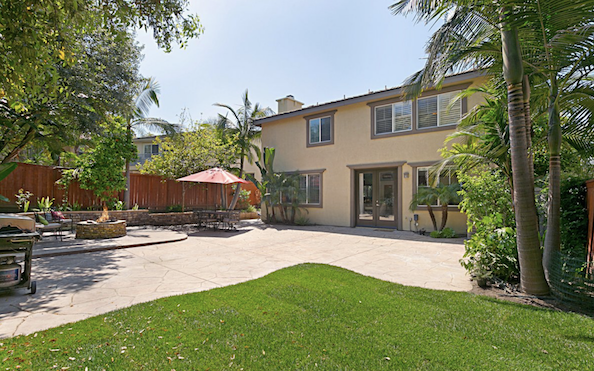 The back yard is lush with beautiful landscaping and home to a variety of plants including apple, lemon, lime, guava, and apricot trees!
Though the home sells itself, the location is potentially the best part here. Not only is the home located in the Bonsall School District, but the Arrowood Community offers residents access to the junior Olympic sized swimming pool, community clubhouse, and playground.
2) Fallbrook Home with Easy Commuter Access
231 Dun Blazer Way — Fallbrook, CA
MilitaryByOwner Listing MBO1461517
For Sale: $525,000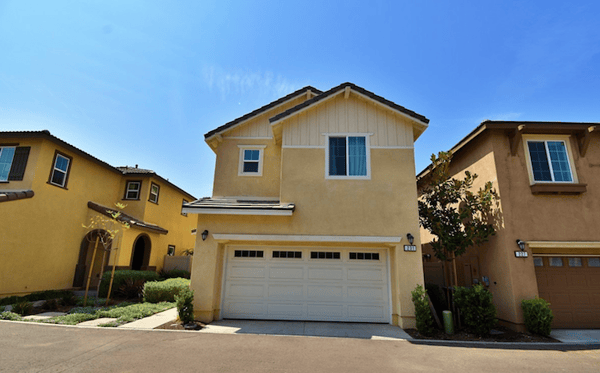 Located on the eastern end of Fallbrook, this home with three bedrooms and two-and-a-half bathrooms offers easy access to 76 leading toward the two south gates to Camp Pendleton and about a 20-minute drive through Fallbrook to the Fallbrook (NWS) gate. It's also just minutes from the 15, which makes for even easier access to San Diego or northern destinations like Temecula.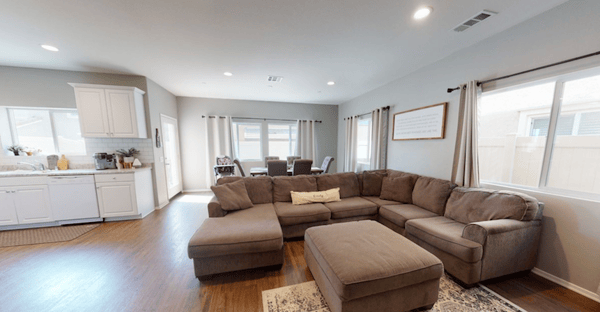 Step inside, and you'll feel how open and airy this home is. The main area, living room, dining room, and kitchen are all open to one another, embracing the true meaning of an open floor plan.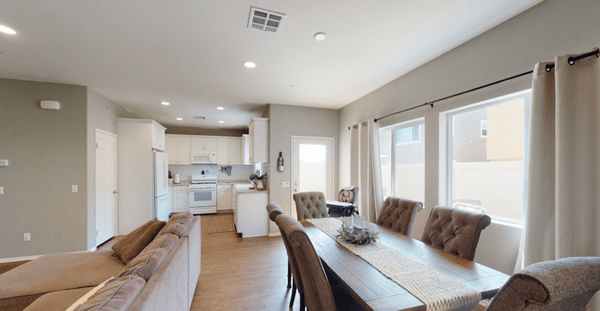 The kitchen, with its white cabinetry, subway tile backsplash, and white appliances, looks clean cut and ready for you to put to work.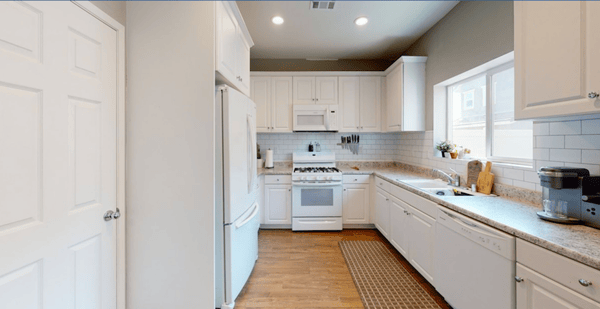 Upstairs, the master bedroom offers a spacious space to retreat to in the evening.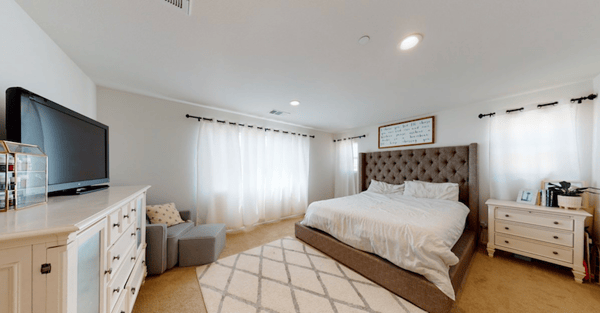 It's the details that put this home over the top. The solar panels, a (quiet) whole house fan, tankless water heater, and last but not least, a Ring doorbell completes this real estate package.
3) Temecula One-Story Duplex
45430 Via Nubes — Temecula, CA
MilitaryByOwner Listing MBO1457311
For Sale: $380,000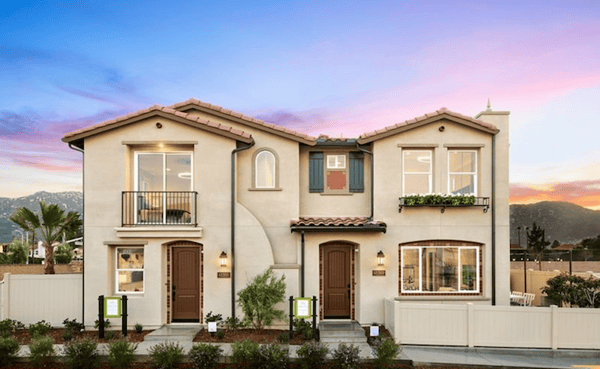 Say hello to this two-bedroom, two-bathroom duplex in Temecula! Unlike most duplexes you might be familiar with, this one splits horizontally. This unit is the upstairs level and offers views of the beautiful neighborhood throughout the home.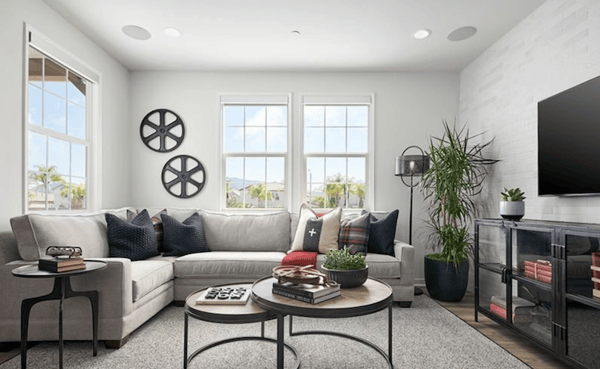 The open floor plan creates an open and airy feeling. The neutral finishes offer a blank slate to start your life at Camp Pendleton.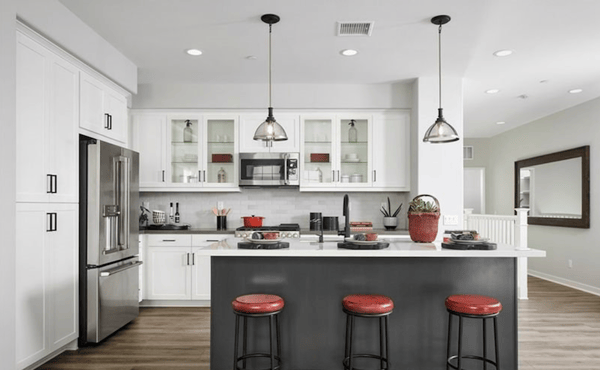 The kitchen, with white cabinetry, stainless steel appliances, dark hardware, and glass-front cabinets, is, in a word, sleek.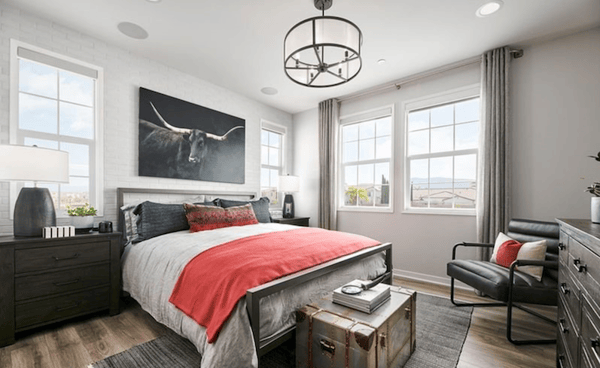 Like the rest of the home, the master suite offers lots of natural light!
You'll be hard-pressed to find a better place to rest and sip a glass of wine than from the covered deck overlooking Temecula.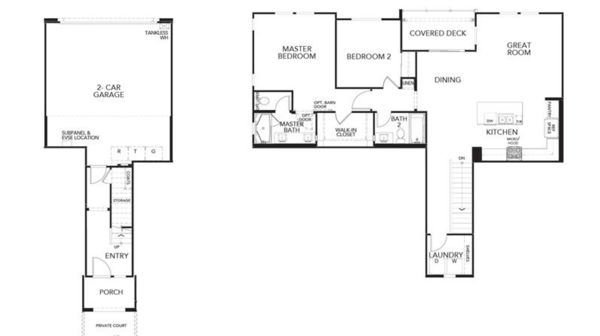 Plus, the unit comes with a two-car garage and under the stairs storage for you to file away all the extras that don't have a place in your daily life.
Beyond an attractive place to call home, life at Cerro comes with a community pool, clubhouse, playground, and quick access to all that Temecula offers as well as Rainbow Valley Blvd making your commute to the Fallbrook gate even smoother.
4) The Temecula Single Family Home Near All the Amenities
31717 Corte Cardenas — Temecula, CA
MilitaryByOwner Listing MBO1464151
For Sale: $480,000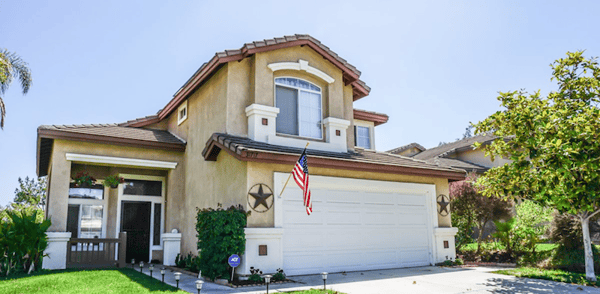 This home is located in the Paloma Del Sol neighborhood in Temecula and includes four bedrooms and three baths. Just two miles from Home Depot, Walmart, Sprouts, and a handful of restaurants, convenience comes embedded in this home. More exciting, it's just five miles from the wineries. This means that a quiet evening spent overlooking over the California landscape isn't reserved for your vacations anymore, it's your normal life.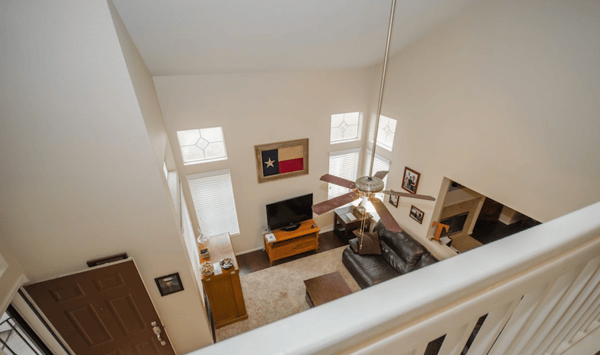 The living room welcomes you with its soaring ceilings. Through it, you'll find the dining room and kitchen.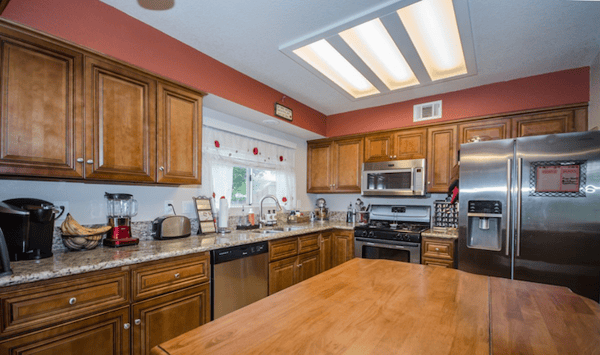 The kitchen features rich cabinets, beautiful counters, and an island, creating lots of storage space.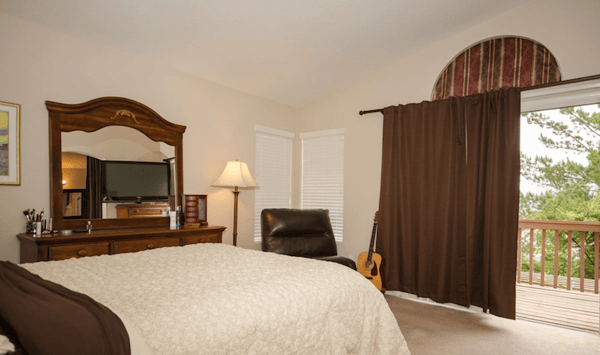 The master suite offers access to the upstairs balcony. Enjoy views of your back yard and the greenery out back right from your bed.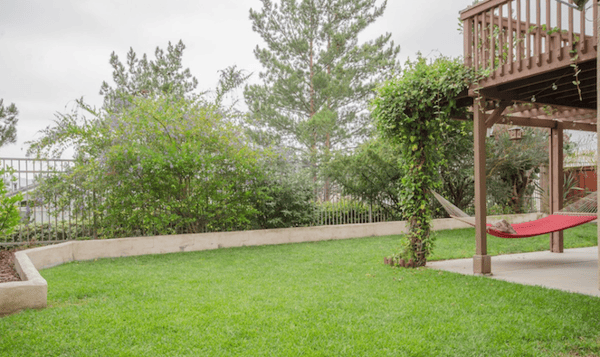 The yard, though backed up to neighboring houses, offers privacy and the lush landscape lining the fence.
For more options in these cities:
If you're ready to continue your house hunt, click below to take a look at our complete inventory of homes near Camp Pendleton!