5 Myths About Living in Alaska
Moving to Alaska? Many military and their families have an Alaska duty station at the top of their dream sheets, and with good reason. Quality of life programs, the gorgeous landscape, and seemingly endless outdoor opportunities all combine to make it a fabulous assignment!
But as you prepare for your Alaska PCS move, you're surely hearing some things through the grapevine that make you wonder about what to expect. For starters, we've put together a comprehensive resource for you: What to Know for your Military Move to Alaska. Next, check out our blog on common questions about moving to Alaska.
Now, we're tackling a few of the common myths (and sharing some facts!) about living in Alaska.

Myth #1: It's always dark during the winter.
You've heard of the "midnight sun" during the Alaska summertime, so conversely you may expect the Alaska winters to be in complete or near complete darkness. It's true that the winter days are shorter, and there are towns in the far north that have periods of darkness. But if you're stationed in or near Anchorage, you'll still have daylight for 5-6 hours even in the shortest days of winter.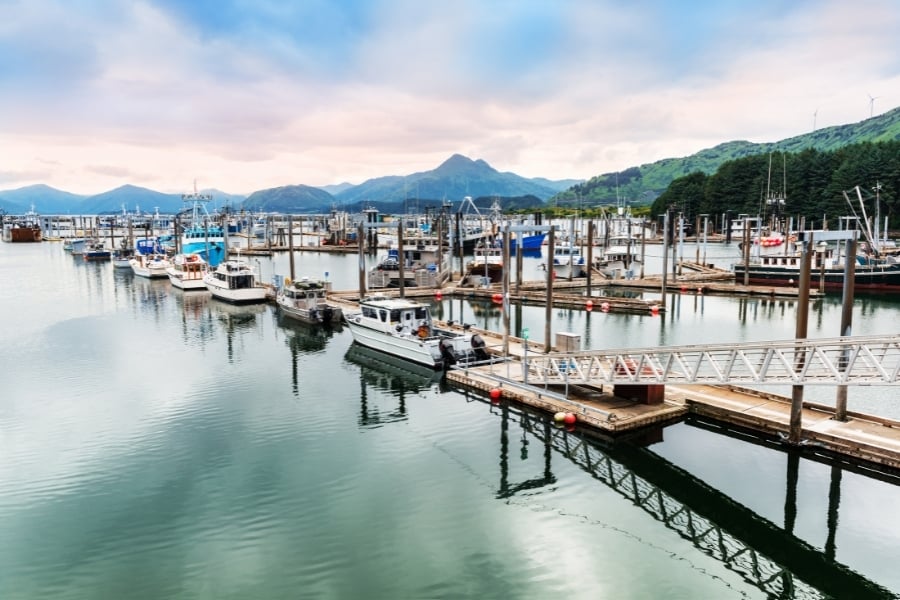 Image from Canva
Myth #2: You'll see penguins in Alaska.
The only penguins you'll see in Alaska would be at the zoo! Penguins are native to the Southern Hemisphere, far away from Alaska.
Myth #3: Alaska is always cold.
Of course, when we envision Alaska, the first thing that comes to mind is the snowy landscape. But it might not be as cold as you think. January temperatures (the coldest month) in Anchorage average a low of 13°F and high of 23°F. Of course, farther north in locations like Fairbanks, you'll find much more frigid weather. The coldest days of the year in Fairbanks are in mid-January, with an average low of -13°F and high of 2°F. (Weatherspark)
You might find summertime quite pleasant, with temperatures reaching into the upper 70's in Anchorage, and even warmer in the interior regions. The months of May to September in the Fairbanks area see an average daily high temperature above 59°F.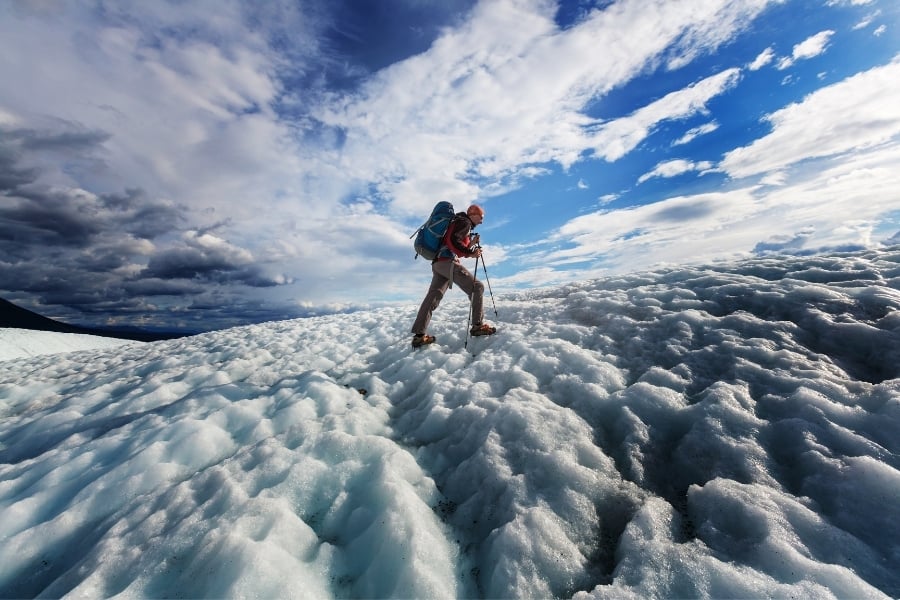 Hike in Wrangell-St. Elias National Park, Alaska. Image from Canva.
Myth #4: People still travel by dogsled and live in igloos in Alaska.
Dog sledding is still used in some remote rural areas, but you'll most likely experience dog sledding via excursions you can pay to participate in or through watching the iconic Iditarod race.
As far as igloos go, Visit Anchorage shares:
Sorry, you won't see an igloo in Anchorage or anywhere in Alaska. Igloos were used by the Inuit people of Canada's Central Arctic and Greenland. If finding out how Alaska Natives lived for centuries is what you're interested in, Anchorage has cultural centers and museums with examples of traditional housing.
Myth #5: Watch out, as you might stumble across a polar bear!
You'd probably need to charter a trip to see a polar bear in its natural habitat, as they're very far north. The wildlife you'll need to be most concerned with are moose and bears. Learn more about wildlife safety in Alaska.
One feature about Alaska that's not a myth is the unparalleled natural beauty you'll be surrounded by. Mountains, glaciers, forests, rivers, and lakes--it's all here. Many military members and their families love the surroundings and year-round outdoor activities so much that they choose to retire here!
Click the image below to find out more about moving to Alaska. You'll learn what to pack, how to navigate driving in Alaska, handling wildlife encounters, information about Alaska military bases, ideas for things to do, and so much more!