Common Questions About Moving to Alaska
Is the military sending you to Alaska? You're living the dream!
Alaska is well known for its quality of life and outdoor adventures. Military families can thrive in Alaska! With the incredible outdoor landscape and amenities designed to make life easier and enjoyable, you'll find so much to do here. Not only can you expect to spend days kayaking, fishing, hiking, camping, gazing at the Northern Lights, rafting the rapids, and more while you explore the great outdoors, but you'll find plenty to do on or near your military base.
Where are you headed in Alaska? Some of the military installations in Alaska include:
If you've never been to Alaska, you'll have questions before you move! We're covering a few of the common ones here with input from military families who've lived there. For even more detailed information, check out our extensive resource: What to Know for Your Military Move to Alaska.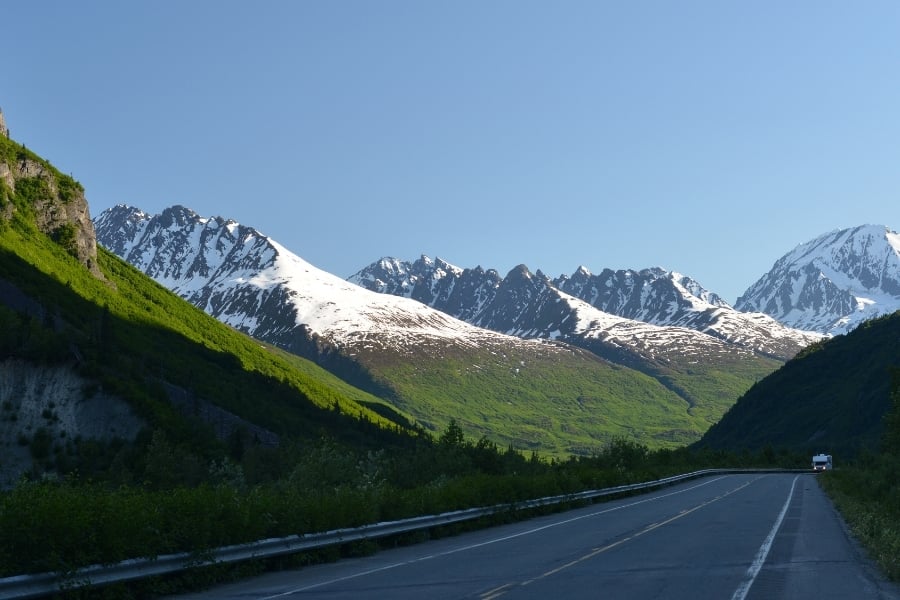 Richardson Highway Near Tolsona, Alaska. Image from Canva.
1) How will I get to Alaska?
There are three ways to get to Alaska: fly, drive, or ferry (ferry departs from Washington state), or a combination of the above. How you travel will be determined by the time of year you're moving and where you're coming from. From the end of September through mid-April, it's recommended that you fly, unless you're experienced in driving in severe winter conditions.
For those wishing to drive, particularly in the summer months, take a look at the Mile Post Magazine and the Facebook group, Driving the Alcan – Alaska Canadian Highway, for help with maps, travel planning, lodging, gas stations, and more.
Note: Traveling through Canada currently is constantly changing due to COVID-19. Stay updated on the list of requirements at Alaska.gov.
2) Should I worry about the cost of living in Alaska?
Alaska can be an expensive place to live. For instance, the cost of living in Fairbanks is 33% higher than the national average. However, military members stationed in Alaska will see an increased BAH. You'll also get an overseas COLA (Cost of Living Allowance), which should help compensate for the increased costs.
Military spouses and family members will be glad to note that most employers pay a higher wage due to the cost-of-living difference compared to the lower 48. Alaska also has no state wage taxes. Depending on where you're coming from, this can be an immediate pay increase. Alaska also has no state sales tax.
Looking for a home in Alaska? Start your home search with MilitaryByOwner!
3) Getting around: Are engine block heaters necessary in Alaska?
In the Anchorage area, the answer is most likely no. Adequately warming up your car and running the engine prior to travel should be sufficient. For those headed further north to the Fairbanks area, Fort Wainwright, or Eielson AFB—yes, you'll likely need an engine block heater.
Those who've lived there advise that you get the block heater installed on your vehicle before you travel in order to save some money. Even if you'll be traveling to Alaska in the summer months, installation and parts will be cheaper than if you wait until you arrive.
On another note, it's in your best interest to have a vehicle with AWD or FWD. The roads are maintained during the winter, but expect snow and ice as the norm from October through April. There may be breaks in weather where the roads are clear, but it's expected that vehicles will be studded, have snow tires, or chains through April 15.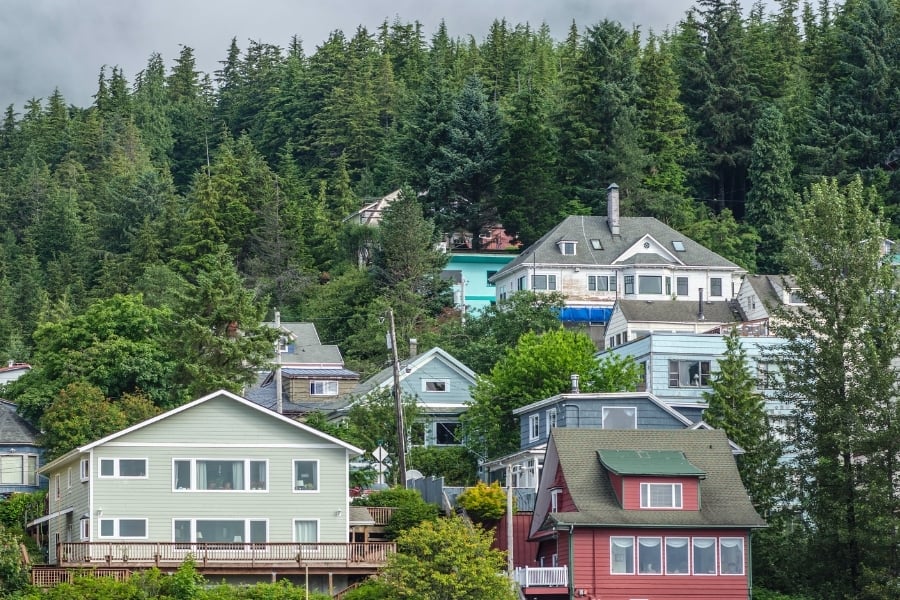 Homes in Ketchikan, Alaska. Image from Canva.
4) What should I know about driving in winter in Alaska?
Budgeting for extra drive time is a must in winter. Keep the gas tank half-full at all times, winter especially. If you're not comfortable or experienced in winter driving, practice driving in closed, empty parking lots. You'll need to allow extra time for braking, and most Alaskans will keep a good distance between cars while driving for this reason.
In winter, you'll want to keep a snow shovel and a bag of sand or kitty litter in the vehicle, along with a tow rope. In the event the vehicle becomes stuck, these items may make the difference in pulling the vehicle out or needing rescue.
5) Is Alaska always dark in the winter? Does the sun really never set in the summer?
There are towns in Alaska that do live in complete darkness for months during long Arctic winters, but if you're stationed near Anchorage, know that Anchorage is not one of them. While the days will shorten during winter, Anchorage will still enjoy daylight for five to six hours, even in the winter.
On the plus side, by April the days stretch to twelve and thirteen hours of daylight. By July, it's not uncommon to enjoy a sunset at 11 p.m. This can cause the summer months to feel hotter than they are, along with seeing phenomenal plant growth. For example, a 2051-pound pumpkin holds the Alaska record!
6) Can you see the northern lights in Alaska?
The best time to see the northern lights is between mid-September and late April. They're seen through the state, but are most visible in the Arctic and Interior regions.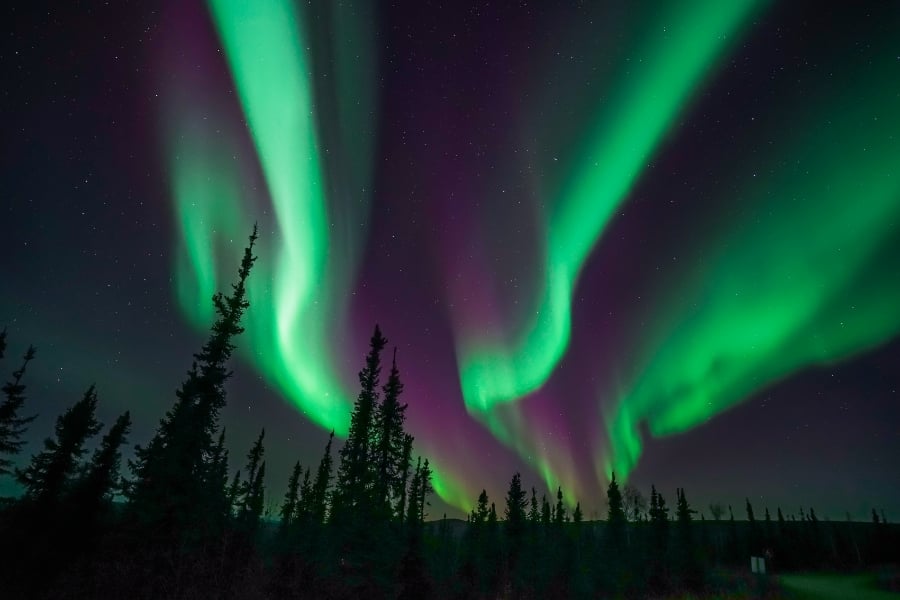 Aurora Borealis (Northern Lights) near the Arctic Circle in Alaska. Image from Canva.
7) What time is it in Alaska?
Almost all of Alaska observes Alaska Standard Time (AKST) with the corresponding Daylight Saving Time (DST) designation Alaska Daylight Time (AKDT). Alaska follows the same Daylight Saving Time (DST) schedule as the rest of the U.S.
Parts of the Aleutian Islands use Hawaii-Aleutian Standard Time (HAST) and Hawaii-Aleutian Daylight Time (HADT) during DST. (Source: timeanddate.com)
So, for the majority of Alaska, they're one hour behind the Pacific Time Zone.
8) What clothing will I need in Alaska?
You'll likely save money by buying essential winter gear before you move.
At a minimum, bring a heavy, warm coat for each family member, fleece and rain jackets, gloves, hats, and a good pair of water-resistant shoes. Many elect to buy heavy winter boots (and shoe spikes, a.k.a. "tire chains" that wrap over your existing shoes) in Alaska, as there's usually a plethora of options and weather-ratings available.
In the Fairbanks area, your concern with winter gear is as much warmth as it is in being water repellent. The snow is drier in Fairbanks and the temperatures much colder than along the coast. One military spouse mentioned that she could literally sweep the snow rather than shovel! Although you can usually go outside for activities like cross-country skiing and snowshoeing, Fairbanks can get so cold that you just can't keep warm, no matter what you're doing. It is near the town of North Pole, after all!
Get more tips on what to bring with you to your Alaska duty station.
9) Will I see bears and moose in Alaska?
The short answer to that is yes, along with lots of other wildlife. Get extensive info on how to safely prepare for wildlife encounters in Alaska. Your installation will probably have a mandatory in-brief regarding wildlife.
10) Why do people love living in Alaska?
Many military members choose Alaska for their retirement, especially in the Anchorage area near JBER. The Anchorage area is very military friendly, and offers veteran medical care through the VA Hospital, which also shares state-of-the-art medical facilities with the JBER medical group.
People mention the unparalleled natural beauty, year-round outdoor activities, and the abundant opportunities for hunting, fishing, and camping as reasons they love Alaska.
The information in this blog post is from our extensive resource, What to Know for Your Military Move to Alaska. Of course, there's so much more to know. Click the link or the image below for even more helpful information before your Alaska PCS move!