PCS Ahead? Learn How to Decipher Creative Property Listings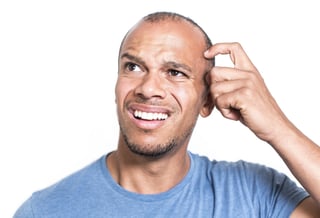 As the days of winter pass, many military families are looking forward to an upcoming move in the months ahead and may spend time browsing through home listings online.
When my husband receives military orders, we start the ball rolling by researching residential areas. But we've noticed some pretty creative marketing tactics while hunting for a neighborhood that offers the best fit for our family. Here are several examples, along with my interpretation.
1) When looking for walkability, be wary of a property description stating, "Steps away from amenities." Somehow, "steps" may equal "miles." If you happen to reside further from amenities than expected, think of using the distance to your advantage. On your route to the market, you may hit the 10,000 steps you need for your fitness tracker! Onward to Starbucks!
Tip: If looking for information on the walkability of a neighborhood, consider browsing websites like Safe Routes.
2) If a listing says, "Easy access to public transit," it may be wise to pinpoint the actual location on a map. "Close enough to shake the walls and rattle the windows" may be living a little too convenient to the nearby train line. Even so, weigh the options of the ease of the commute and the noise of the city.
Tip: Keep in mind that a property located by public transit may be priced higher than average. You may want to expand your search for a similar place within a short distance away.
3) The phrase "One of a kind neighborhood" might mean your neighbors are...quirky. "Quirky" in an "interviewed by the local news while wearing pajamas in the front yard" sort of way! Regardless, if a property offers everything you are looking for, you may need to make the most of the unique setting.
Tip: An open mind and polite communication may ease interaction with even the most eclectic of neighbors.
4) If an ad mentions a neighborhood is "in the throes of urban renewal," you may need an in-person visit to get a feel for the area. The listing may show photos of a handful of houses that have been remodeled. However, across the street, a protégé of Walter White may be cooking up and selling something potent. Nonetheless, some urban renewal projects draw an increase in commercial and residential development.
Tip: Think of safety first. Start with some neighborhood research as outlined in MBO's article Your Due Diligence as a Homebuyer or Renter. Then check out websites such as Crime Reports, Neighborhood Scout, and Family Watchdog, which may offer a better grasp of the local crime and offender reports.
5) How about a listing that brings daydreams of Southern charm? "Friendly front porch community." Picture sagging front steps. Hound dog napping nearby, optional. On the other hand, an Antebellum era-inspired neighborhood may include elegant architecture and grand front porches dotted with rocking chairs.
Tip: Ponder the potential of living in a historic home. The timeless features are most likely entwined with stories from days gone by.
6) Simple description: quiet neighbors. Most likely near a cemetery. Or, this peaceful neighborhood may be a hidden gem.
Tip: You may need to visit the neighborhood at different times of the day to get a feel for the ambient noise level.
7) If an ad calls a neighborhood a "bedroom community," this means it is a suburb that many commute from. This is not a place where the world's oldest profession stirs the economy. (Looking at you, Nevada!)
Tip: Often, a house hunter may find more bang for their buck the further away they are from the hub of the city. By using the Advanced Search feature on MilitaryByOwner, filter your search according to the city or zip code you wish to be near.
8) An outdoor enthusiast may find an ideal neighborhood listed near a recreational area. The ad may also state, "Easy access for ORVs." Farewell to sleeping in on weekend mornings. "ORV" stands for "Off Road Vehicle." Dirt bikes and ATV's will welcome the morning sun by revving their engines up and down the trails. Even so, if a recreational area is large enough, part of it may be protected from traffic. This separate section may offer quiet hikes through nature's finest.
Tip: A gander at the U.S. Forest Service website may tailor a house hunt for properties near specific trailheads.
9) There's a sense of excitement when a listing says, "new construction." It may be the appeal of being the first to enter a neighborhood being built. It may also include heavy equipment with loud beeping back-up sensors. Working right outside. At any given time. Usually when you or a small child needs a nap.
Tip: Keep in mind the noise and mess of construction won't last forever! Ride the wave of enthusiasm while you enjoy the shiny new amenities.
10) A pet owner may be thrilled when a property with pet-friendly features turns up. If intrigued by this search result, it's important to request photos. An ad describing, "Dog friendly fenced-in patio" may simply be a tall dog cage propped up on a cement slab, while a heartwrenching Adele song plays in the background. However, if the home offers easy access to the back yard, you may be able to rid the cage and turn the patio into Shangri-La for both pets and people!
Tip: Toss around the idea of gathering paving stones to create a patio area that adds outdoor living space.
11) Especially on the East Coast, a listing that describes "premium fall foliage" may bring to mind the beauty of leaf peeping in autumn. Or, it might be that every leaf in a three-block radius collects in that specific yard.
Tip: If you're a wounded or disabled veteran or the a spouse of a deployed service member, consider contacting Green Care for Troops. Project EverGreen is an outreach program that provides free lawn and landscape service for eligible military families.
These examples were pulled from random property listings we've found while househunting from place to place. Here's hoping your home search brings the property you've been looking for! For help along the way, MilitaryByOwner offers detailed property listings and a variety of other informative resources.