Pet-Friendly Homes Near Pensacola and Panama City on MilitaryByOwner
Pets may be part of your family, but the search for housing options that are willing to accept them always adds an extra layer of stress when it comes time to pack the house again.
Find this scenario familiar?
You find the perfect rental under BAH with the schools, but sorry, no. Cats are not allowed. Your family won't hear of parting with Whiskers, so what to do? Use the advanced search feature on MilitaryByOwner to find properties that will accept pets, or at least consider them.
If you're bound for NSA Panama City or Pensacola NAS, these homeowners are willing to give your fur baby a chance "upon approval" if renting their home is one of your preferred options.
If not, there is still a chance to bring the puppy, iguana, or parakeet with you, because these properties happen to be for sale as well!
Gulf Breeze, Florida - Sterling Point Place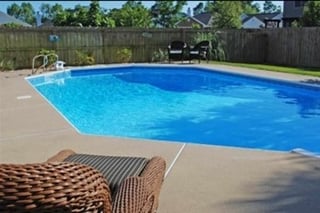 Let's start with the pet-friendly facts: optional pet door, fenced backyard, and quiet cul-de-sac with very little traffic. Pet owners really couldn't ask for more!
For the humans, there's not only a pool but also a highly desired school district and shopping in walkable distances. This home is also surrounded by waterfront activities including a five-minute drive to Gulf Islands National Seashore and Navarre and Pensacola beaches.
Inside, renters or potential buyers will find four bedrooms and three baths with most of the floor covered in Travertine tiles or hardwood. The upgraded kitchen has the desired granite counter tops, stainless steel appliances, and under cabinet lighting. Military families who opt for a two-year lease can enjoy a reduced rent per month.
Milton, Florida - Morgan Ridge Drive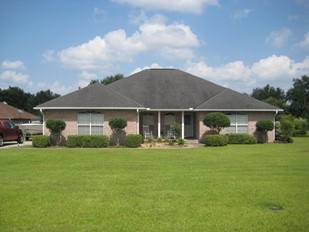 A pet needs space to roam, and boy does this home offer a yard for kids and pets to play in. The very spacious backyard is fenced for safety while the front yard is a gorgeous sight to see driving in from work each day. The owner suggests storing your boat or RV on the property. That's how expansive it is.
The cathedral ceilings and custom crown moulding dress this four bedroom and two bath house nicely, but the eye-catching architectural details found throughout the living spaces make this home a standout. The master bath includes a double vanity and garden tub with a separate shower, while the master bedroom has a walk-in closet, as do two other bedrooms in the house. Lastly, tile floors are found in all right places including the kitchen, bathrooms and dining room.
Panama City Beach, Florida - Legend Lakes Drive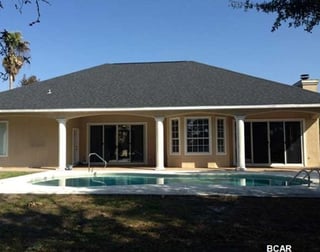 You might feel a little safer knowing your family, pets included, are living in a gated community with 24 hour security on the lookout, but your pets are probably just fine within this home's fenced yard. After moving in, they might even become the kind of carefree animal that float on rafts in the pretty backyard pool. With owner's permission given, of course.
The fresh, bright, white kitchen and trim throughout makes the home seem extra sunny and cheerful. Three bedrooms and two baths supply a comfortable place to live in a school district that is tops with families in the area.
If golf is a hobby, then you'll be in impressed with views of the 15th fairway of a Jack Nicklaus Golf Course. But if yachting is more your speed, access to a full service marina will seal the deal on this home for rent or sale.
Lynn Haven, Florida - Rosewood Circle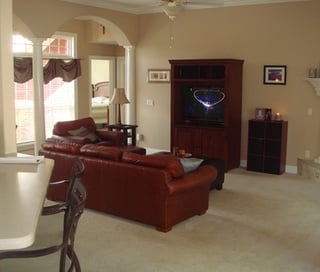 Safe neighborhood sidewalks for long dog walks and a privacy fenced backyard make this a pet-friendly home to consider, but so does its location in the Hammocks Community. Hospitable neighbors meet at the community pool, and the kids can walk to high-ranking schools.
The attractive house has an all brick exterior, a lovely patio, and architectural details inside that make the home feel custom. A large master bath and bedroom with upscale tile and marble counter tops round out some of the amenities upstairs. Downstairs, a kitchen trimmed in white showcases a sweet breakfast nook and custom cabinetry.
So many military families move with pets, and it can be hard to find a home for everyone. MilitaryByOwner is the ideal place to start the search because of the pet policy limiter on the advanced search drop down menu.
*Note: While these homes are no longer listed, if you are PCSing petless to NSA Panama City or Pensacola NAS, there are plenty of homes for sale or rent in MBO's online inventory who are happy to have you move in without a Whiskers in tow!