Puerto Rico Day Trips & Getaways Outside San Juan
When you think of Puerto Rico, the vibrant city of San Juan often takes center stage. But this beautiful island has so much more to offer beyond its lively capital. If you're looking for a break from the city's hustle and bustle, it's easy with so many fun destinations less than 3 hours away.

Here are eight incredible places outside San Juan that make an exciting day trip or a relaxing getaway.
1) El Yunque National Forest
El Yunque National Forest is a lush tropical paradise. Just a 45-minute drive from San Juan, it's the only tropical rainforest in the U.S. National Forest System. Explore the 24 miles of hiking trails, some of which lead to breathtaking waterfalls, or take a refreshing dip in the natural pools.

Didn't bring your hiking shoes? Tour El Yunque by car along its 18+ miles of scenic roads!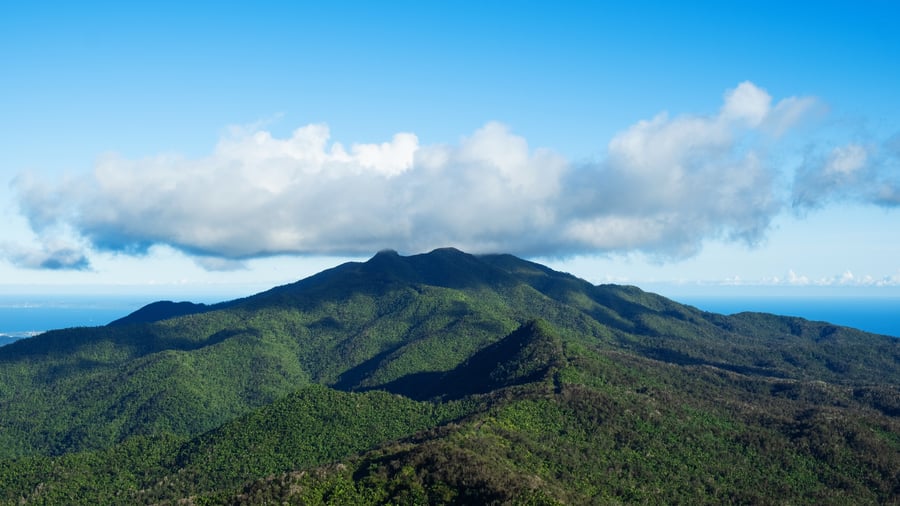 El Yunque Rainforest. Photo by Wenhao Ryan on Unsplash
2) Rio Camuy Cave Park
A visit to the Camuy Caves makes a unique day trip from San Juan. Located on the northwestern part of Puerto Rico, the park is less than 90 minutes from the capital city.


Explore the marvels of the caves, which are up to 10 stories high, and see the Rio Camuy, the world's third-largest underground river on the 90-minute walking tour.
3) Humacao
This area on Puerto Rico's eastern coast is only an hour from San Juan. Visit for the day to explore the Humacao Natural Reserve on foot, by bike, or in a kayak (bikes and kayaks are available for rent). Another fun adventure in this area is a guided kayak tour around Isla de Mona. The small island about a half mile off the coast is inhabited by more than 1,000 free-roaming Rhesus monkeys (no humans!).
If you want to relax and stay awhile, Palmas del Mar is a gated resort area with golf, tennis, beaches, a marina, and numerous restaurants. The Wyndham Palmas Beach and Golf Resort is the major hotel, but you can find other accommodations, including guest houses and vacation rentals. Check out Armed Forces Vacation Club as well!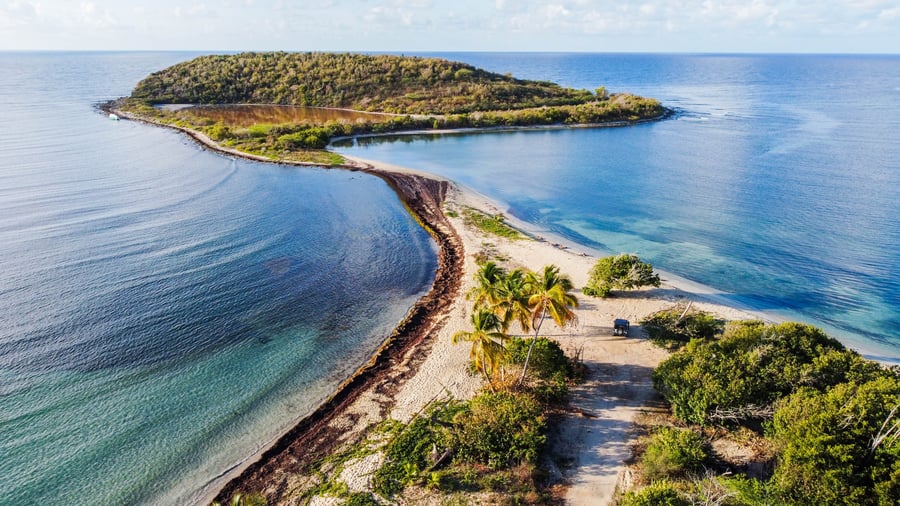 Vieques, Puerto Rico. Photo by Ethan Jameson on Unsplash.
4) Vieques Island
The closer of two islands that are often called the "Spanish Virgin Islands," Vieques is famous for its bioluminescent Mosquito Bay, where you can see the water glow at night. Explore and learn about it on a guided kayak or boat tour.
The Vieques National Wildlife Refuge is another important draw and covers more than 60% of the island. A diverse area that includes beaches, coastal lagoons, forests, and mangrove wetlands, here you may spot some of the endangered wildlife, such as manatees, brown pelicans, and various species of sea turtles.
To get to Vieques, take a puddle jumper from San Juan airport (SJU) or a ferry from the town of Ceiba, which is about 75 minutes southeast of San Juan. Lodging options on Vieques range from small B&Bs and guesthouses to high-end vacation rentals.
5) Culebra Island
Culebra is the other "Spanish Virgin Island." At only 10 square miles, this mini paradise within a paradise is known for its white sand beaches and turquoise water. Culebra's famous Flamenco Beach is often ranked as one of the world's best, but ironically, one of its most iconic features is a colorfully decorated tank leftover from Culebra's time as a Navy base. Top things to do here include snorkeling, exploring the many beaches, and island hopping to the various small cays nearby.
Culebra is a bit farther then Vieques but is also accessible by plane from SJU or by ferry from Ceiba. Culebra has a range of places to stay all over the island, from 3-star hotels to small guesthouses.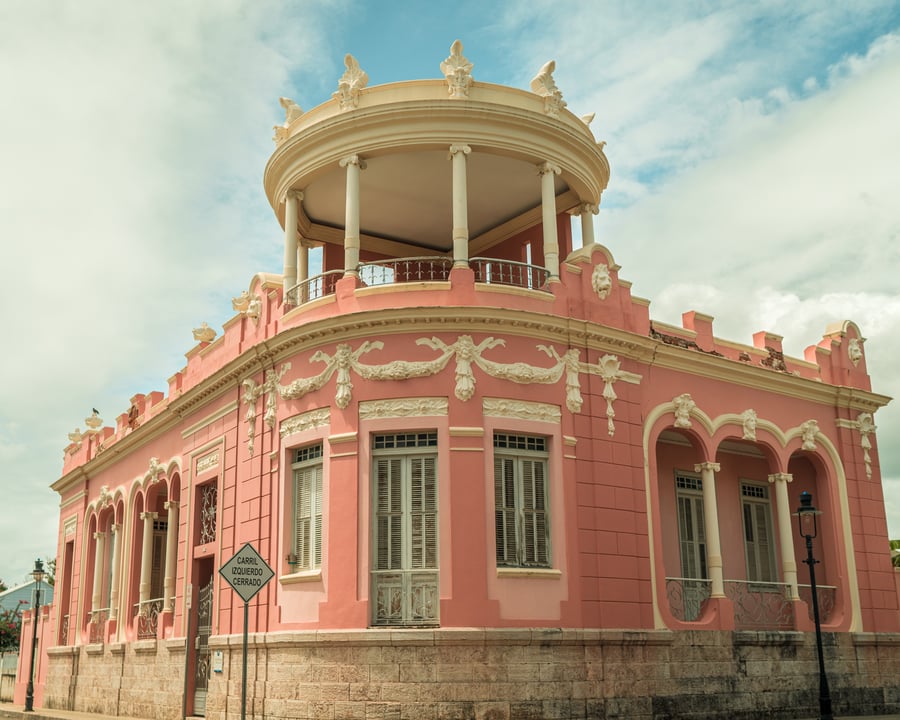 Photo by Eric Ardito on Unsplash
6) Ponce
Known as the "Pearl of the South," Ponce is a picturesque city with rich cultural and historical heritage. It's about 90 minutes from San Juan along Puerto Rico's southern coast. Explore the colorful buildings of the historic downtown area, visit the Ponce Museum of Art, or tour the historic Hacienda Buena Vista, a former coffee plantation that has been restored.
While in Ponce, don't miss Caja de Muertos. This small island off the coast is an uninhabited nature preserve. You can hike and explore it, but you must go through a local tour operator.
Ponce is the second largest city in Puerto Rico and offers a variety of accommodations ranging from small guest houses to casino resorts.
7) Cabo Rojo
Located on the southwestern tip of the island, the Cabo Rojo area is famous for its tranquil, white sand beaches, stunning landscapes, and beautiful sunsets. Combate Beach is popular with the younger crowd, while Boquerón Beach in Boquerón State Forest is better for families (plus you can rent cabins).
While there, visit the Los Morrillos Lighthouse, which sits on the dramatic cliffs overlooking the Caribbean Sea, the Cabo Rojo National Wildlife Refuge, and the salt flats at Las Salinas.
Lodging options in the Cabo Rojo area include a few hotels and resorts along with many smaller guest houses and vacation rentals.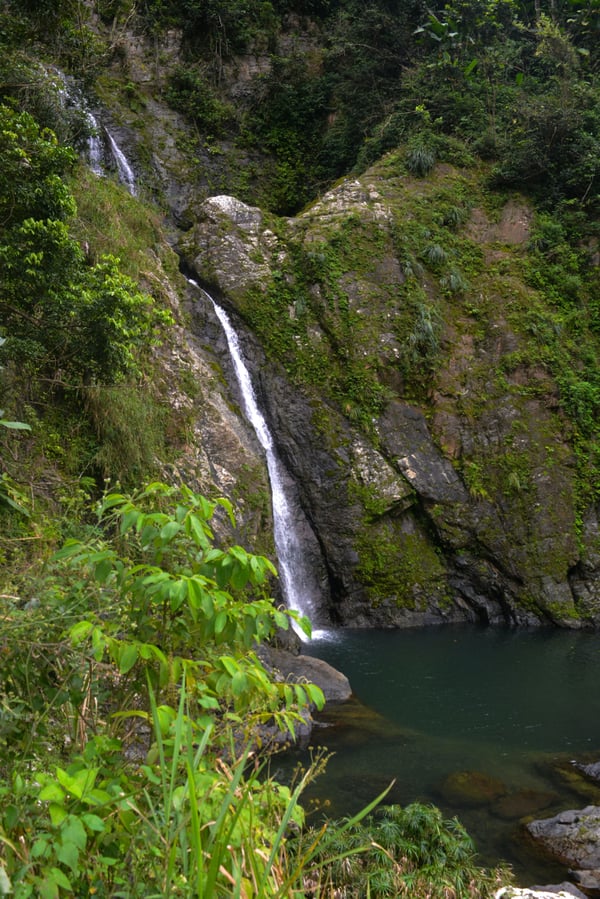 Chorro de Doña Juana, Orocovis, Puerto Rico. Photo by Reinaldo Rosado on Unsplash
8) Orocovis
Orocovis is a mountain town in the central part of Puerto Rico, about 90 minutes southwest of San Juan. A popular hub for adventurers, it offers ziplining at the Toro Verde Nature Adventure Park, plus canyoneering, hiking, and kayaking.
Don't miss the Doña Juana Waterfall and the epic views of both the Atlantic Ocean and Caribbean Sea from Mirador Villalba-Orocovis, 4,000 feet above sea level.
Lodging in the immediate area is somewhat limited, but Hacienda Moraica is a popular and highly rated choice. Camping is also a good option.
Puerto Rico is small, but it's a diverse island with a variety of landscapes, from lush rainforests to pristine beaches to charming mountain towns. If you're looking for a day trip or getaway from San Juan, you have many great options!
Want more helpful information like this? Never miss a post! Get updates right in your inbox below.