The Quirks and Perks of Living in a Home by the Beach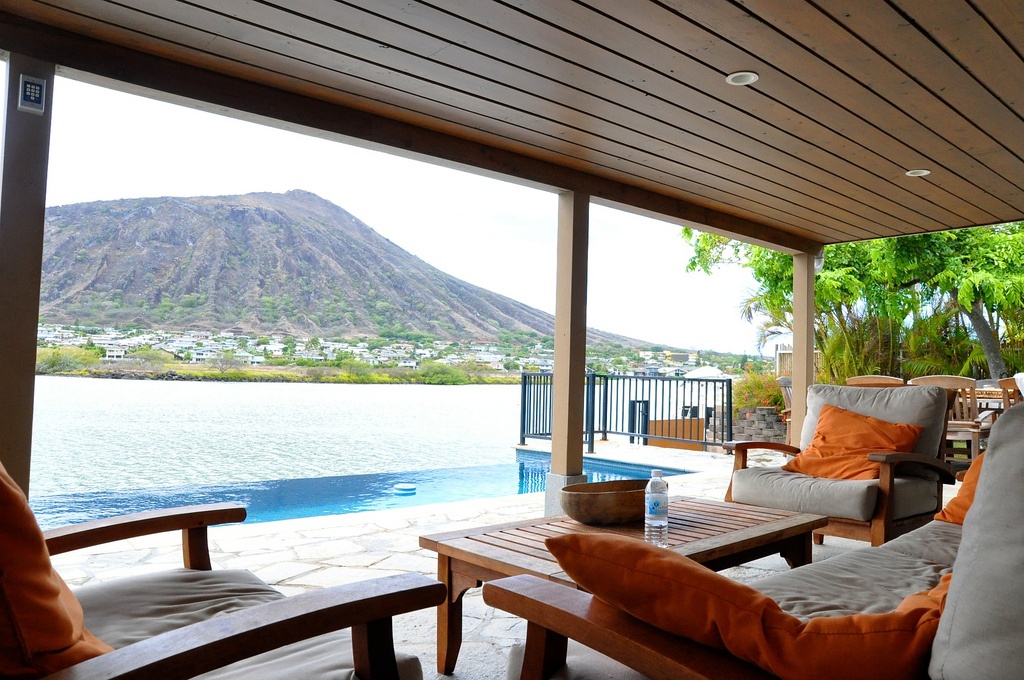 Strolling along the waters edge, soft waves roll up to greet my relaxed feet. My first trip to the ocean was in 2005.
Since that initial beach trip, I've always dreamed of living in a picturesque seaside setting. With our recent assignment to Hampton Roads, Virginia, we've been fortunate to spend time by the sea with a semi-private beach near our rental.
However, I was honestly surprised to learn that living by the water is not always the paradise that I've seen on beachfront property TV shows.
It's time to dish, readers! Let me share with you a few realities of what life is like by the ocean.
Weathering the Weather
Growing up in Nebraska, strong gusts of wind are a part of the weather nearly every day. But here in Virginia, when the wind blows around the sand from the beach, it pelts your skin like tiny pin pricks. It's so ouchie!
To add insult to injury, moisture off the water may fog your sunglasses or eyeglasses, making them a magnet for the sand in the air. If not cleaned properly, your lenses may be easily scratched when wiped. Opt for lukewarm tap water and a lint-free cloth to tidy your eyewear.
A similar situation occurs with the windows of a house. Often as foggy as a steam shower, the marine layer may haze your windows and inhibit your enjoyment of postcard ocean views. We've noticed some improvement in window visibility by using an in-room dehumidifier.
Additionally, if your vehicle is parked near the beach on a windy day it can end up coated with a layer of sand or your wheels may become drifted under. Similar to dealing with snow and ice in the winter, consider these tactics
Do your best to scoop a path away from your vehicle.
Let a little air out of your tires.
Place your floormats upside down under the wheels.
These steps may create just enough traction to get yourself out. Any sand collected in your exhaust should be gone upon the full use of the throttle! Then, stop by a gas station air pump or tire service center to refill the air in your tires. Also, with an air compressor you may want to whisk away any sand that may have seeped under the hood.
RELATED: IS A BEACH HOME PART OF YOUR MILITARY RETIREMENT DREAM?
Sand Is Everywhere
Just when you thought you'd brushed off all the sand from the beach, you'll find it actually clinging to you like a cheap dryer sheet. Deal with it by:
Sweeping your floors and shaking out rugs on a daily basis.
White vinegar is now a constant on your grocery list, used with laundry to help rinse and rid sand from clothing and towels.
That funny looking narrow tube attachment on your vacuum is perfect for extracting sand from the lint trap of your dryer.
Rust Is Inevitable
Much like a visit from dreaded in-laws, rust is going to happen. From the metal on your vehicle to the hinges on your doors (and even the clip on your dog's leash!), everything becomes rusty when exposed to the salty ocean air. A few old-school vinegar and baking soda remedies may help, as well as spray-on lubricant oil.
We're Talking Trash
When people visit the beach, they often pack a picnic, snacks, or favorite beverages. On the beach near us are large trash barrels placed near the dunes. Sadly, many beachgoers choose not to use those trash receptacles, which leads to litter.
Picking up a discarded plastic bag or beer bottle tossed aside might put a damper on a relaxing beach walk with your sweetie. But when you live nearby, you may feel compelled to clean up this stretch of beach as if it's your backyard.
I'm quite thankful for available trashcans along the dunes, but I also know they are fragrant on a hot day and can be a magnet for bugs and critters. It makes me wonder if the billionaires with beach mansions notice the odors of the trash? Does the scent of dearly departed fish or the aroma of washed-up horseshoe crabs disturb their poolside champagne hour?
What the What?
Spending a day at the beach is a good time. It's easy. It's relaxing. It's Instagram worthy. Although... it appears that not a lot of clothing is required. Perhaps more fabric should be available?
Often beachgoers become thirsty. Their thirst apparently affects their hearing so their music choices are played at top volumes. Their thirst may also lead to visions of super-human strength when they attempt to climb fences of private properties.
After emptying the cooler, adding explosives to the mix is, of course, the next logical step. Setting off fireworks while at the beach seems to be a popular activity of the party crowd. Brace yourselves for the bargain pack from "Fireworks-R-Us."
Watching the shimmering colors of fireworks in the night sky apparently leads to romantic notions. Even in a public space. With people playing a round of sand volleyball nearby.
Funny how none of these scenarios are highlighted on the beachy home improvement TV shows I've binge watched?
Nonetheless, as our always-shirtless neighbor says, "Life is better by the beach!"
For every unusual moment of this beachy lifestyle, there are indeed good things!
More friends will come to visit than ever before.
You can drive a golf cart to pick up your mail.
Finding seashells or collecting driftwood becomes your new hobby.
Each morning you may relish remarkable sunrises.
You really can't have a bad day if you've watched the graceful motion of a mother and baby dolphin arching up from rolling waves.
Each evening brings delight with majestic sunsets.
The combination of salty sea air with a beachside campfire creates a superb scent, worthy of a candle.
For our family, living the by the ocean has provided a sense of peace that is unlike any other military assignment we've experienced.
If you're seeking a lifestyle of sand and surf, take a look at the many wonderful waterfront properties, for sale or rent, on MilitaryByOwner.
As for beach life, with all of the unexpected quirks, there are plenty of enjoyable perks!