Tips for Buying a Home Long Distance
Why I am ok with buying a house sight unseen?
Why would you do this? Don't you get house hunting? These are questions asked by others when you first mention trying to buy a home from a distance. The answer? Life is messy, and there can be many reasons you may be faced with buying a home from across the country, out of the country, or just a few states away.
Tips for Buying a Home Long Distance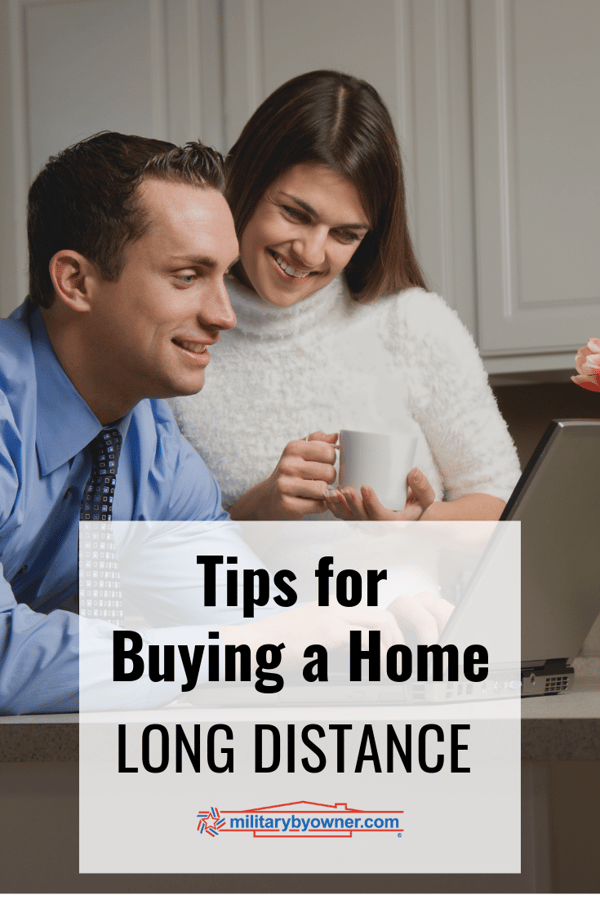 Some reasons it makes sense to buy a home long distance, in no particular order:
You and your spouse are unable to go house hunting because of obligations, schools or childcare. Your obvious choice is base housing. You call, and there is a 6-month to a year waiting list or it is not available at all.
You decide, no problem, you can find a rental! Unfortunately, if base housing is not available, there are many people just like you looking for a rental which makes the market difficult and cut throat. Rentals usually are decided by the criteria that first qualified tenant to get the security deposit to the landlord wins. If you are any distance from your next duty station, you lose this game every time!
Time to re-evaluate your situation and look for a new solution.
Compare current rental prices to what you would be paying for a mortgage for the same house.
Call a mortgage company and find out the amount you can be pre-approved. By the way, it is possible to have two VA loans on the same certificate. There is a crazy formula that the VA uses to determine what is left after you purchase the first home. Most mortgage companies that deal with VA loans can figure it out and tell you if it is an option for you. They can also tell you what other types of mortgages they currently have available. Do your research and call more than one mortgage company!
Now that you know what you qualify for, you can begin your search for a real estate agent.
A great place to start is on MilitaryByOwner to see the list of Realtors advertising on the base page where you're transferring. Interview more than one. Explain that you are looking to buy a home from a distance and you need them to be your eyes, ears, and nose when they video a home for you. They need to be honest with you. After speaking with a few, you will know which one is going to work for you. Choosing the right Realtor is essential!
You have a Realtor, the amount you're looking to spend--now time to find the right home.
Embrace technology. It is your best friend!
You will use it to search for homes, search schools, search neighborhoods (Start with Military Town Advisor), crime rates, how far a drive is it to base, how far is it to the nearest urgent care/hospital/grocery store/anything else that is important to you. Use the satellite search on the map feature to see what is around the home. For example, look for businesses in the area and what is behind/beside the home. Ask questions!
Once you've found a few homes you like, have your agent go back and view the property again. If possible, send a friend or family member with them to see the property (Or hire a MILLIE Scout!). If you don't have anyone to be a second set of eyes, think about what points about the property you would like to look at again. Making a list of pros and cons is helpful in narrowing the decision so you can make an offer.
Technology is wonderful. You can e-sign just about everything! Your Realtor will coordinate all of the forms requiring signatures. Document submission for the mortgage is the same, just all done online. You set up a time to settle, and you then sign in person and get the keys to your new home!
Congratulations-- you're a homeowner without ever setting foot on the property. It's a huge relief having an address to send your household goods. You have a great monthly payment, but now you're committed for the next 15-30 years. You may need to check out becoming a landlord or selling your home in 3-4 years when you're ready to PCS!
But for now, enjoy the fact you're a homeowner and your family has a place to live, which makes it all ok that you bought a home sight unseen.