Tips for Using a Car Transport Service for Your PCS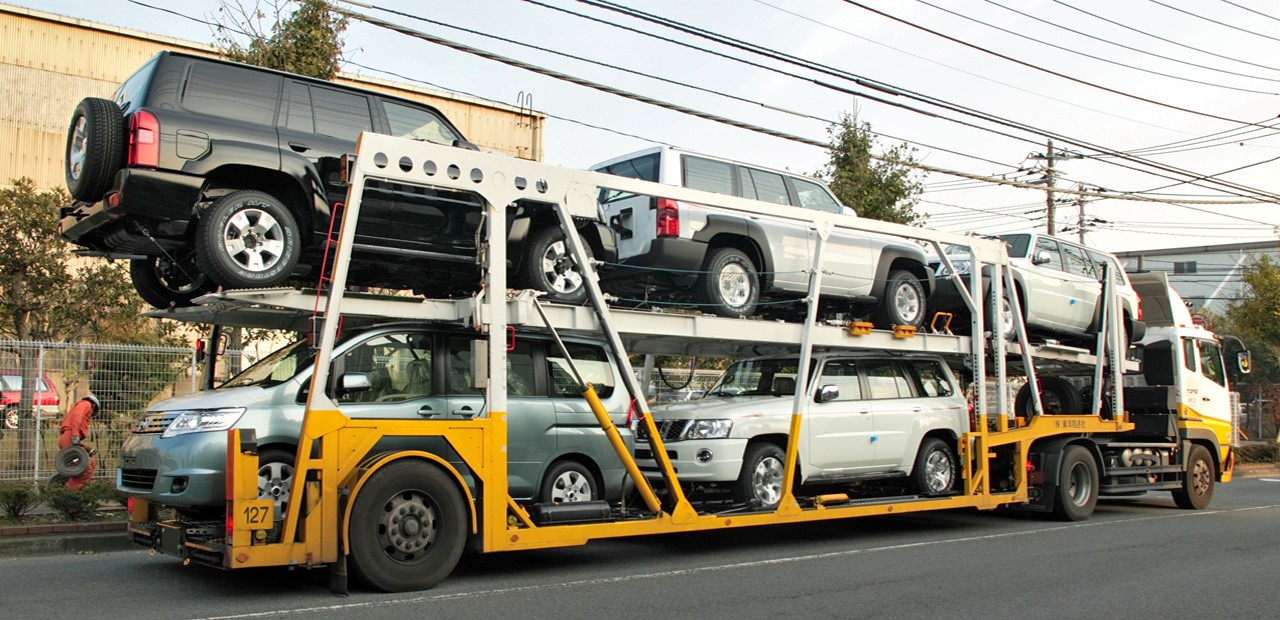 A few years ago, my husband received orders that would move us literally from the shores of the East Coast to the beaches of the West Coast. The entire length of time at the new duty station would only be 18 months.
My first thought was not "Where are we going to live?" but "How am I going to drive a 5-year-old (and later 6-year-old) across country twice...alone?"
I HATE to drive down the street, let alone through the Great Plains in December, so out of self preservation I began to research private car transport, and it was the easy button I was looking for.
Now the Army did not pay for this at all; it was entirely out of our pocket. It's probably not feasible for everyone, but it certainly can relieve a lot of stress for others. This industry was entirely new to me, so I had to learn it from scratch, but today I am sharing a few pointers for car transport services if a long distance PCS is on your summer to-do list.
First, Research Companies Before Deciding
Start with their Better Business Bureau ratings and even their standings with the Federal Motor Carrier Safety Administration. Word of mouth is really the best way to choose a company, because this is definitely a referral and reputation driven business. I didn't know anyone with personal experience, so I headed to Angie's List.
I lucked out with Executive Auto Shippers. Great reviews sent me to them, but their personal customer care over the phone sealed the deal. They were glad to teach me how the whole process worked. I asked a million questions, and they were not at all annoyed. They also offered a military discount. I used their service for both trips.
Things to Know about Car Transport Service
It's not an exact science. Just like with our PCS movers, their truck drivers face weather and traffic conditions that can hamper the journey. Expect to request a date for pickup and delivery of your car, but know companies usually require about five days' worth of wiggle room to make their routes efficient. This might mean you'll be without a car for a few days.
You can ship your car in an enclosed semi-truck, or in an open-air truck, like you would see delivering new cars to dealerships. Open air trucks are less expensive.
The truck driver needs a large, open space to pick up and deliver your car. The more maneuverable the lot, the better. I used a grocery store and Costco parking lot.
Generally, the transport company will allow family or friends to receive or drop off the car, so you can be on your way to the next exciting place the military sends you.
Expect drivers to perform a thorough inspection report of the car's condition at both departure and pick-up points. You'll have to sign off on the existing damage, similar to how the movers note the scuff marks on your coffee table.
Payment is unusual. For us, two payments were conducted. The first was called a deposit and sent to the company via credit card, after the car was picked up. The balance was paid in cash (or certified check or money order) to the driver directly after the delivery was made. Companies who request money before the car is picked up are suspect in this industry.
Reasons to Use a Car Transport Service
Sanity saver. You never know the circumstances you'll be in when it comes time to move. Illness, broken bones, and a short time to report are just a smattering of reasons to fly across country and let professionals drive the four or five days.
Small children really don't appreciate all the history the great American landscape has to offer. Save those road trips for when they can actually remember the Badlands or Meramec Caverns and all the effort you put into making the excursion happen.
Save significant wear and tear on your car. And, gas is never cheap. Plus, the potential for breakdowns and accidents on the highways are drastically reduced.
If yours is a two car household, transporting one will allow the entire family to take their time sightseeing and vacation to Disney World along the way.
Or if you're like me, convince your spouse to drive with his best friend and have all the fun they can handle! It was like a vacation road trip with stops on the Bourbon Trail and sketchy barbeque huts along the way.
As much as I can attest to the convenience of a transport service, and I do recommend investigating the cost estimates, the reputable companies can be pricey. So think about hiring a college age niece or nephew to make the trip and encourage them to bring a friend to have an epic summer vacation on your dime.
Don't forget about Amtrak's Auto Train. The routes are limited, serving the Washington D.C. area down to near Orlando, Florida, along the I-95 corridor, but the Auto Train happens to service many of the popular regions for military bases.
My experience was flawless, and I definitely would use a transport service again for a very long distance PCS. Still, it did take me some time to understand and research how the process works. Hopefully these tips will save you some time!
Hey, this isn't the only helpful PCS blog MilitaryByOwner has! Spend some time reading about all the ways to win the crazy moving game we all play every couple of years.