What Millennials, Gen X'ers, and Baby Boomers Consider Must-Haves in a Rental Home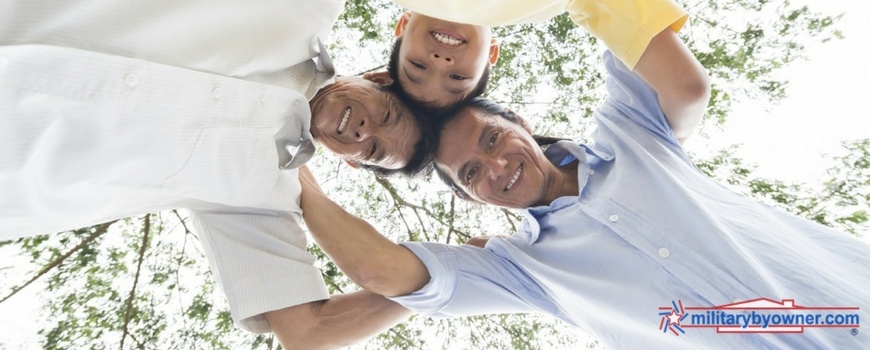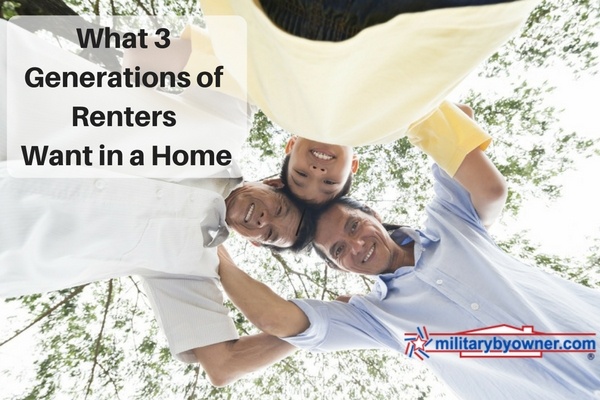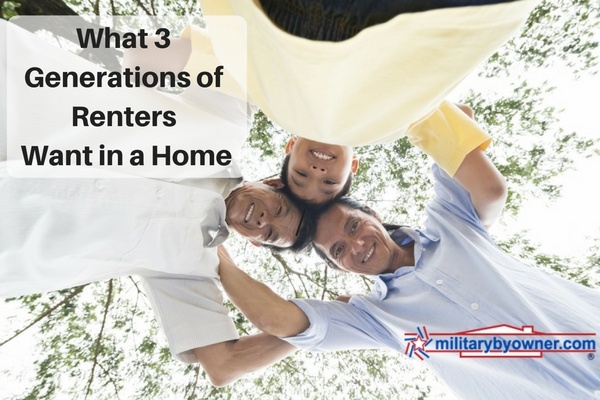 The immense growth of the current rental market has been sustained since 2005, according a report from the Harvard Joint Center for Housing Studies. The U.S. Census Bureau also described the strength of the rental market but in a different way, describing the homeownership rate as the lowest it's been since 1965. Both of these statistics mean there A LOT of people from across the age spectrum living in rental properties.
For quick reference, here is a refresher from Pew Research as to how the ages break down:
The Millennial Generation Born 1981-1997
Generation X Born 1965-1980
The Baby Boom Generation Born 1946-1964
Military renters of all ages will always be a group driving the rental force in housing. Their unpredictable, yet predictable, two- to three-year PCS schedule makes it difficult to buy a home without repercussions. But, military renters are finding themselves caught in the midst of a tight rental market competing with so many non-military renters who cannot afford to buy or were spooked by the housing collapse.
All of this sounds like a great deal for landlords, and it very well might be in certain markets that are heavily populated by both military and non-military like Washington, D.C. and its surrounding areas. But what about in less demanding markets? What do landlords need to do to entice tenants of all age groups?
Millennial Renters
There is so much talk today as to how millennials shape our economy. Their job and rental stats are often cited to demonstrate whether a particular city or area is growing or is stagnate. It's reported they have been the hardest hit in past years' economic downturn. Lack of jobs and heavy student debt found many living with parents for extended periods of time. However, the trend is slowly changing and this group is looking to rent before they buy in effort to get control of their finances first.
Military millennial tenants likely have the same attitudes toward renting as their civilian counterparts, but they have obvious job related restrictions that limit geographical options, so their preferences may be limited. Their penchants often include ways to individualize their space and elements of smart and/or green homes.
Millennials prefer:
Energy efficient homes
Smart home technology
Personalized outdoor space
Upgraded, but unique finishes
Open living areas
Landlords looking to capitalize on these most wanted lists could use a number of ways to entice these renters. Safety.com has a thorough guide for homeowners who would install the latest versions of DIY options of smart home features. Options for thermostats, water regulators, and electricity monitors are just a few of the options to save energy and money.
RELATED: WILL YOU LIVE WITH YOUR ADULT CHILDREN AND ELDERLY PARENTS?
Generation X Renters
Oh, the forgotten sandwich group of Gen Xers! This is group is not reported on as regularly because they are smaller in size and are buried between Millennial and Boomer woes. But homeowners of this age took a major hit during the housing crisis. Likely first time buyers in over their head with unheard of mortgage structures, they scrambled to stay afloat, or jumped ship altogether and joined the ranks of renters and don't look to be leaving the rental market anytime soon.
By virtue of frequent military assignments, military Gen Xers still value rental houses as a top option for pending transfers. Because of their age group, it's typical they have a family to consider and their rental homes should accommodate needs associated with kids.
GenXers prefer:
Top rated schools
Easy commutes
Usable backyards
Three to four bedrooms
Extra space: basement/loft/bonus room
Life is hectic managing full-fledged mid- to high-level military careers (maybe even dual military). Running from sporting events, day care, and school activities makes quality time at home essential. Options for upkeep such as yard care and gutter cleaning included in rent prices is enticing and frees up time from doing chores on the weekend, or in case of a deployment, eliminating the extra burden to the stay at home spouse.
So, homeowners, updated space for kids and family visitors is a must. Basically, Gen X renters want a home that is as nice as they would want to buy as close to their BAH possible, but cannot due to 2-3 year PCS cycles.
Baby Boomer Renters
At or approaching retirement, this group of folks has big financial decisions to make. A significant one is whether or not to maintain their likely too large home or sell and buy something smaller. Another viable option is simply to just become renters, which entirely plausible if there isn't enough retirement savings available. The decision is difficult because medical costs will factor in and the margin of when it's better to buy or rent will be slim.
At first glance some of the Boomers' preferences will appear very Millennial like, especially compared to the youngest Millennials, who desire convenience above all else. But Military Boomers are likely going to want easy access to VA care.
Boomers prefer:
Urban areas near medical care
Short leases, to move on a whim
Amenities found in apartment living
Predictable expenses each month
Landlords who want to rent to a mature and stable tenant will have to entice them with convenience factors such as snow plowing, yard care, and immediate remedies for issues that are not working in the home. Boomers love the idea of having all of their needs met in apartment living or within active 55 and above communities.
Military renters will continue to find affordable rental housing challenging in some popular military heavy cities, but military landlords have an opportunity to take advantage of a strong rental market and produce properties that both military and civilian tenants will pay top dollar for.
MiltiaryByOwner is best and easiest way to for renters and homeowners to have access to a population that is constantly searching and preparing for rental house opportunities!