What You Need to Know for Your PCS to the Pentagon
If you've ever wondered, "What exactly is the Pentagon?" you're not alone. The Pentagon has mystery surrounding it because it houses some of the most powerful components the U.S. military operates, but everyday access isn't widely available compared to what military families are used to on typical installations.
The Pentagon is the headquarters of the Department of Defense, and the names are often used interchangeably.
Depending on the stage of your career, you might not have had to plan for a Pentagon PCS, but the longer you stay in the military, the better your chances of spending some time in one of the largest office buildings in the world.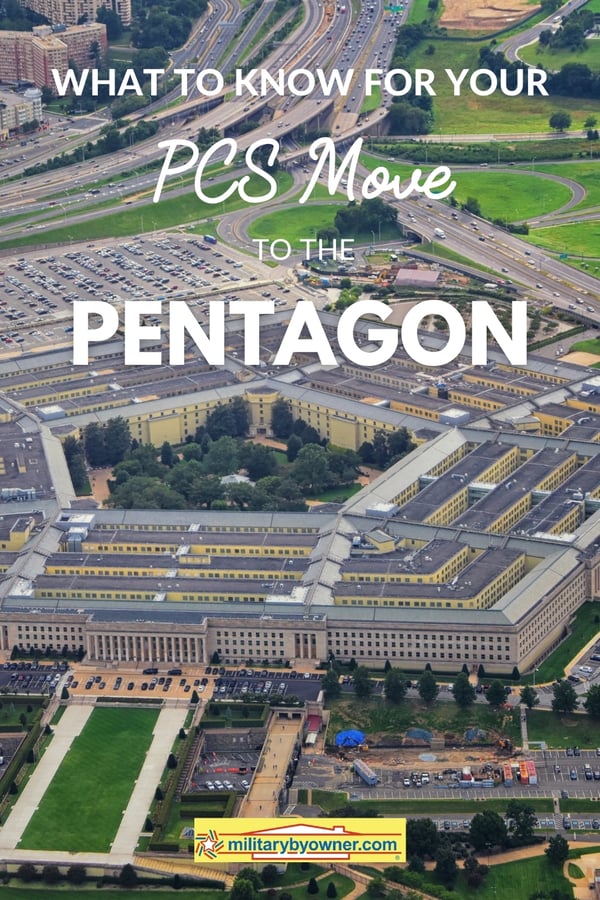 Get to Know the Pentagon
The Pentagon is an office complex shaped like a pentagon when viewed from above. Each day, about 25,000 military and civilian employees walk from 16 parking lots, climb 131 stairways, and traverse about 17.5 miles of corridors.
Photo by Lisa Ferdinando, DOD
Servicemembers assigned to the Pentagon won't find many of the typical features of military bases, such as housing, but there are amenities that both civilians and military members have access to, including shopping, food options, ID offices, dry cleaning, and banking.
It's common for newcomers to be confused about precisely where the Pentagon is located because it straddles Washington, D.C., and Virginia. The Pentagon is built upon land in Arlington, Virginia, near the banks of the Potomac River, but the Pentagon uses six Washington, D.C. ,zip codes as designated mailing addresses.
Photo by Air Force Tech. Sgt. Ned T. Johnston
Military Installations Around the Pentagon
The Pentagon is in the National Capital Region (NCR) and, at the same time, a part of what is known as the DMV (Washington, D.C., Maryland, and Virginia). Because of the dense military activity in the area, there are several installations near the Pentagon. These are the primary bases in the area.
Places to Live Near the Pentagon
The Pentagon does not have on base housing. The surrounding bases of Fort Belvoir, Joint Base Myer Henderson Hall (closest Army bases), Joint Base Anacostia-Bolling, Joint Base Andrews (closest Air Force bases), and NSA Fort Meade, Maryland, have housing options for eligible servicemembers.
Check out our Pentagon information page. It's full of the must-know details needed for a PCS move to the Pentagon.
The majority of the people assigned to work at the Pentagon live in Washington, D.C., Virginia, or Maryland. Most military families choose their location depending on personal preferences for budget, commute time, and education opportunities. In Virginia, Arlington, Alexandria, Springfield, Woodbridge, and Stafford are some of the most popular off base options.
In most cases, you can expect to pay premium prices for homes for sale and rent zoned for top schools or that have very convenient commutes. Homes with larger property sizes and smaller price tags have longer commute times.
Real estate in the DMV can be a challenge for first-timers. Both property and money move quickly and often in cash transactions. Unless you're relocating from another expensive location such as San Diego or Hawaii, you'll want to prepare savings accounts to adjust to rental and home buying costs.
For military families arriving in the DMV, it's highly recommended to consult a qualified real estate agent familiar with the cities and neighborhoods you are considering. Wonder Why You Should Consider Using a Military Relocation Professional? This post answers your questions.
---
Take a look at a home available for rent in Arlington, near the Pentagon.
4081 S Four Mile Run Drive 303, Arlington, VA, 22204
2 Bed, 2 Bath (Condo)
Rent: $2,350/mo.
MilitaryByOwner Listing MBO453956
Condo living is a popular and convenient solution for finding a perfect location for a PCS to the Pentagon.
This property in the West Village community has a free weekday shuttle to the Pentagon City Metro Station and is less than three miles to the Pentagon. Nearby Shirlington offers all the amenities needed to feel like home, including shopping, restaurants, movie theater, and grocery stores. For bikers and hikers, the property is directly on the W&OD trail. Most features inside are updated to include a desirable sunroom and an in-unit washer and dryer.
Are you looking for a real estate agent near the Pentagon? Here's a real estate professional directory to help you choose.
---
Pentagon Commuting
Public transportation is integral to the way of life surrounding the Pentagon. Servicemembers use public transportation to the Pentagon for multiple reasons: it saves time and money (the military provides a stipend for public transport, and parking at the Pentagon is very limited). Not everyone will have an official space, and if they do, it could easily be a 20-minute walk to enter the building.

The Pentagon has Metro train and bus routes convenient to the entrance. In popular neighborhoods and on some bases, such as Fort Belvoir, there are express bus and shuttle stops that pick up and drop off military commuters every day.
Pentagon School Options for Military Families
Because the Pentagon sits in the middle of an urban area, there are multiple outstanding public schooling options through the local governments of Washington, D.C., Virginia, and Maryland. Private schools are plentiful but costly, and resources are abundant for homeschoolers, many of which are free.
There are many school choices, but it's a balancing act to mix commute times and housing payments with your desired school district.
Simply joining local Facebook or online neighborhood groups geared toward military members will shed plenty of light on how to navigate the world of educating children throughout the greater Washington, D.C., region. Check out the Capital Area Military Spouses group for quick connections near the Pentagon.
Photo by Lisa Ferdinando
Military Spouse and Family Support
There isn't a better region among military destinations for military families to take advantage of the incredible number of resources designed specifically for them. The Washington, D.C., area is inundated with entities that provide support systems of various types.
From employment to education and recreation, there is a group eager to share opportunities with military families. Some recognizable names include Military Officers Association of America, National Military Family Association, Hiring Our Heroes, USO DC Metro, and Blue Star Families.
For spouses hoping to work or continue their careers, the following are the most prominent industries around the Pentagon: Politics, PR and Communication, Military, Economics, Security, Hospitality, and Travel and Tourism. There are also numerous opportunities in most in-demand career fields.
Things to Do Around the Pentagon
The challenge while stationed at the Pentagon is to do ALL the things to do! Take the advice of military families before you and start by making a list of your must-see and do activities. Time slips away quickly, and before you know it, you'll be scrambling to fit in last-minute adventures before your next PCS.
You'll want to make plans for:
The Cherry Blossom Festival
National Christmas Tree Lighting
The John F. Kennedy Center for the Performing Arts
Professional football, baseball, basketball, hockey
Great Falls National Park
Shenandoah Valley
Photo by C. Todd Lopez, DOD
The challenge is also to become flexible enough to take advantage of unexpected opportunities that will inevitably be thrown your way. Impromptu invites to one-of-a-kind events are common, either through the servicemember's job or thanks to any number of family-friendly military organizations in the NCR.
After families check off the major attractions like the Smithsonian system and monuments, it's common to stick close to home and tour the local area, especially in Alexandria, because of its historical influence.
One of the first tours families often take is one of the Pentagon itself. The tours should be scheduled well in advance. You can find more information at Pentagon Tours FAQ. Consider using the Metro instead of trying to find a parking space.
This information is just the beginning of what you need to know about your PCS to the Pentagon!
MilitarybyOwner is the place to connect with housing availability and events surrounding the Pentagon and the National Capital Region. Stay in touch to keep up with the best of what the area has to offer.