4 Reasons Military Families Love to Retire Near Maxwell AFB
Alabama is known as one of the best states for military members to retire, with the Montgomery area a popular location. And while you may already be aware of this Southern city's affordable home prices, a lower than average cost of living, and some of the lowest property taxes in the nation, there are so many other reasons why military retirees settle in the area.
The state of Alabama has a veteran population of over 377,000, with over 18,000 of them residing in Montgomery County. With the nearby military bases of Maxwell AFB and Gunter Annex (with a combined population of approximately 12,500 active duty, reserve, civilian and contractor personnel), you won't be alone in your love for the River Region.
The greater Maxwell-Gunter community is welcoming and supportive of military families, and you'll find civilian community engagement all year long, whether it's a job fair, festival, or holiday event.
If you're considering landing your post-military life near Maxwell AFB, we're highlighting some reasons to love living here!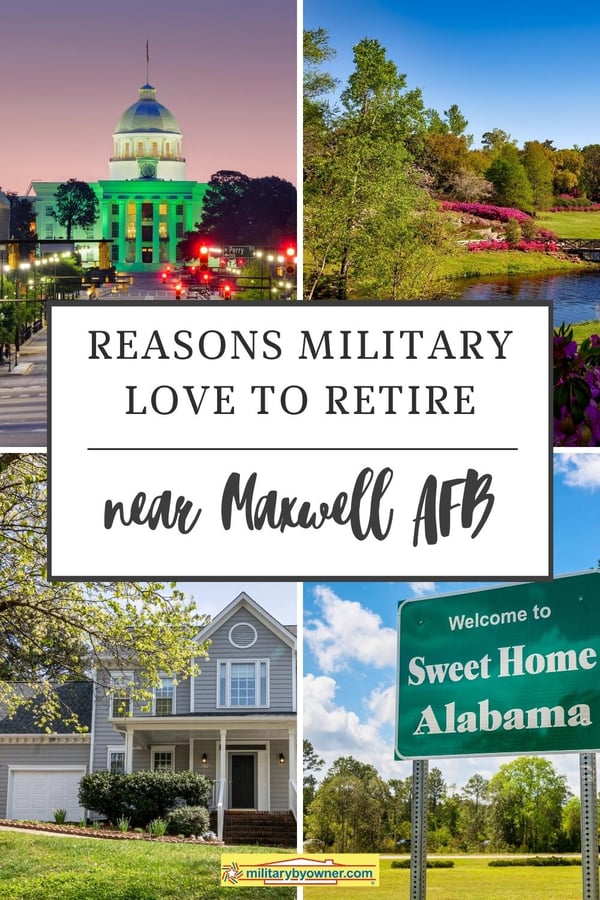 1) Good Economic Environment
Hoping to open your own business and pursue the entrepreneur life after the military? You'll be in good company in Alabama. With over 45,000 veteran-owned businesses across the state, this means that "11.8% of the total number of businesses in Alabama are majority-owned (51%+) by veterans which is nearly 31% (+2.76%) higher than the national state average of 9.04%." (From Veteran Owned Business.)
Alabama also ranks high in job opportunities for veterans. And while the area continues its post COVID-19 recovery along with the rest of the nation, the outlook is optimistic. By late 2021, Montgomery was at the top of all Alabama metro areas in a survey that measured statewide business confidence and expectations.
"Montgomery's business leaders surpassed their pre-COVID-19 levels of confidence with their extremely confident positive forecast. These higher ABCIs indicate sustained expectations for growth as the metro area continues to recover from the impact of COVID-19. Montgomery had the highest metro ABCI at 70.6, indicating very confident expectations for growth compared to Q2 2021." Learn more: Montgomery, AL, government site.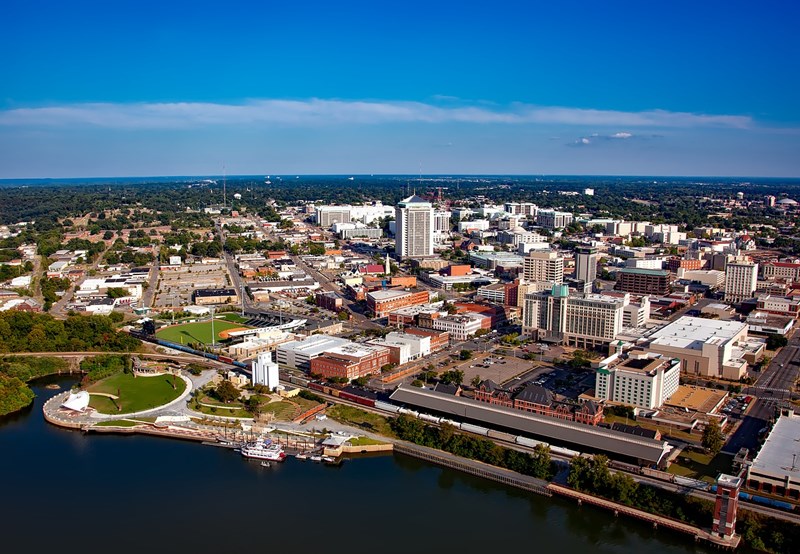 Aerial view of Montgomery, Alabama. Image from Canva.
2) Low Cost of Living and Affordable Housing
The cost of living in the Montgomery area is well below the national average, with less coming out of your pocket for transportation, utilities, groceries, and housing. If you're moving here from a more expensive part of the country, you may be surprised by just how much house you can get. According to Best Places, the median home price in the Montgomery metro area is $109,300, while a 2-bedroom rental runs about $914 for monthly rent.
Other popular area communities such as Prattville also boast housing costs lower than the national average, with a median home cost of $220,000 and a 2-bedroom rental sitting at about $814 a month. And if you're looking for proximity to Maxwell-Gunter, you'll find that nearly all the suburbs are about a 30-minute drive to base. Other popular locations include Millbrook and Wetumpka.
In fact, U.S. News & World Report calls the Montgomery area one of the top 3 places to live in Alabama, in large part due to its low cost of living and housing affordability.
---
Looking to buy a home near Maxwell-Gunter? Take a tour of this gorgeous renovated home for sale!
4 Bed, 2.5 Bath (Single Family)
MilitaryByOwner Listing MBO1475825
Price: $315,000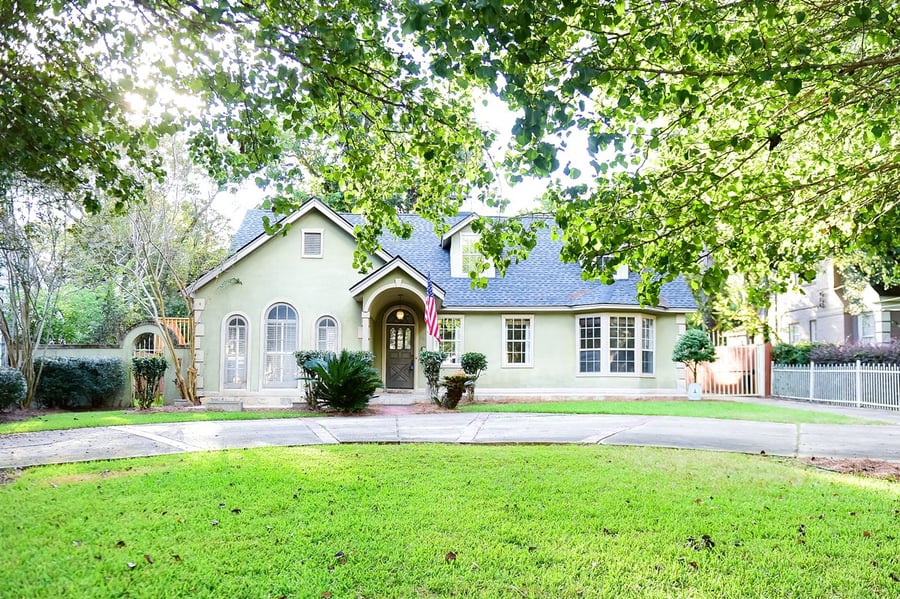 Have your heart set on a historical Southern home? Just four miles from Maxwell AFB, this recently restored home was built in 1926 and offers all the unique and stunning features you crave: tilting double-paned windows, ample cabinet and counter space in the kitchen, a breakfast nook with a built-in china cabinet, plantation shutters in the main bedroom, master bath with garden tub, gas fireplaces, and gorgeous outdoor living areas including a screened-in porch, gazebo, landscaping, and garden.
With 4 bedrooms and 2.5 baths, all bedrooms are large with plenty of closet space. The impressive kitchen features classic European checkerboard floors and granite countertops. The separate two-story garage has a second floor with a second floor which could be turned into additional living space for guests or renters, or even extra office space for at-home workers.
This home was updated to current electrical and plumbing in 1993, and recent updates include a new roof, two new sets of exterior stairs for both the main house and garage, fresh paint throughout the house, and so much more. You'll really have to schedule a showing to take in all this home has to offer!
Moving to Maxwell Air Force Base? Explore These Area Communities.
---
3) The Outdoors Life
If you're not used to the humidity that the Deep South is known for, it may take you some time to grow accustomed to the climate here, but many come to appreciate the long warm-weather seasons with the nearly endless opportunities to head outdoors. You'll find hiking, kayaking, biking, hunting, canoeing, boating, championship golf courses, and so many other recreational activities in the Alabama River Region.
Need ideas for outings? Try 13 Ideas for Family Fun Near Maxwell AFB, Alabama.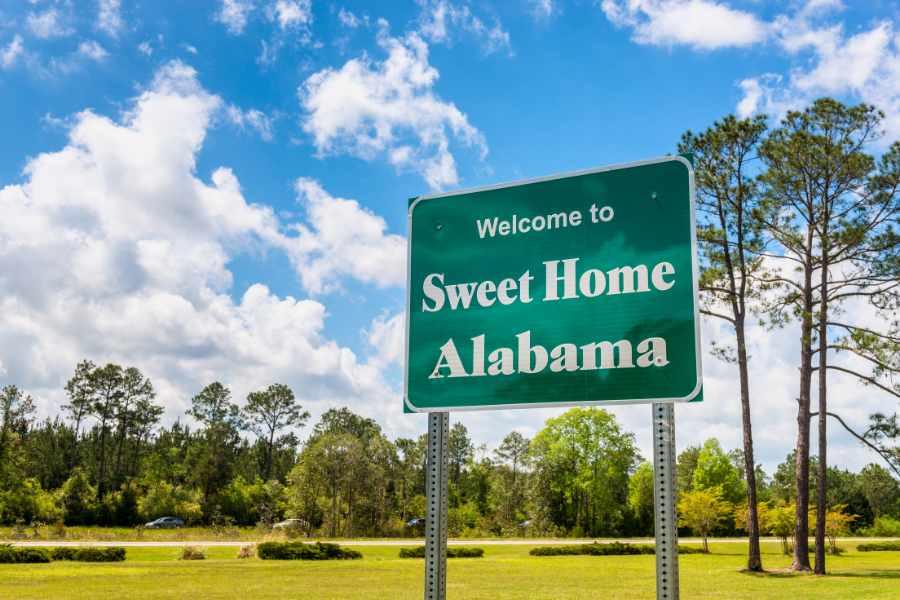 Image from Canva
4) Southern Charm
We couldn't mention Alabama without bringing up that sweet Southern charm!
Here in the Maxwell AFB area, you'll find city amenities served up with Southern hospitality. Whether it's comfort food, barbecue, and sweet tea, or taking in sites such as the Montgomery Ballet and the Museum of Fine Arts, you'll find it all!
Explore important historical and cultural landmarks such as the Civil Rights Memorial; Dexter Avenue King Memorial Church and its Parsonage Museum, where Dr. Martin Luther King, Jr. once lived; the Rosa Parks Memorial, and the Freedom Riders Museum. It's been said that no other city played such a pivotal role in the Civil Rights Movement as Montgomery did, and you could spend days exploring all the important locations.
After your explorations, you'll be hungry. See our list of 7 Restaurants to Try in Prattville, Alabama.
If you've settled in the Maxwell AFB area, let us know all the reasons why you love it here!
Looking for a home near Maxwell AFB-Gunter Annex? Take a look at our constantly updated inventory of homes for rent or sale.