5 Tips for Setting Your Home's Price
The moment you decide to sell your home, you become a salesman, but not in the traditional sense. You only have one very expensive product to sell: your home. And if you can come out on top and make a profit, then you've succeeded at the highest level. Because that's the ultimate goal—isn't it?
It's all about setting your home's price. It might seem like another ankle-biter among your long list of to-do's. But establishing an appropriate price tag for your home based on fair market value is essential to making a profit when you close.
Not sure how? Let's break it down!
5 Tips for Setting Your Home's Price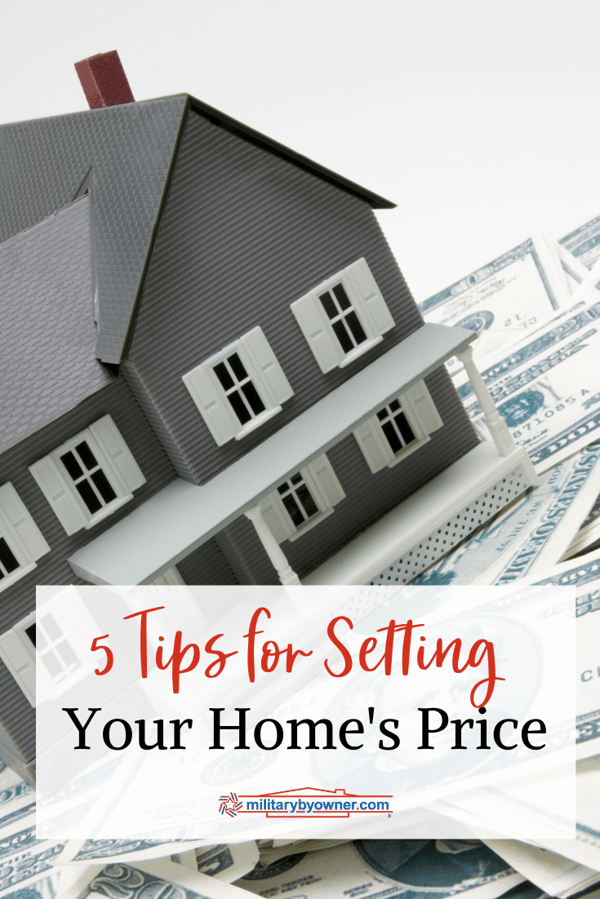 1) Compare your home to others.
Take a look at properties for sale near yours. In fact, you can easily conduct a quick search right here on MilitaryByOwner for other homes in your area! When you're looking at properties nearby, compare features like:
Square footage
Number of bedrooms/bathrooms
Age and condition
Listing price vs. sale price
Accommodations
When you're conducting your comparison, it's best to avoid looking at properties that have been on the market for more than three months. But, don't disregard homes that are pending in sale or already sold. There's a lot to learn from the recent, successful sales in your immediate area.
If you're working with a real estate agent, they'll run a CMA (Comparative Market Analysis) for you and help with this step. If you're selling by owner, many real estate agents are happy to provide a CMA as a courtesy. To be fair, be upfront with your intentions of selling your home yourself.
Related: 4 Simple Steps to Selling Your Home
2) Understand your local housing market.
Your current housing market will greatly affect how to price your home. If you're in a seller's market, which means more buyers and fewer homes for sale (great news!), you'll likely be able to price your home higher and make a larger profit out of the sale.
But if you're listing your home in a buyer's market and one of many decent homes for sale, then you'll likely need to keep your price lower in order to get attention from the few potential buyers.
3) Consider location.
Location, location, location has long been a mantra of real estate agents, and with good reason. Take a look around your local community. Are businesses closing? Or are schools, churches, and shopping centers being built?
Most people are looking to live in a nice area of town that feels safe, with convenient access to the amenities they need like work, gyms, grocery stores, and restaurants. Having said that, if there's a new development going up right behind your house and the sound of the construction site is impossible to ignore, then this might affect your listing price as well—even if it's a Starbucks being built.
4) Keep your emotions out of it.
You probably value your home more than its dollar value, because your value is likely mixed with emotions. And there's nothing wrong with that! But, it's important to differentiate between actual value and your memories made in the home.
5) Be strategic when setting your home price.
After all the research, choose your number wisely. Since most buyers house hunt with a budget in mind, make sure that your home appears in the appropriate searches.
Take houselogic's advice for example,
If comps show that your home is worth $410,000, setting that as your asking price can backfire — the reason is that buyers who are looking online for properties under $400,000 won't see your home in search results in that case. This explains why many agents use the "99" pricing strategy and, for example, list $400,000 homes for $399,000. The idea is to maximize exposure.
Among the laundry list of to-do's to get your house ready to sell or rent, set yourself up for success and choose the right listing price. With a little bit of research or help from a real estate professional, you can find the right price point in hopes of getting the most for your home.
Ready to put your home on the market? Check out one of our advertisement packages and get started today!