7 Home Decorating Trends to Try in 2022
In 2022, we're refining the "anything goes" home decorating trends we clung to in 2020 and 2021. There's no doubt we're still making do and nesting with decorating trends we love, and that brings us peace; but this year, there's a little more order in our home décor as we try to adjust despite the chaos.
These are seven big home design trends you'll see throughout 2022.
Photo by Anna Sullivan via Unsplash
1. Versatility
We're still in the throes of the pandemic which means we're continuing to turn lemons into lemonade in a home decorating kind of way. One of the biggest trends popular in home décor is maximizing versatility, whether reconfiguring a room or adding a new style element to your home.
Multi-Purpose Rooms
Two years ago, scrambling for office space was the top priority, but by now, you might have figured out what you really needed was a flex space—somewhere that can pull double or triple duty. So today, maybe a corner of a room serves as your Zoom background, while the other areas are zoned out for another purpose, particularly a wellness area for workouts and meditation.
Photo by Windows via Unsplash
The Vintage Retro Combo Comeback
You can call it a comeback, but to vintage and retro décor die-hards, the aesthetic never left, and now they're competing with homeowners who are new to vibe. Newcomers readily admit some of the appeal stems from accessibility. Second-hand stores flourished as people purged over the last two years, trying to free up space at home. On the other hand, big brand home furnishing stores withered due to supply chain issues. The result? Major home décor trends in 2022 include vintage, retro, and secondhand accents.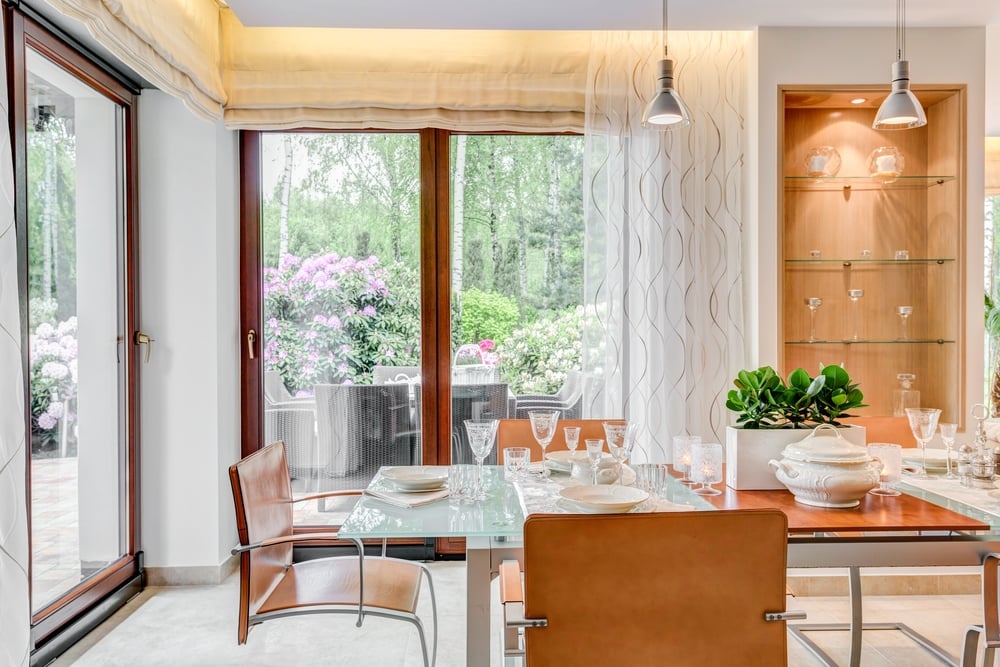 Photo by Shutterstock
2. Sustainable and Natural Elements
You can also thank supply chain shortages for the bump in demand for sustainable and natural elements in home design trends. For example, bamboo and cork floors become a real possibility when you can't find hardwood flooring in stock. Eco-responsible choices also include upcycled kitchen cabinets and countertops. Glass is usually more available than other finishes and shows up in furniture and other small accessories.
Photo by Steven Ungermann via Unsplash
3. Bring the Outdoors In and Indoors Out
If you're wondering what's popular in home design for 2022, it's safe to say the blurred line between indoor and outdoor living essentials still reigns. Removing the boundaries between the two is the ultimate goal for expanding your square footage, especially if you need more flex space for entertaining or a change of scenery during your virtual meetings.
Resort Décor
If you think about it, one of the reasons most of us are still trying to feather our nest to the max is because we can't vacation and travel like we used to. So, it isn't surprising that one of the furniture trends of 2022 nods to resort furniture and décor if you're lucky enough to have an indoor-outdoor space. Think of coastal Greece's vibrant blues and whites, but woven into outdoor seating and tabletop accessories for a good example to copy.
Biophilic Design
Nature-inspired home décor is here to stay. It was trending before the pandemic, but it solidified over the last two years, as you can see from the dense crop of new houseplant parents that have popped up. We're all looking for the comfort and fresh air that back to nature designs offer, so you'll see the influence continue throughout home décor from wall art and natural fiber plant pots to blossoming wallpaper and, of course, gorgeous green paint.
Not ready to paint with green? Stay on trend with Easy Ways to Decorate with Green...Without Painting!
Photo by Nathan Oakley via Unsplash
4. Color of the Year 2022: Green
Are you starting to see a trend? Natural, sustainable, and comfort—they're all words that describe 2022's color of the year, green. After a couple of years of cozy, comfy neutrals, adding color and patterns to your home is back in style. Muted, soothing, and earthy greens combine both worlds nicely because many of these greens are actually neutral colors in disguise.
Paint Companies' Colors of the Year
If you're intrigued by the notion of adding green paint but feel a little overwhelmed by all of the choices, start with the greens the major paint manufacturers showcased last fall and pick your favorite.
Benjamin Moore: October Mist
Behr: Breezeway
Sherwin Williams: Evergreen Fog
Glidden: Guacamole
Dutch Boy: Cypress Garden
Pantone's Color of the Year 2022: Very Peri
Bucking the green trend, Pantone went their own way with their color of the year and chose periwinkle, a blue-purple hue, for 2022. Although Very Peri isn't green, it upholds the idea that color personality is making its way back into homes. Not surprisingly, it does pair very well with multiple shades of the current grayish greens that are so popular this year.
Read 3 Big Ideas to Decorate Those Large Blank Walls for more decorating inspiration.
Photo by Angelo Pantazis via Unsplash
5. Curved Lines
You'll see curved lines everywhere in 2022 because they're soothing and mimic shapes seen in nature like leaves or rainbows. In home decorating, curved lines appear in furniture similar to pieces you remember from decades ago. Sofas, chairs, rugs, and live-edge countertops and tables now all have curved lines. If you build a home this year, you may see the option to add curved archways instead of standard square passageways through the rooms.
If you can't decide between a Bungalow or a Colonial house, a Beginner's Guide to Home Style and Architecture can help.
Photo by Cameron Smith via Unsplash
6. Boosted Bathrooms
Boosted bathrooms are BIG this year. Their sizes have increased, and so have the amenities. Now, bathrooms are considered a room to enjoy and spend time luxuriating vs. simply a small utilitarian space to pass through.
Bathrooms in 2022 have thoughtful designs, including natural elements like wooden vanities that complement the light and airy aesthetics we all love, plenty of glass, and natural stone. Homeowners are investing big money into upgrades like separate tubs and showers, more storage space, fancy sinks and shower fixtures, and even heated floors.
Just How Much Will a Bathroom or Kitchen Renovation Cost You?
Photo by Kam Idris via Unsplash
7. Colorful Kitchens
If you've scrolled kitchen design blogs lately, you've seen color injected everywhere. With time on our hands, we've envisioned affordable mini-makeovers and taken brushes to kitchen cabinetry. Since we spend so much time in the kitchen, why not add a cheery color? Keep the paint from going overboard by keeping the colors muted. Choose a color with a touch of gray in the base.
Since we're all likely dealing with more time at home for the foreseeable future, it's time to stop daydreaming and pick a couple of projects to take your home's aesthetics and comfort factor to the next level! With seven gorgeous choices to choose from, you're bound to find luck with one or two of these trends.