8 Outdoor Adventures near Naval Station Norfolk
Getting outside to clear your head and unplug has never been more valued. There's something about watching nature in action that eases the stress and burden of the daily hustle. And when you live in Hampton Roads, you know what busy is--there are a lot of people in the area!
Not only do the nearby military installations bring in over 80,000 service members, but many choose to retire here. So you'll find lots of active duty, retirees, civilians, and dependents in the area. If you find yourself stationed at Naval Station Norfolk or one of the other many area military installations, head to the great outdoors to give you a little space from time to time.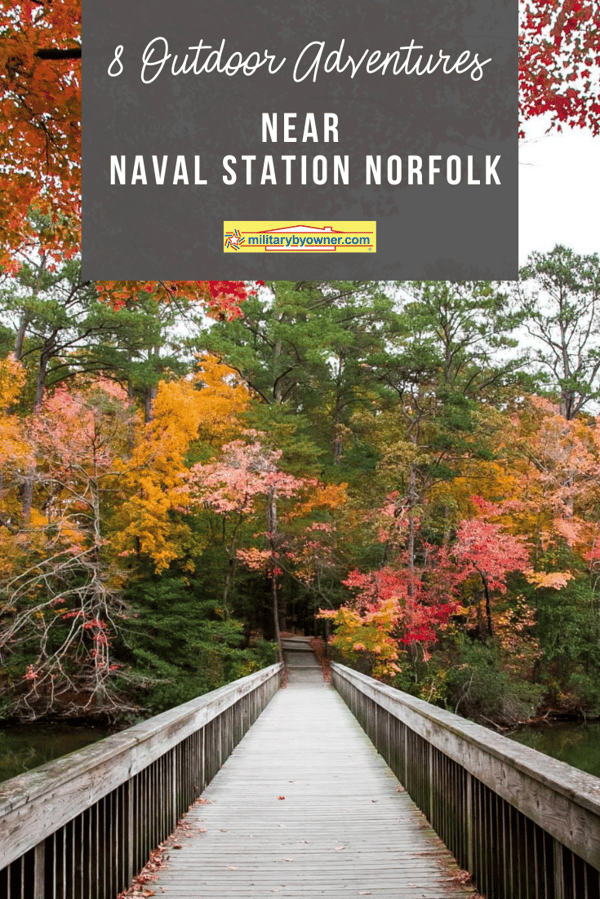 Photo courtesy Grace Rebekah Photography
Pause and Unplug with These Outdoor Adventures near Naval Station Norfolk
Drive time: 30 minutes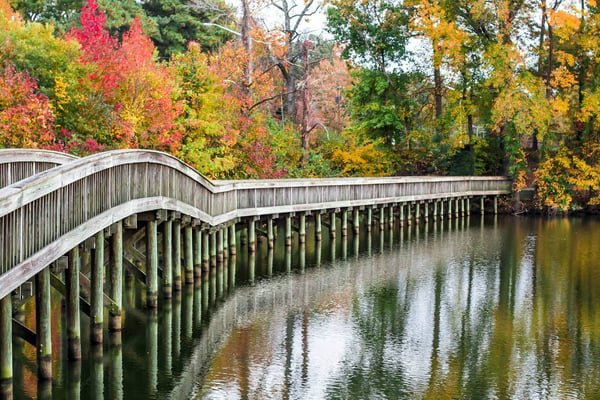 One of the 14 bridges on the Noland Trail. Photo courtesy Grace Rebekah Photography.
This trail is in Newport News across the bridge north of Norfolk. Can you bring kids? Yes. This 4.8-mile trail is easy -- children and dogs are welcome to join. You'll find those looking to enjoy a quiet, peaceful nature walk as well as those looking for an outdoor run and notice that this stretch of nature becomes quite populated at times.
While you're there, take a tour of the Mariners' Museum!
Drive time: 30 minutes
There might not be a better place to spread out and breathe in the fresh air than at Sandy Bottom Nature Park. This 456-acre stretch of pure nature is overflowing with outdoor adventure. Let the kids lead the way on any number of the trails crisscrossing the park. Head over to the Sandy Bottom Lake and cast a line off the pier to reel in some fish. Or, rent a boat and cruise out to spend the day on the water. And if you want to make more of this excursion, bring a tent and spend the weekend sleeping under the stars!
Drive time: 30 minutes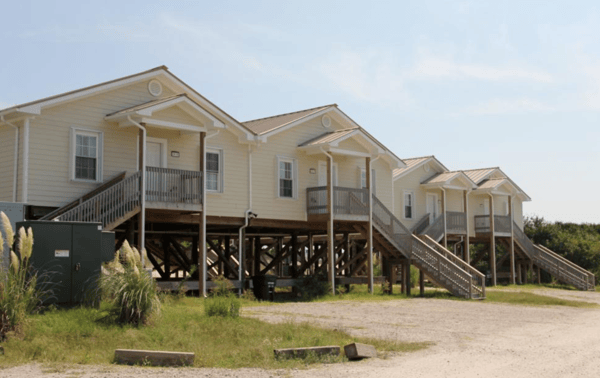 Cottages at Dam Neck via Navy Lodging
To the southeast of Naval Station Norfolk is the Dam Neck Annex. Sitting right on the Atlantic coast, it offers three miles of private beach including the North beach, surfing beach, South beach, watersports beach, and fishing and dog beach. You'll also find concessions and rentals available through the MWR to help you make the most of your beach day. And if you have extra time, stay a few days at the Dam Neck Cottages.
Drive time: 20 minutes
History buffs and outdoor adventurers alike will want to explore Fort Monroe. While this site is home to many events in our nation's history, the most notorious one was the introduction of slavery in the U.S., which began with the arrival of a ship 400 years ago at Fort Monroe (called Point Comfort). This site is the perfect place to stretch your legs and learn.
Don't miss the Old Point Comfort Lighthouse. Playing an essential role in history, dating back to the 1600s, the War of 1812, and the Civil War, this national monument carries many stories in it.
Pro tip: Take a look at the Fort Monroe walking tour guide before you plan your trip.
Drive time: 30 minutes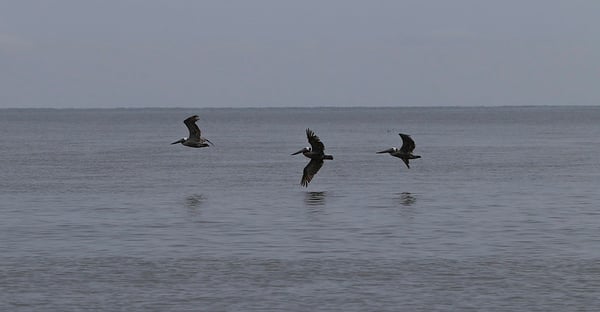 Pelicans fly above the water at Grandview Nature Preserve. (Photo by Mallory Huxford | Virginia Sea Grant)
It doesn't get much quieter than on the 475 acres of Grandview Nature Preserve. Without bicycles, alcohol, hunting, and more, this truly is a space in nature to quietly explore and allow yourself a break from the daily grind. Spend the day walking the marsh, tidal creeks, or take a seat on the beach while you look over the Chesapeake Bay.
Drive time: 30 minutes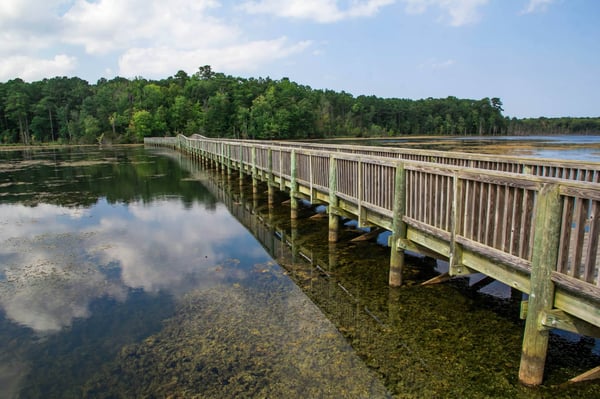 Newport News Park photo courtesy Grace Rebekah Photography
Stretch your legs, walk along the nature trails, or sit on a bench and enjoy the expansive Newport News Park. Packed with opportunities to canoe, bike, fish, paddleboat, camp, or try your hand at archery, this stretch of heaven is a must. With so much to do, you may find yourself driving up here with any downtime you have!
Drive time: 30 minutes
Known to be the place where English settlers first reached land in 1607, there might not be a better place to travel back in time. This historical park features over 20 miles of trails and 1.5 miles of Chesapeake Bay beach frontage. It's also home to bald cypress swamps, lagoons, and maritime forest, each playing their role in our nation's history hundreds of years ago.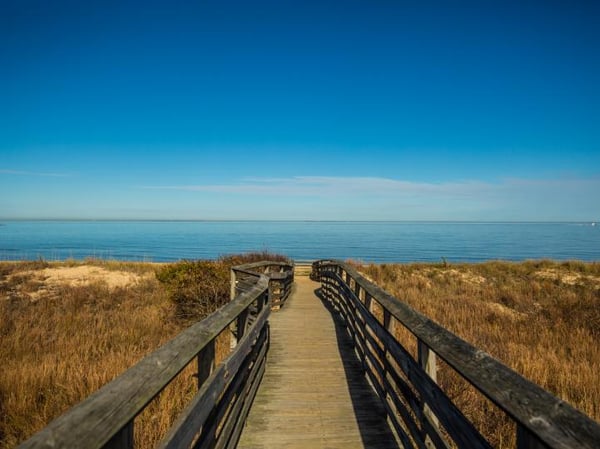 First Landing State Park, image via VirginiaBeach.com
Drive time: 30 minutes
Escape for the day on the 10.1-mile trail near Virginia Beach. The path is easy and makes for a great day outing for the whole family. Be sure to pack a lunch, as the beach makes for the perfect stopping point to sit for a picnic.
Outdoor adventurers stationed at Naval Station Norfolk will thrive. With endless space to explore on foot, it's easy to take a break in nature. And even if you're not an outdoor lover already, with so many options just a few minutes from base, it's easy to get out for a few minutes to unplug. Because, who knows? You might end up falling in love with nature, after all!
Related:
Click below to download your free guide to the Hampton Roads area!