8 Spring and Summer Festivals Near Naval Station Newport
Military families touring or living in the Newport area during the spring and summer have a large collection of outdoor festivals to choose from. The region is known for its love affair with the annual jazz and folk festivals, but there are many other themed celebrations to attend.
As you plan your PCS to Naval Station Newport, include some time to check out one of the dozens of festivals that occur during the warm months. There's no better way to jump in and start living like a Newport local!
If any of these festivals strike interest, jump on ticket sales as they sell out quickly!
8 Spring and Summer Festivals Near Naval Station Newport
March 1-31
Newport cherishes its Irish ancestry and celebrates the entire month of March! Past events have included family favorite, the Green Eggs and Ham parade fundraiser, but the 63rd Annual St. Patrick's Day Parade on Saturday, March 16, steals the show. There are literally dozens of events to enjoy all month long: traditional Irish music and dance, food, tours, Gaelic music lessons, and lectures.
April 11
What a perfect way to make a military family memory, on the oceanfront lawn of the Rosecliff mansion. The property hosts the Easter Bunny and families on the grounds to search for eggs, candy, and prizes. After, a spectacular brunch awaits, as does the Easter Bunny for one-on-one photos.
April 24-25
Craft beer makers are proud to show off their latest creations to festival goers. This year, the libations have roots in styles that originate from across the world. Food and merchandise is available, as are VIB (Very Important Beer!) tickets to attend opening night festivities. Local music is also featured. Newport Craft Brewing Co. and Pour Judgement Bar & Grill are hosting the event to benefit the Rhode Island Brewers Guild.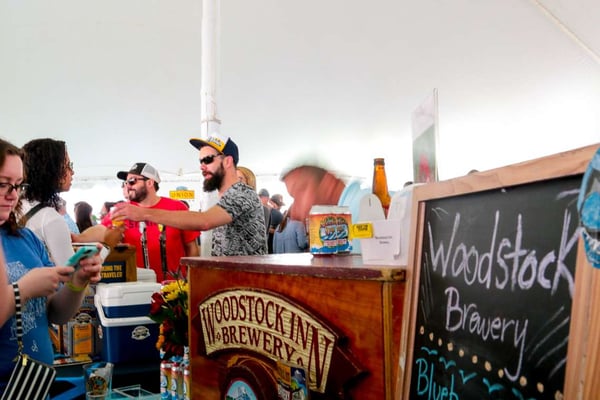 April 24-May 3
Daffy Days are here again! During the height of spring, Newport shows off more than 1 million daffodils. The 7th annual festival is produced by an all volunteer team simply to add joy to the city. The group plants bulbs in support of Daffodillion, the nonprofit group that works to add beautification throughout Newport. During the Daffodil Days Festival, events are planned throughout the city to take advantage of gorgeous scenery. Popular past events included: Daffy Dancing, Beach Cleanup at the Cliff Walk, Daffy Doggie Paw-rade, and Daffodil Stroll & Shop in the historic Bellevue Shopping District.
June 19-21
The iconic mansions of Newport are ideal locations for spring and summer festivals, and Rosecliff is home to New England's prestigious flower show. The 25th year celebration includes horticultural competitions, garden displays. and imaginative, colorful floral designs. Visitors can also take part in an Opening Night Party, Afternoon Tea service, Champagne and Jazz brunch, and shopping among vendors on site. The flower show benefits The Preservation Society of Newport County.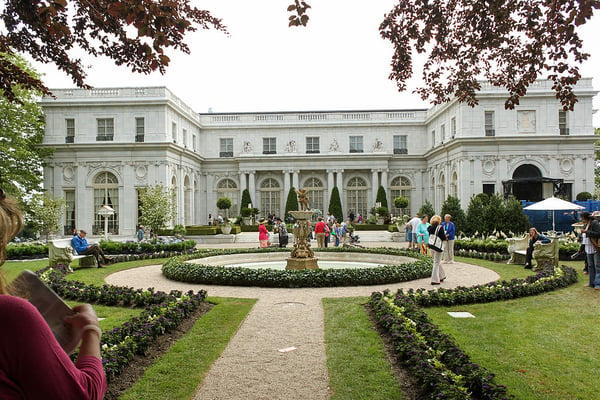 Newport Flower Show at the Rosecliff Mansion image via captain-tucker on Wikimedia Commons.
July 4-25
The 52nd season opens celebrating the theme, Beethoven 250. In select sites throughout the city, the Newport Music Festival showcases live music events each day. An array of genres are featured; from piano music, and jazz performances, to Broadway stars, the festival is a major draw into Newport. The annual gala raises money for the Newport Music Festival's Education and Outreach program.
July 31-Aug 2
Fort Adams State Park is home to the world renowned Newport Folk Festival. A storied history dates back to 1959 and boasts performances from artists from all variations of folk music and beyond. Top names have included Pete Seeger; Peter, Paul and Mary; and Bob Dylan. The Pixies, Black Crows, Dolly Parton, and Mumford & Sons have also graced the stage. The festival is famous for selling out months before releasing the official lineup. Organizers like to reserve a few headliners for surprise reveals. Past surprise guests were James Taylor and Kris Kristofferson.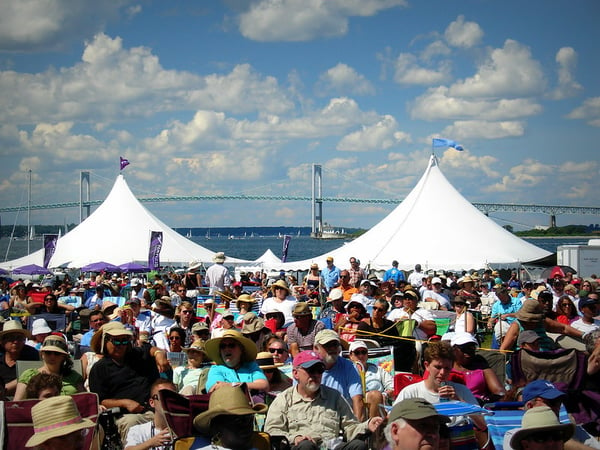 Spectators at the Newport Jazz Festival. Image via Vernaccia.
August 7-9
The granddaddy of music festivals in Newport, the jazz festival is first in the hearts of locals and quickly becomes a favorite of newcomers. Beginning in 1954, the festival continues to draw fans of jazz from across the country. Concert goers have been treated to historic performances from Miles Davis and the Duke Ellington Orchestra; additional notable performers included Ella Fitzgerald, Billie Holiday, and Carmen McRae. Although the 2020 lineup has not been released, 2019 featured Herbie Hancock, Corinne Bailey Rae ,The Bad Plus, Spanish Harlem Orchestra, Ravi Coltrane, David Virelles, and many, many more.
Certainly this line-up has built the excitement for heading to Naval Station Newport! Although these fabulous events are waiting, you'll probably also need practical advice for making the transition. We've got you covered with an ebook dedicated to easing the move to Newport. Details include area, school, and military spouse resources in addition to popular neighborhood descriptions. And while you're at it, take a look at options for housing in Newport, Rhode Island.