Amazing Air Force Moments in Photos
The U.S. Air Force is our nation's youngest service, but it's done some pretty incredible things during its relatively short time. September 18th is the 71st birthday of the USAF, so let's take a moment to look back at its place in our defense history.
After several iterations--the Signal Corps, United States Army Air Service, United States Army Air Corps, and United States Army Air Forces--the Air Force was officially founded in 1947. Since that time, and several slogans later (From the "Sky's No Limit" to "Fly, Fight, Win"), the USAF has evolved into the world's premier air power, literally second to none.
With its responsibility for air warfare, air defense, military space research, and air services in coordination with the other military branches, the Airmen of the USAF also fill other vital roles including humanitarian efforts, security forces, special forces, intelligence, civil engineering, communications, logistics, maintenance, and much, much more.
Here are a few things our amazing Air Force is up to these days!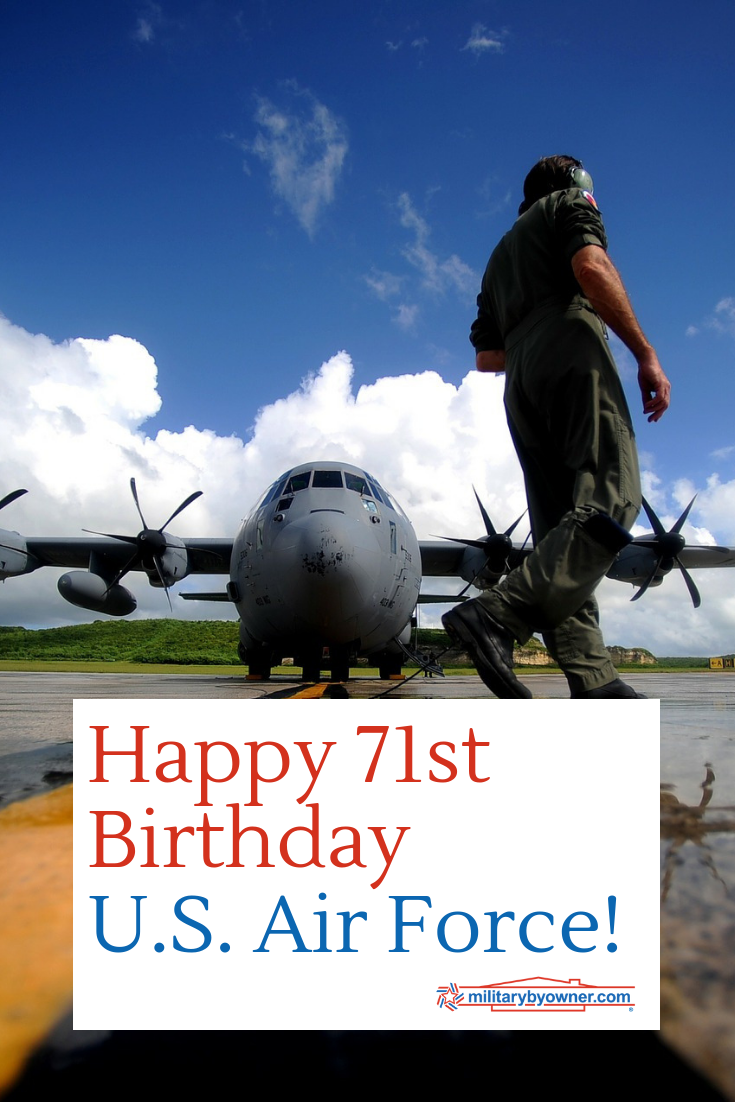 Some Amazing Air Force Moments in Photos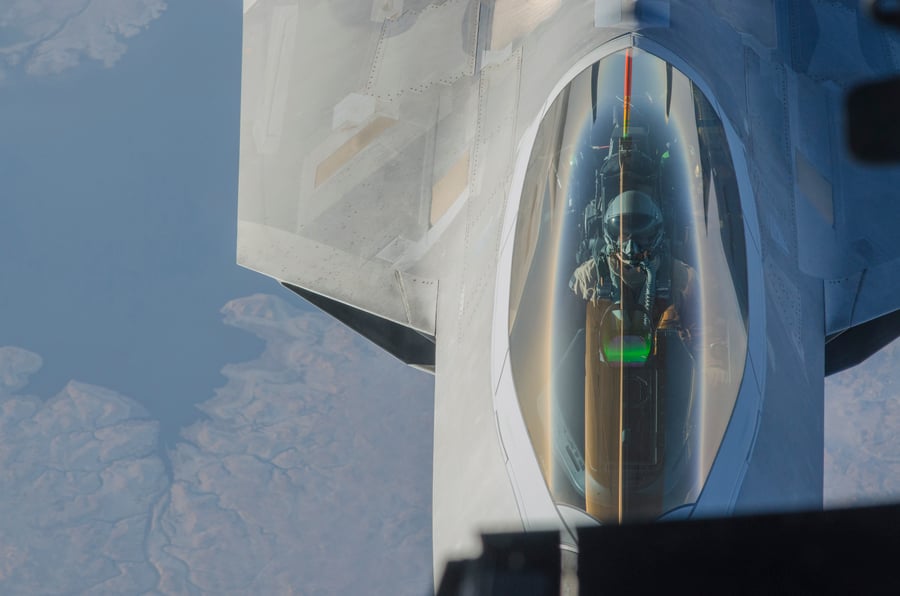 An F-22 Raptor pilot from the 94th Expeditionary Fighter Squadron, Al Dhafra Air Base, United Arab Emirates, flies behind a 908th Expeditionary Air Refueling Squadron KC-10 Extender over Southwest Asia, Sept. 12, 2018. The F-22 possesses a sophisticated sensor suite allowing the pilot to track, identify, shoot and kill air-to-air threats before being detected. (U.S. Air Force photo by Staff Sgt. Ross A. Whitley)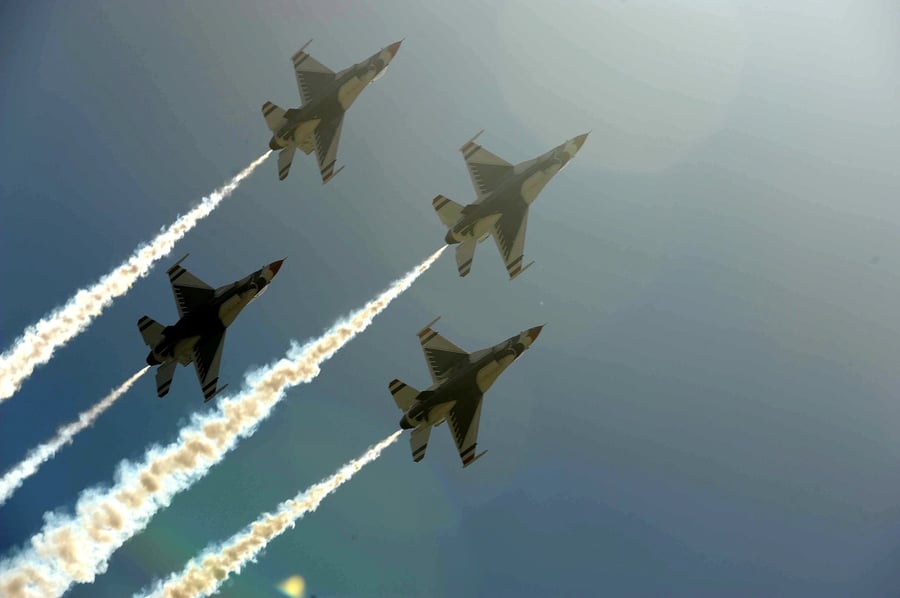 Four F-16 Fighting Falcons, part of the U.S. Air Force Thunderbirds Demonstration Team, fly in formation during the Frontiers in Flight Open House and Airshow, Sept. 8, 2018, at McConnell Air Force Base, Kan. The Thunderbirds were officially activated June 1, 1953, as the 3600th Air Demonstration Team at Luke Air Force Base, Ariz. (U.S. Air Force photo by Senior Airman Jenna K. Caldwell)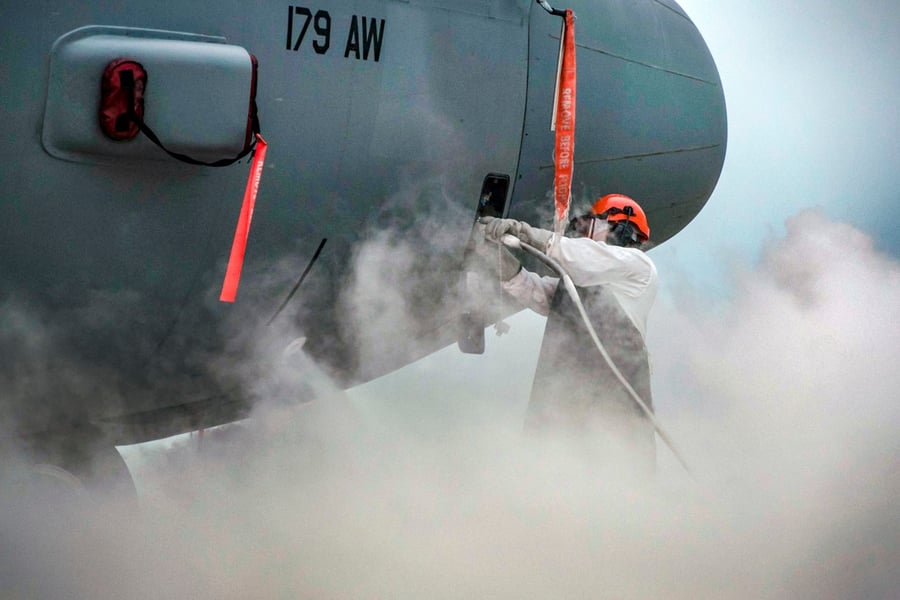 Senior Airman Brandon M. Acks, 179th Airlift Wing Maintenance Group crew chief, refills a C-130H Hercules with liquid oxygen August 30, 2018, at Mansfield, Ohio. (U.S. Air National Guard photo by Airman Alexis Wade)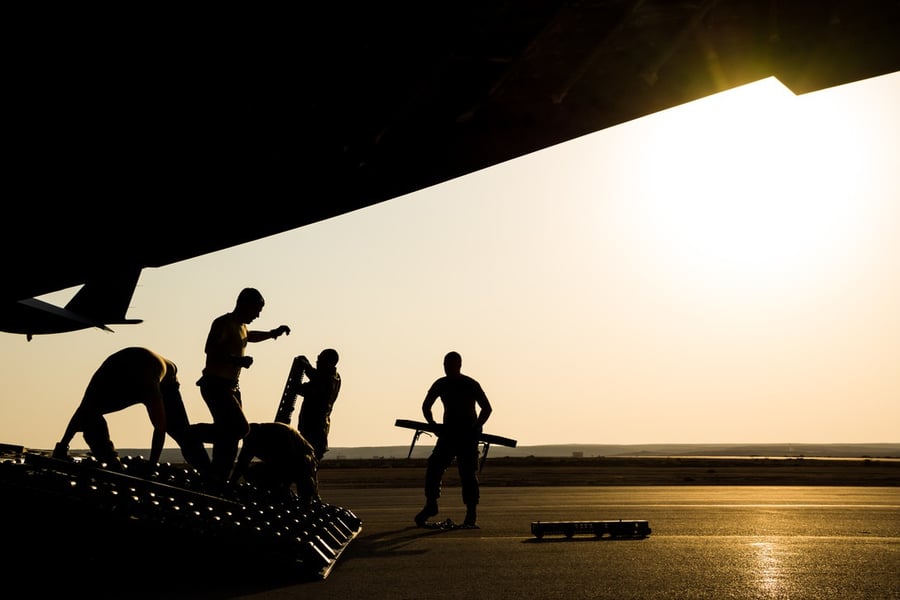 Airmen with the 816th Expeditionary Airlift Squadron and 332nd Air Expeditionary Wing prepare to load cargo on a C-17 Globemaster III at an undisclosed location in Southwest Asia after transporting cargo between U.S. Africa Command and U.S. Central Command, Aug. 28, 2018. (U.S. Air Force photo by Tech. Sgt. Ted Nichols)
A U.S. Air Force HH-60G Pavehawk assigned to the 46th Expeditionary Rescue Squadron sits on the flight line as aircrew members pre flight the aircraft before a mission at an undisclosed location, Iraq, in support of Operation Inherent Resolve Aug. 8, 2018. The 46th ERQS provides combat search and rescue capabilities across the region in support of Operation Inherent Resolve. In conjunction with partner forces, Combined Joint Task Force - Operation Inherent Resolve defeats ISIS in designated areas of Iraq and Syria and sets conditions for follow-on operations to increase regional stability. (U.S. Air Force photo by Staff Sgt. Keith James)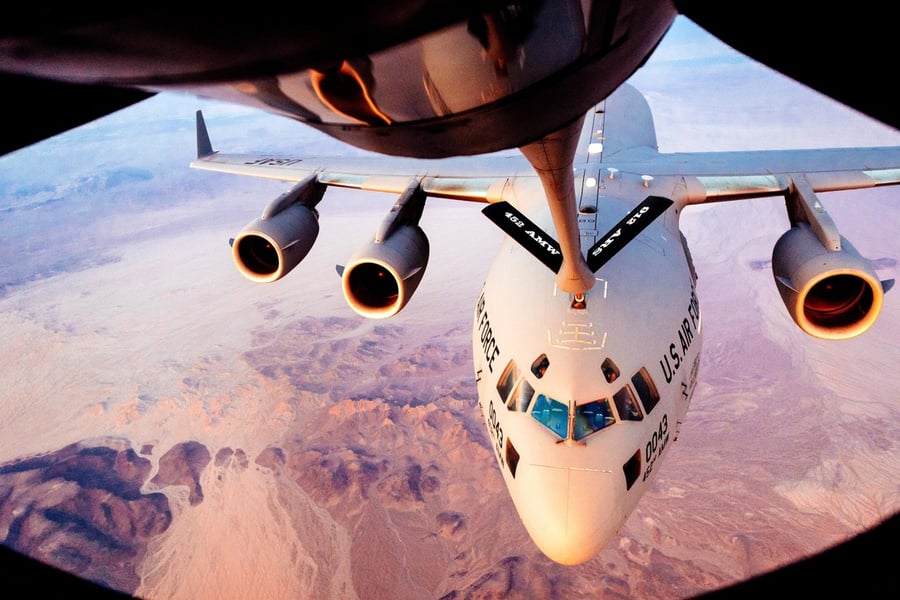 A 452nd Air Mobility Wing C-17 Globemaster III receives fuel from a 912th Aerial Refueling Squadron KC-135 Stratotanker during a refueling mission over Arizona, July 24, 2018. The 912th ARS is responsible for providing essential mission extending capabilities through refueling services. (U.S. Air Force photo by Staff Sgt. Jordan Castelan)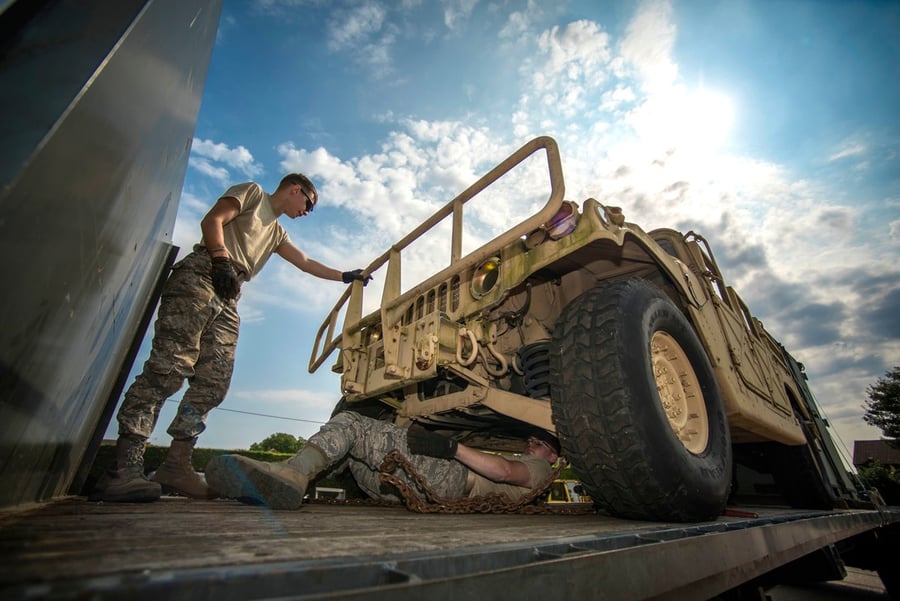 Airman 1st Class Dennis Fite, left, and Airman 1st Class Brinkley Owens, both 100th Logistics Readiness Squadron ground transportation operators, conduct vehicle tie down procedures on RAF Mildenhall, England, July 20, 2018. Ground transportation Airmen deliver heavy equipment to units on and off base, and they also provide transportation to official appointments and ensure Airmen receive their mail by doing daily mail runs to and from RAF Alconbury. (U.S. Air Force photo by Senior Airman Christine Groening)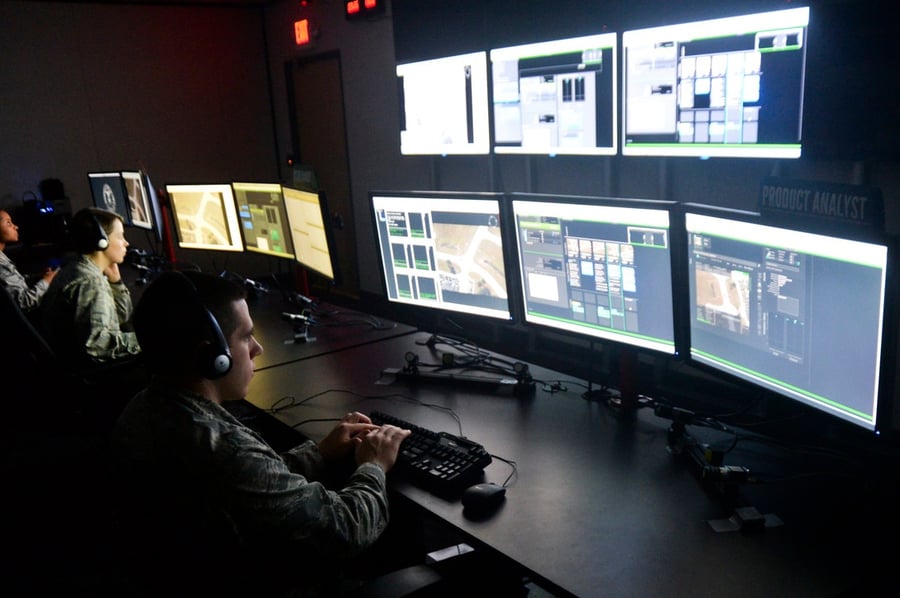 Second Lt. Michael Emard creates slides from video snapshots Oct. 15, 2014, during a demonstration of the new Enhanced Reporting, Narrative Event Streaming Tool developed by the Air Force Research Lab, at Wright-Patterson Air Force Base, Ohio. The program streamlines some routine tasks performed by intelligence analysts in an effort to increase their overall effectiveness and allow for faster distribution of intelligence to those that need it. Emard is a 711th Human Performance Wing behavioral scientist. (U.S. Air Force photo/Wesley Farnsworth)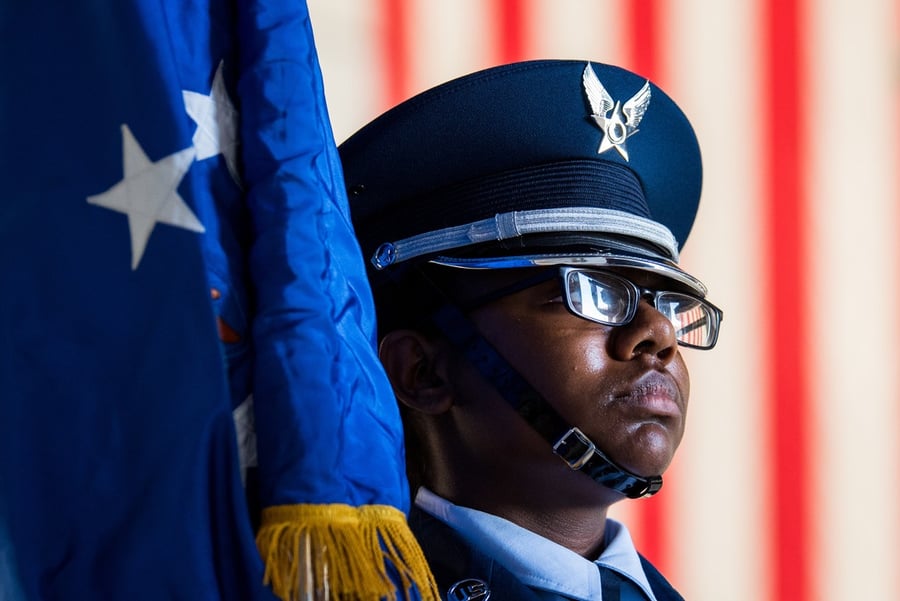 Airman 1st Class Myshanique Jones, Travis Air Force Base Honor Guard, holds the Air Force flag during the 75th anniversary kickoff celebration at Travis AFB, Calif., Feb. 8, 2018. Travis AFB is celebrating 75 years as a major strategic logistics hub for the Pacific and integral part of global power projection for the total force. (U.S. Air Force photo by Master Sgt. Joey Swafford)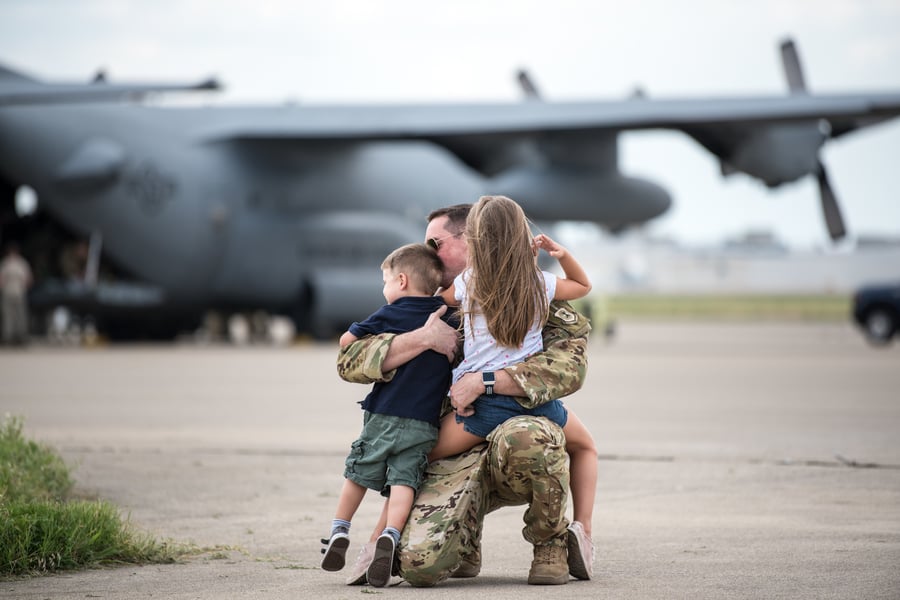 More than 60 members of the Kentucky Air National Guard's 123rd Airlift Wing are reunited with friends and family as they return to their home base in Louisville, Ky., July 6, 2018, after completing a deployment to the Persian Gulf region in support of Operation Inherent Resolve. (U.S. Air National Guard photo by Master Sgt. Phil Speck)
Happy 71st birthday, U.S. Air Force!