What to Expect for Your PCS Move to South Korea
Welcome to the ROK, the Republic of Korea! This OCONUS location sits in a beautiful part of the world, offering access to incredible food, diverse culture, and an adventure far from home.
Although Seoul might be nearly 6,000 miles from the California coastline, you'll find many Americans here (nearly 28,500, according to the DOD). While Camp Humphreys is the largest U.S. military installation in South Korea, it certainly isn't by itself.
Read on to learn more about what to expect for your military move to Korea.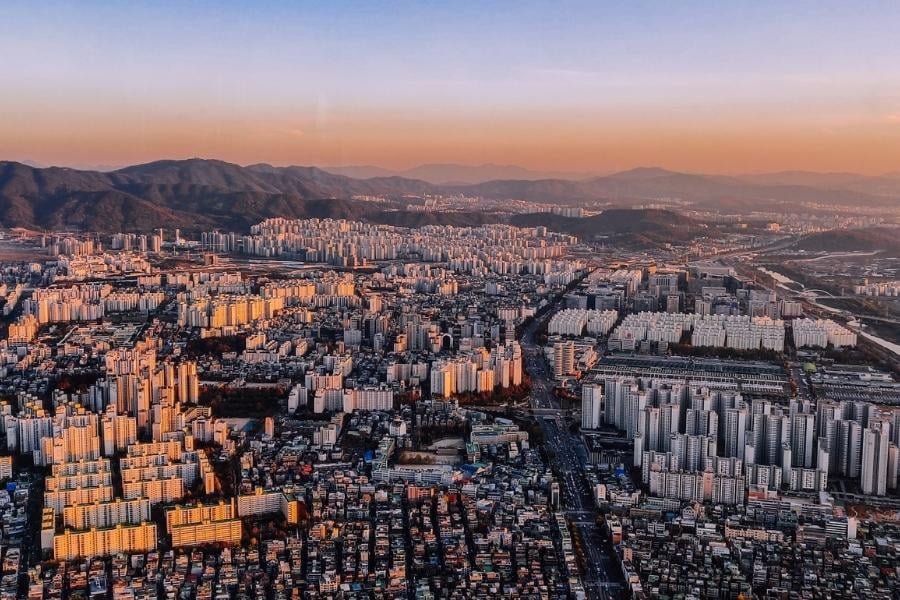 Seoul, Korea, skyline. Photo by Felix Fuchs on Unsplash
U.S. Military Installations in South Korea
Air Force
Daegu Air Base
Gimhae Air Base
Gwangju Air Base
Kunsan Air Force Base
Osan Air Force Base
Suwon Air Base


Army
USAG Yongsan
Camp Yongsan
Camp Casey
Camp Hovey
K 16 Air Base
USAG Humphreys
USAG Daegu
Camp Carroll
Camp George
Camp Henry
Camp Walker


Marine Corps
Navy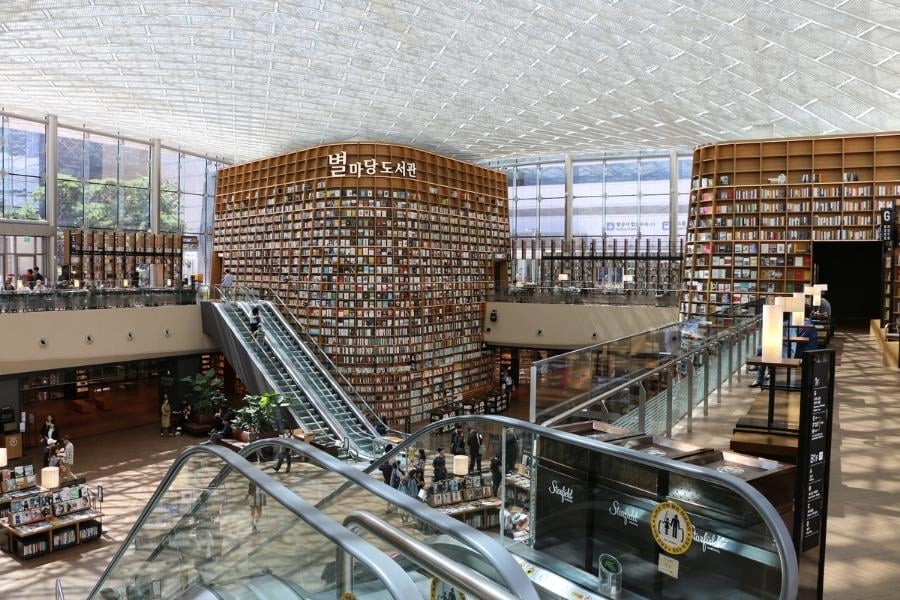 National Korea Library. Photo by Josip Ivankovic on Unsplash.
What to Expect When Arriving in Korea
As with any overseas military assignment, you can expect a shift in culture coming from the United States. The country as a whole has a hustle and bustle attitude. The work weeks are Monday through noon on Saturday which might help explain how the country has quickly grown and become the tenth largest economy in the world. South Korea's population is about 51 million, with about 10 million residing in Seoul, 3.4 million in Busan, and 2.4 million in Daegu. It's little surprise to learn that the traffic and crowds compare to the same issues in New York City. Pushing and shoving are not considered impolite, but rather a way of life to keep up with the daily to-do's.
The shopping, fashion, beauty products, and food here are world-class. You'll be hard pressed to find a more impressive shopping market outside of South Korea, not to mention the presence of vibrant fashion-forward clothing choices. That said, the culture is conservative and modest. Unlike the U.S., it's rude to show your bare shoulders or wear pajamas and shower shoes out of the house. Many Koreans still wear traditional garments like the hanbok for national holidays and formal events.
One of the first things you'll realize upon arriving is that your U.S. driver's license is no good here. Instead, you're required to train and test for a USFK license. You will also need to obtain the A-3 Visa and a SOFA (Status of Forces Agreement) stamp within 90 days of arriving in Korea, an important part to regaining some independence and the ability to take advantage of your new duty station.
South Korea Housing Options
On-base housing is required in Korea if there is adequate availability. Although the details are subject to change, the standard procedure requires five days of in-processing upon arrival to Korea. After the in-processing, the housing office will offer accompanied servicemembers on-base housing based upon availability. Members have 24 hours to accept or decline housing options.
If there is no availability on base, the housing office will provide a statement of non-availability (SNA) that allows you to seek housing off the installation you're assigned. From there, you're required to attend a brief before seeking the assistance of an approved realtor to find a home off-base. The types of housing available varies in size based on location. In more populated areas like the "Ville" right outside Humphreys, you can expect to find apartments, while a more rural duty station may have a single-family home available.
While apartment life might sound off-putting to some, there are a few significant perks to this community lifestyle while in Korea.
Utilities are lower than that of a single-family home.
Established waste management.
On-site maintenance.
Close-knit community.
Walkable convenience to nearby restaurants and stores.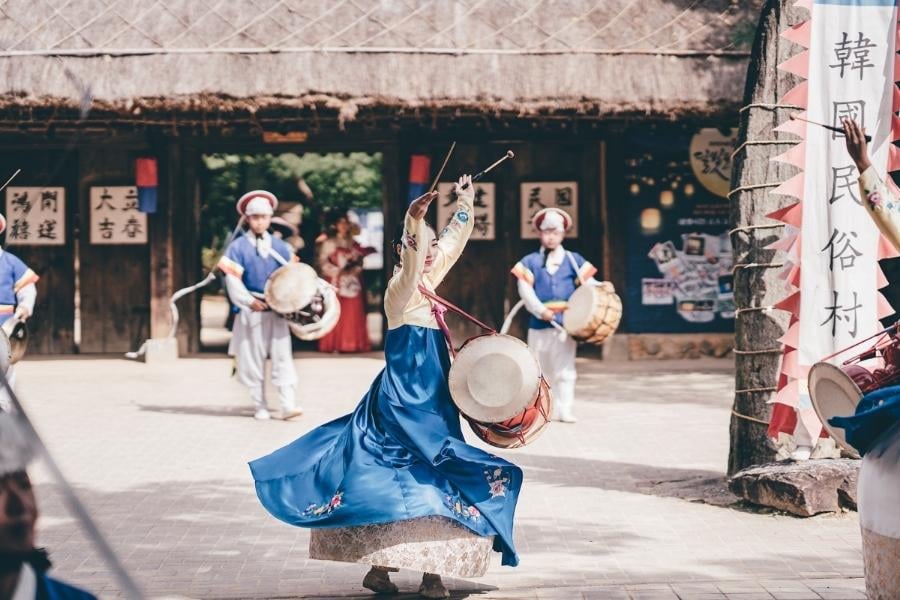 Photo by zero take on Unsplash
Helpful Things to Know Before Moving to South Korea
To better prepare for your PCS to South Korea, here are answers to some questions you may have before you go.
What is the climate in South Korea like?
The winters are long and cold, averaging about 27° Fahrenheit, while the summers are short but hot and humid, averaging around 84° in August.
Are there many English speakers in Korea?
While many people near Camp Humphreys can speak some English, the further you venture out from post, the fewer the people that speak English. Apps like Google Translate and Papago are your greatest tools.
How long does it take to feel settled?
It can take at least three months to receive your household goods, which, as we know, is a significant part of feeling settled.
"After our household goods arrived, it started to feel like home. Our household goods, from Monterey, CA, to South Korea, took about three months to arrive. One thing I wish I brought with us is seasonal decor from the bullseye section at Target. I really miss Target but stores like Daiso, Modern House, and Flying Tiger helps fill that void."

-Irene Cole, Marine Corps Spouse
How can I help my kids adjust to living in Korea?
Kids might have an advantage when it comes to adjusting to Korea. Living on or close to base keeps them surrounded by more Americans or Koreans who speak English, and the DODEA school provides a bubble of sorts, creating some normalcy for kids in a foreign country.
What is the military community like in South Korea?
The military community here proves very welcoming, offering a sense of community and strength. Humphreys United Club can be a great starting point for spouses looking to find their footing, and their PCS Reference Guide, DMZ to the Sea is a great resource for those moving South Korea.
What are some perks of being stationed in South Korea?
There are many places to see and things to do in South Korea. You'll find historic sites, cool cafes, high fashion, shopping, and hiking. A major perk is having the unique opportunity to travel to nearby countries. Thailand, Vietnam, the Philippines, Singapore, Taiwan, and Japan are just a short trip away.
Can I bring my pets with me to South Korea?
If you're coming on accompanied orders, you are allowed up to two pets. In order to avoid the quarantine process when you land in Korea, you'll need the original rabies certificate, the original, current, passing FAVN results, and a completed health certificate. Without the proper documentation, your pet will be quarantined at your expense.
Here are some options for transporting your pet overseas.
Helpful Resources for Your Move to South Korea
Many of these refer to Camp Humphreys due to it being the largest U.S. military installation in South Korea. For local Child Care Services and more, visit your installation's specific MWR page listed below.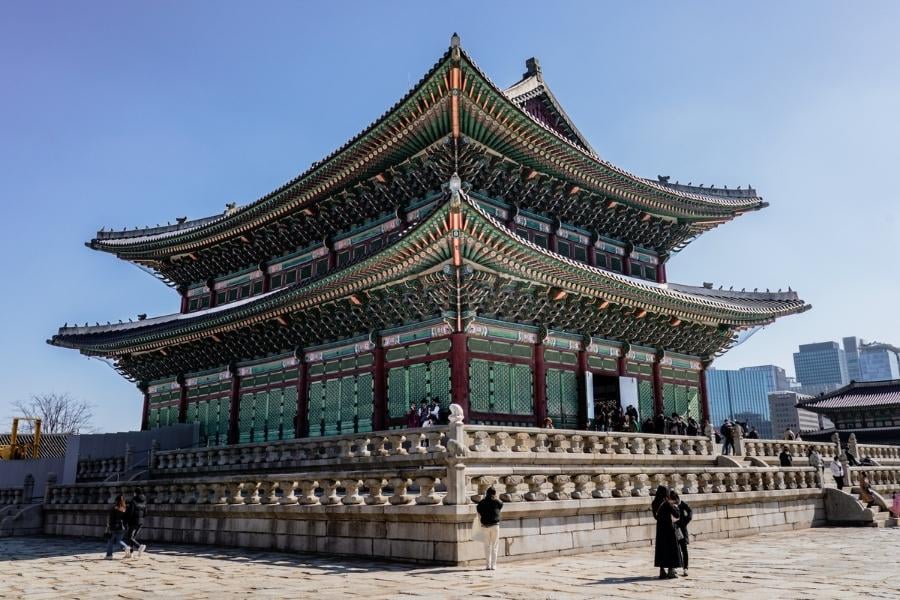 Gyeongbokgung Palace, Sajik-ro, Jongno-gu, Seoul, South Korea. Photo by David Ford on Unsplash
Things to Do in South Korea
Known as the pride of Korea, the Palace District in Seoul houses five palaces of historical significance and breathtaking architecture. Tea shops and art galleries are also within the district.
More than 12,000 historical artifacts and artwork are on permanent display at the National Museum of Korea. Plus, special exhibits that pop up for a limited time and the children's museum make this an excellent repeat outing.
Located near the beloved Haeundae Beach in Busan, this aquarium is a must-do during your time in Korea. Not only does it boast 250 species of marine life, but it also houses an 80-meter underwater tunnel and touch pools for a fully immersive experience.
Just west of Haeundae Beach in Busan is Gwangalli Beach, a 1.4 kilometer stretch of gorgeous fine sand lined with incredible restaurants and shopping.
Featuring over 3,000 species of plants and flowers, the World Flower Botanical Garden is Korea's largest greenhouse garden. You'll also find the LIAF (Life is a Flower) Garden Center, established to encourage a gardening culture in Korea.
South Korea has many popular kid's cafes like the Naughty Child to give kids a creative outlet when the weather forces everyone in doors.
If you're looking for a lovable play session with some animals, you'll find all kinds of animal cafes featuring cats, dogs, meerkats, raccoons, sheep, and more.
If you've been stationed in South Korea, we'd love to hear from you. What tips would give someone about to move there, and what was your favorite thing about it?
Stay updated with more information about your military life. Get our free newsletter below!