Answer These 11 Questions to Create Your Perfect Rental Wish List
Hardwood flooring, granite countertops, stainless steel appliances, and a large garden tub, these are a few of my favorite things…
We get carried away with the things we want in our next home, which may be due to how much we military families move. Living in a variety of homes lets us try out all kinds of features. We begin to learn what we like and what we don't like. And our wish list slowly turns into something unattainable in a rental home.
Singing "A Few of My Favorite Things" might've worked in The Sound of Music, but now it's time to get down to basics and create a realistic rental wish list.
Answer These 11 Questions to Create Your Perfect Rental Wish List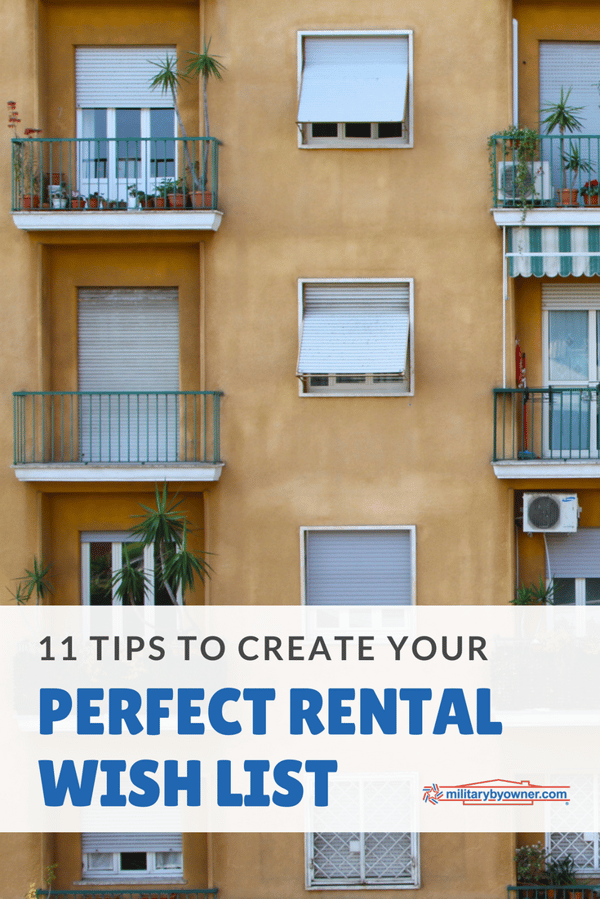 1) Is it within your budget?
Budgeting is so important and is perhaps the most rigid item on your checklist. The amount should be based on your Basic Housing Allowance (BAH). Maybe you're trying to live under BAH, or maybe you're okay with spending over it to get the extra features you love.
Whatever you're working with, be sure to make your budget your priority and consider any other wish list item within your budget a bonus!
2) Apartment or house?
Apartments tend to be less expensive and often come with cheaper rent and utilities. Plus, they're usually accompanied by amenities like a community gym, pool, playground, and park. But apartment living also comes with less privacy, smaller space, and the inability to make changes.
Renting a house means more space, more privacy, potential to paint, and probably an independent landlord versus a company (which you might view as good or bad, depending on your prior experience). However, the perks of renting a house are accompanied with higher rent, utilities, and upkeep, which might be a big enough deterrent for you to forgo a house and stick to apartment living.
Read: Everything You Need to Know About Renting Your First Apartment
3) Is there enough space?
Size does matter. Ensuring the rental has enough space to meet your needs is vital. Anticipate space you may need for a growing family, guest room, office, and storage.
If you're planning to downsize this PCS, make sure that you do so realistically. Don't underestimate how much stuff you actually own. Even if you plan to purge before your PCS, it might be a good idea to scout out storage units nearby as a safety net for your downsize.
4) Which appliances are included?
Don't assume that every rental has a microwave, refrigerator, dishwasher, stove/oven, and washer and dryer.
We moved into a competitive housing market last year. And I kid you not, I was so desperate for this house we found that I failed to notice that there wasn't a refrigerator included until after we signed the lease and moved in. We weren't going to buy a fridge until we bought a home one day, which is why it was normally a deal breaker for us.
But as it turns out, we're now fridge owners and won't have to put it on our rental wish list next time!
5) What amenities are included?
Pools, gyms, and golf courses are nice perks to have with your rental. A pool might not have been a priority in the past, but now that you're moving to the desert, it could be something you want.
A gym is usually not a necessity since most bases have one anyway. But if you want a workout room within walking distance to your rental and not have to pay extra for it, then a community gym is a convenient amenity.
6) How safe is the neighborhood?
The rental listing isn't going to tell you how safe the neighborhood is, but you can make some assumptions from the area. Thriving businesses, grocery stores, schools, and kids playing outside are all good indications.
However, you should check the local crime rates and registered sex offenders online, as well as contact your local police station to get a more educated answer.
7) What's the community like?
Look for a dog park, playground, sidewalks, and running trails. You want to find a community that reflects your lifestyle and how you choose to spend your time.
8) Which school district is it in?
If you have kids, then the school district is arguably just as important as finding the right rental. GreatSchools.org is a great resource to view ratings of schools in your area and help you find the right fit for your kids. Some related posts to help with this decision:
9) How close is it to the military installation?
Proximity to base is a huge wish list item. Do you or your spouse mind a 30-minute or more commute, or do you prefer to be closer? Consider where the stores, church, library, etc. are. Where you spend most of your time will help you decide where you want your rental to be.
If you buy your groceries at the commissary, have frequent doctors' appointments, or all your friends live in base housing, it might be best to find a neighborhood close to base. You'll also want to consider traffic in the area. Maybe the rental is only five miles from base but the traffic makes it a 20-minute commute.
10) Are pets allowed?
If you have pets, then this one is a deal breaker. If you can't find a pet friendly rental at your new duty station, remove 'pets allowed' from the search criteria.
If the listing doesn't say in the written description no pets allowed, then it doesn't hurt to call and ask the question. Landlords can be willing to make exceptions, and if the property has been on the market for awhile then they may be happy to consider your furry friend.
11) Is there a yard and is it fenced?
If you have pets or children, a fenced yard is a big deal. Fenced-in yards offer convenience, but if there's a dog park or playground nearby, you may be able to get by without one.
Do you already own a mower, weedeater, rake, etc.? If you don't, you should consider how the cost of those tools or a lawn care company will affect your budget.
Finding a rental that meets all of your wish list items is difficult. As you start your house hunt, stick to your must-haves (location, price, space) and be willing to compromise on other features.