Fall Home Maintenance for Military Homeowners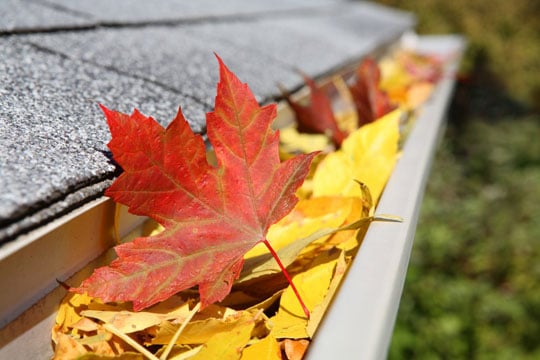 Fall has officially arrived! While the number of military servicemembers making a PCS move this time of year is lower than in the spring or summer, this is an opportune time for military homeowners to complete home maintenance items which can pay dividends, particularly if military relocation is on the horizon.
Following are some fall home maintenance tasks you may wish to give attention to:
HVAC system – Inspect and Service: Scheduling a service appointment for your HVAC system before you need it is essential to make sure the heat will be there when you need it. Ask friends and neighbors for recommendations of trustworthy and reputable professionals.
Fireplace/Chimney – Clean and Inspect: Schedule to have your fireplace and chimney cleaned and inspected before the cold nights arrive. Checking gas lines, potential obstructions, and damper functions will keep you both safe and warm.
Smoke/Carbon Monoxide Detectors – Change batteries: Batteries in smoke and carbon monoxide detectors should be replaced twice a year, and the perfect time to plan this chore is when daylight savings time ends in the fall and begins in the spring. Even if you live in an area that does not "fall back," you can still plan this item for when the rest of the country observes this time change.
Air Filters – Clean/Replace: Air filters are an "out of sight, out of mind" household item, so let the changing from air conditioning to heat remind you that these important filters need to be cleaned or changed. Remember to dust the intake cover as well.
Electric Baseboards – Vacuum/Dust: If radiant panel radiators or electric baseboard heaters heat your home, it is important to remove dust and lint to avoid potential fire hazards.
Dryer Vent – Clean Hose: Pull out your dryer and vacuum the lint from the top of the hose and from behind the dryer. Hire a reputable company to blow out lint that has accumulated in your dryer hose. Performing this easy maintenance item can significantly reduce a potential fire hazard.
Well Water/Reverse Osmosis Systems – Test/Replace Filters: If you rely on well water, it is recommended to have the water tested for contaminants or high mineral content. If you use a reverse osmosis system to provide filtered drinking water, do not ignore the light indicating that the filters need replacing.
Vinyl Siding – Power Wash: In order to reduce the risk of future mold or algae growth underneath the siding, a licensed professional can best perform this maintenance item. Cleaning your siding in the fall may very well eliminate the need to perform this task again when your list of PCS to-do items grows. Get one step ahead and cross this item off of the list now!
Rain Gutters – Clean/Repair: Clean out debris from rain gutters and repair/replace areas that are damaged and don't drain properly. Eliminating the debris will allow rainwater and snow thaw to move away from the roof and home efficiently, eliminating the potential for water damage.
Lawn – Mulch/Aerate/Seed/Fertilize: We have discussed the importance of both real estate photography and curb appeal when it comes to successfully renting or selling military housing, and the condition of the lawn can greatly affect the first impression.

Living in a region that experiences falling leaves and temperatures that stunt the growth of lawn through the fall and winter will benefit from a pass of the mower to mulch up leaves, naturally fertilizing the lawn and eliminating the chore of raking.
Aerating lawn in the fall will break up soil and create holes in the lawn, providing deeper penetration of seed and fertilizers, resulting in a lush, green lawn come spring, just in time to take the perfect photographs for your advertisement on MilitaryByOwner.com!
Distribute seed, paying special attention to drop seed into holes created by aerating and bald spots. Schedule sprinkler system for regular watering or place manual sprinkler system to promote sprouting and growth.
Fertilize young grass seed before the cold of winter arrives. Taking these steps in early fall will pay dividends in the spring.
Shrubs/Trees – Prune and Mulch: Take regional guidelines into account when pruning and fertilizing shrubs and trees. In cold weather regions, protect shrubs and trees with a thick layer of mulch, which not only beautify the landscape but also ensure proper growth, greening, and blooming in the spring.
Homeownership is both joyful and burdensome and this is increasingly true for military homeowners who often relocate with very little notice. Keeping up on home maintenance items will ease the intensity of PCS preparation and increase the success of renting or selling a military home.
Click below to download more Fall Home Maintenance Tips!