Cameron, North Carolina Homes of the Week on MilitaryByOwner
There's much to love about Cameron, North Carolina! The driving distance to Fort Bragg and Pope Field is commuter friendly, and the real estate is hot, according to a pro in the know from the area.
These reasons, plus all of the antique shopping you can handle, make these properties for sale or rent in Cameron MilitaryByOwner's latest Homes of the Week.
*Though these homes are no longer listed, view more homes in Cameron!
Olde Cypress Point - Cameron, North Carolina
Price: $239,900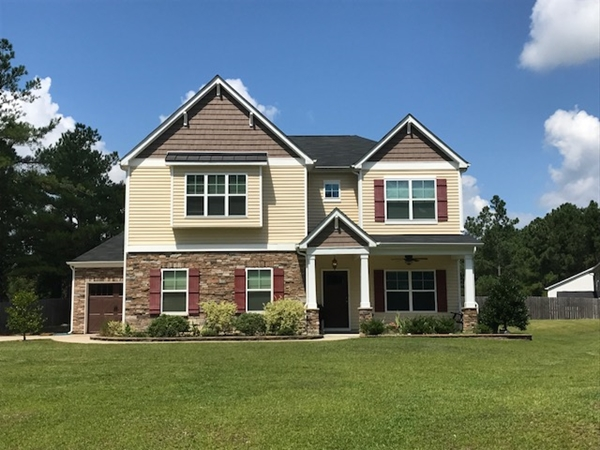 One of the best perks of living in Cameron is the amount of space your property can have, from lot size to square footage. This three-bedroom home is no exception. Less than 10 years old, the house is loaded with curb appeal that shows off unique features, such as multiple textures and colors of the exterior finishes. A corner lot location emphasizes an almost full acre included with the sale.
Although sometimes, more space often equals a longer commute to work, the trek from Cameron to Fort Bragg requires about a 15-mile one way trip, with a decidedly manageable traffic flow.
After years in the military, families tend to accumulate treasured reminders of journeys past and likely a pretty significant collection of military gear. Finding the perfect spot for a family heirloom won't be a problem here. A bonus and a flex room add plenty of space to showcase your collections.
A move-in ready kitchen diminishes the inconveniences of a PCS because updates aren't required for efficient and enjoyable meal prep and dining. The kitchen amenities include granite, stainless steel, breakfast bar island, walk-in pantry, and breakfast room.
Outside, buyers will make use of every bit of pleasant North Carolina weather. Between the screened-in back porch and swimming pool, the warm days will be filled with fun. During the unpleasant weather, a completely wired garage/workshop allows for a climate controlled atmosphere to indulge in your favorite hobby.
Trenton Place - Cameron, North Carolina
This home is no longer available. View other Cameron homes for rent.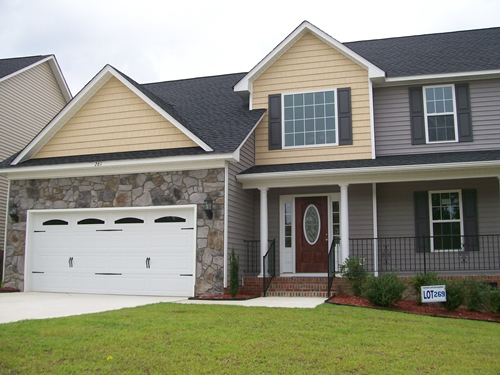 Because of circumstances out of our control, military families often have to make do with less than ideal rental homes. This is not the case with this lovely Cameron property. The finishes are updated and clean, the yard is well cared for, and then there are plenty of extras inside (two fireplaces!) to truly make this rental house feel like your next home.
The ideal layout of the master bedroom downstairs and the remaining bedrooms upstairs offers the best of privacy and safety for families with children. A finished bonus room with entertaining space that includes a sink is perfect for overnight guests.
A neutral paint and flooring palette inside allows for any of your existing home decor to work well. With plenty of natural light streaming inside and an elegant chandelier in the foyer, there's no reason to worry about the typical, outdated rental home finishes.
The house comes with so many amenities, like an upgraded refrigerator in the kitchen, hardwood floors in the lower level, and a security system, that access to the neighborhood's pool and clubhouse is an extra, extra bonus!
Trenton Place - Cameron, North Carolina
For Rent: $1,550/month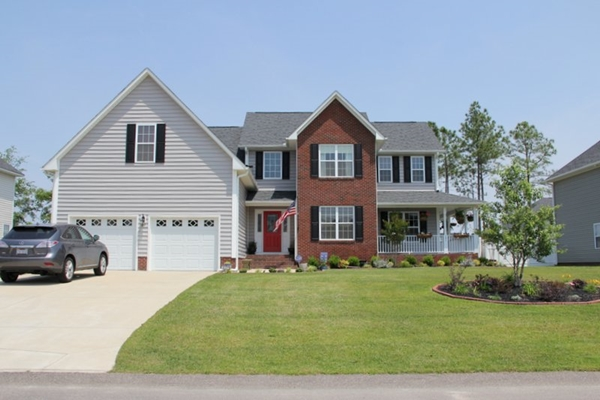 If Pope Field is written on your next set of PCS orders, then this home should certainly be on the list of contenders in Cameron. The Pope Field gate is a convenient 10-15 minutes from this property. Not only is travel time perfect, but the shopping amenities needed for daily life are waiting for you less than one mile away.
A beautiful and truly Southern wrap-around porch greets everyone who pulls up to the two-car garage. Pleasant landscaping shows off the home's exterior features, including a very warm and inviting red front door.
Inside, a unique, double master bedroom configuration enables a family to have several sleeping arrangements ideal for a guest suite or teenager's space. Three additional bathrooms are near one of the master suites upstairs.
Downstairs, spacious living spaces offer cozy breakfasts in the kitchen, which comes equipped with granite counter tops and stainless appliances. Opportunity for entertaining family and friends exists in the separate dining room.
A lush, green backyard is contained by a privacy fence perfect for outside adventures every day, capped off by an end of the day grill session complete with gas grill hookups.
Cameron certainly has many real estate options for those looking to be near Fort Bragg or Pope Field. Other cities near the installations also have availabilities. Check out Raeford, Fayetteville, and Southern Pines for additional choices!