Considering Rent-to-Own? Here's What You Need to Know!
No doubt you've rented or bought property, but are you familiar with rent-to-own? Investing in a rent-to-own strikes the balance between both renting and buying a home, and provides the opportunity to invest in a home without jumping in the deep end.
But, for some, it's an entirely new concept. So let's dive into the discussion and figure out if a this is the right option for you.
Considering a Rent-to-Own? Here's What You Need to Know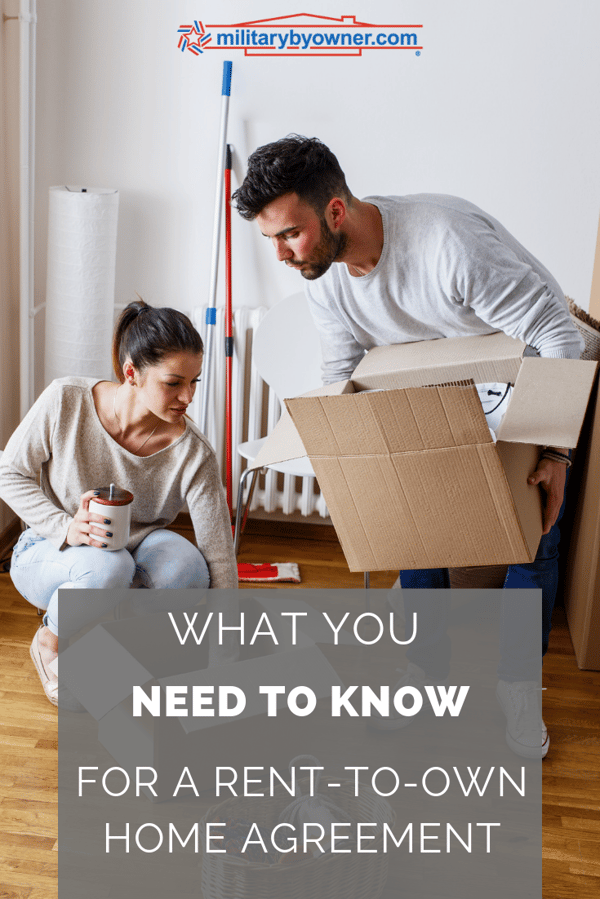 What is a rent-to-own?
A rent-to-own is much like a traditional rental agreement, but with some added language. In essence, it's an agreement between the landlord and tenant to lease the property with the opportunity (or obligation) to purchase the property at the end of the lease.
Why do a rent-to-own?
Why not buy a property you know you want or simply rent the property if you're not ready to purchase a home? Here are some reasons:
Your finances aren't perfect right now. If you have bad credit or know that your finances will be better in a few months/years, you might consider renting to own. Getting your financing in order before buying a home can help you qualify for better borrowing options.
Related: Home Financing Options for Military and Veteran Home Buyers
The market is good now. If you know that you want to buy, but aren't in the place financially right now to do so, you can lock in a great value on the home by doing a rent-to-own with the current owners.
You'll learn more about the property. There's nothing like living in a home to fully understand its quirks. Renting to own allows you to get a feel for the home, get to know the neighbors, and decide whether or not the home and its location is a good fit for you.
How does a rent-to-own work?
Rent-to-own is a more complicated form of renting, with more terms to understand and negotiate with the landlord.
Rent. As with any rental contract, you'll agree to a monthly rental payment. Only with a rent-to-own option, you're expected to pay more. For example, if you'd normally pay $1,500 a month for the property, you might find yourself paying $1,750. The extra money serves as credit and is typically applied toward the down payment at the time of purchase. Note that many contracts specify that should you fail to pay rent on time the extra money will not be credited that month.
While it's an easy way to save for a down payment on the home, if you choose not to buy, that's money you'll likely never see again.
Option fee. An option fee is just that—a fee to ensure that you, the renter will have the option to buy the home at the end of your lease agreement. It's typically anywhere from 2-7.5% of the home's purchase price and will go toward the purchase at the time of the sale.
However, there's also a lease purchase. Where the first gives you the option and doesn't require that you purchase the home, the second does. Make sure that the option you want is what's written in the lease!
Purchase price. The purchase price is typically decided upon when signing the rental lease. However, there are a few things up for negotiation.
Maintenance. Whereas a traditional rental agreement requires the landlord to maintain the property, a rent-to-own may not. State laws still require the landlord keep the property habitable and holds them responsible for maintaining the property overall, but you and your landlord may want to negotiate who's responsible for the smaller repairs and maintenance tasks.
Note: When you approach a rent-to-own, keep in mind that everything is negotiable. Together, you and the homeowner can determine rent, the option fee, maintenance responsibilities, purchase price, and when to purchase (after the lease is complete or anytime before).
What you should watch out for in a rent-to-own agreement.
As with any financial investment, a rent-to-own has risks you should understand.
If you don't want to buy. Let's say that after living in the rental for a year, you no longer want to buy it. You don't care for the home or location as much as you thought you would, and now you want to walk away. If you signed a lease option to buy, then no problem! You can walk away. But, the money you invested in the option fee, as well as the extra money you paid in rent over the past year, is gone.
It's not your home. The difference between renting and a rent-to-own is that you're more financially invested in a rent-to-own, yet you don't have any more control over the property than you do in a traditional rental. Should the homeowner stop paying their mortgage payments and lose the home, you'll lose more money than you would in a typical rental agreement.
Complacency. After living in a home for a while, you might become susceptible to assuming everything is fine when it comes time to buy. However, it's always a good idea to approach the sale traditionally. Even if you've lived in the home for three years and never had a problem, follow the general rules that go along with buying a home like conducting a home inspection and getting an appraisal.
Rent-to-owns aren't for everybody, but they are a great option for those wanting to take a step forward with a rental before committing to buy a home. And if you're ready to buy or rent a home, be sure to check the latest listings on MilitaryByOwner!