Don't Forget These 5 Expenses in Your PCS Budget
If you've faced a military move, you've probably heard someone say, "Well, at least the military moves you!"
And while that may be true, there are still expenses--some expected and some unforeseen--that are part of a military relocation.
MilitaryByOwner's free ebook, Quick and Easy Steps to Prepare for Your PCS Move, includes a helpful section on budgeting for a PCS, including preparing for the unexpected. While you're likely familiar with the military's Dislocation Allowance and reimbursement for Personally Procured Moves, it's wise to plan ahead. For instance, have you considered setting aside funds for the following?
Plan Ahead for These Expenses in Your PCS Budget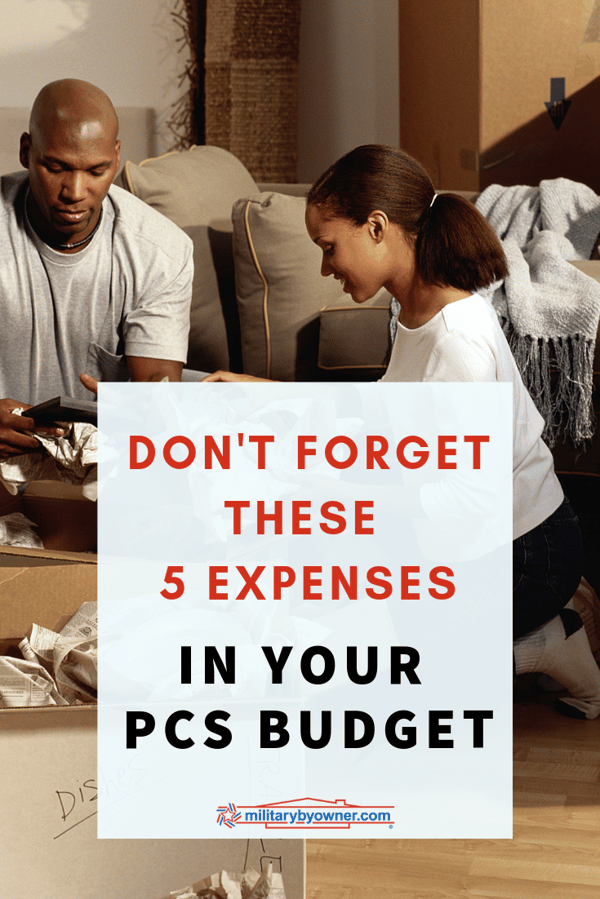 1) Maintenance and Repairs
Whether it's carpet stains, broken fixtures, or other damages in the house you've been renting, consider getting an estimate of how much repairs will set you back... and how much of your security deposit you'll be seeing again.
If you're a homeowner, you may choose to have a home inspection before putting your house on the market to rent or sell, not to mention home staging, advertising, realty fees, and any needed repairs/maintenance.
2) Mortgage Payment
If you're planning to put your home up for rent, there will likely be a gap between the day you move out and the day your tenants move in. Continued mortgage payments during this time could be the costliest part of your move.
Get more practical help in our Guide for the Unexpected Military Landlord.
3) Pet Expenses
Vaccinations, health checks, quarantines, boarding fees, and travel costs for your animals can add up quickly. If you're flying your pet, you may also be required to purchase a crate that is airline approved.
4) Moving Your Vehicles
If you have more than one car, think about whether you'll sell, ship, or drive the second vehicle. If you're moving stateside, you may end up renting a trailer for towing the second car, motorcycle, or other vehicle. You may choose to pay to ship extra vehicles in an overseas move, since the government will only ship one POV.
5) Restocking Your New Home
If you're not able to move any perishables yourself, you'll be facing a pricey shopping trip or two to replace perishable goods, kitchen staples, cleaning supplies, and items like new curtains for the windows that aren't the same size as any of the curtains you currently own.
While there's no way to foresee every possibility, expanded tips on the above areas as well as help with prepping your home for rent or sale are covered in much more detail in our free ebook, Quick and Easy Steps to Prepare for Your PCS Move. Simply click below to download!