Extend Your Patio Season to Make the Most of Outdoor Living
By now, you've likely made good use of your outdoor space. You've enjoyed grilled meals and family time, and you're probably not ready to give up your deck or patio freedom just yet. There's no need, since, with a few updates, outdoor living can extend well into the colder months. It's up to your preference when to call it quits for the season!
To relax outside during the cooler months, you're going to need a little bit of inspiration. Don't worry; a small update such as adding seasonal colors makes a strong statement with little commitment or money. But to go big, a couple of luxury updates below will make neighbors envious!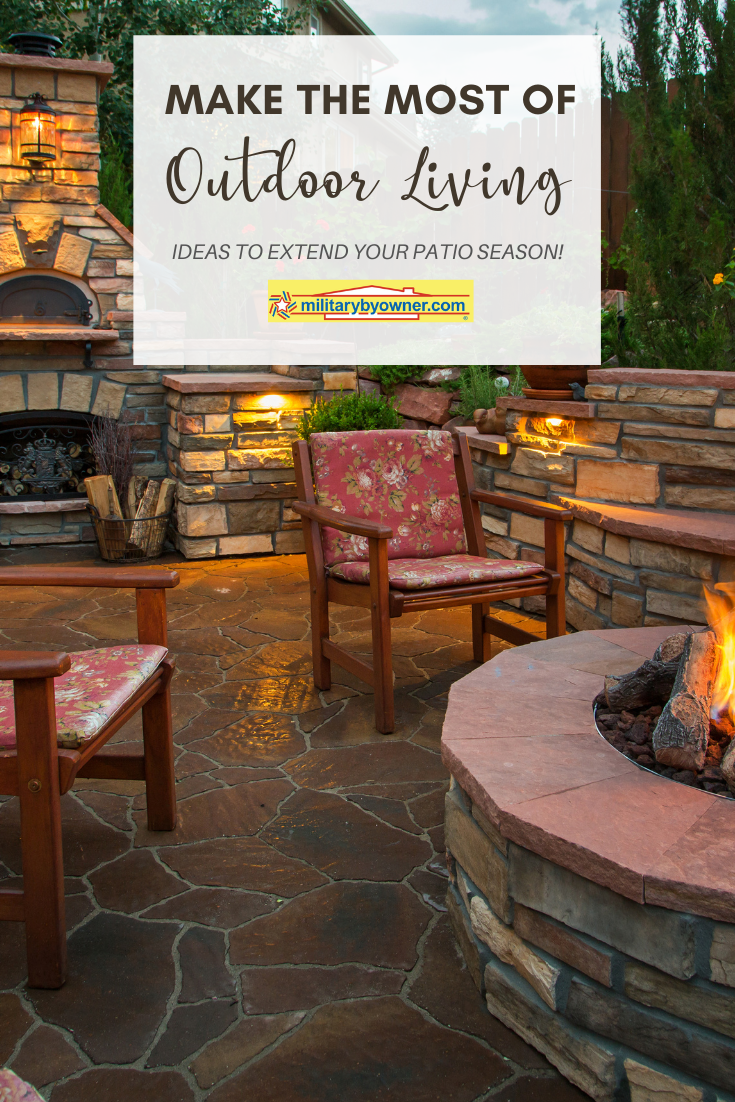 Make the Most of Outdoor Living: Ideas to Extend Your Patio Season
Update and Repair
If you're planning to expand or improve the patio or deck, you won't be alone. The cooler temperatures tempt homeowners to take on projects that have been put off during the sweltering heat. Expect some delays, however, as home projects have exploded during the virus outbreak, and suppliers are having a tough time keeping up with demand.
Consumer Reports accounted for the shortage, citing that in anticipation of a home building slow down, lumber mills across the country severely scaled back production, not anticipating the overwhelming DIY customer demand.
If you need to enhance the space to enjoy for several more months ahead, shop early when the stores open or talk to the manager to find out when trucks are scheduled to arrive. Keep a regular watch (online and off) during your free time for supplies that have mass appeal. It's also a good idea to create a Plan B and C using available sizes and products to accommodate shortages.
Emphasize the Outline of an Outdoor Room
Is a pergola in the works to provide cover? Or does a screened porch offer an at-home getaway feel? Work with the existing footprint to square off space to create a "room," complete with outdoor furniture and an amped-up cozy factor.
Many covered porches have the flat space to hang panels of fabric to further define the space. Flannel blankets draped either from hooks or adjustable curtain rods add interest and provide privacy.
An outdoor rug instantly designates a gathering area, while an updated light source makes up for early sunsets and gives off a festive glow. For more warmth, bring out the comfy blankets and soft pillows for a snuggle-ready atmosphere. Flameless candles are also an inexpensive way to bring in ambiance.
Need some fall inspiration for the inside of the house? Check out 6 Ideas to Refresh Your Home Decorating.
Incorporate a Heat Source
If roasted marshmallows were dessert du jour during the warm months, you probably have a fire pit in the yard. Are you tired of the mess and constant wood gathering? Bring the heat closer with a cleaner outdoor heating source. Some safe-for-deck-space heaters run on propane, natural gas, or butane. No muss, no fuss with the flick of a switch!
Tower style outdoor heaters have become more affordable and are not only sold in home improvement stores but big box outlets such as Costco. Their heat is so efficient that the entire family will be warm while tailgating at home and watching hours of football.
Add a Fall or Winter Color
There's no need to purchase an entirely new line of furniture for fall and winter, as a small update such as incorporating an autumn color into the existing theme does the trick. Orange and deep red work well with existing green fabrics, while brown anchors lighter colors and adds an earthiness to the setting.
Embrace the Holidays
Take decorating up a notch and add traditional or nontraditional fall and, later, winter decorations. Gourds are always pleasant, but new color twists on faux pumpkins such as a deep navy or flannel fabric add unexpected style. Inexpensive potted mums of all colors last well into November, especially if the old blooms are regularly removed. They make a huge impact when grouped.
Potted evergreen trees small and large are perfect for decorating. Outdoor lights and ornaments found in nature such as acorns and pine cones are a strong start, but with a little creativity, you can take care of backyard animals with birdseed ornaments.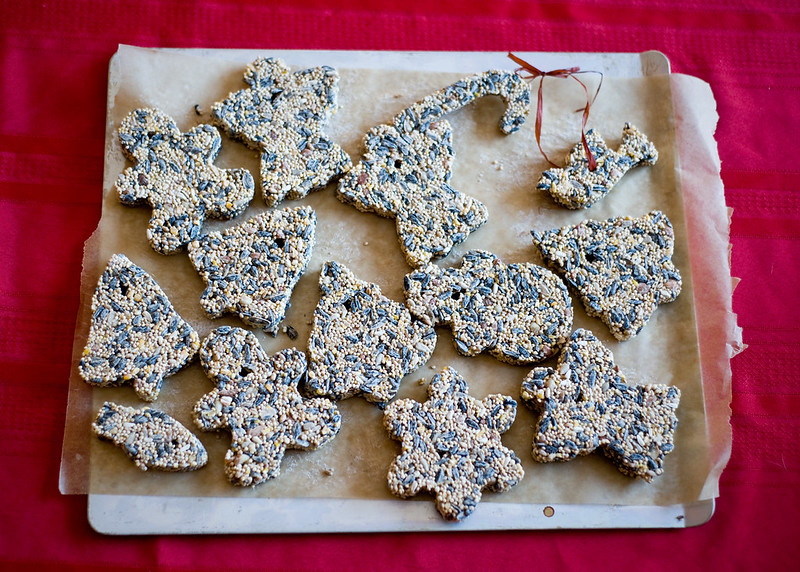 Heather Katsoulis via Flickr
Create an Entertainment and Beverage Station
Because a hot chocolate bar is entertainment in itself, combine the best of both worlds and pre-plan to offer the ingredients for a festive drink such as hot cider or a spicy cocktail. Add tabletop and yard games if the space is available. Re-purpose an old dresser or buffet to store the items when not in use. An entertainment station at the ready makes for a quick transition from stressing to relaxing.
Luxury Updates
If there was ever a time to justify an outdoor television or hot tub, it just might be during a pandemic! Take these items off your wish list and add one (or both!) to your newly renovated outdoor space. These projects aren't for the casual home project manager. You'll need to talk with professionals about everything from cost to safety requirements. Be aware, similar to deck materials, these outdoor luxuries have been snapped up over the pandemic. It might take some patience to schedule installation or delivery.
Don't dread the change of season! Embrace the change and take advantage of the new opportunities to stay at home and appreciate outdoor living well beyond Labor Day.
While you're outside enjoying the changing leaves, you might notice fall home maintenance that needs to be done. Take a look at this list to check off the must-dos, and later take a peek at the winter maintenance list. Freezing temps will be here before you know it!